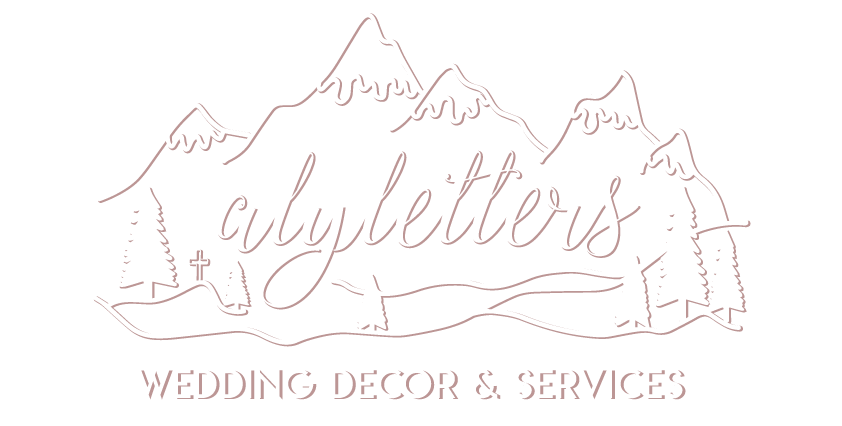 lovingly handcrafted,
bespoke decor & services
Whimsical, Meticulous & heartfelt, Aly's wedding decor & services have left a lasting impression on both couples & guests alike. With a reputation for being attentive, invested & having a keen eye for aesthetics, she has partnered with many individuals & couples to bring their ideas to life. Spending 6 years to perfect her craft, she is able to deliver unique & quality artworks catered to your needs. Her passion towards making your special day exclusive, personalised & memorable overflows in all the work she does.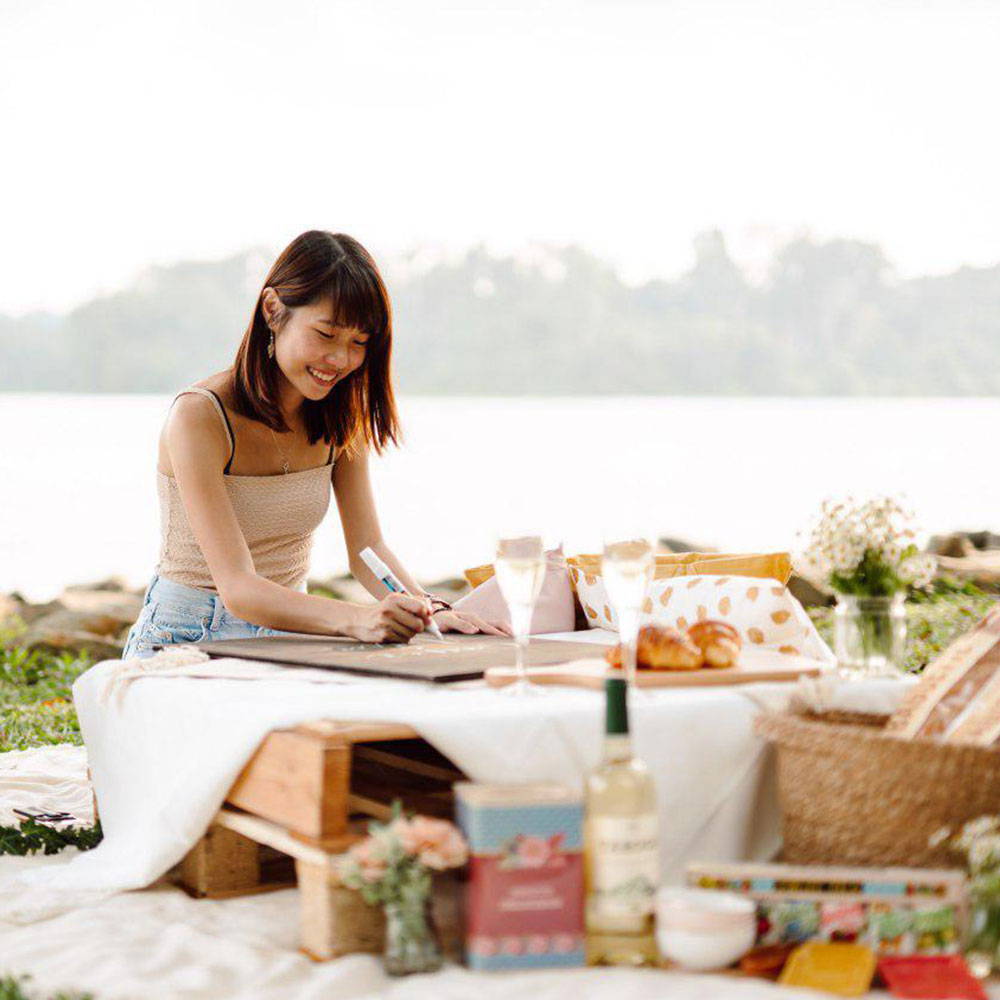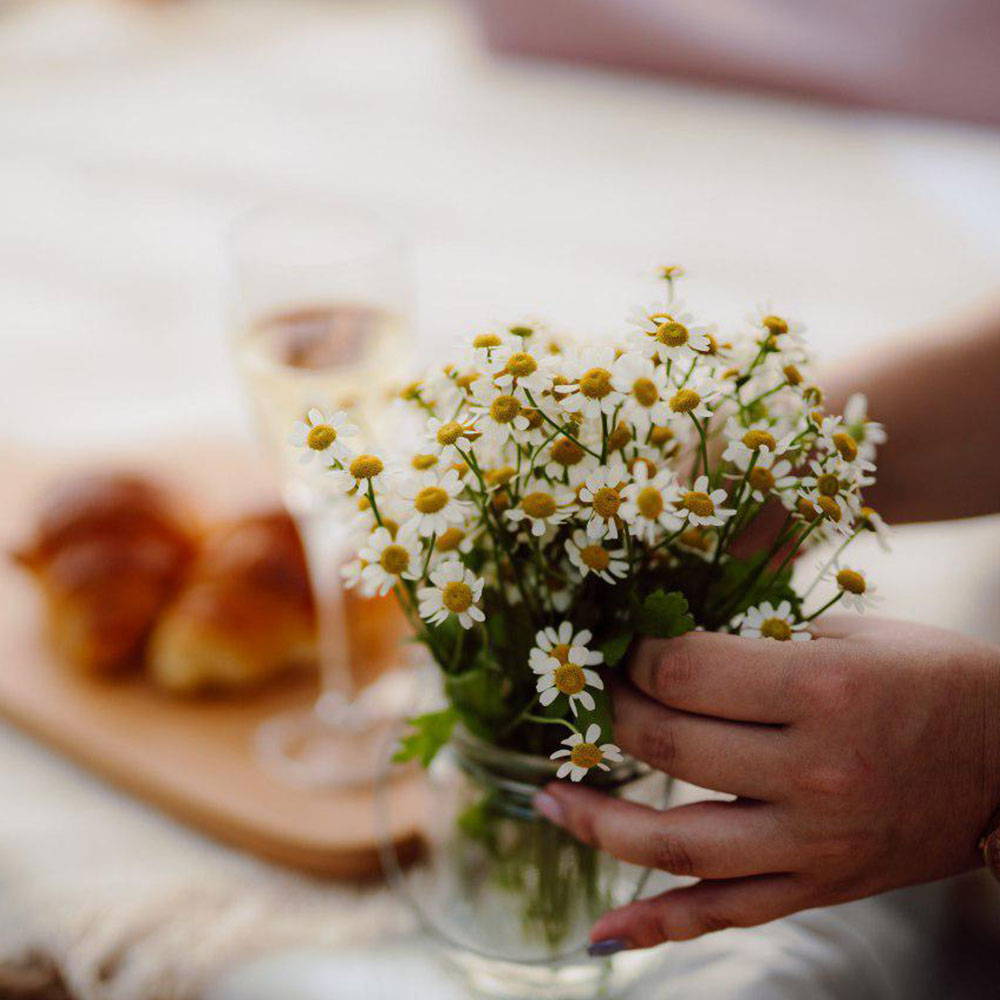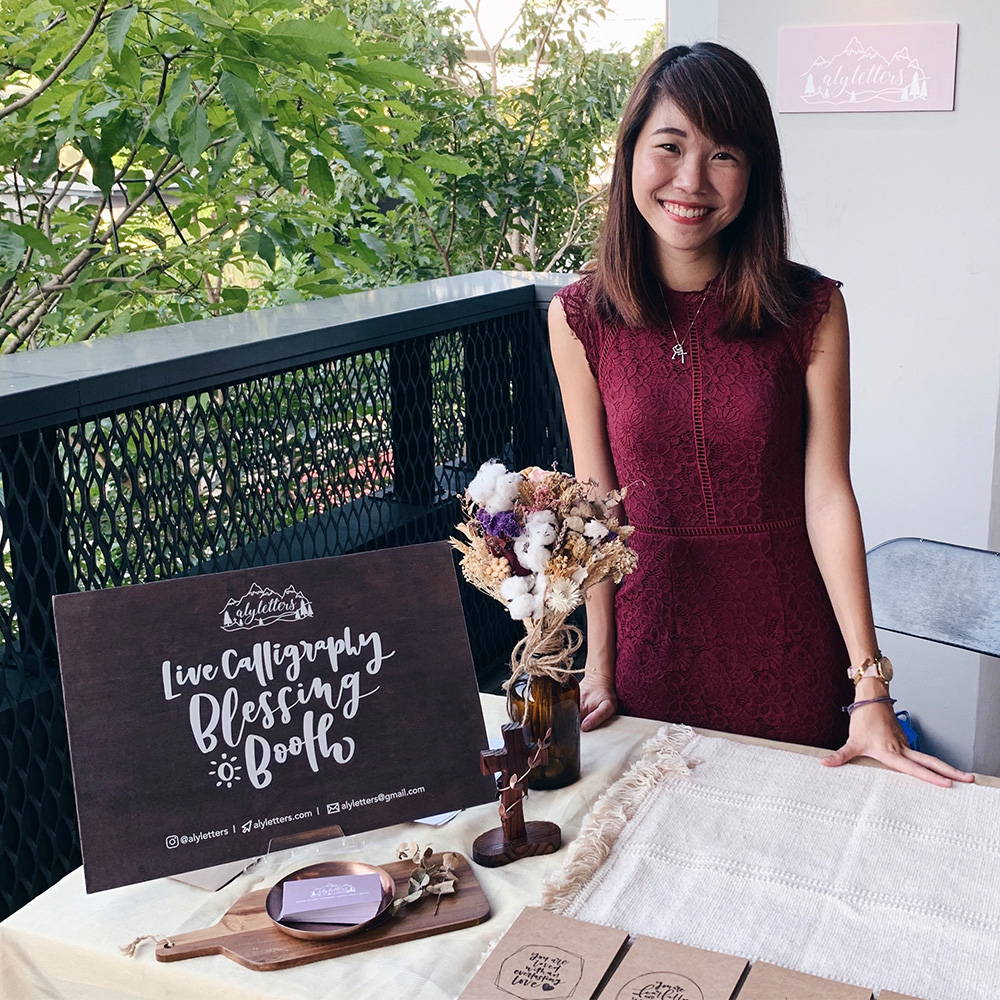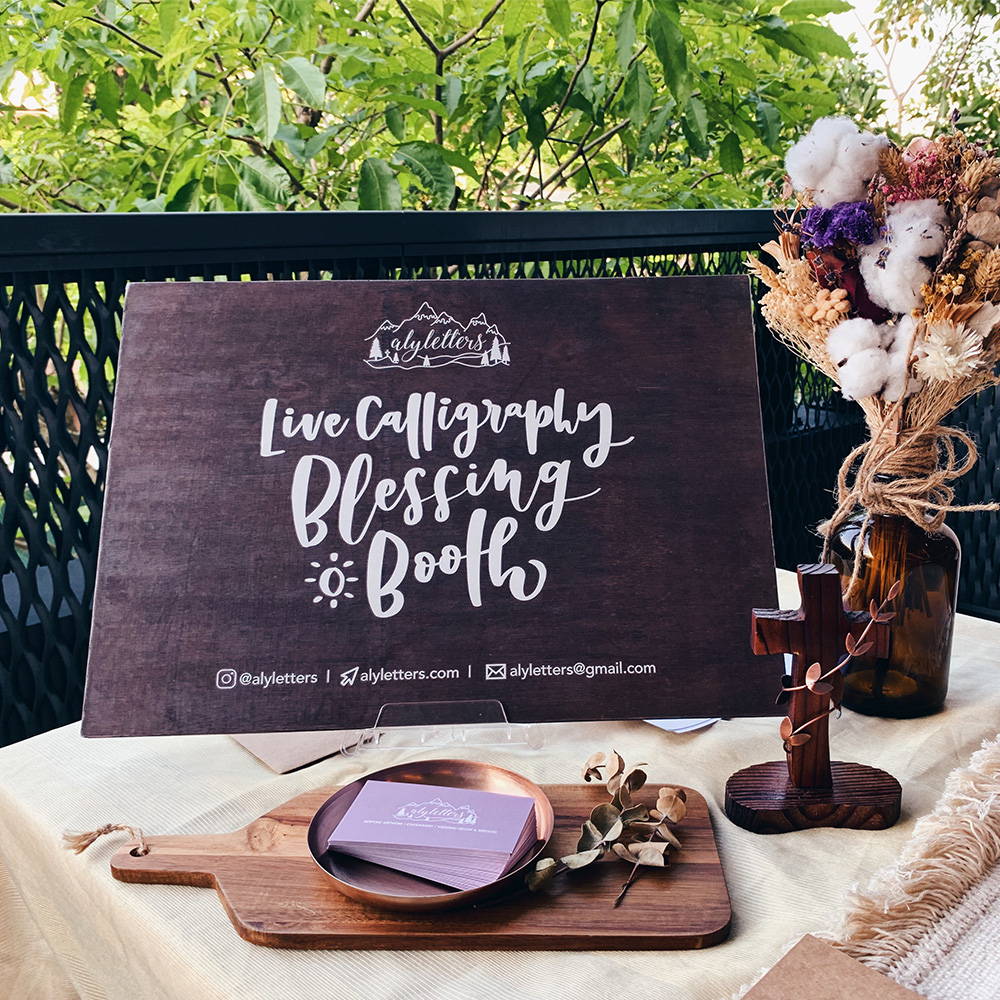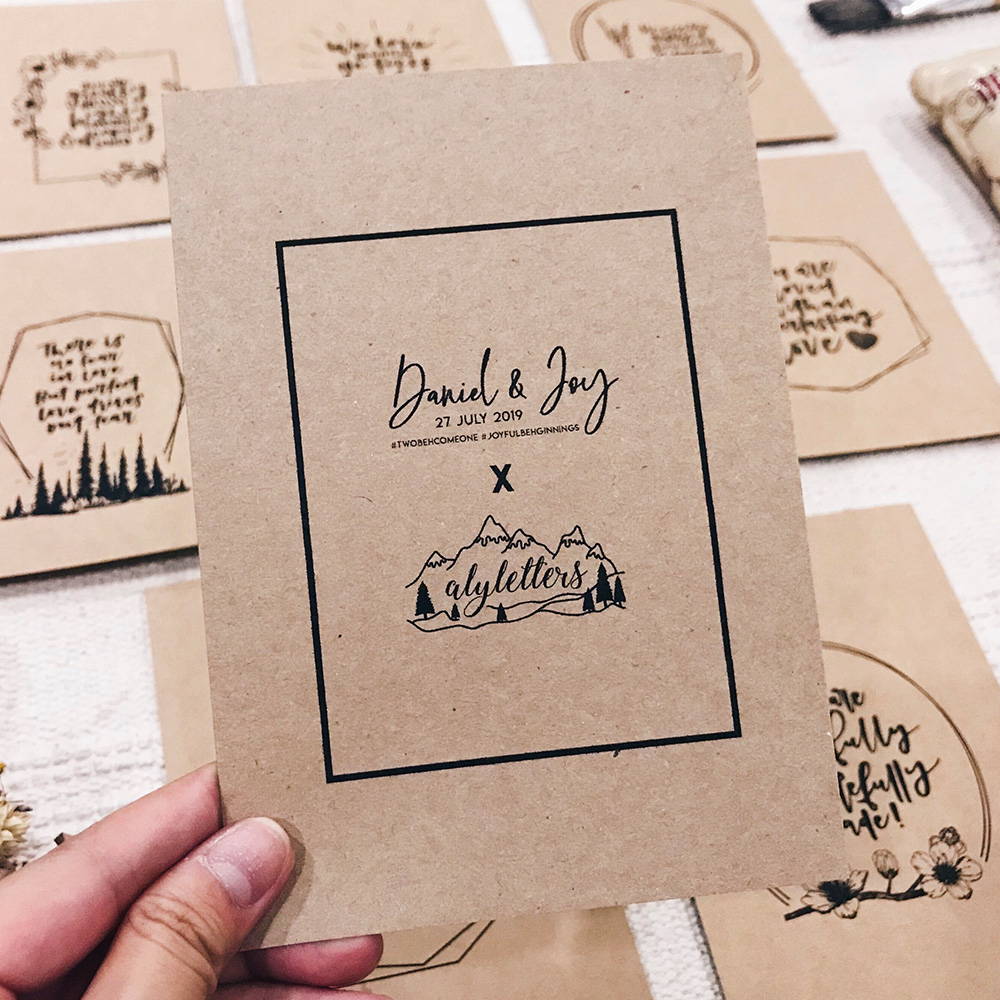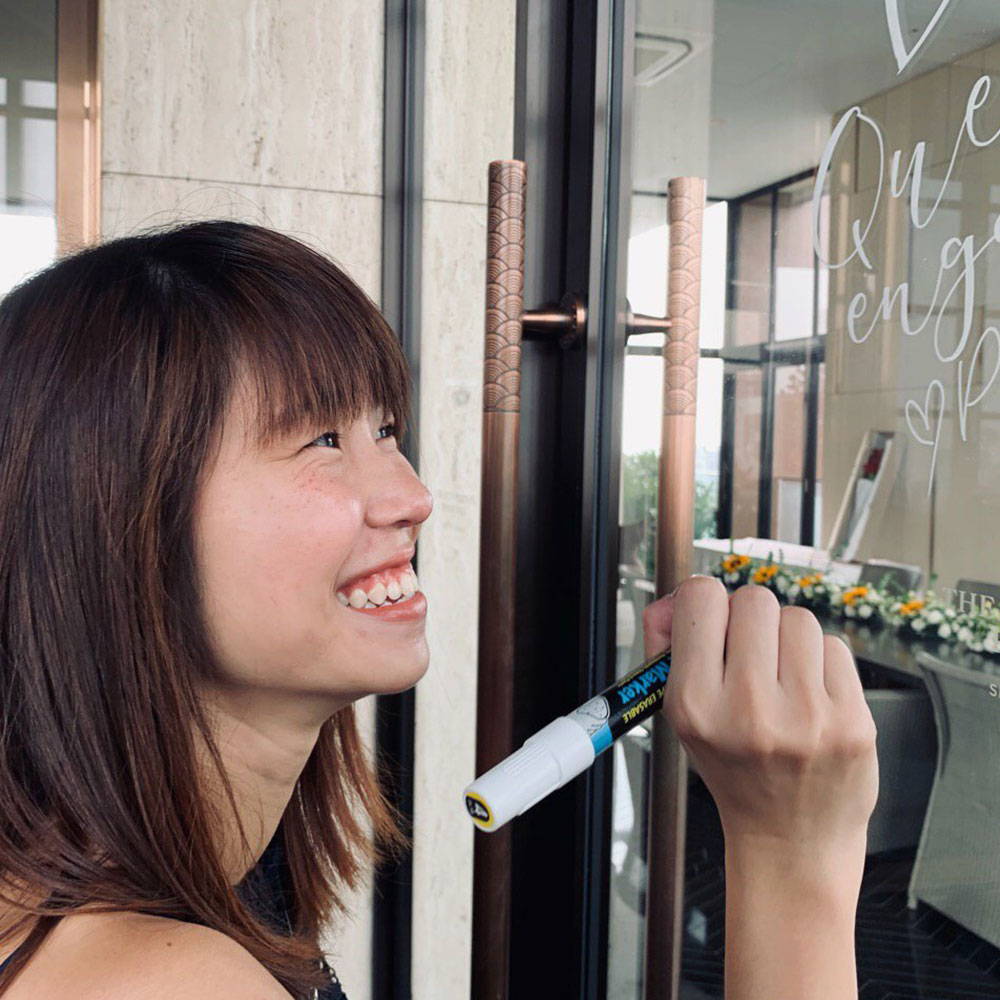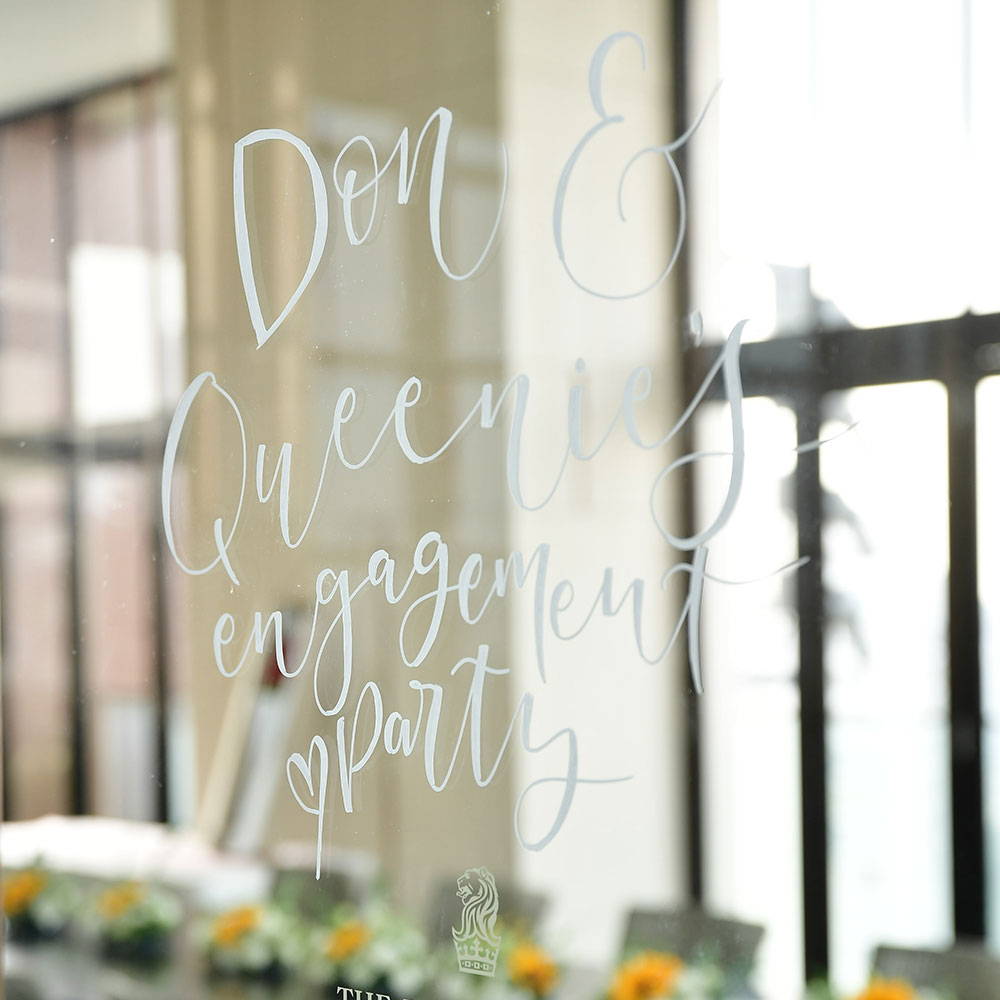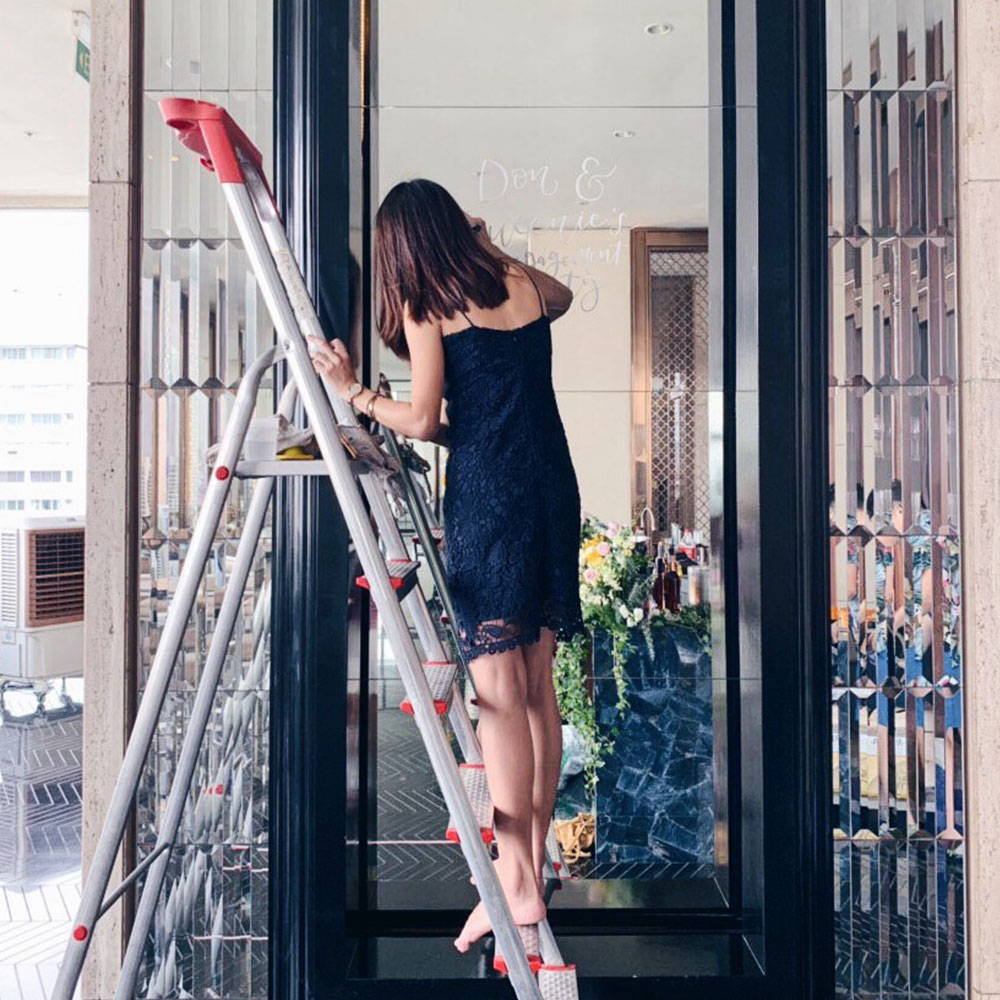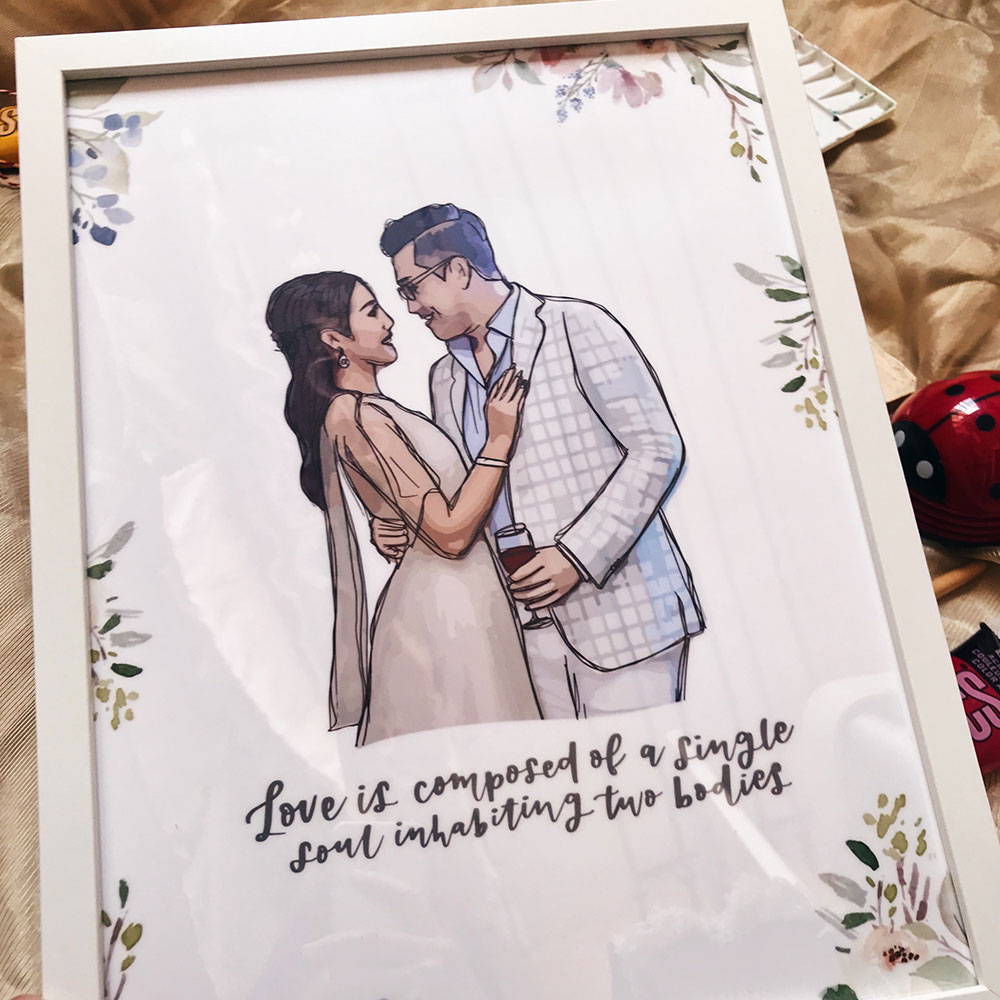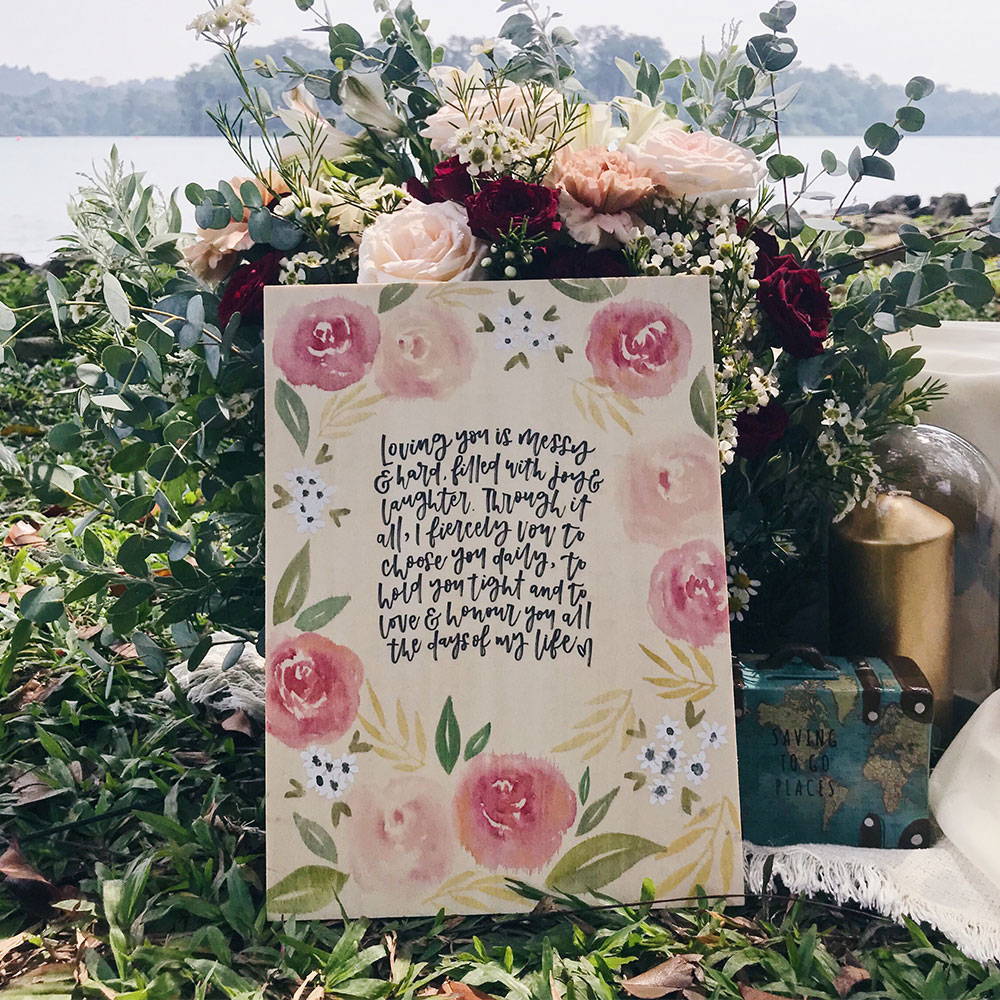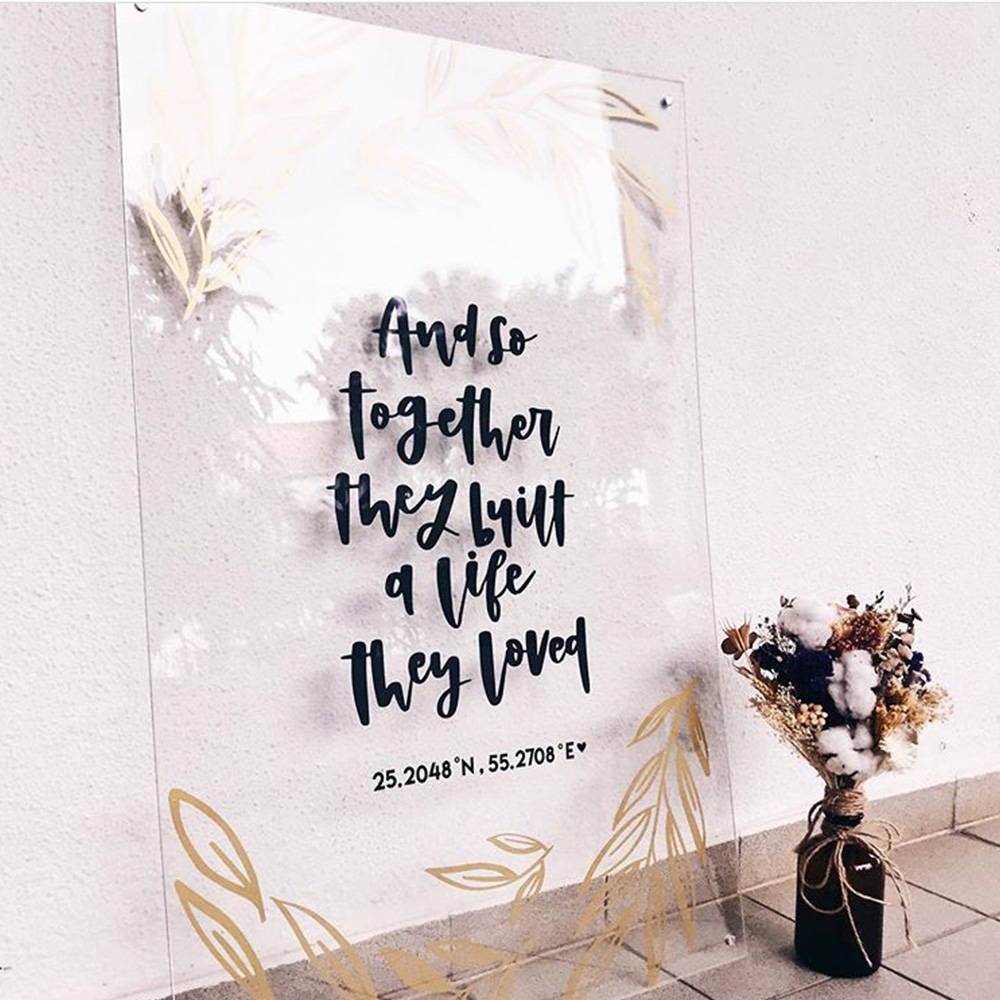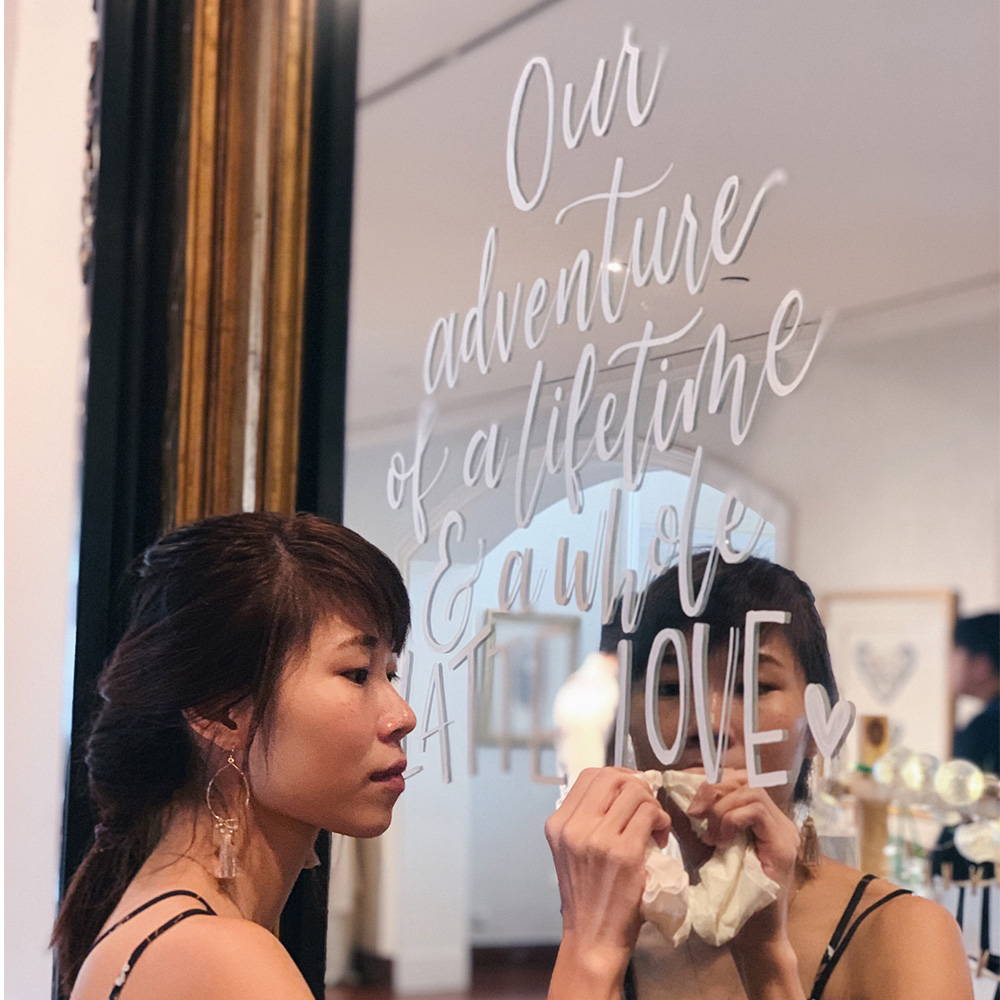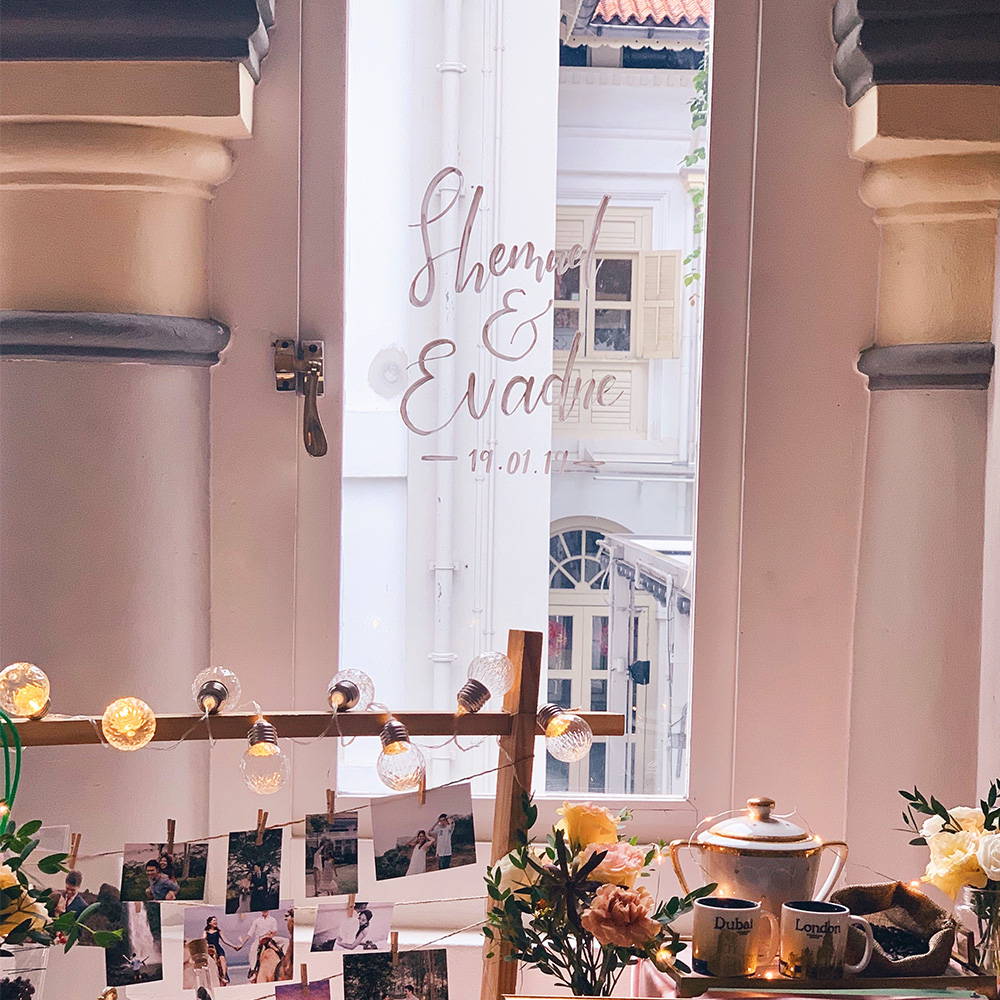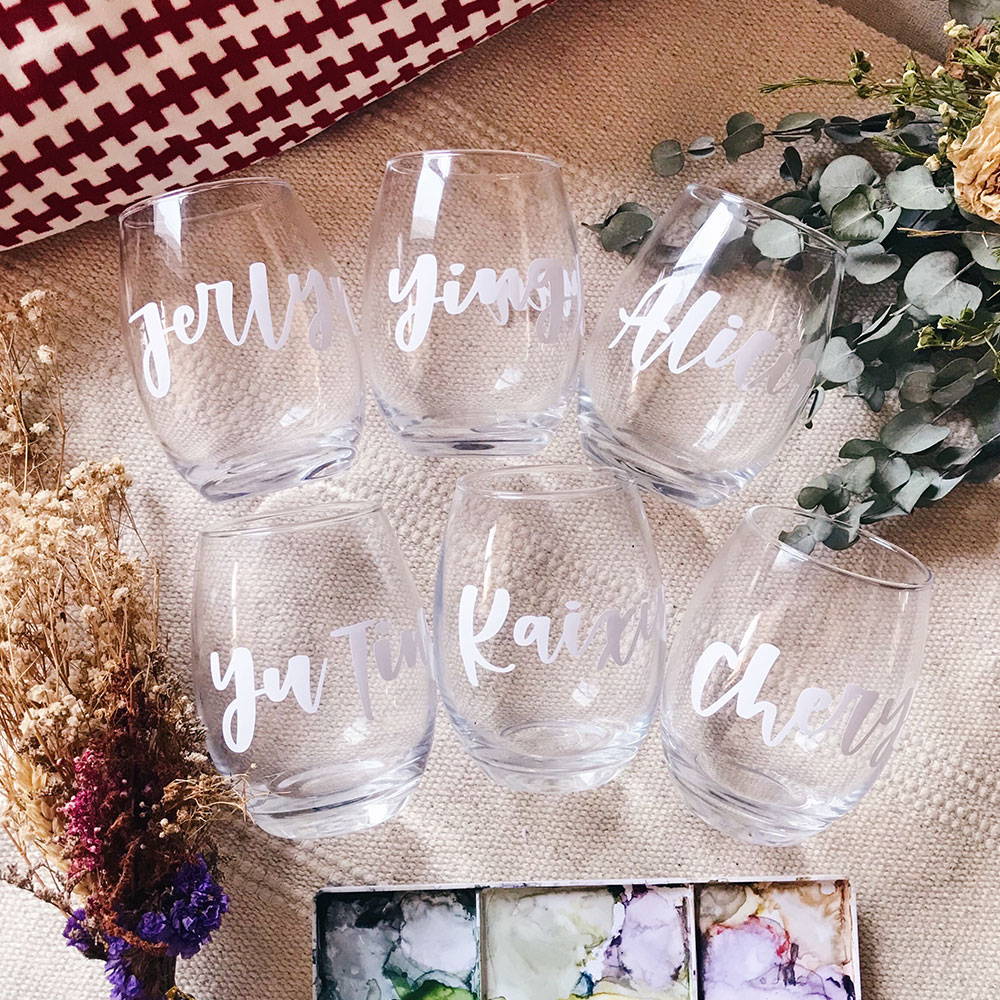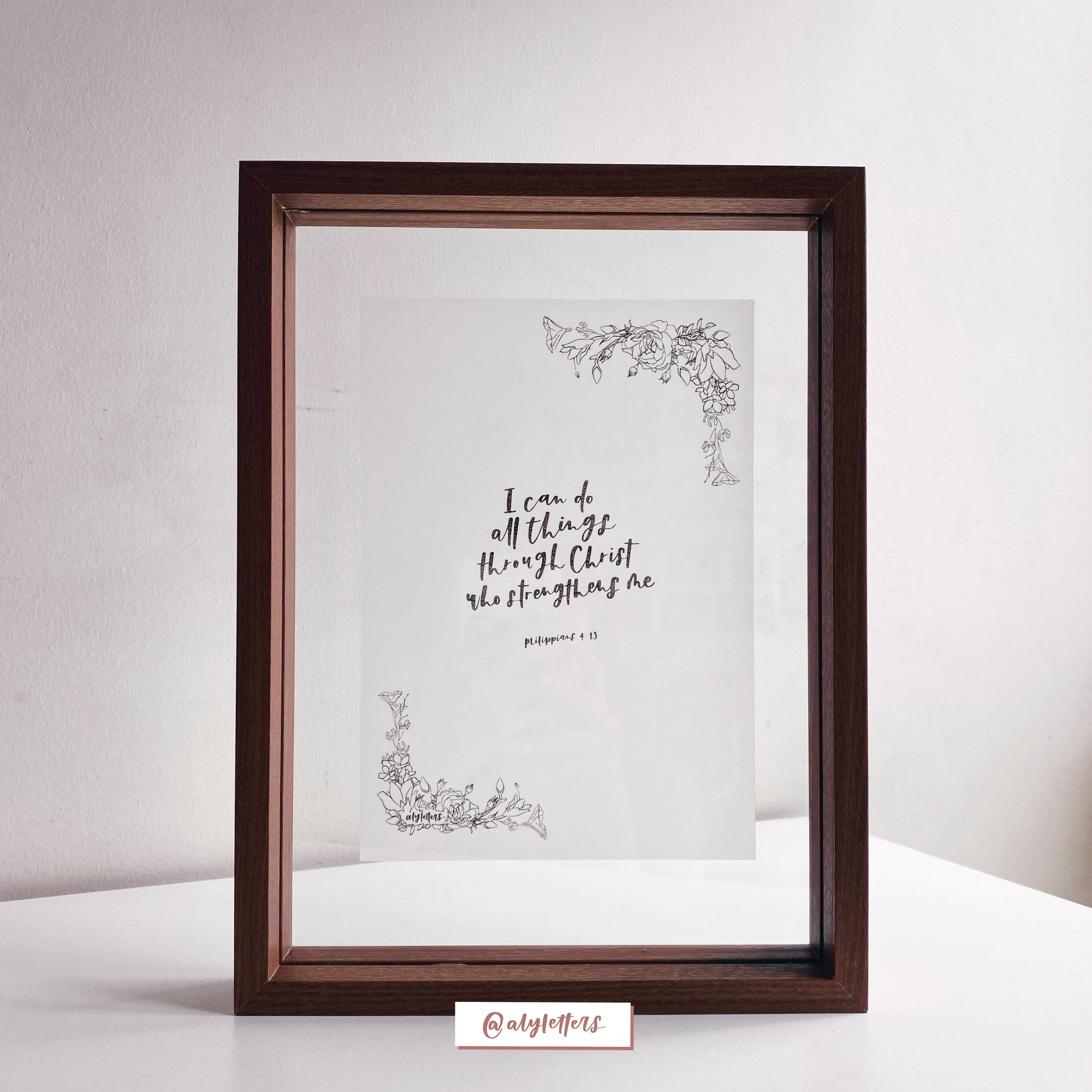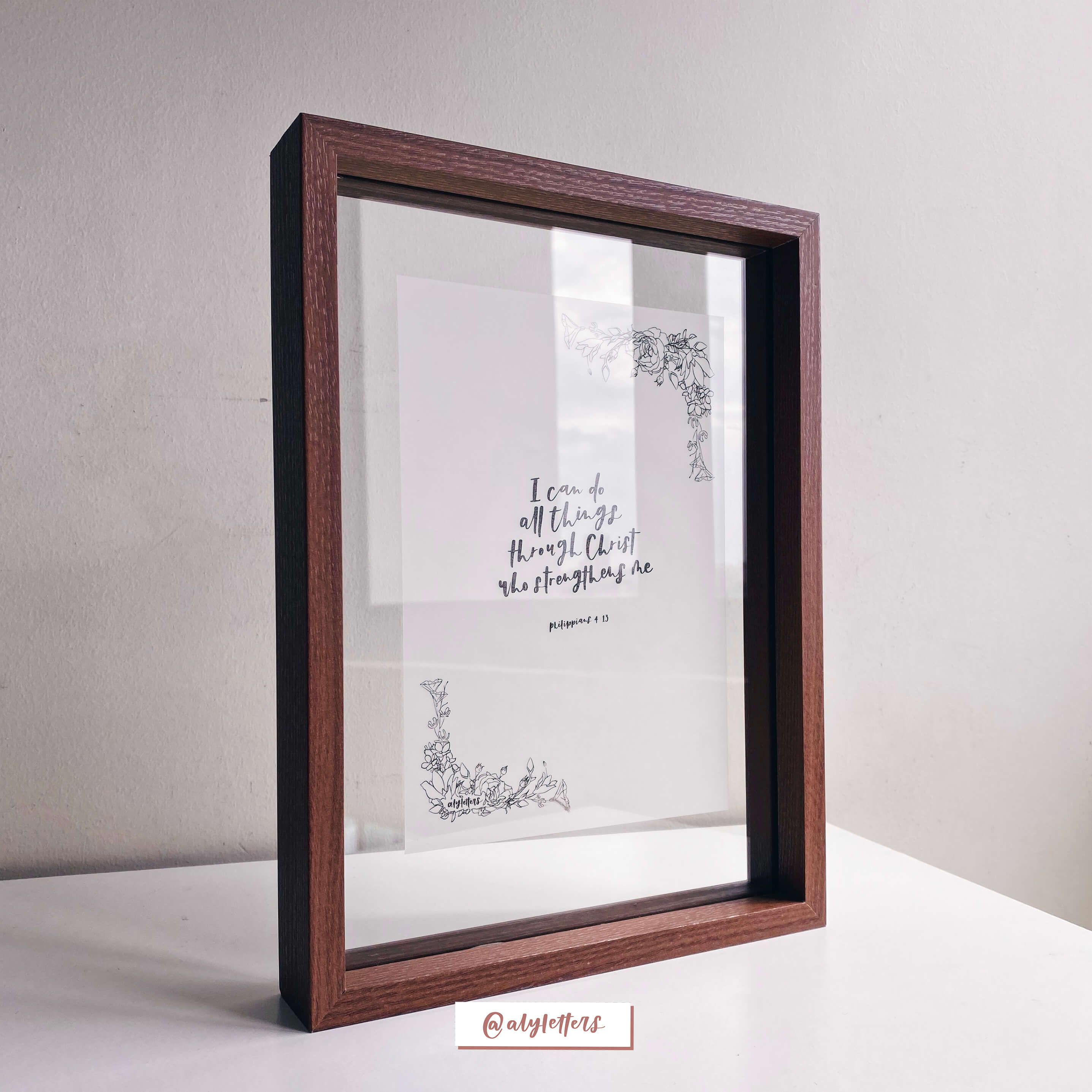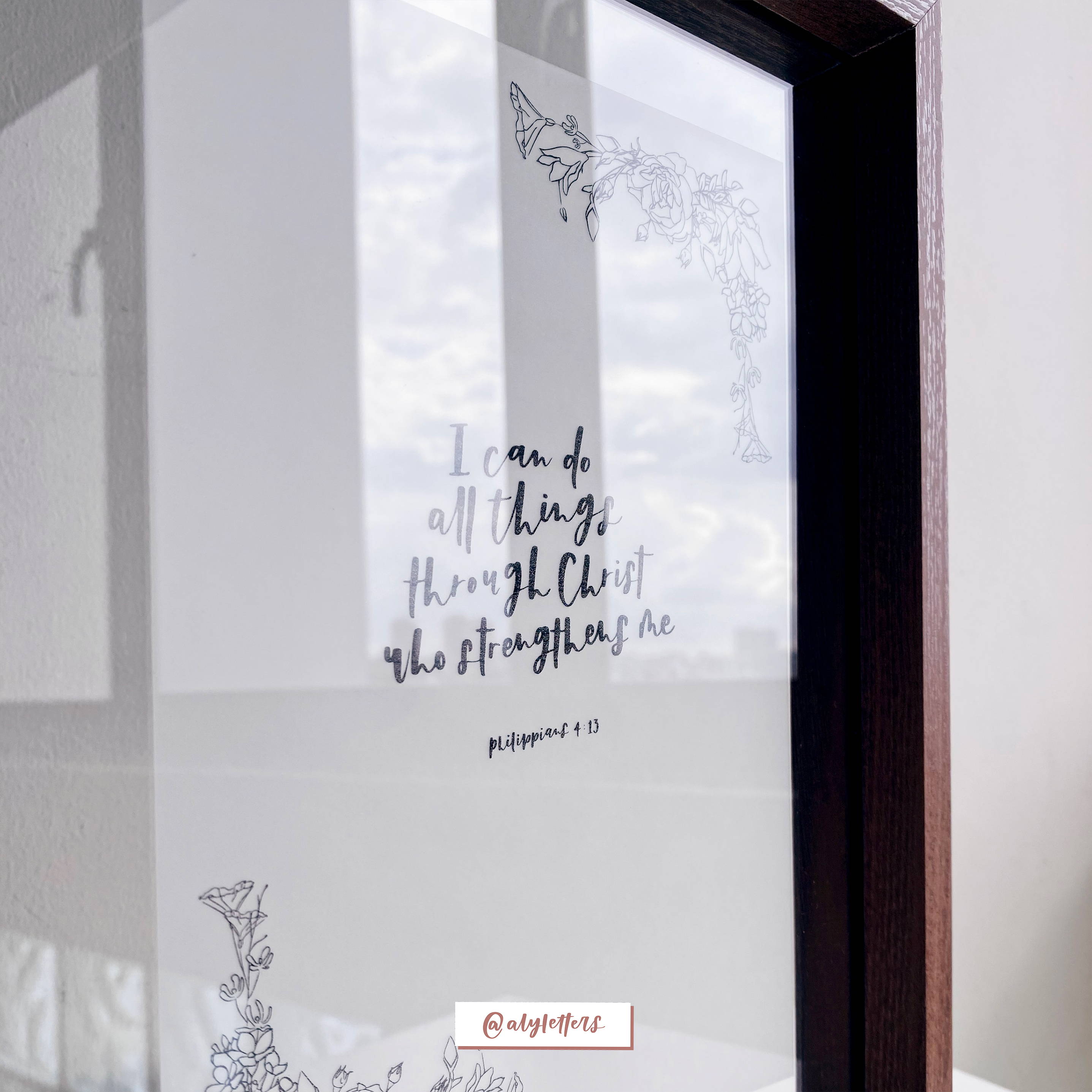 VELLUM ARTWORK IN FLOATING FRAME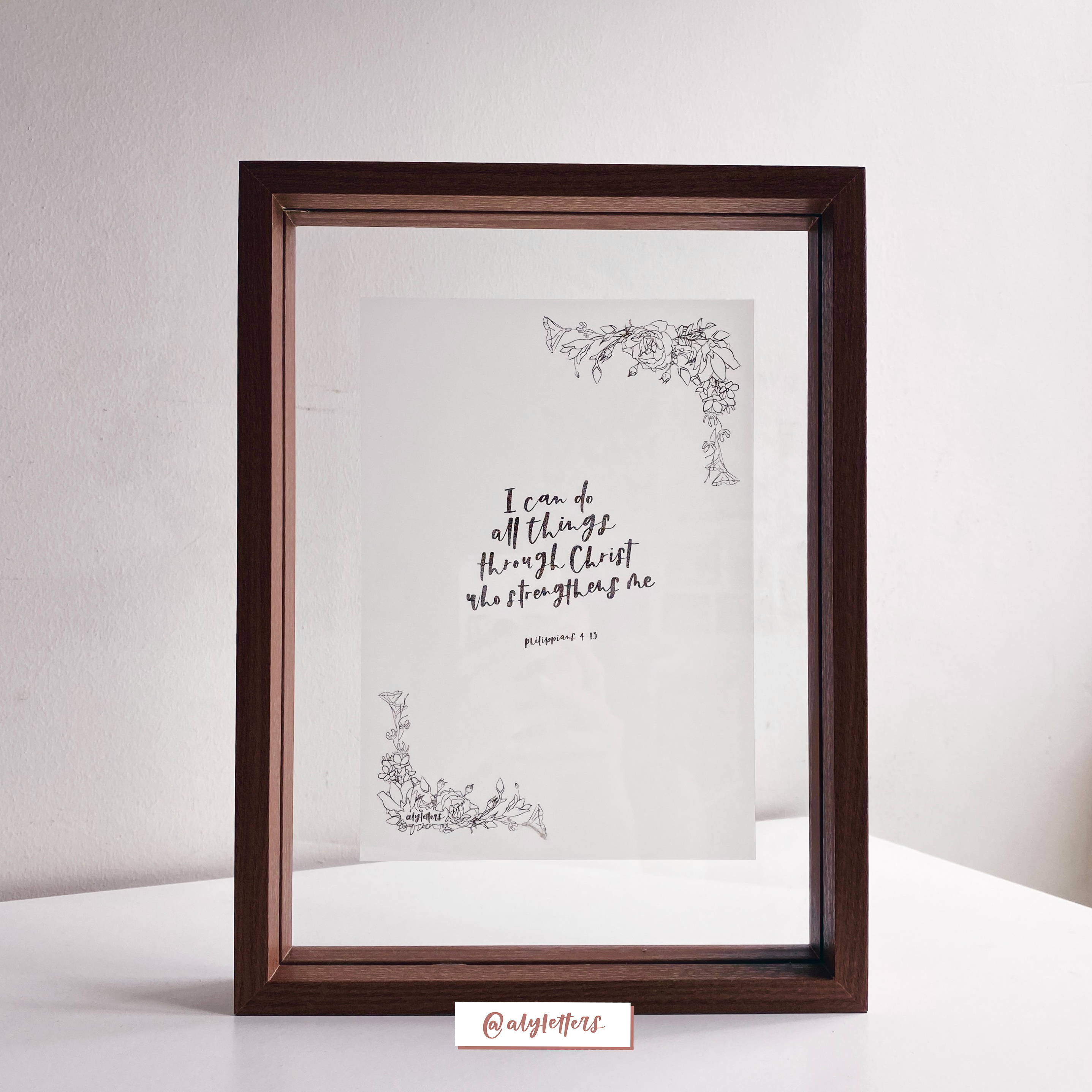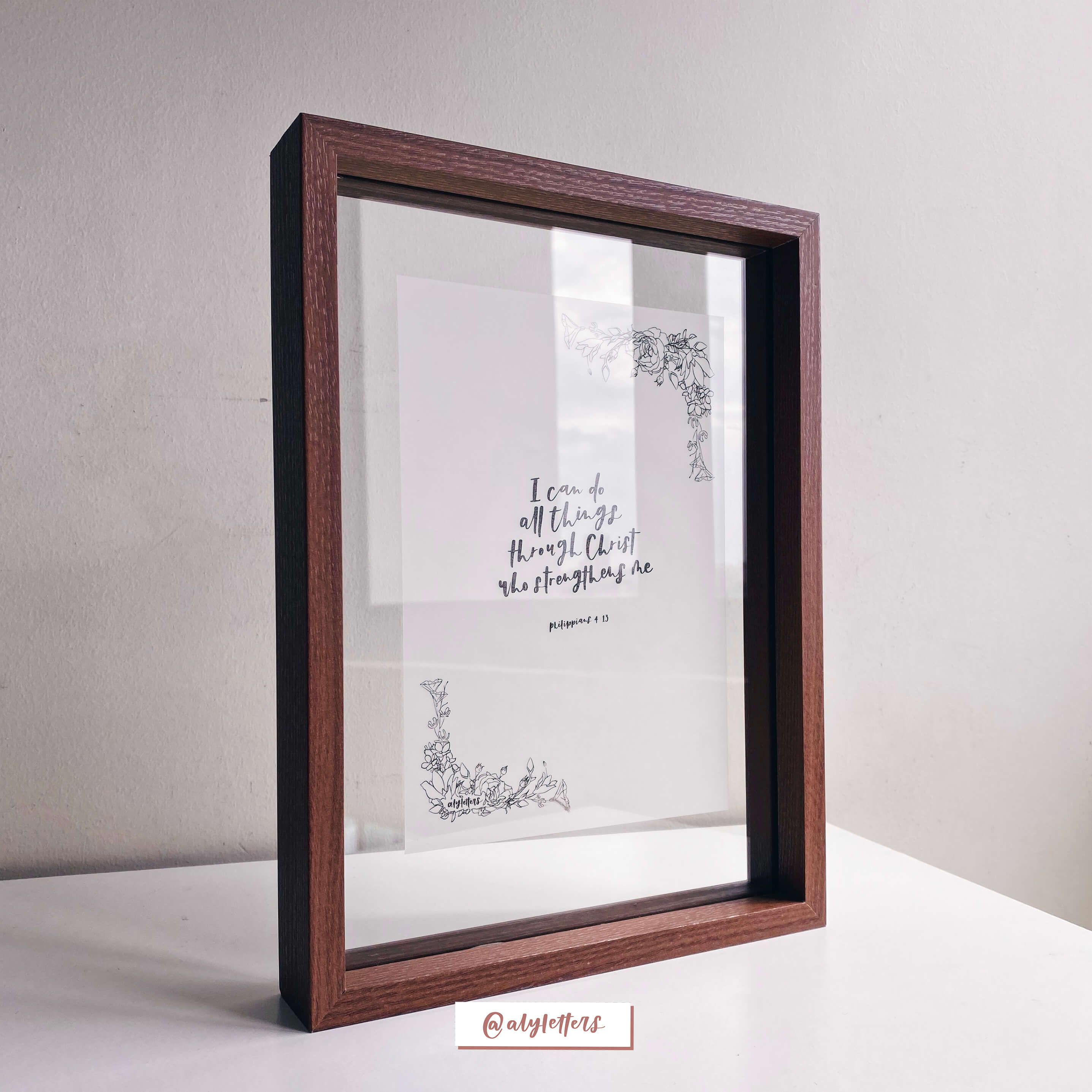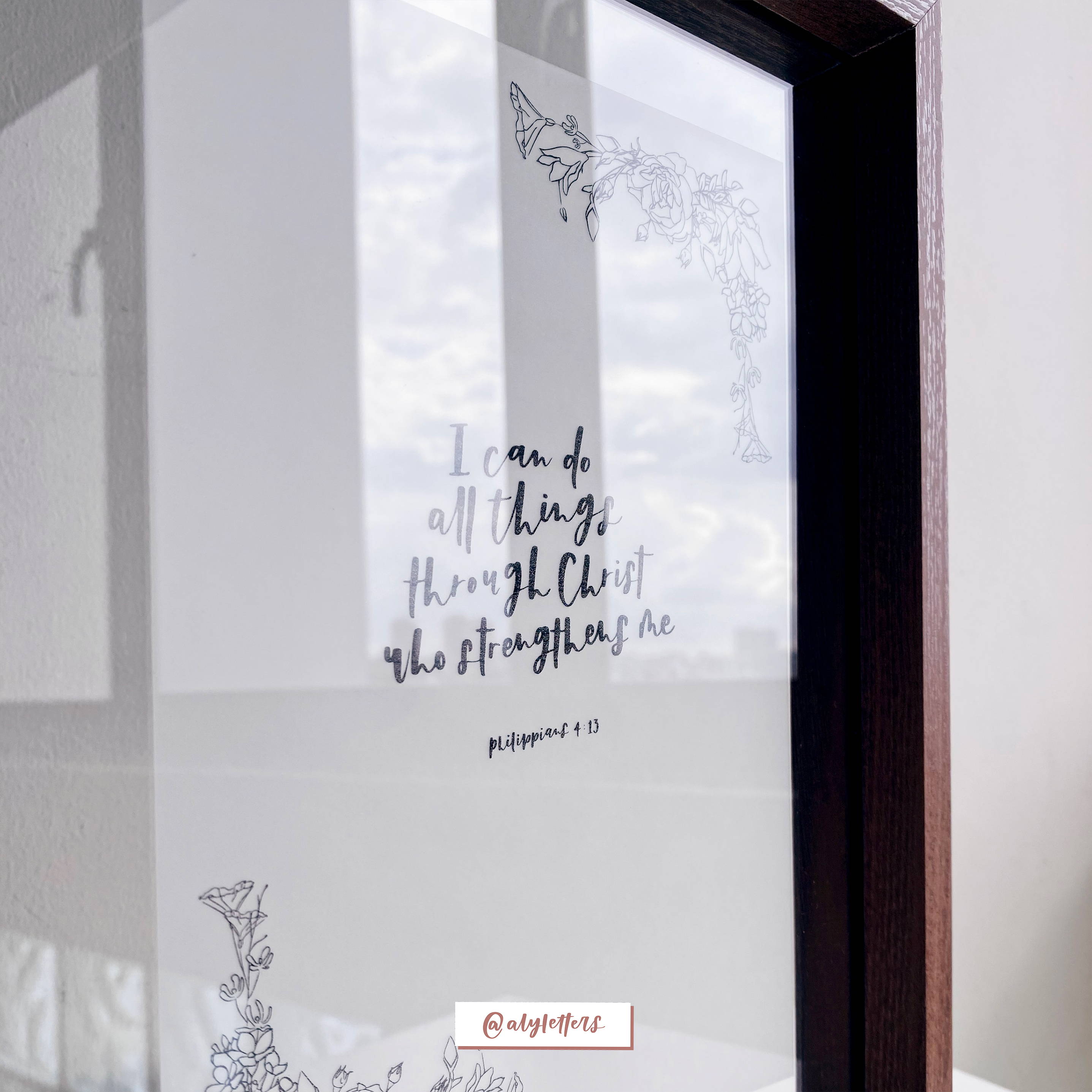 An ideal accent to any artwork, vellum artworks wow with it's visual impact and clean aesthetic. They are the perfect house gift & instantly elevates the verses close to your heart wherever they are placed.
Presentation is of utmost importance to Aly, so she has selected these Kobicha floating frames that pair easily with any house aesthetic. Get one for your own home or a loved one today!
Price Range: $120-$175 [Depending on complexity of artwork]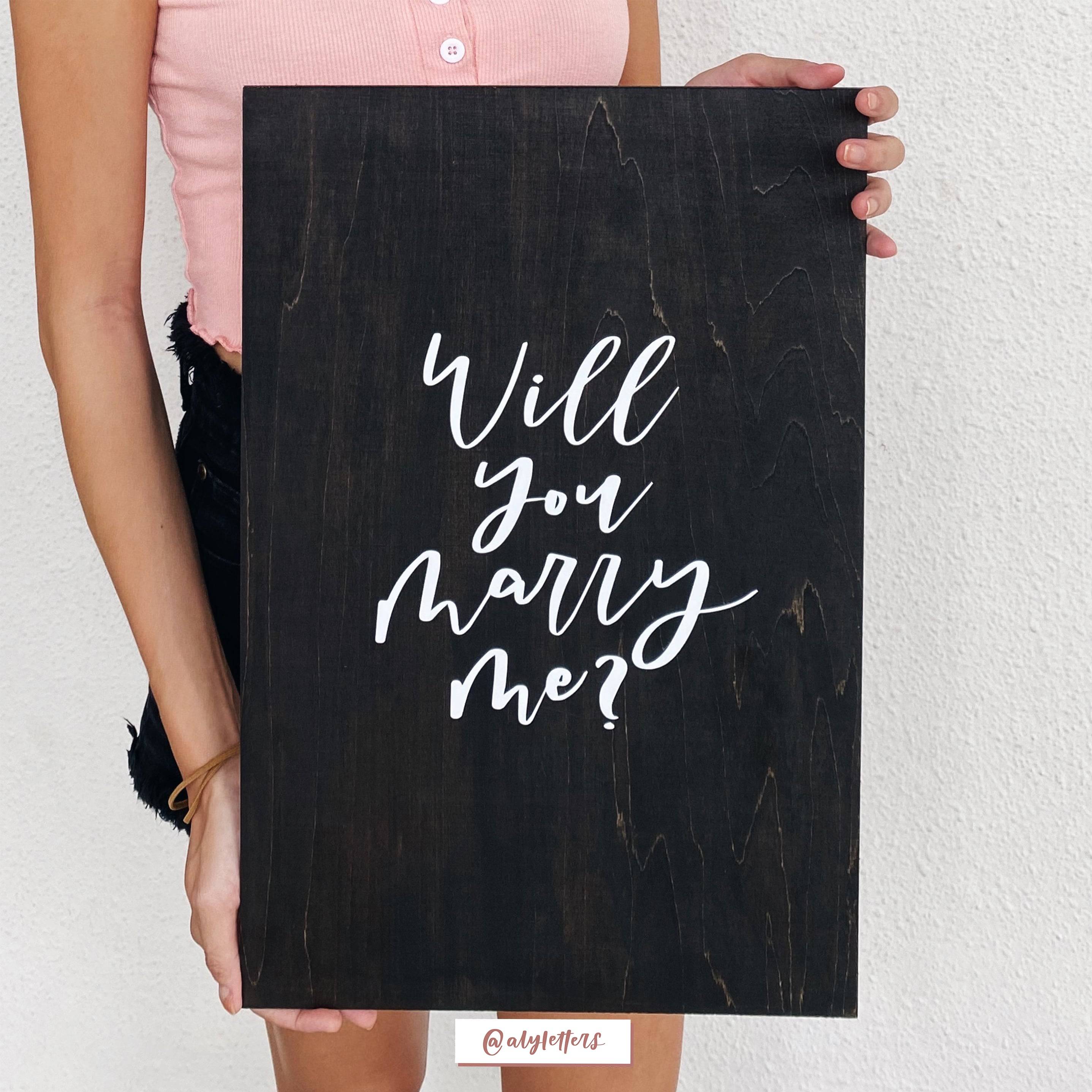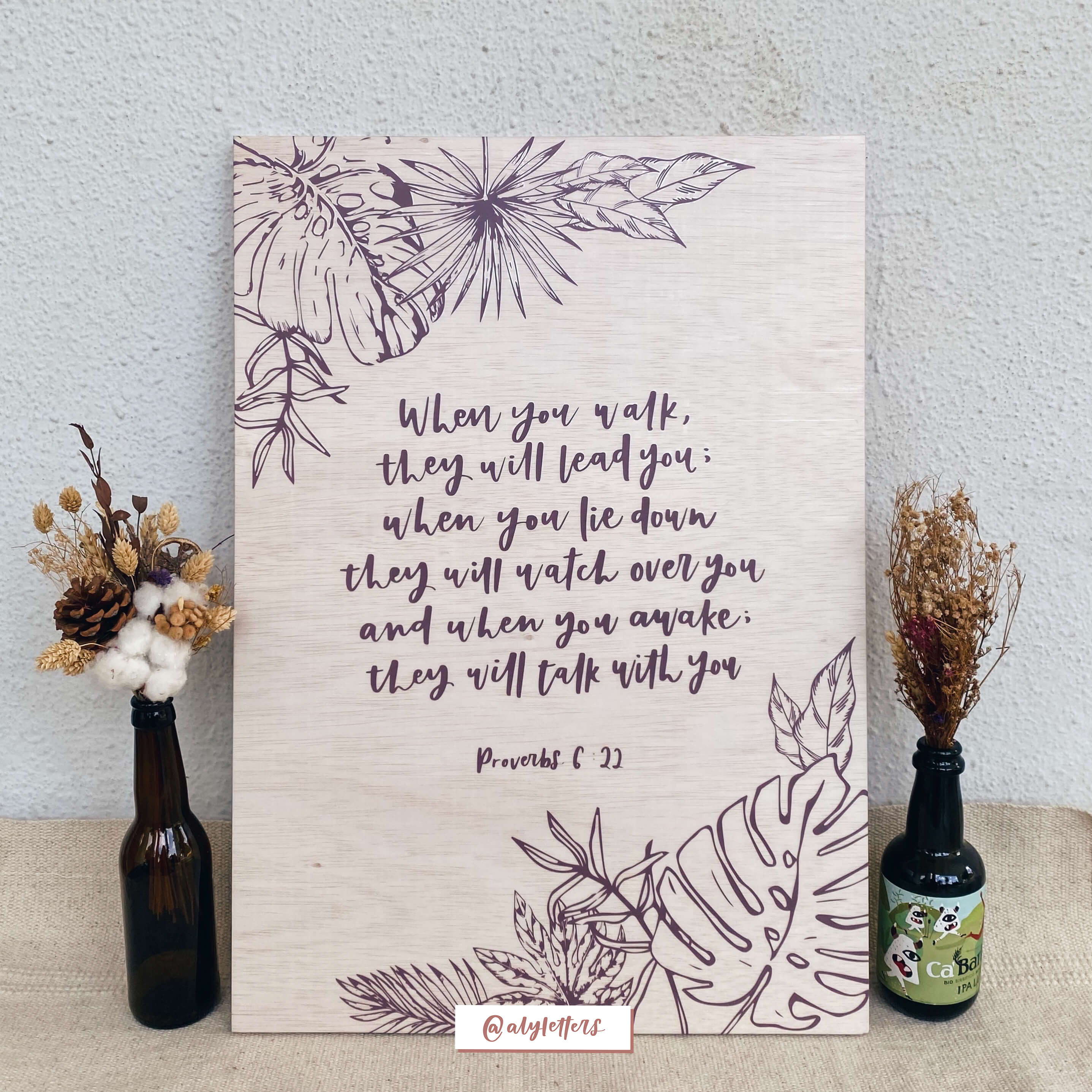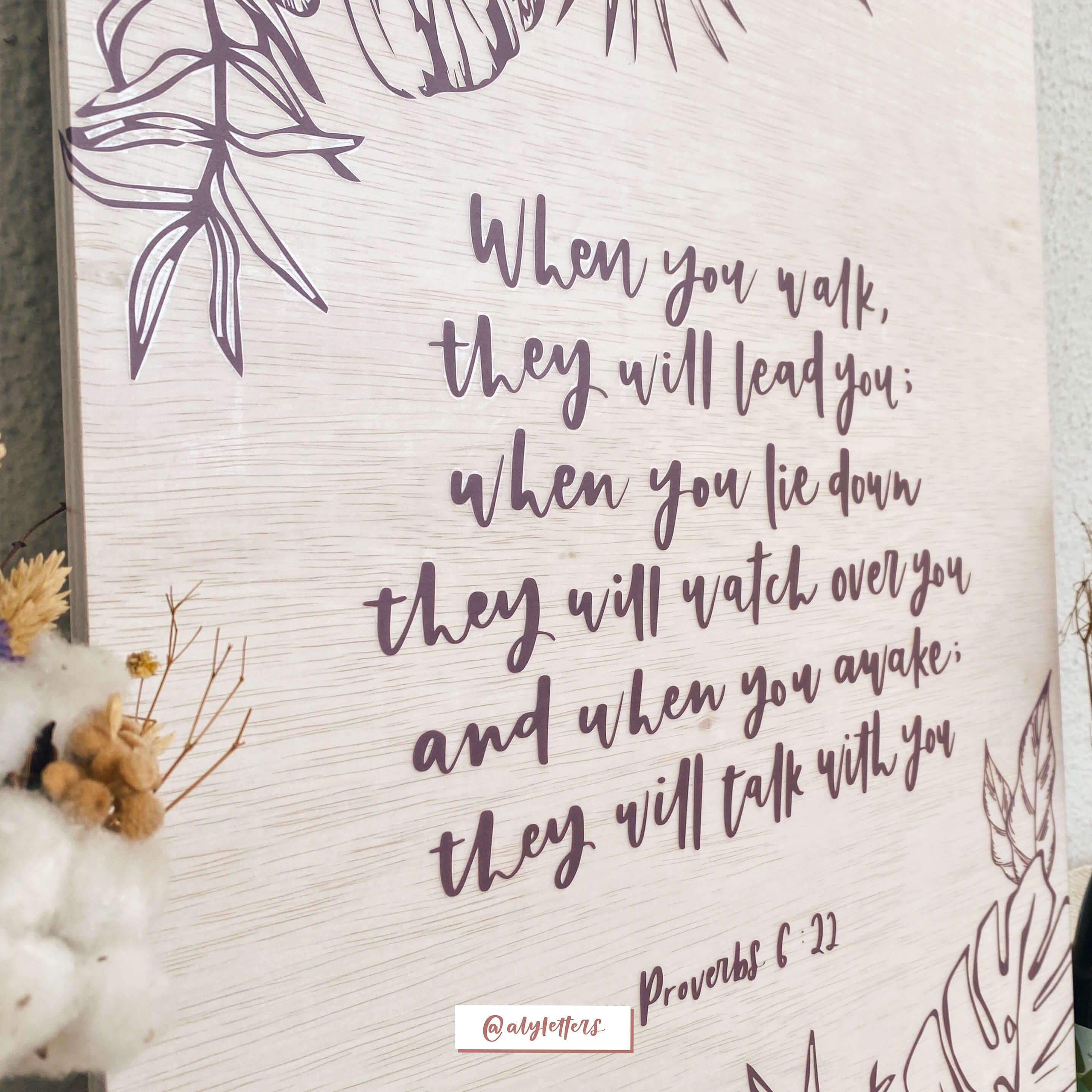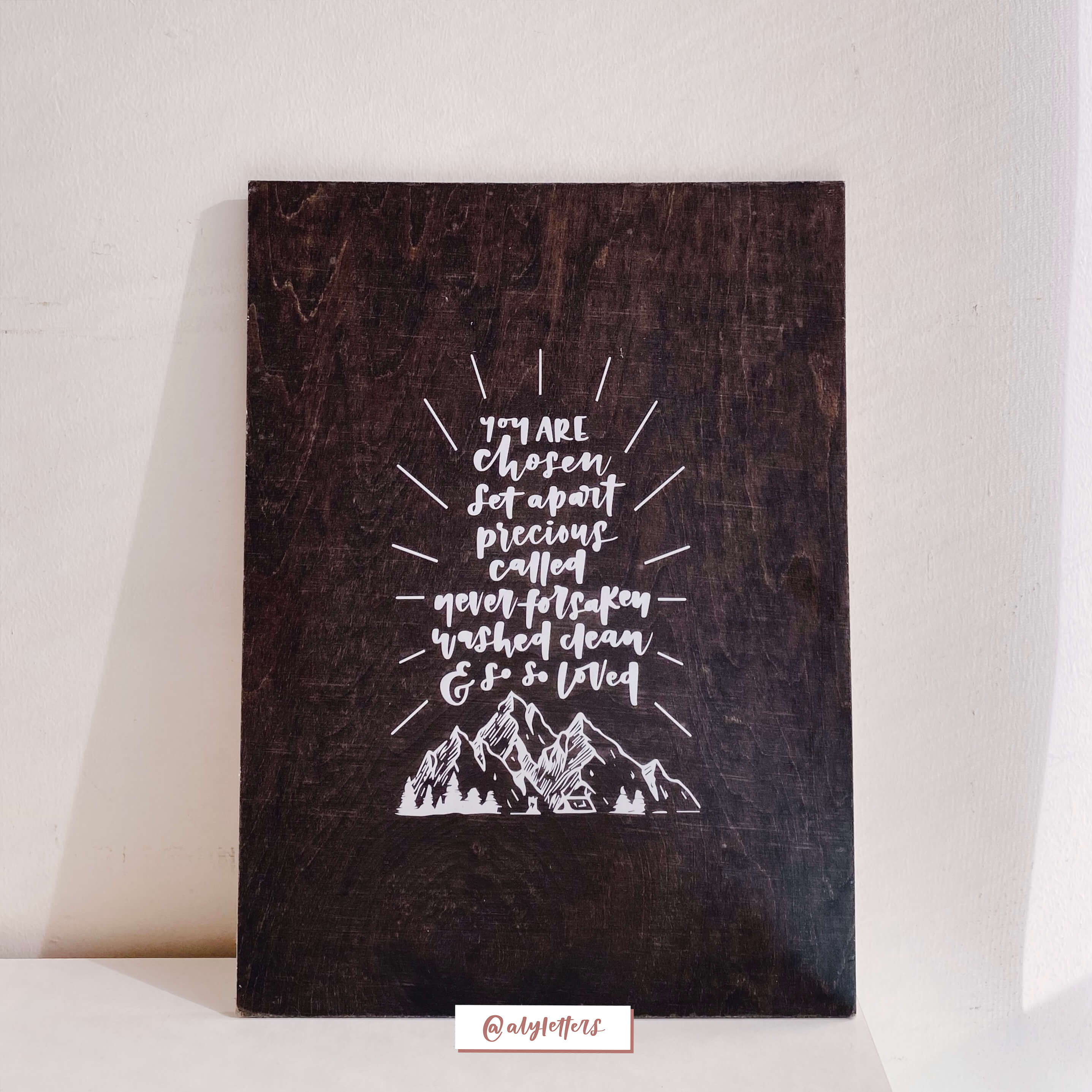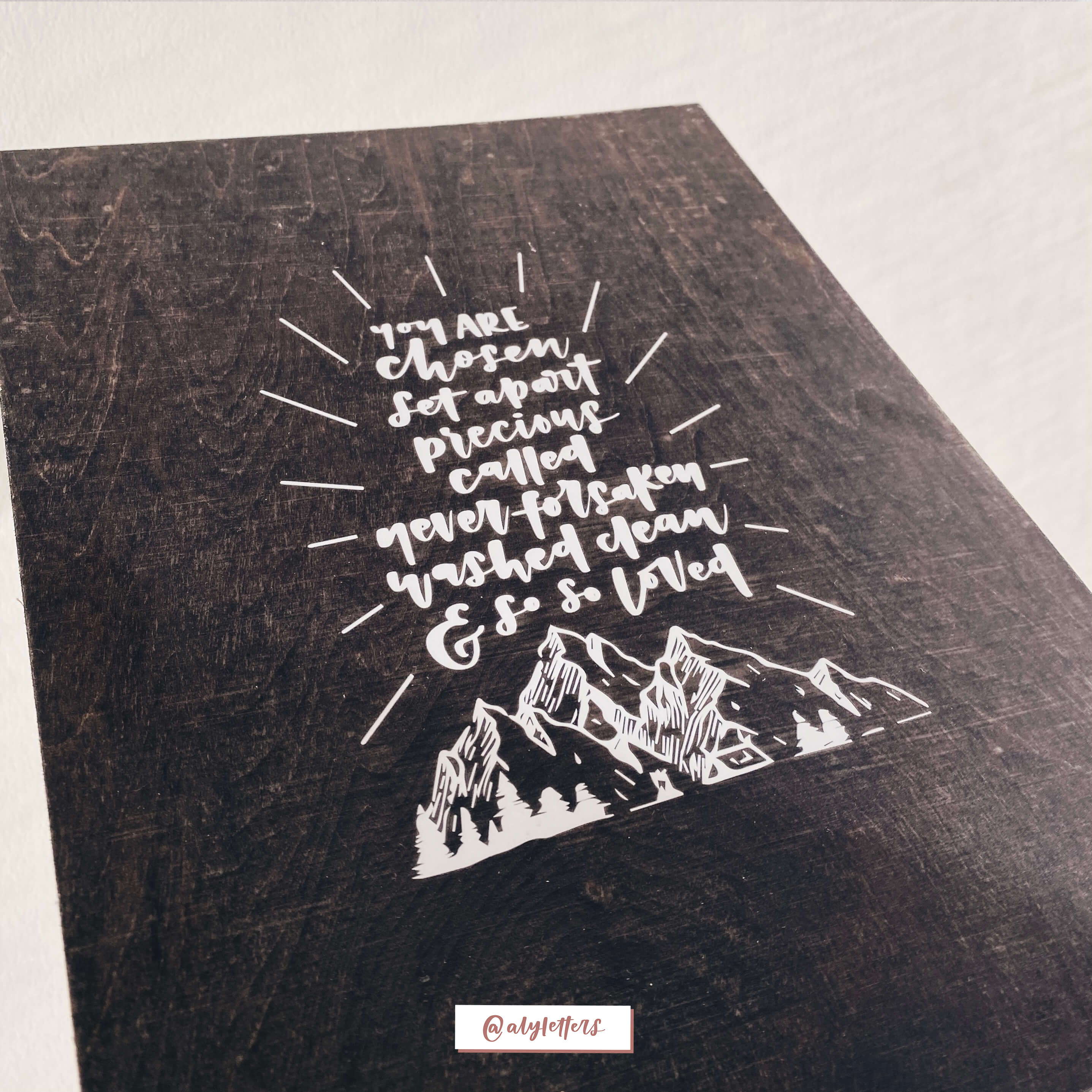 Meticulously designed & delicately assembled, Aly's Wooden Signages aim to capture the essence & theme of your wedding.
All signages are durable & stand the test of time. Wooden boards are treated with high quality wood dye & sealed in with a waterproof matte sticker, preserving it forever.
These lasting signages can be kept for life as a sweet momento of your special day(:

Wooden signages can even be gifted to loved ones, as a reminder of His Love in their lives. As compared to Acrylic Signages, these wooden signages are rustic and warms the space, wherever it's displayed at!
Price Range: $130-$292 [Depending on size of artwork & complexity]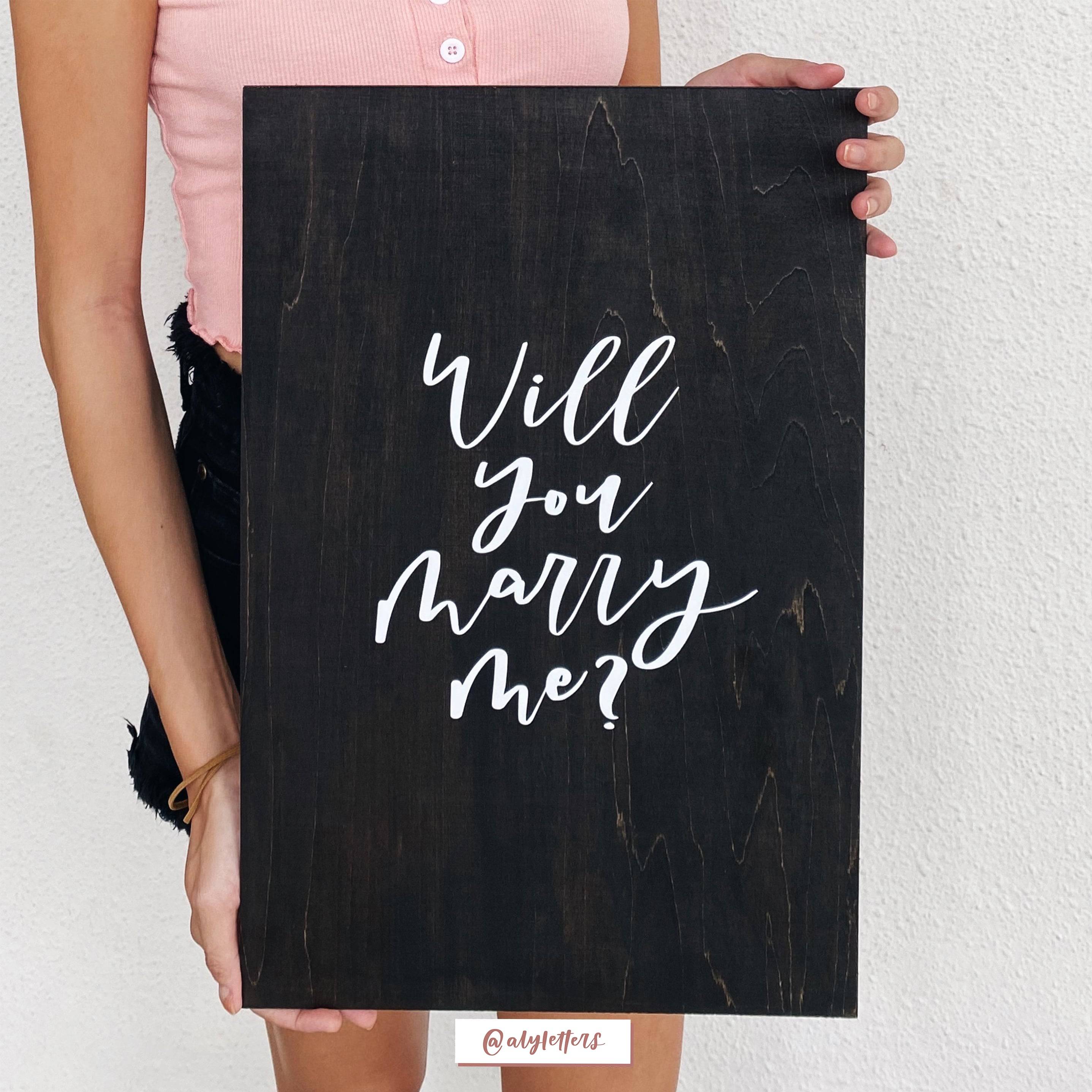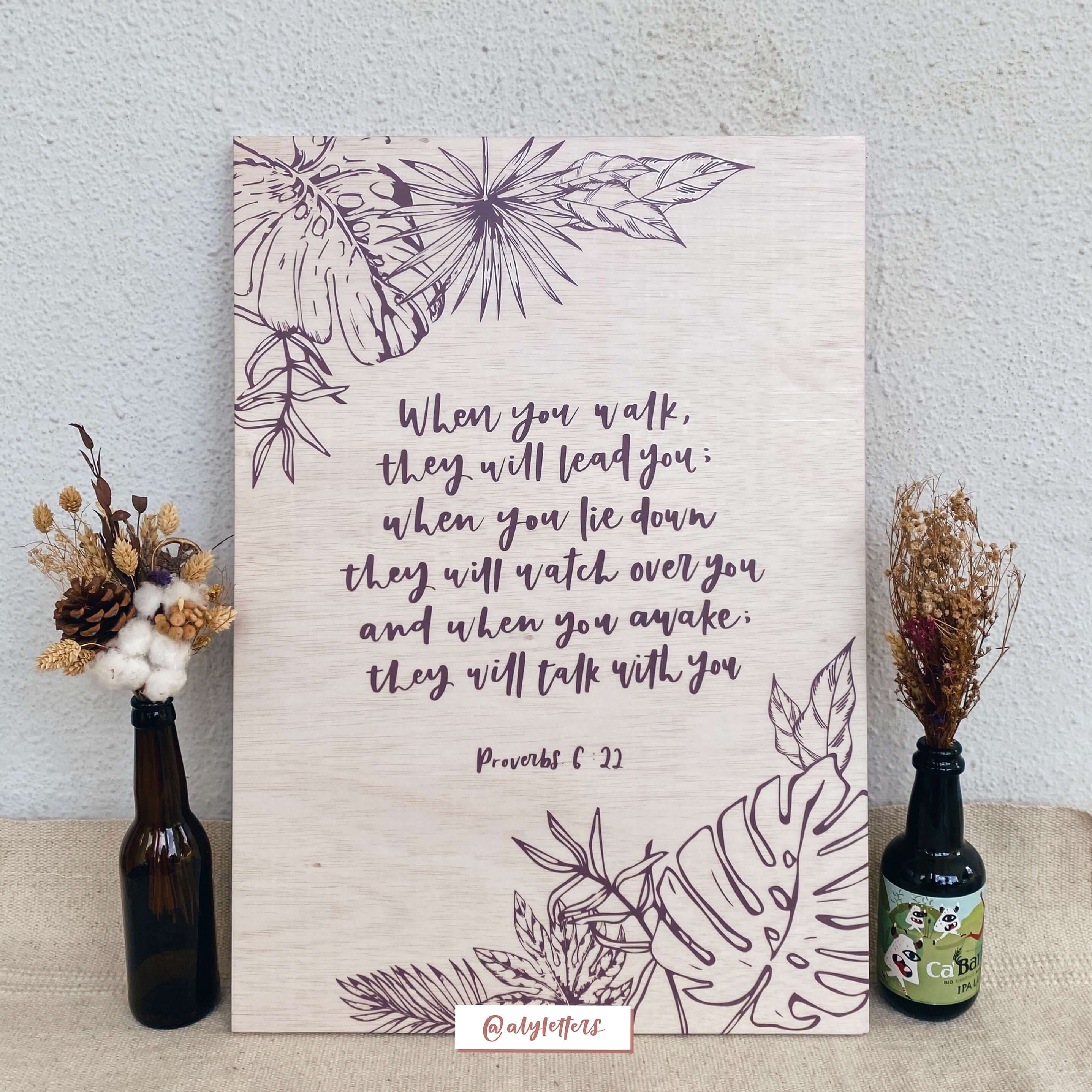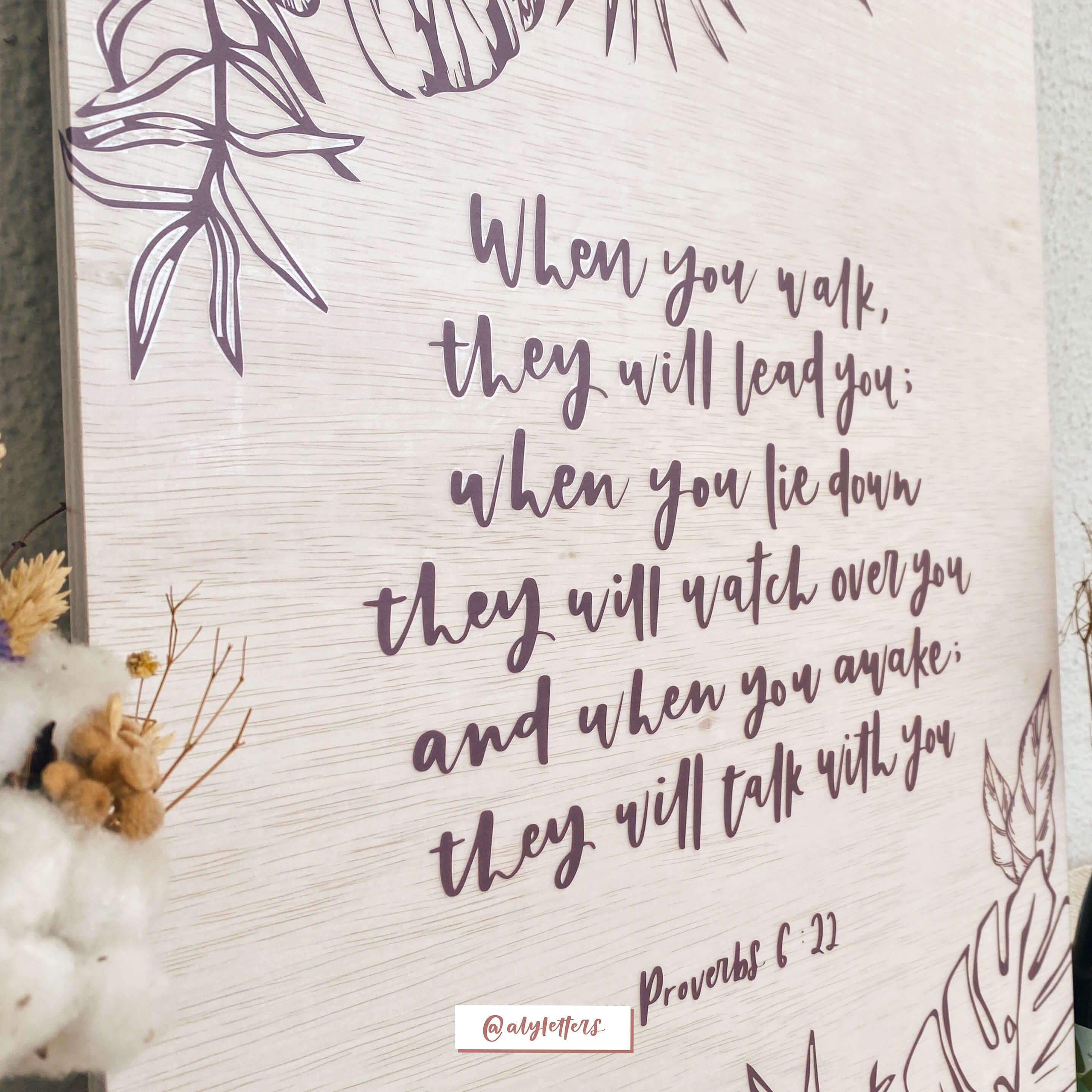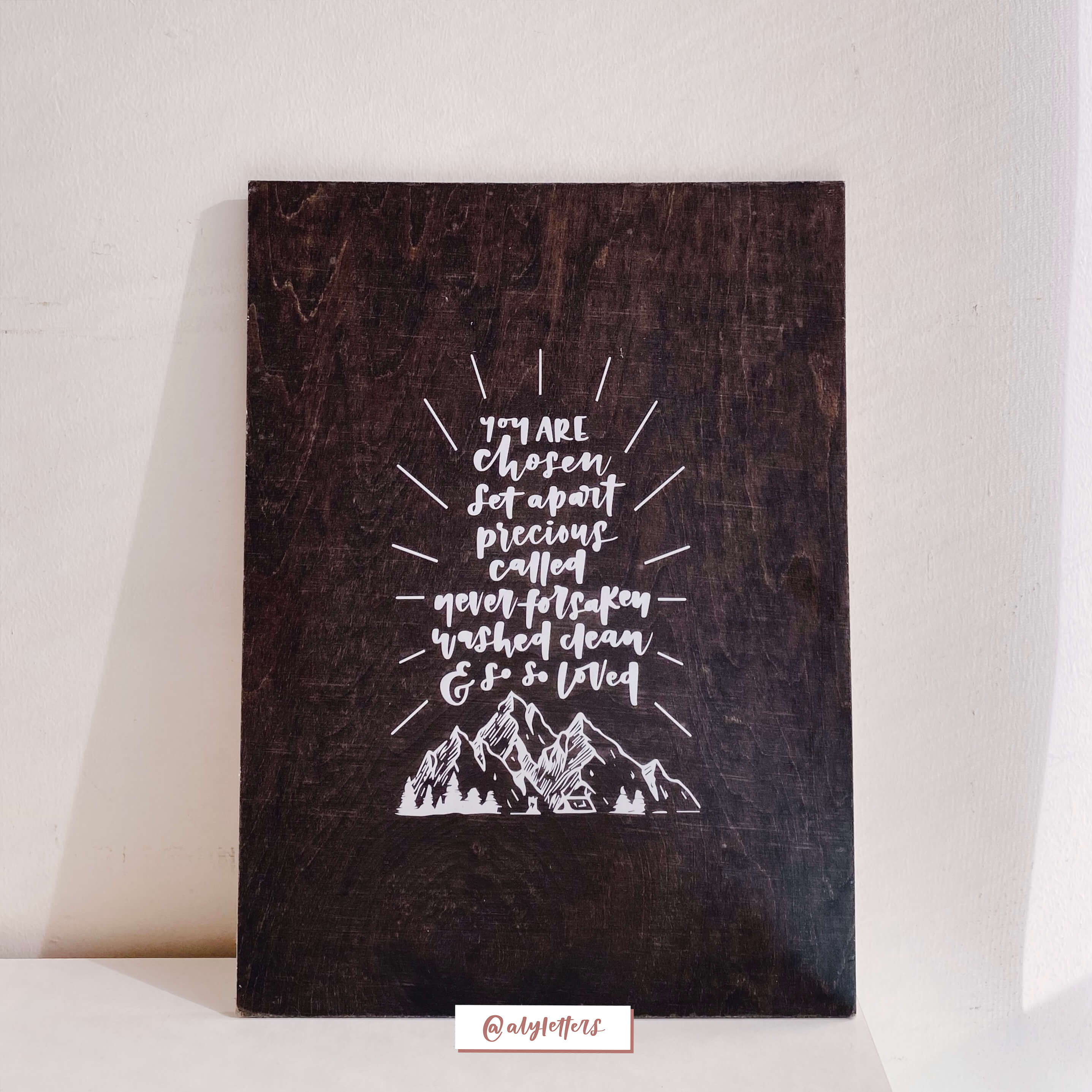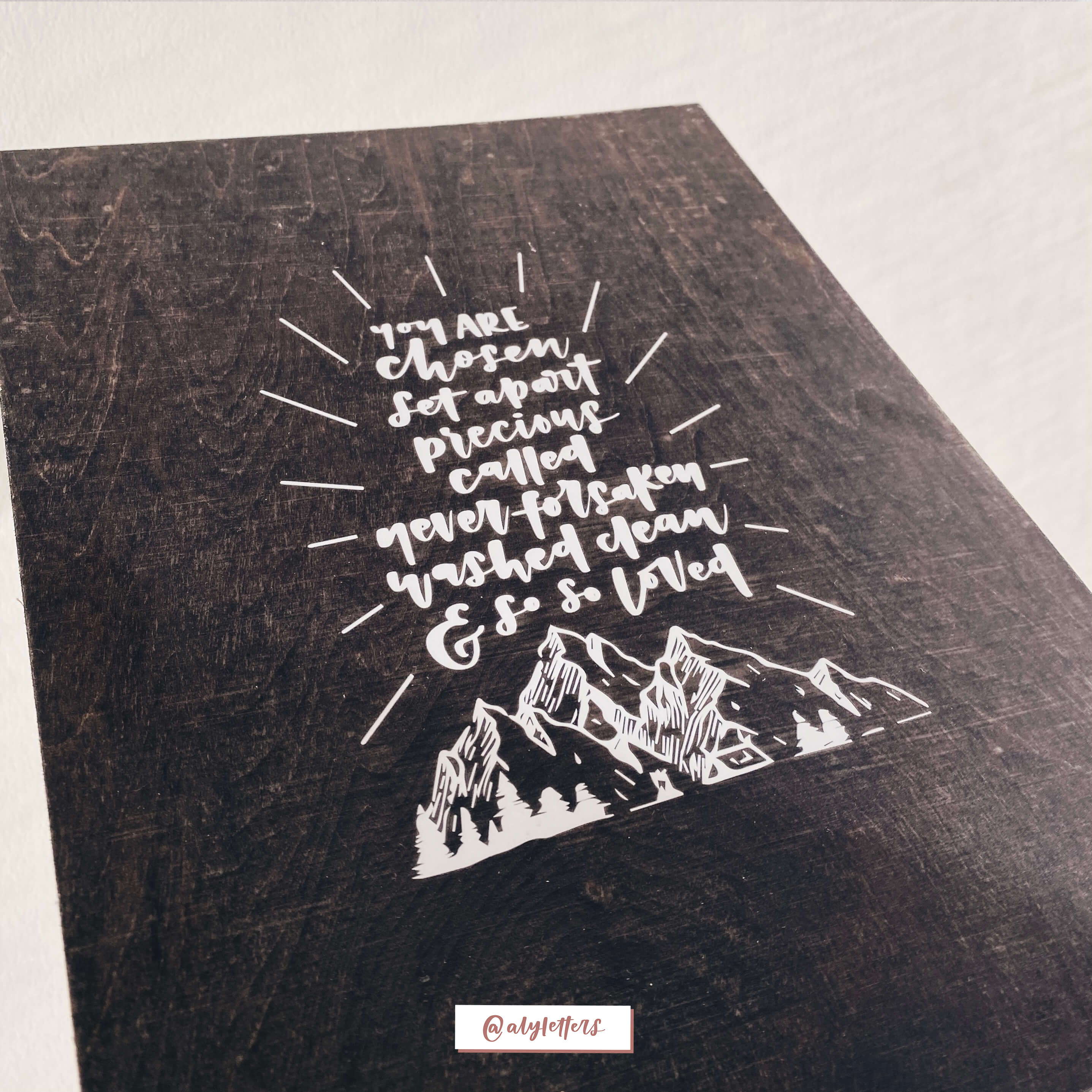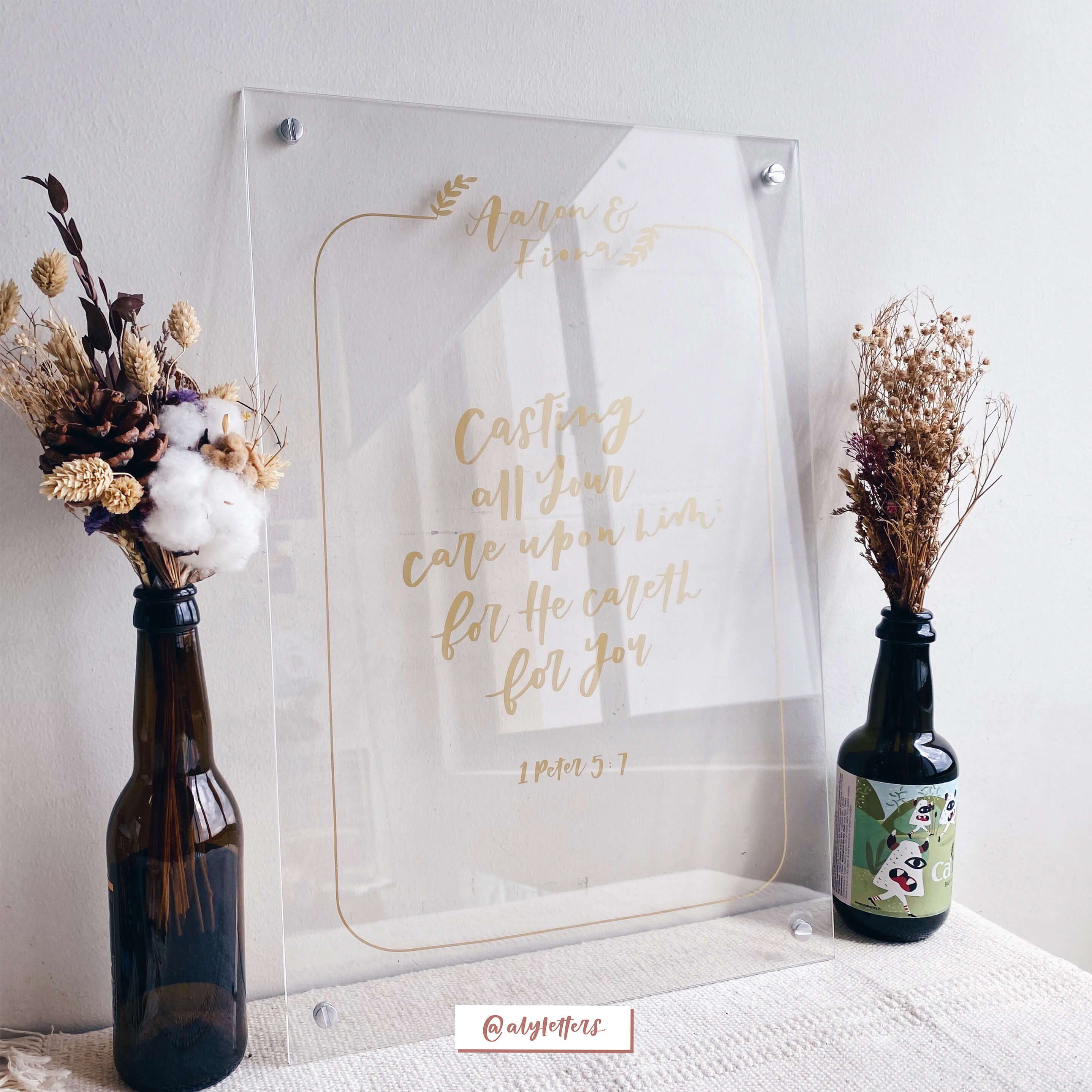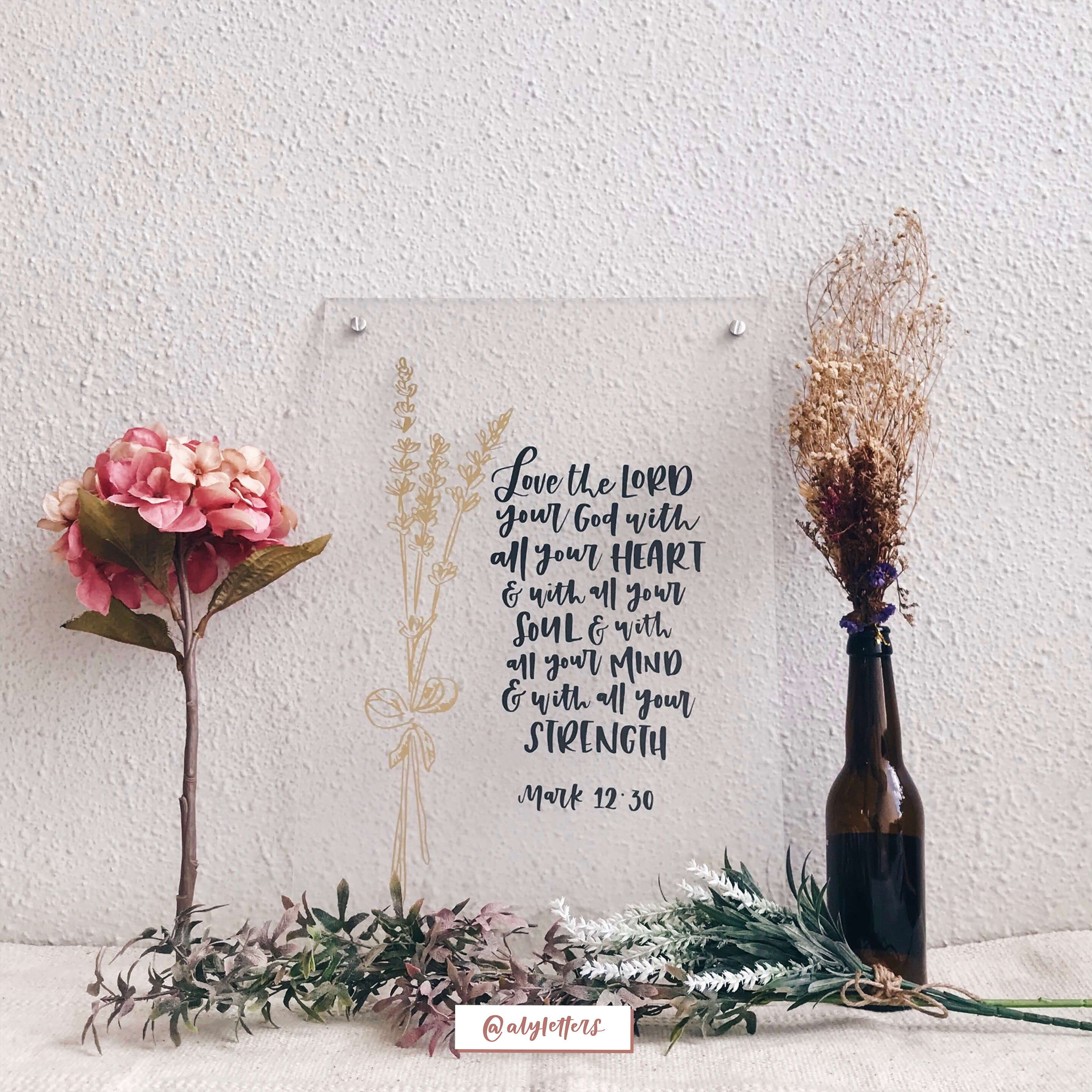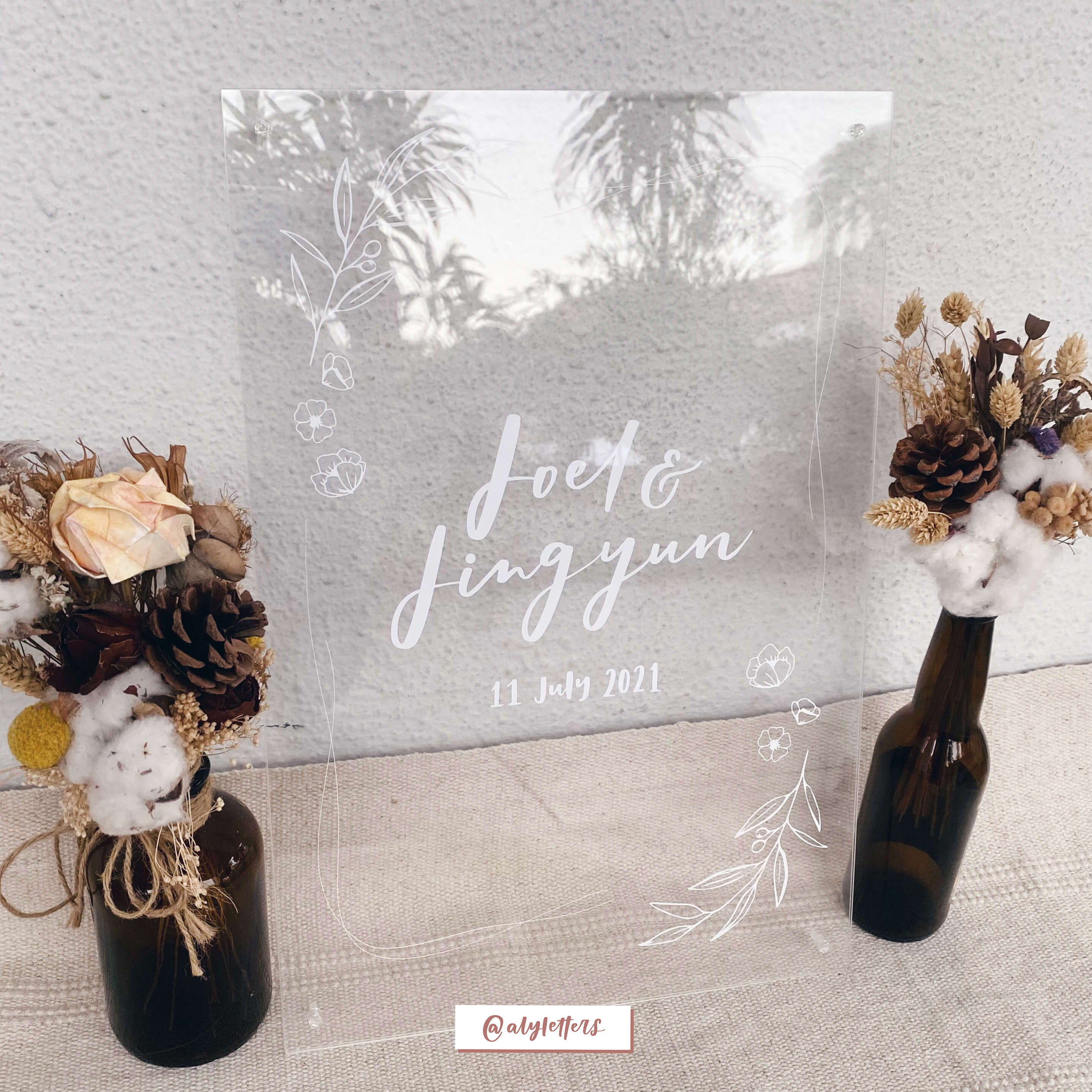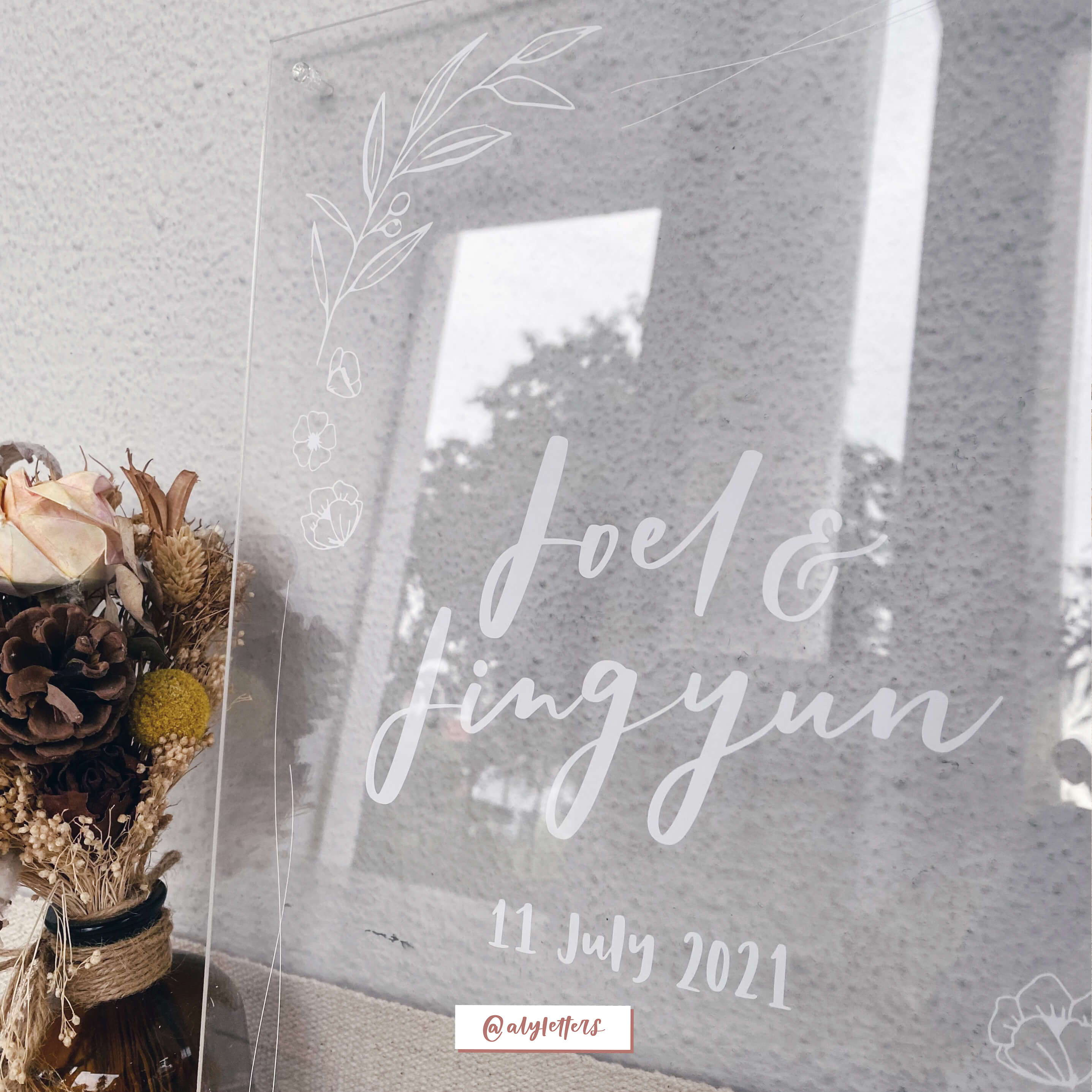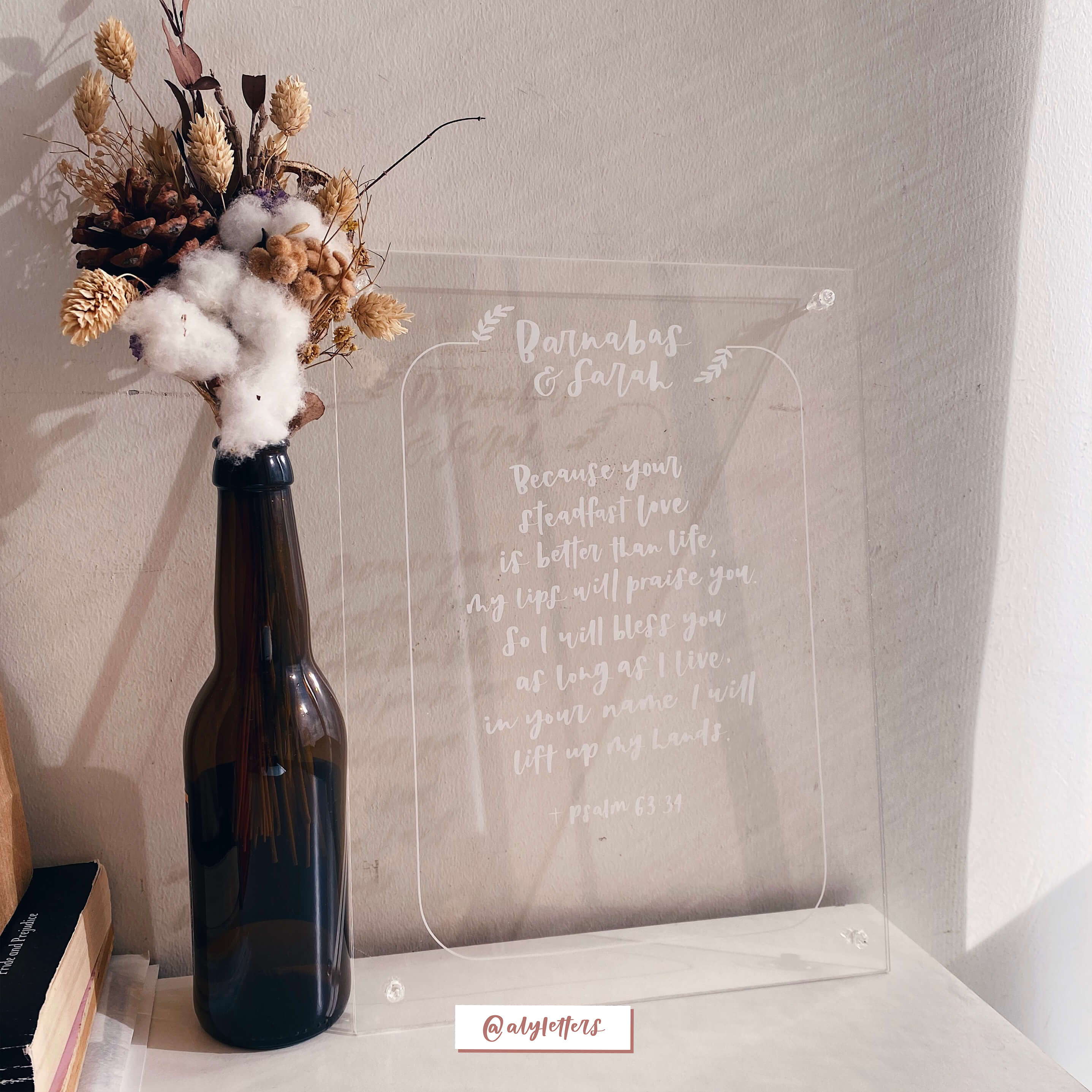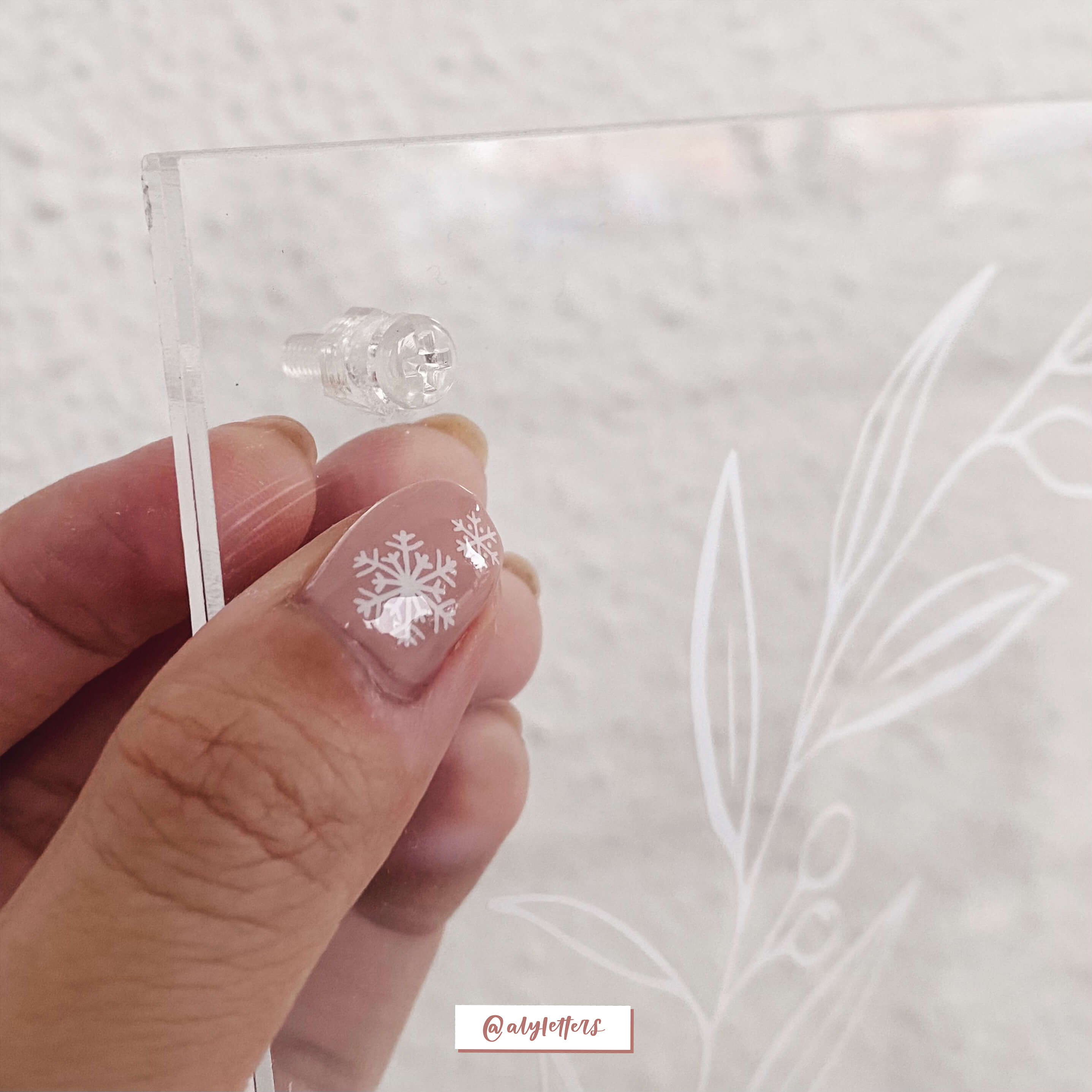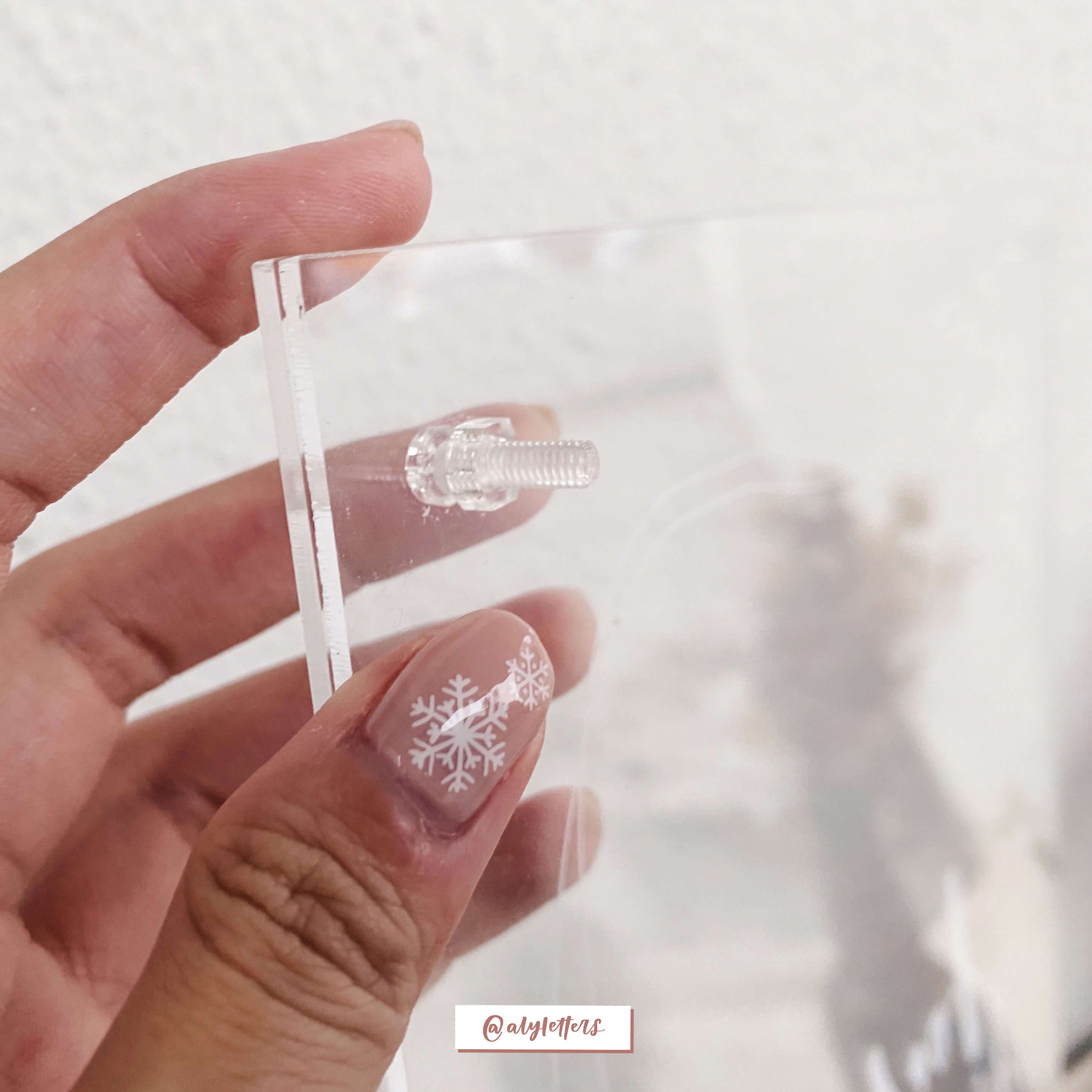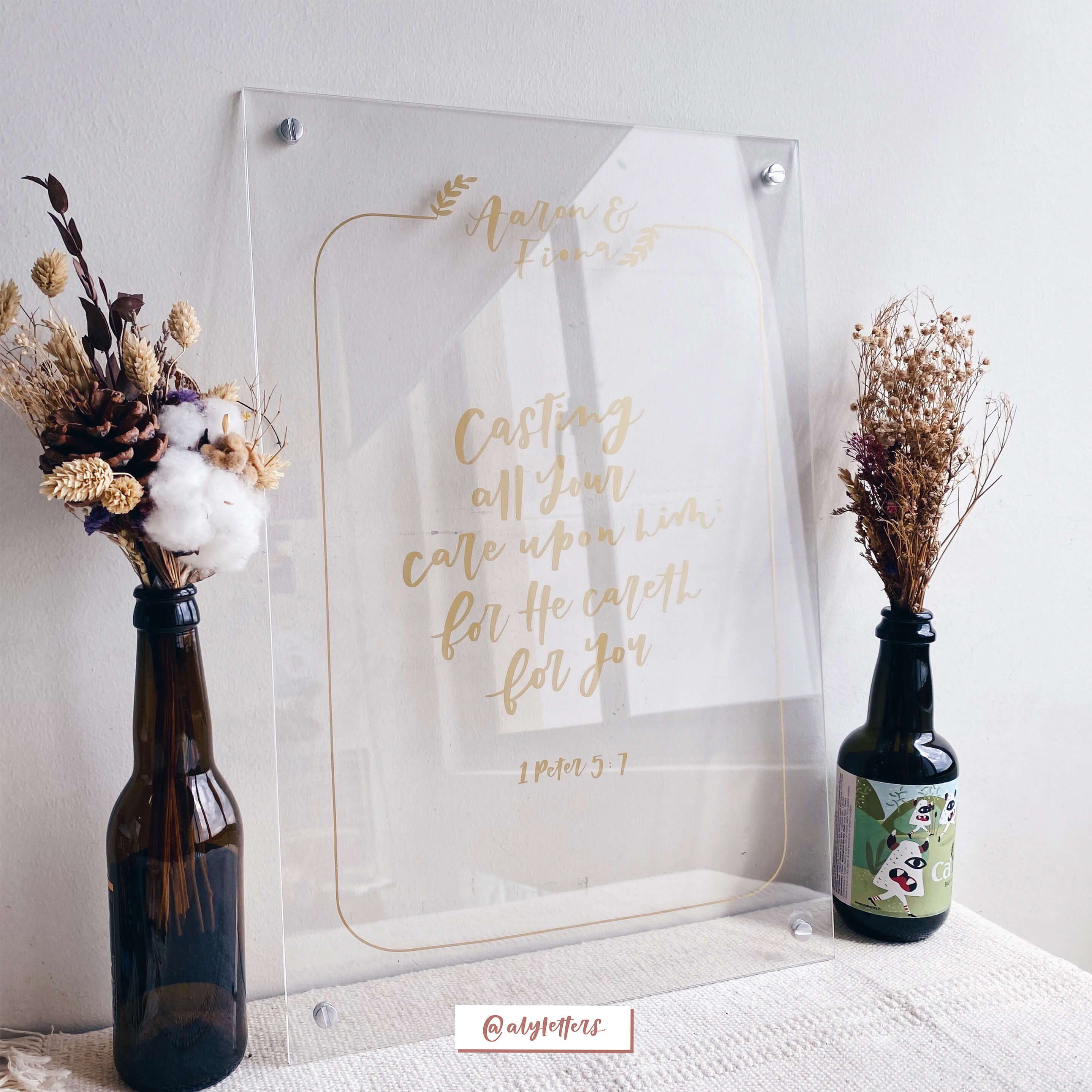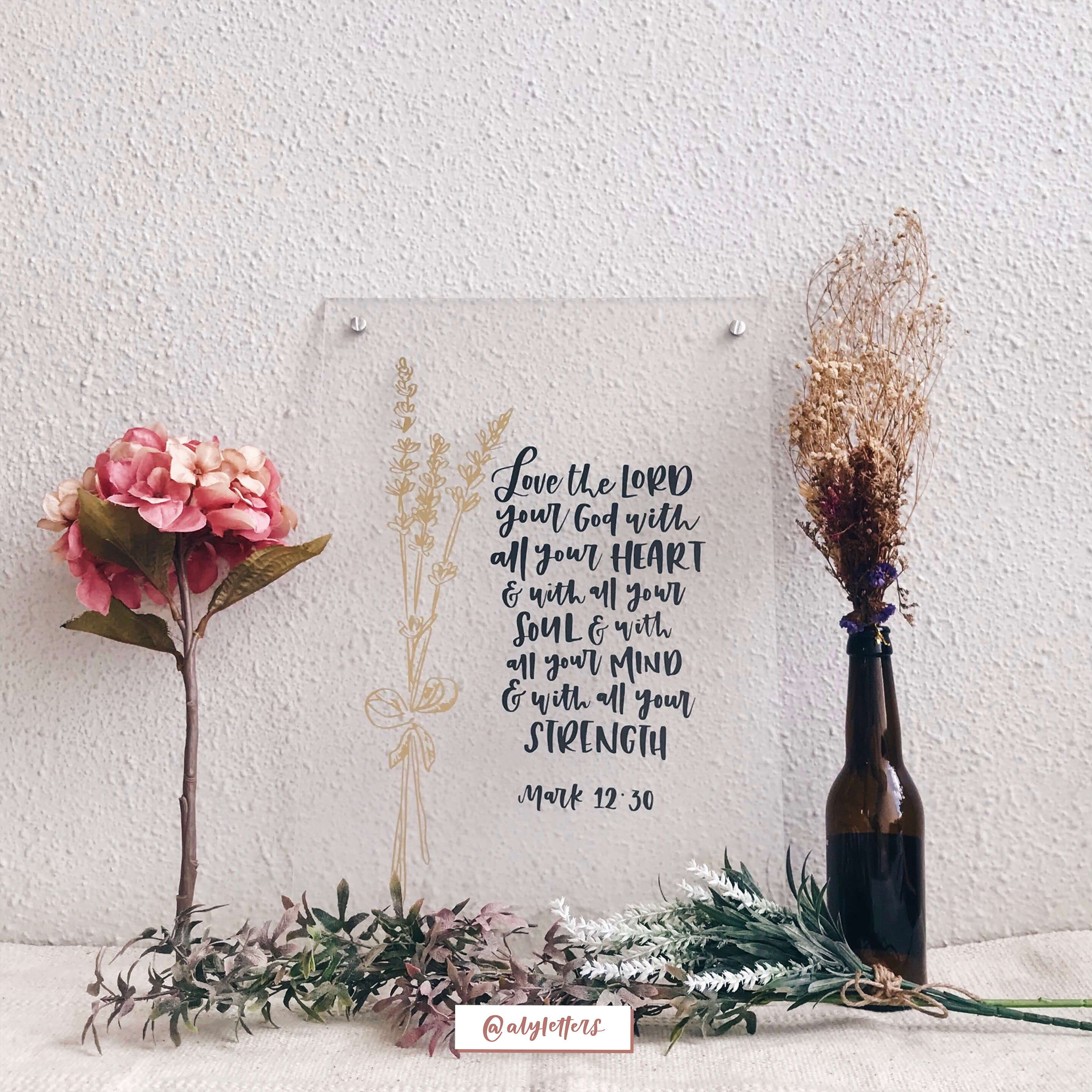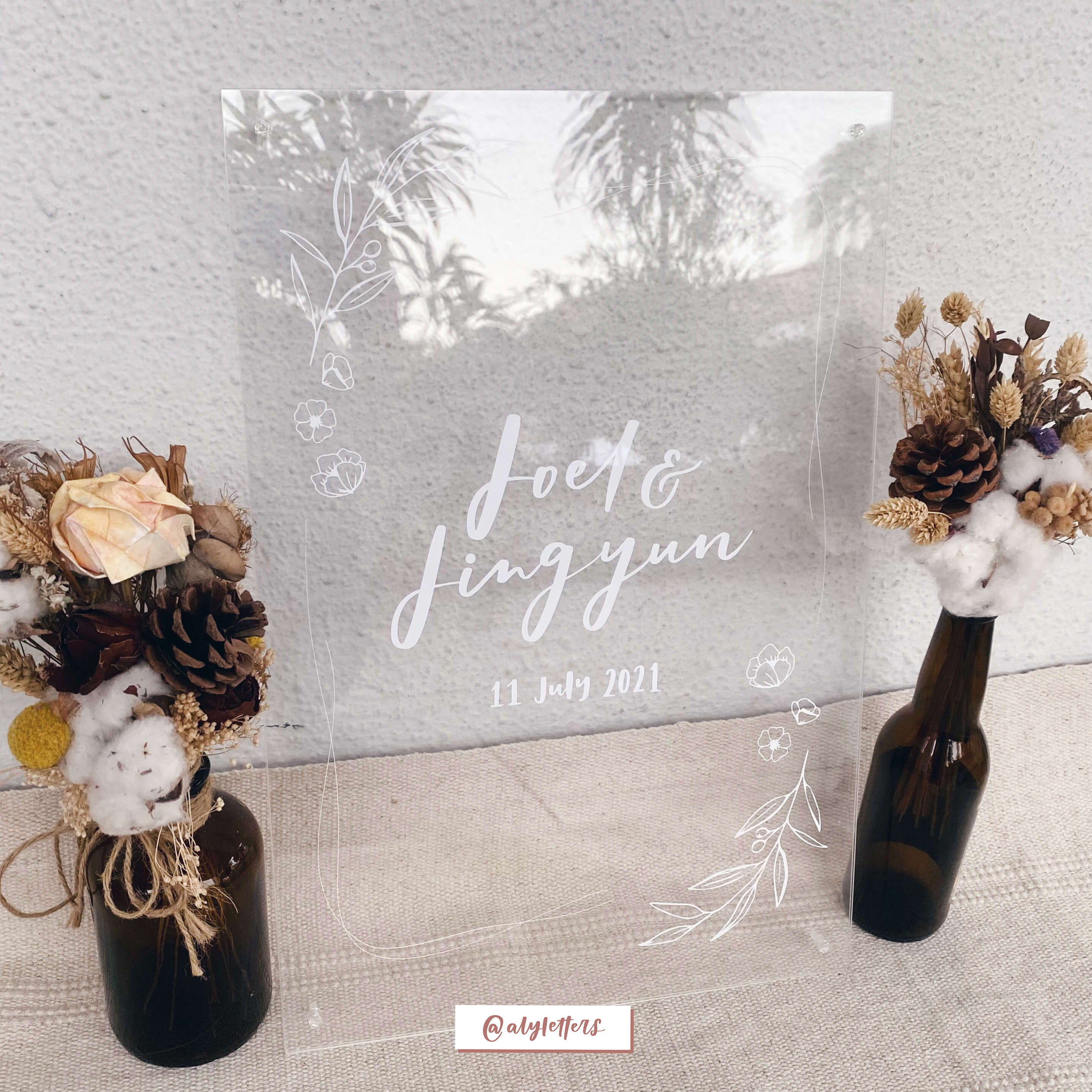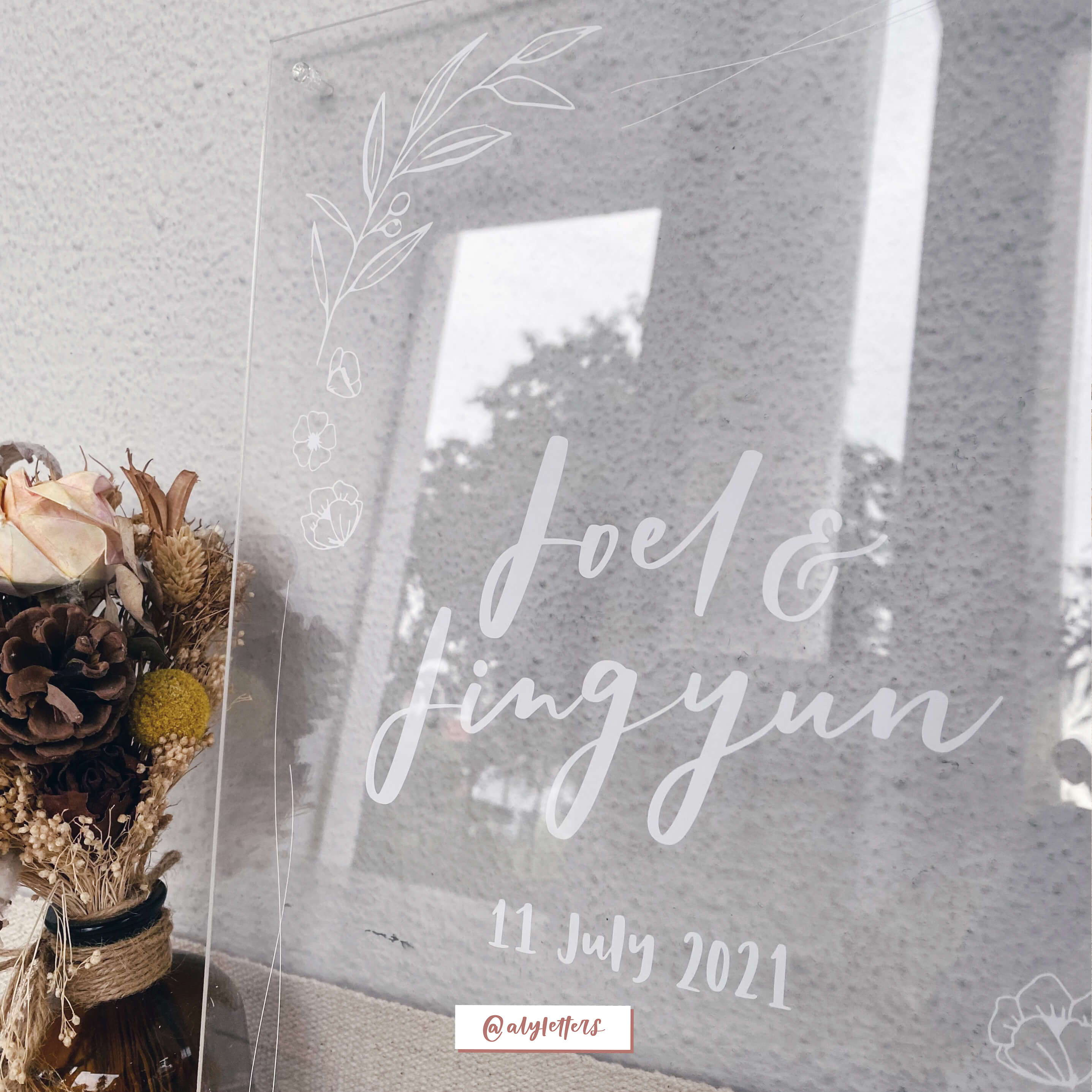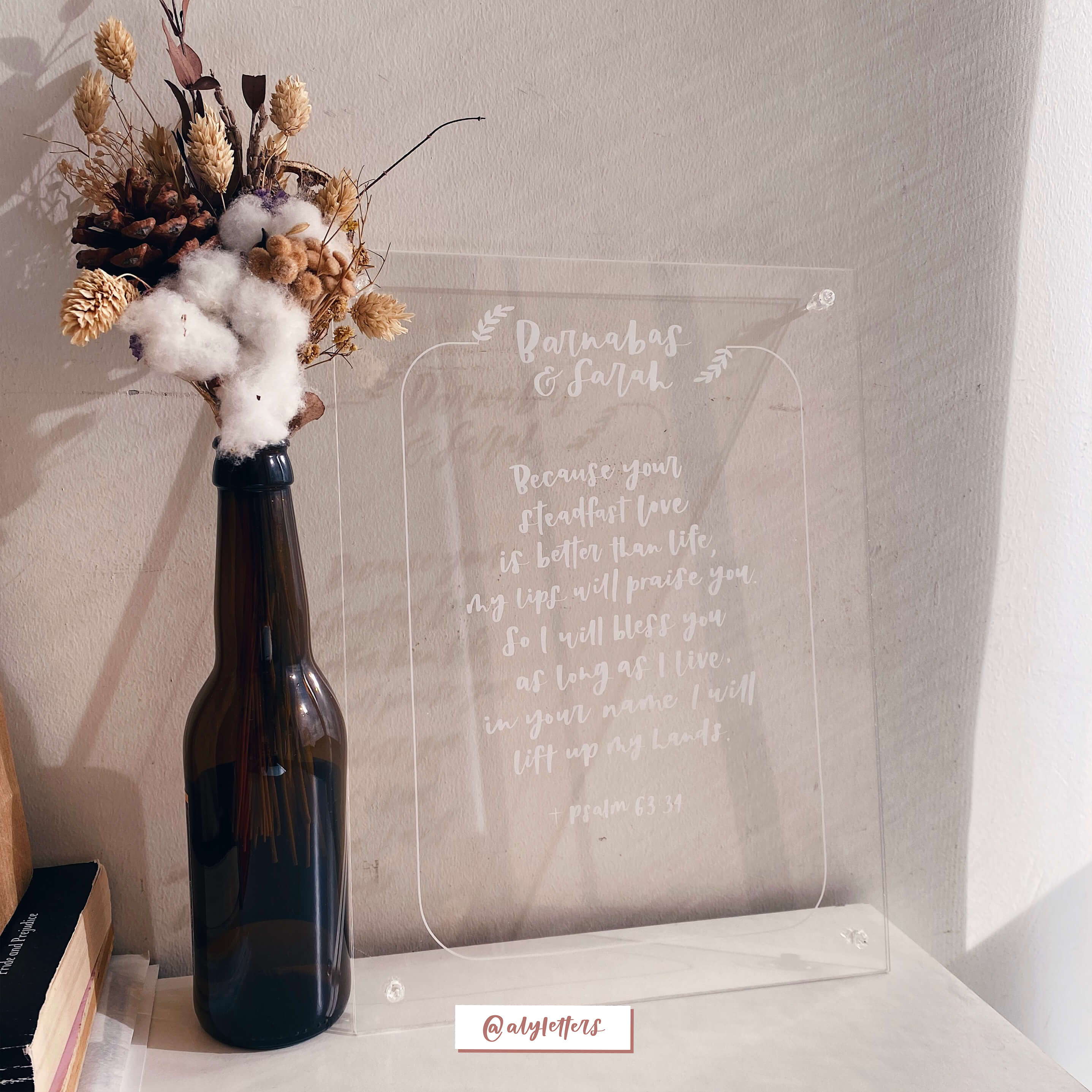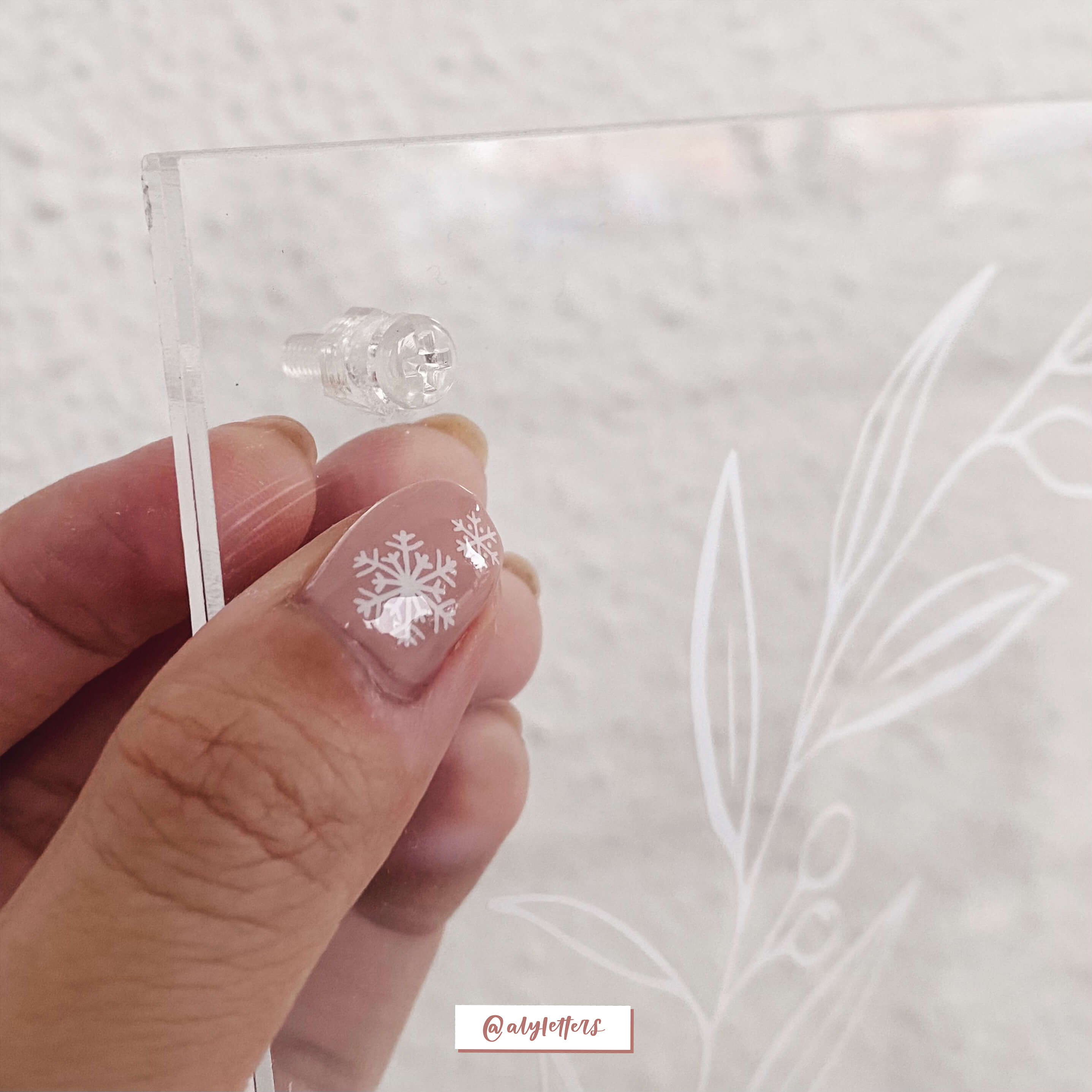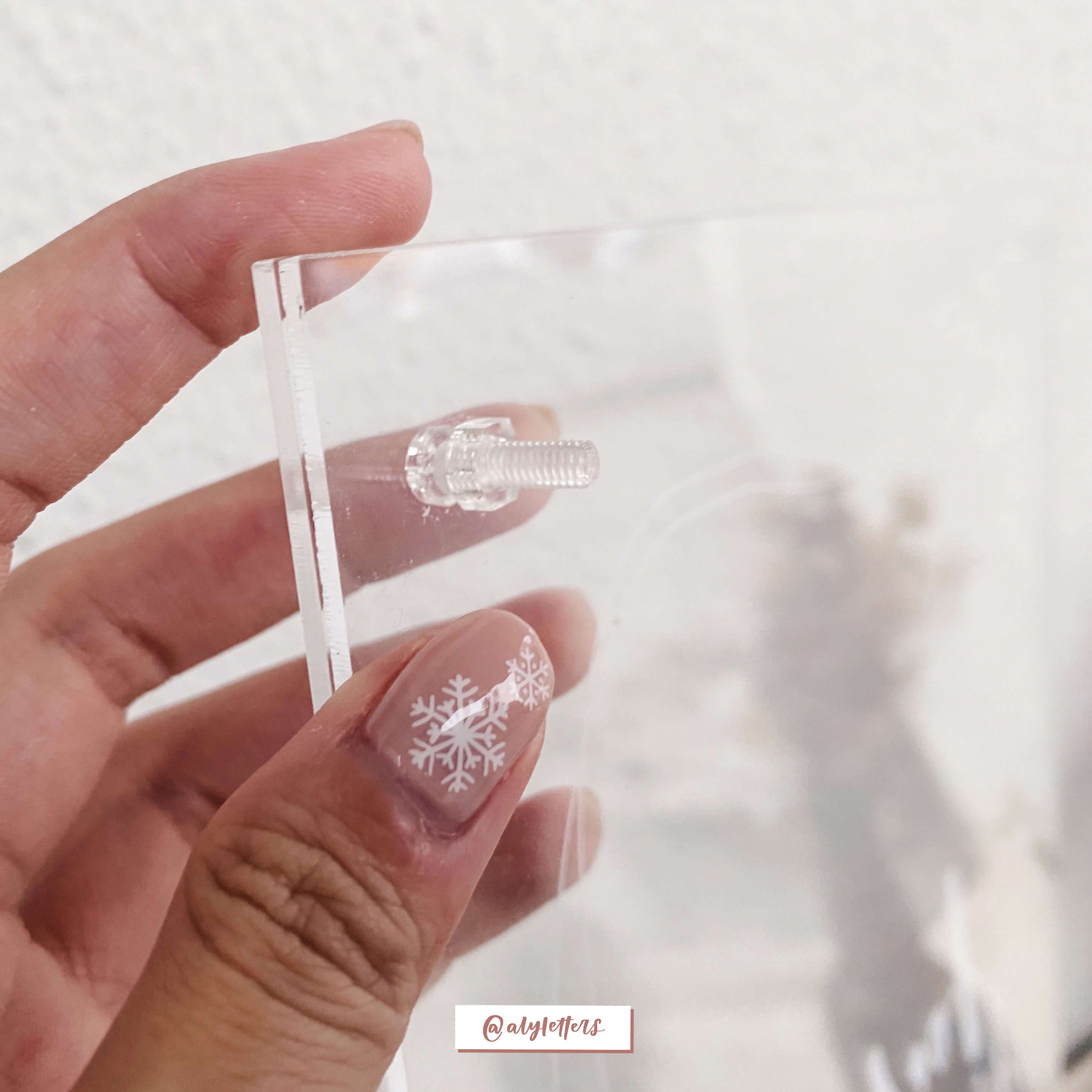 Meticulously designed & delicately assembled, Aly's Acrylic Signages aim to capture the essence & theme of your wedding/event.
All signages are durable & stand the test of time. Artworks on acrylic signages are bolted together in between two sheets of acrylic, protecting the illustrations & text inside from any external elements. These lasting signages can be kept for life as a memoir of your special day.

These Acrylic Signages are perfect for gifting. The transparency of these Acrylic Signages allow daylight to pass through which makes it even more whimsical!

Price Range: $130-$250 [Depending on size of artwork & complexity]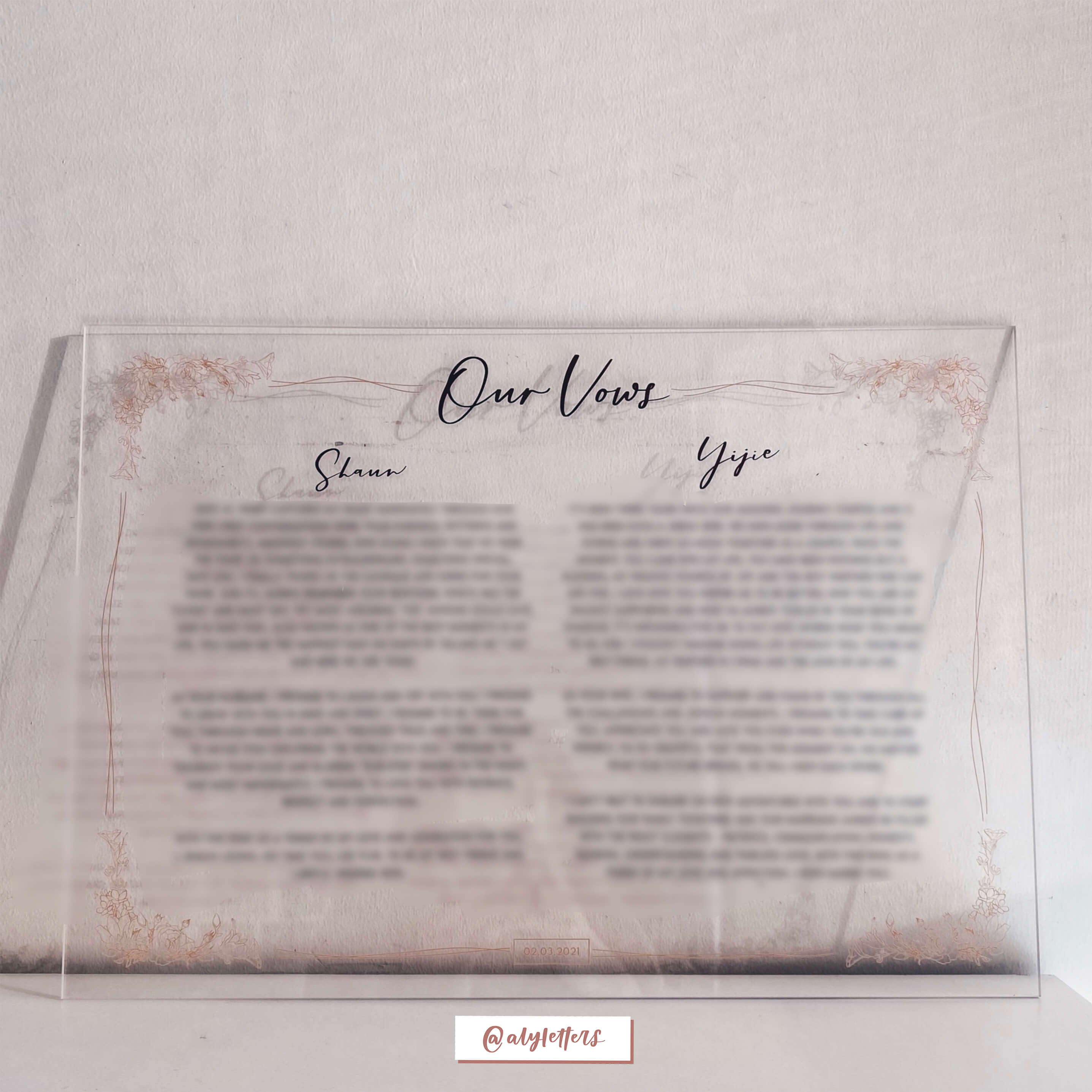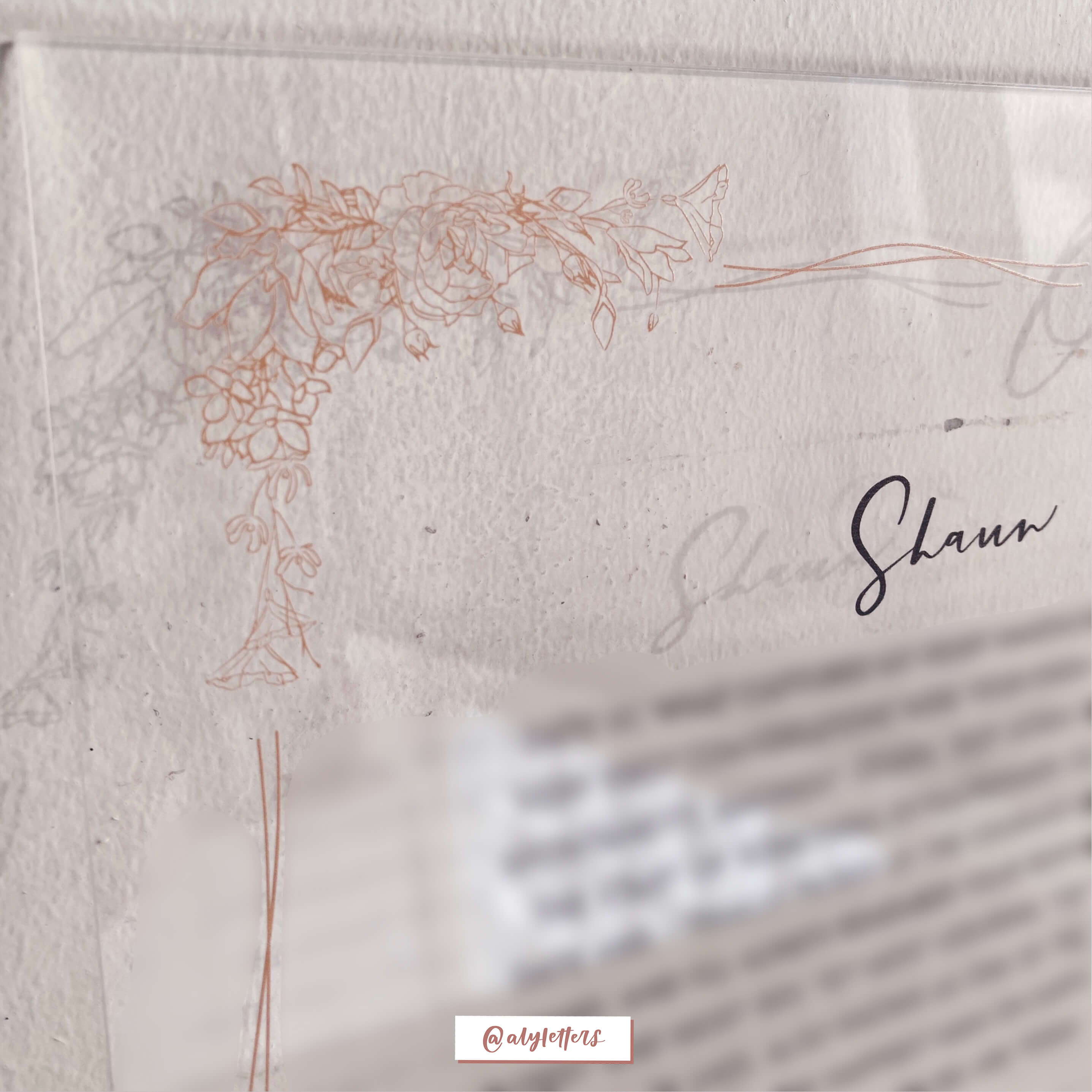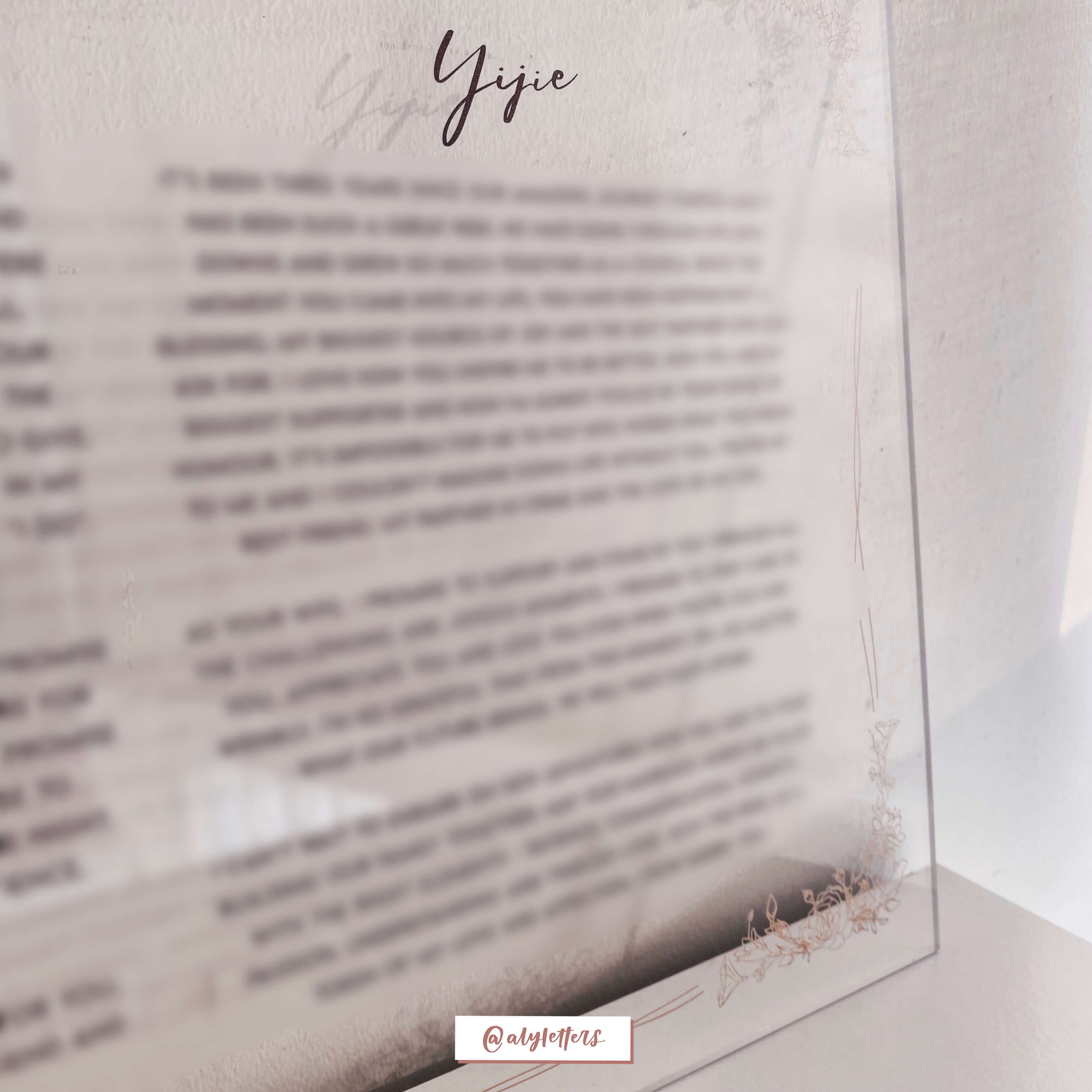 Wedding vows are especially personal as they're special words spoken when two become one and it represents a couple's commitment to each other.
These Acrylic Vows are not only great forever keepsakes, but perfect gifts for your better half. They don't only serve as a decor item from your special day, but also a physical reminder of the promises you've made to each other at the altar!
Take your time with Aly in the design process and turn your intimate moments into a breathtaking display!
Price Range: $220-$387 [Depending on size of artwork & complexity]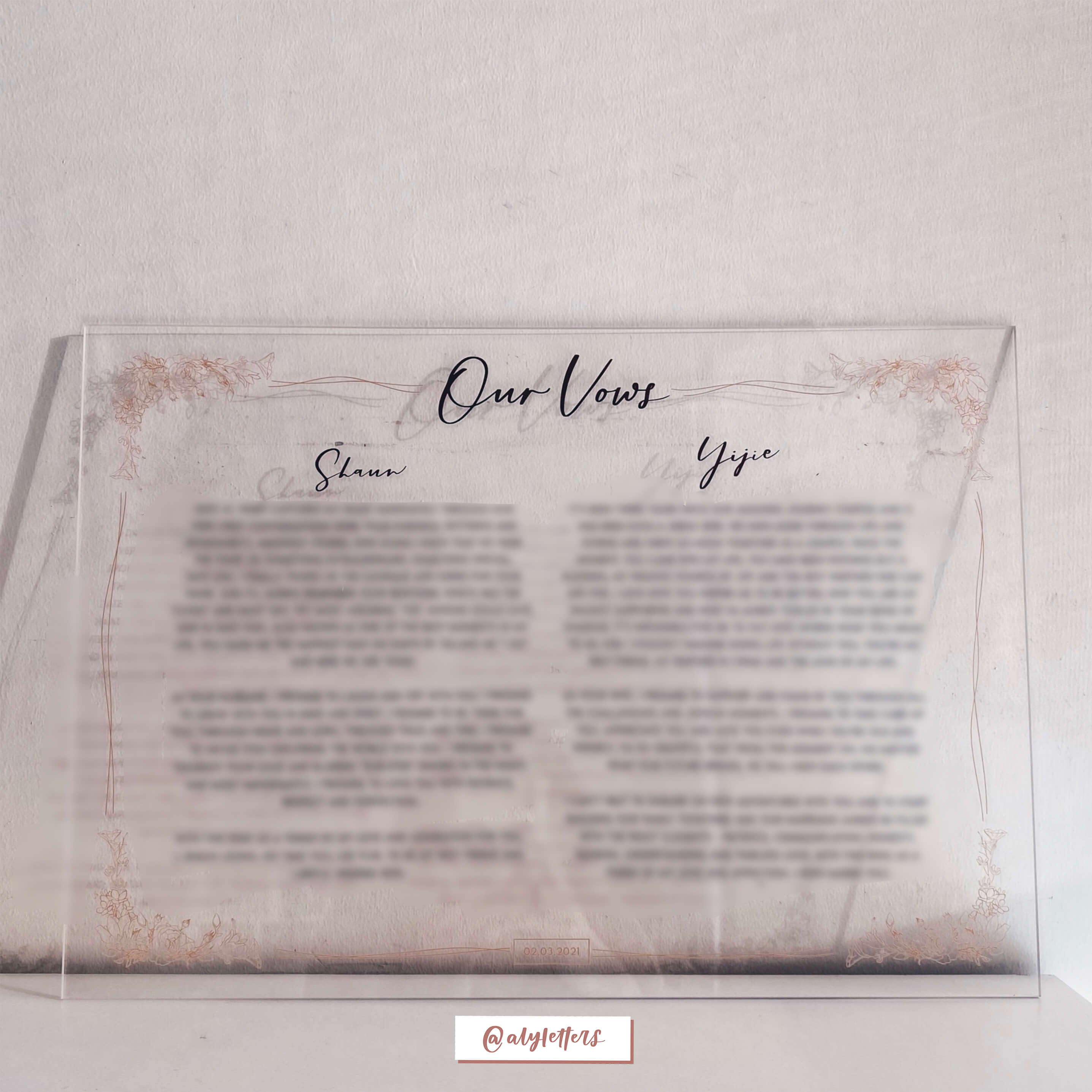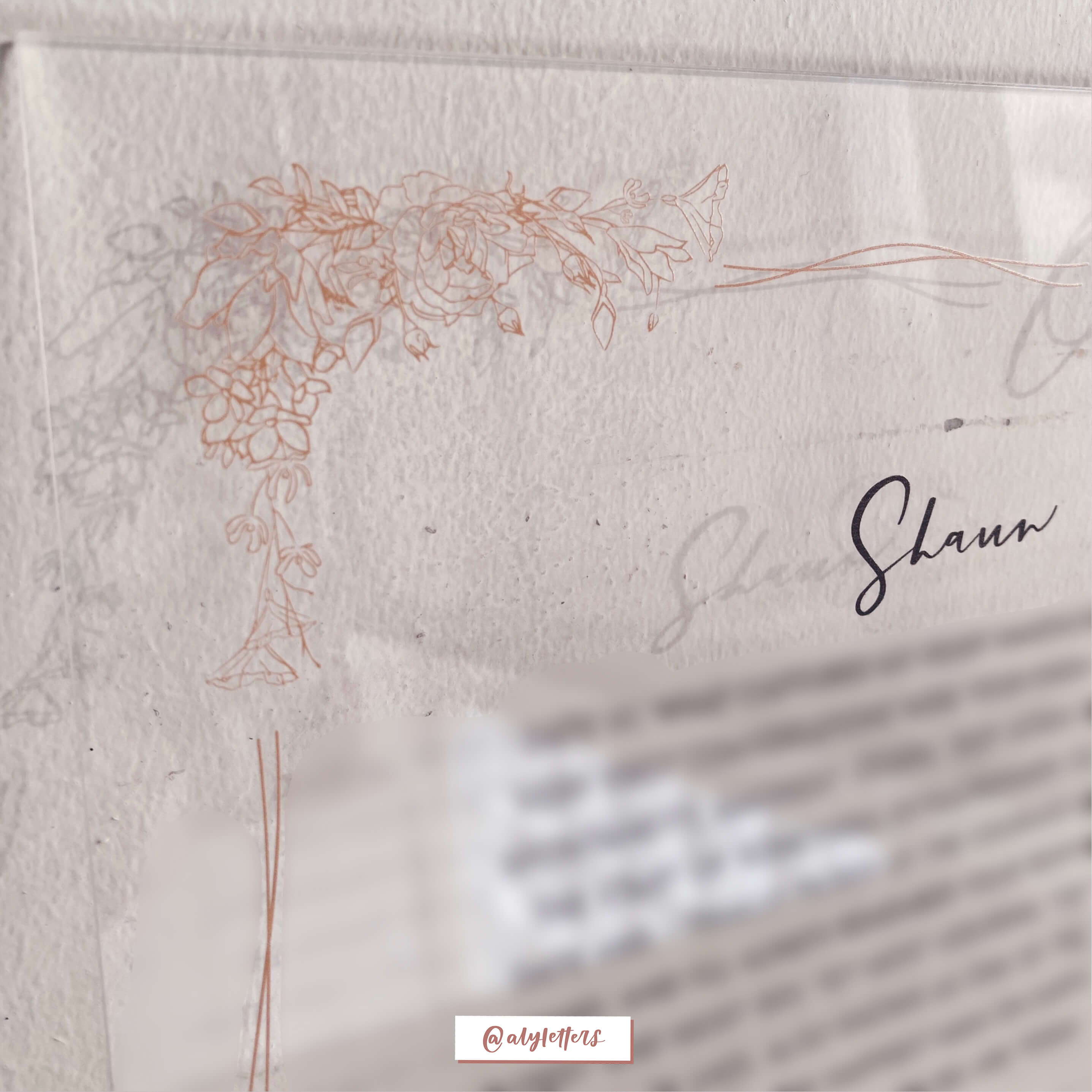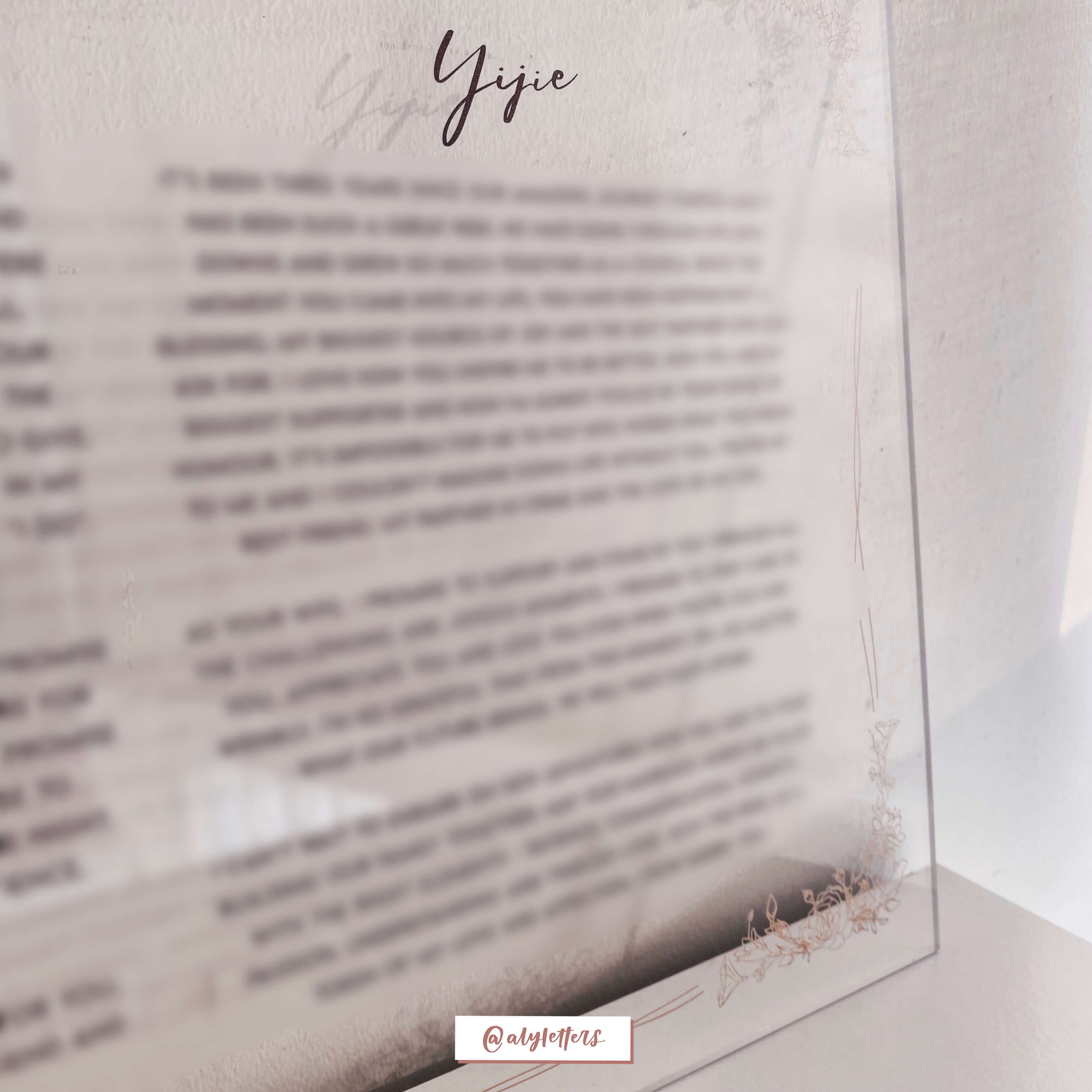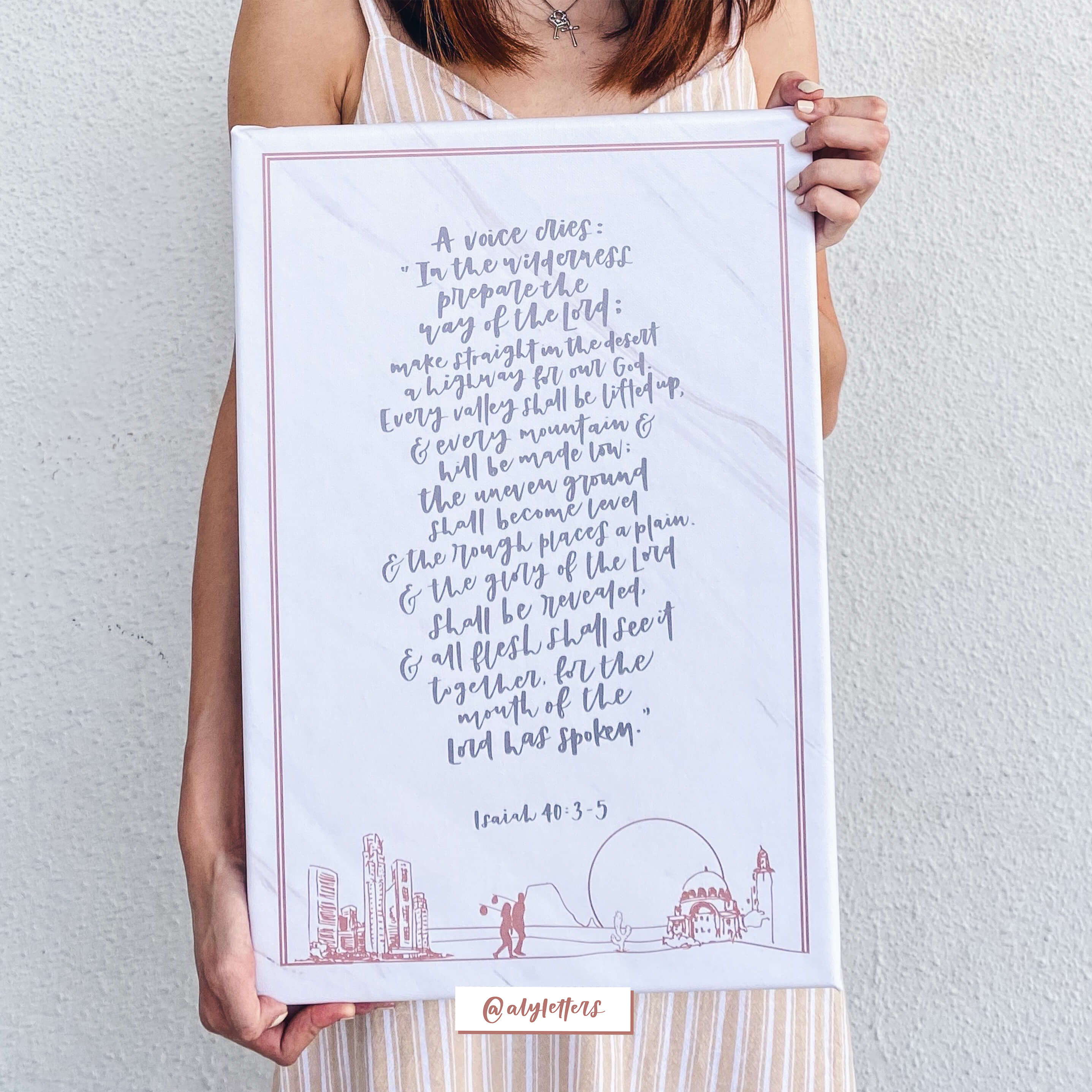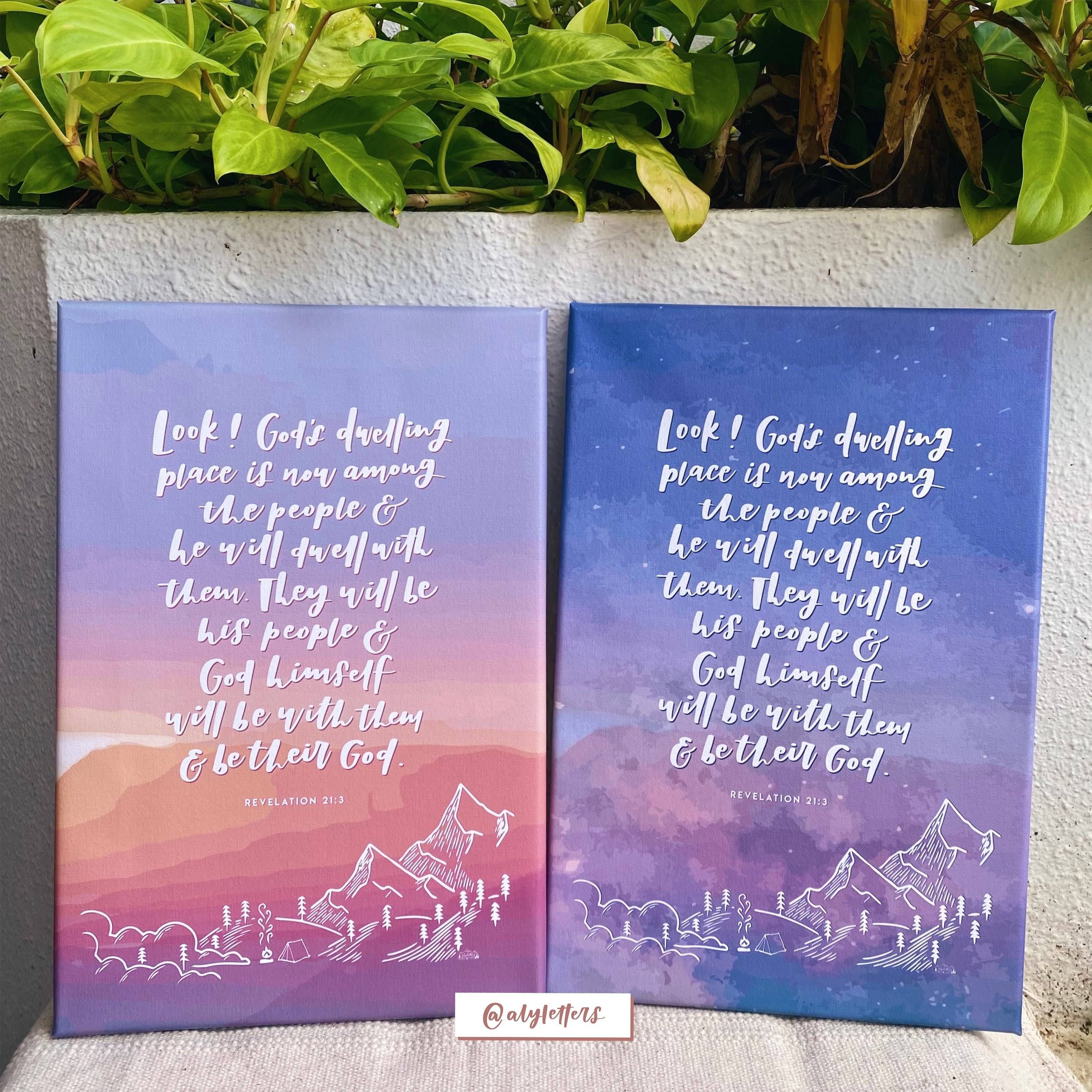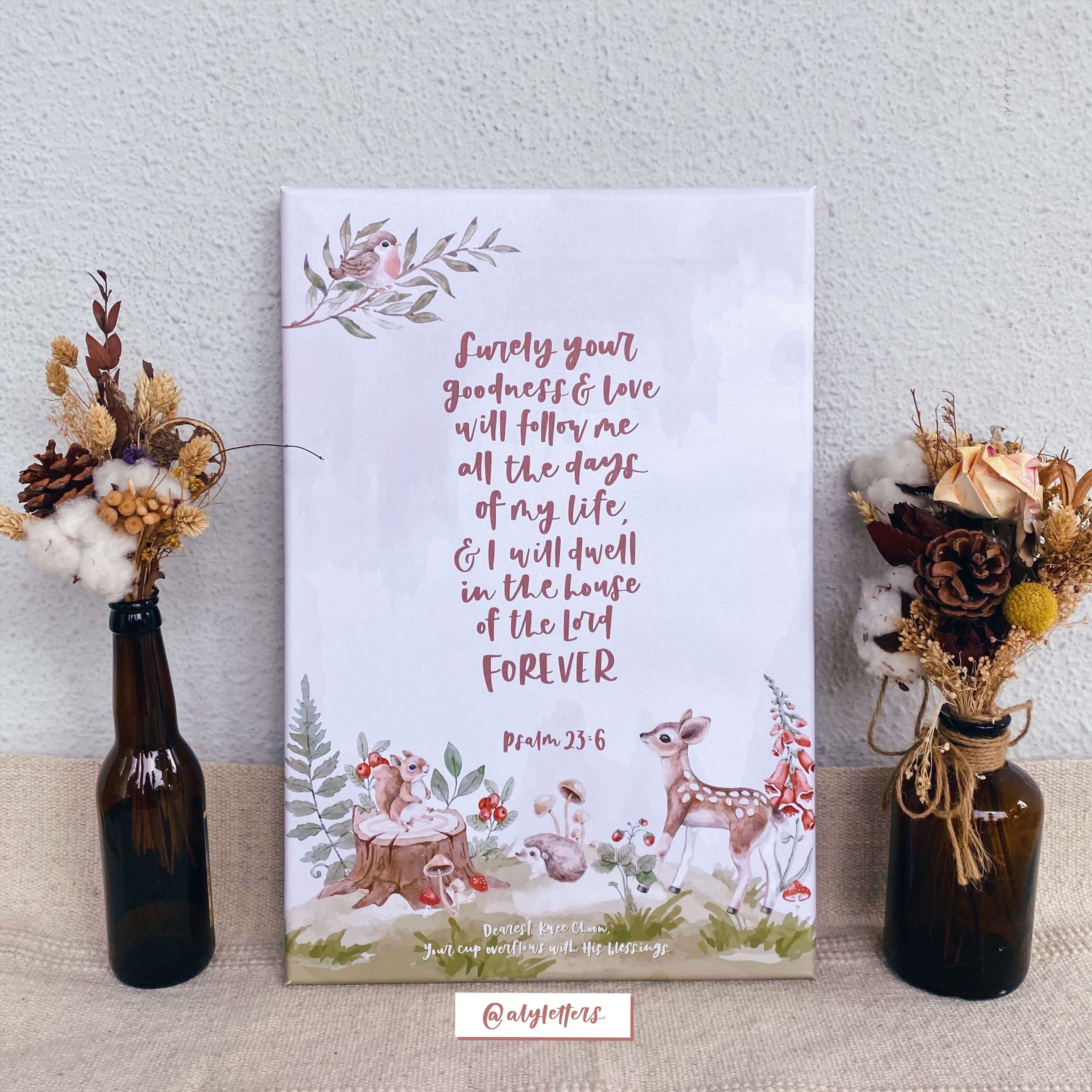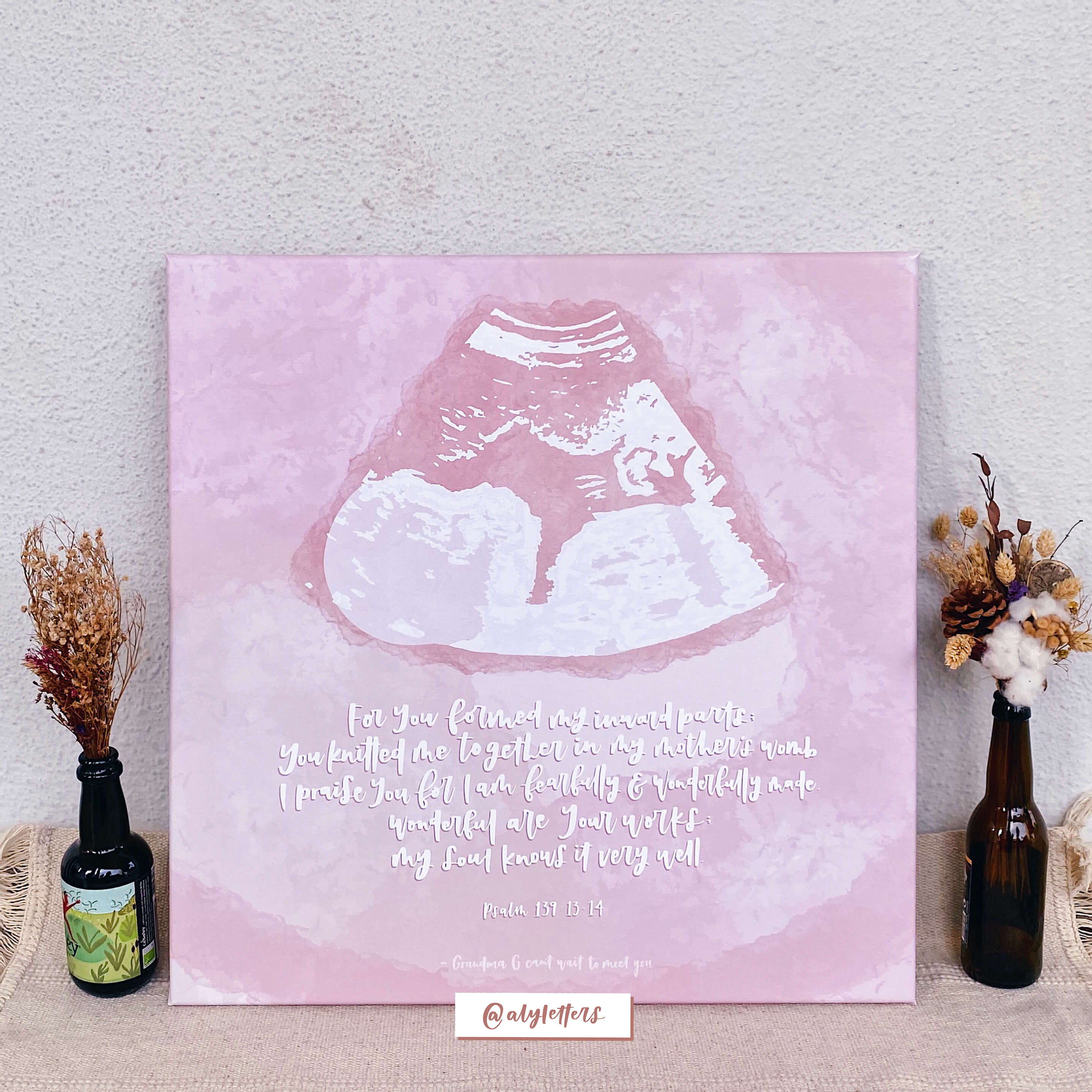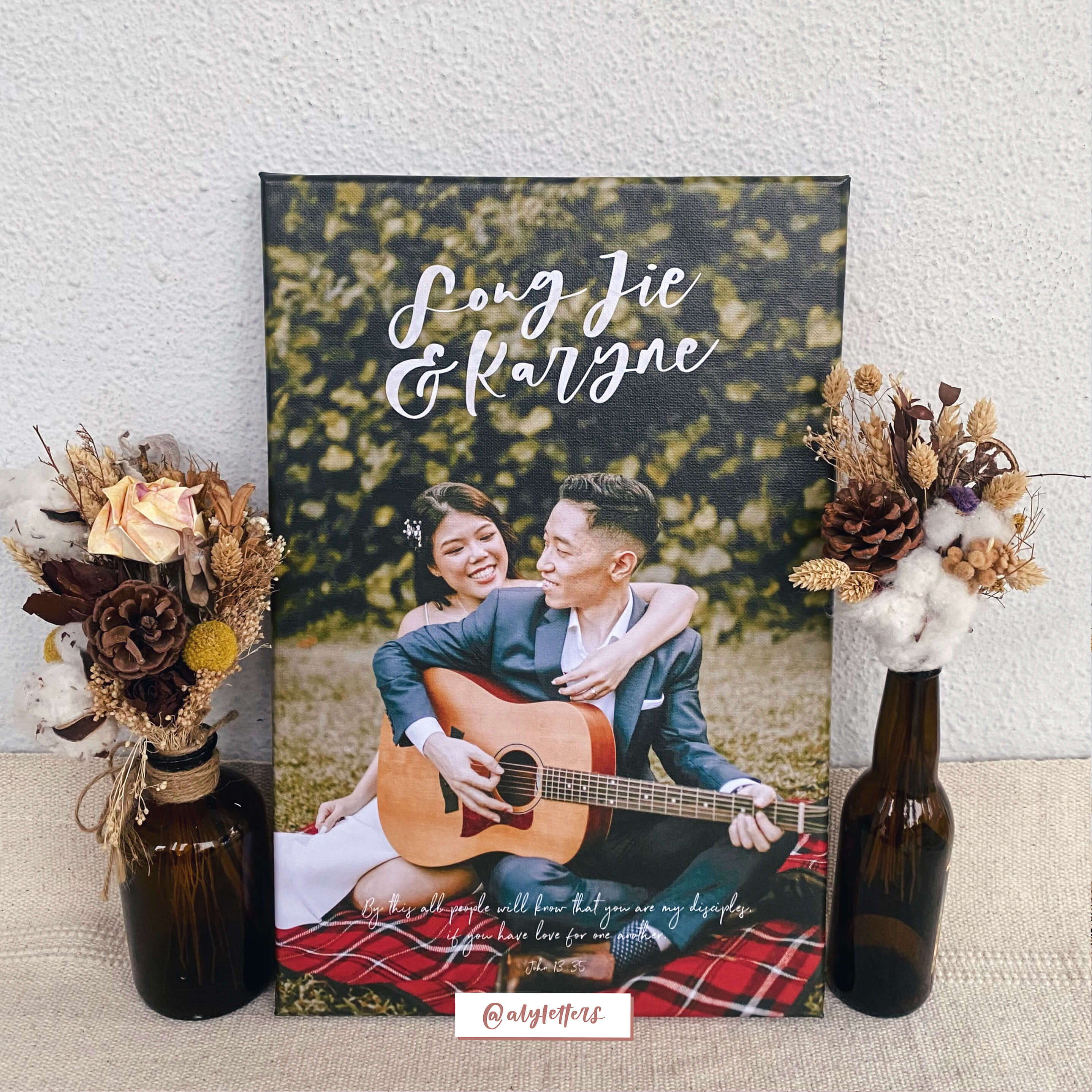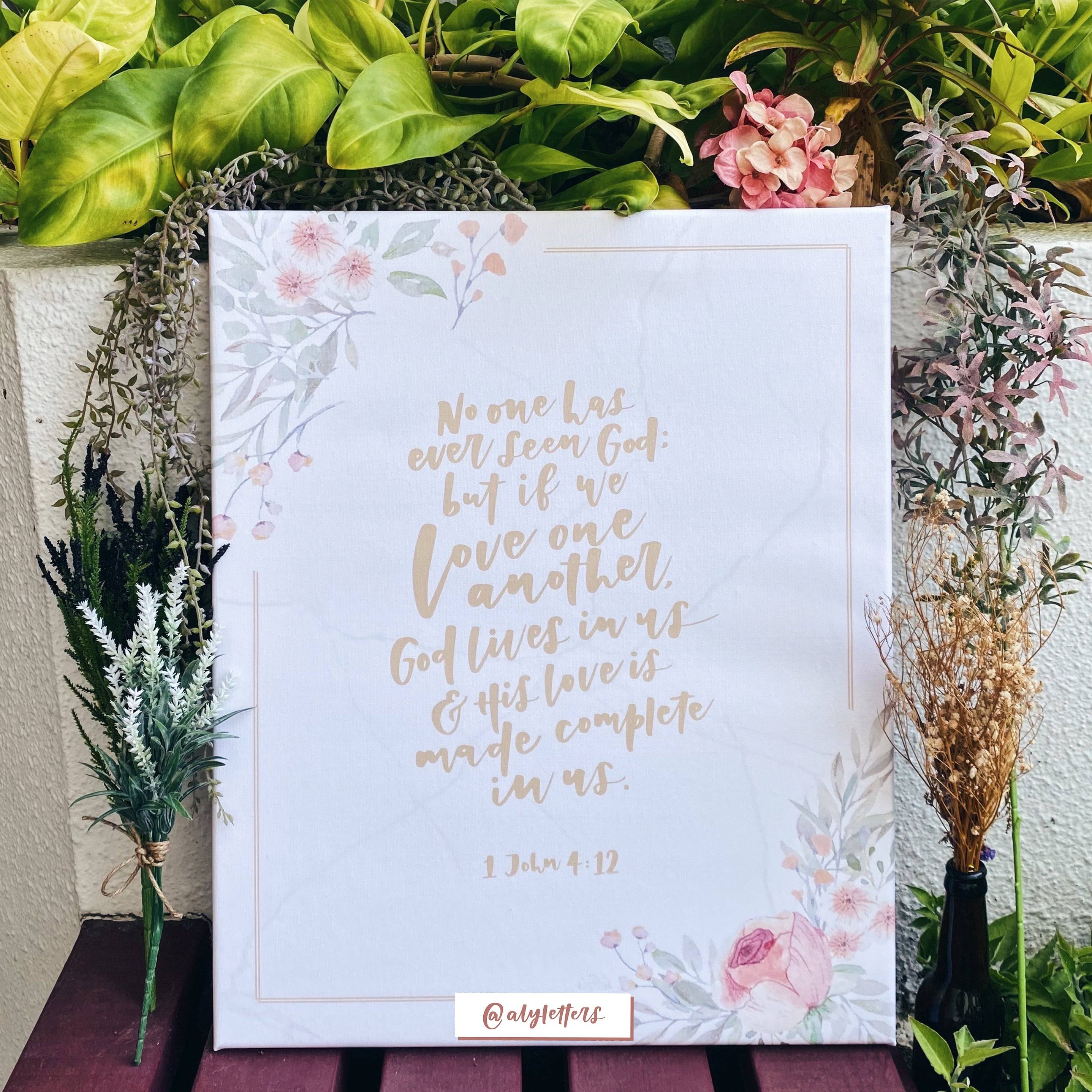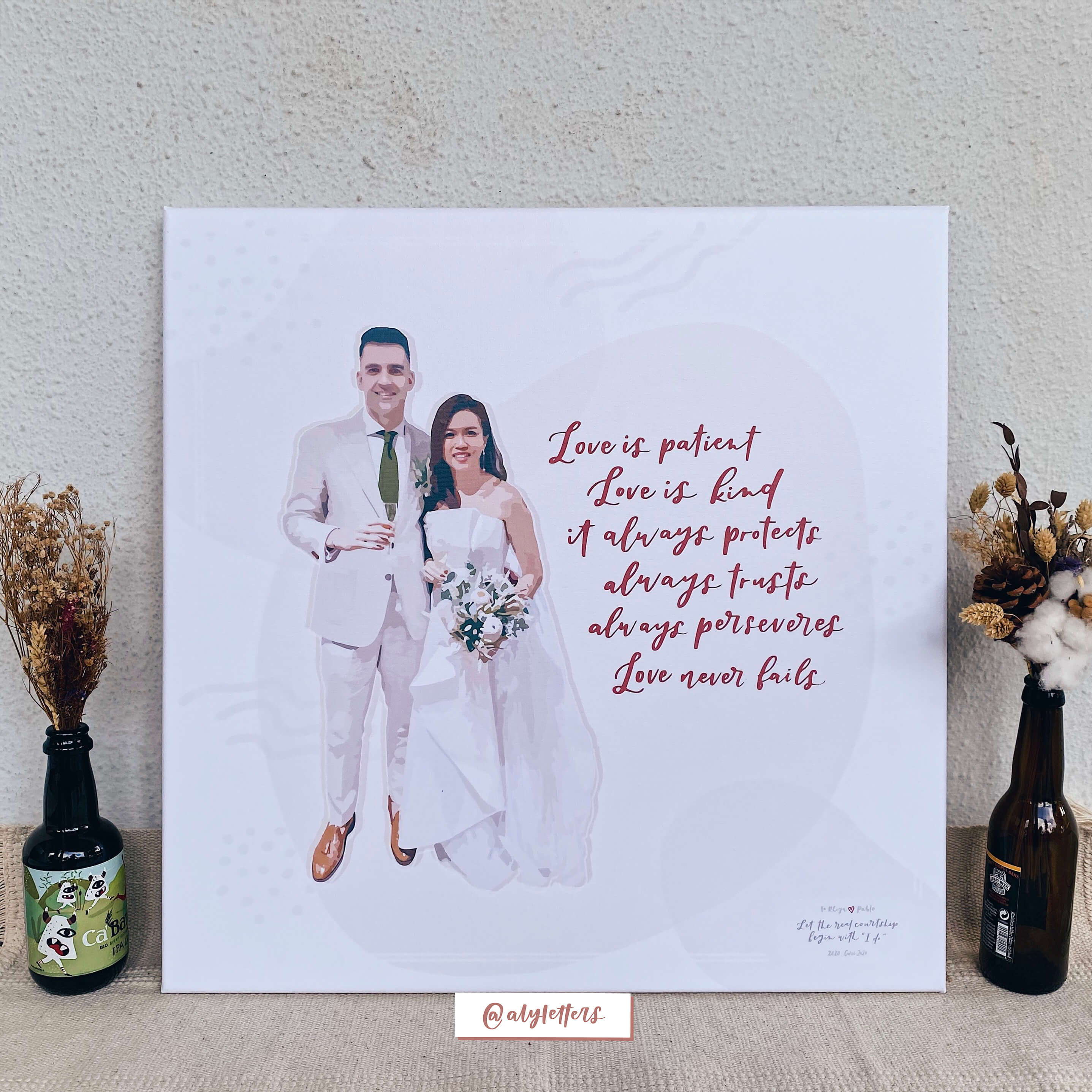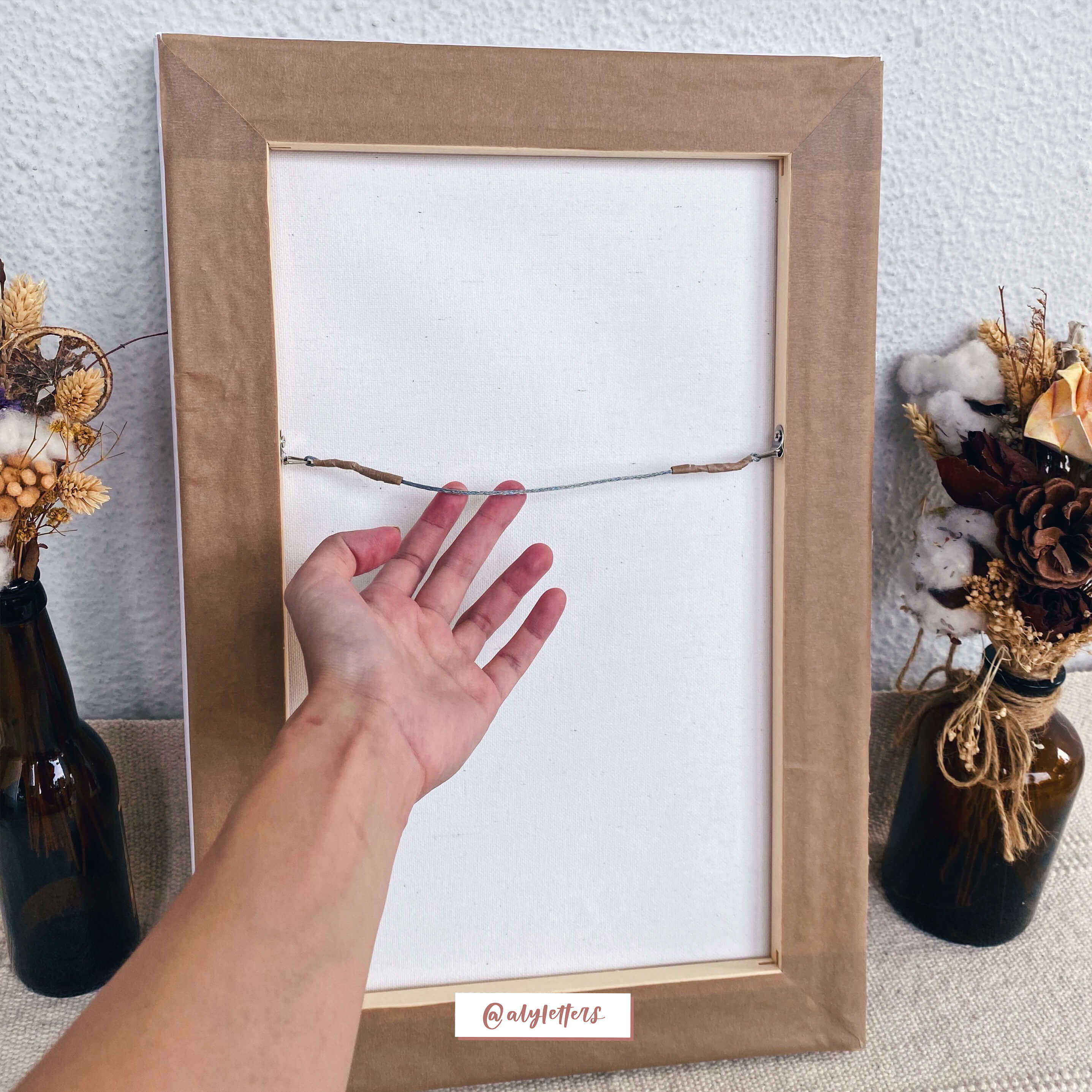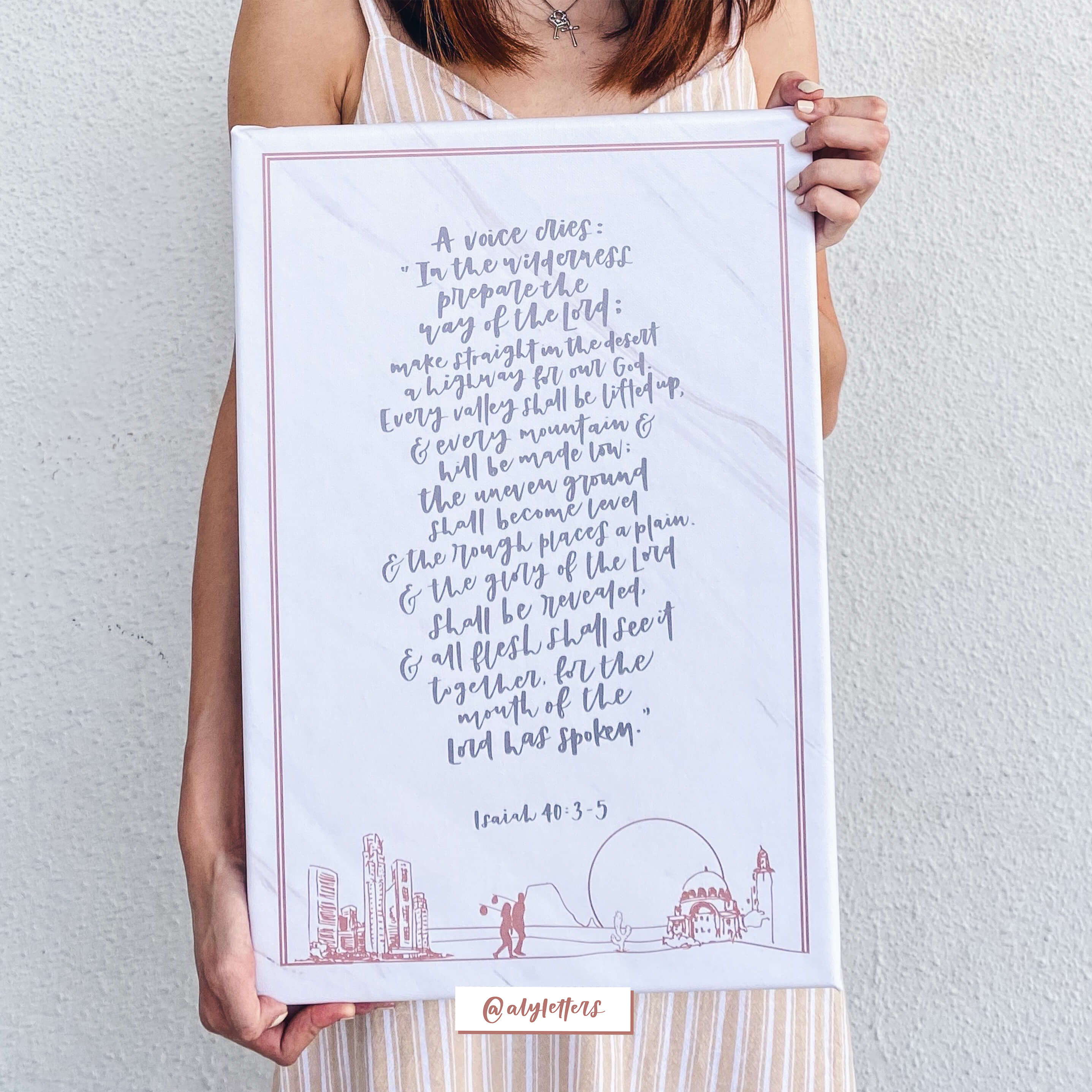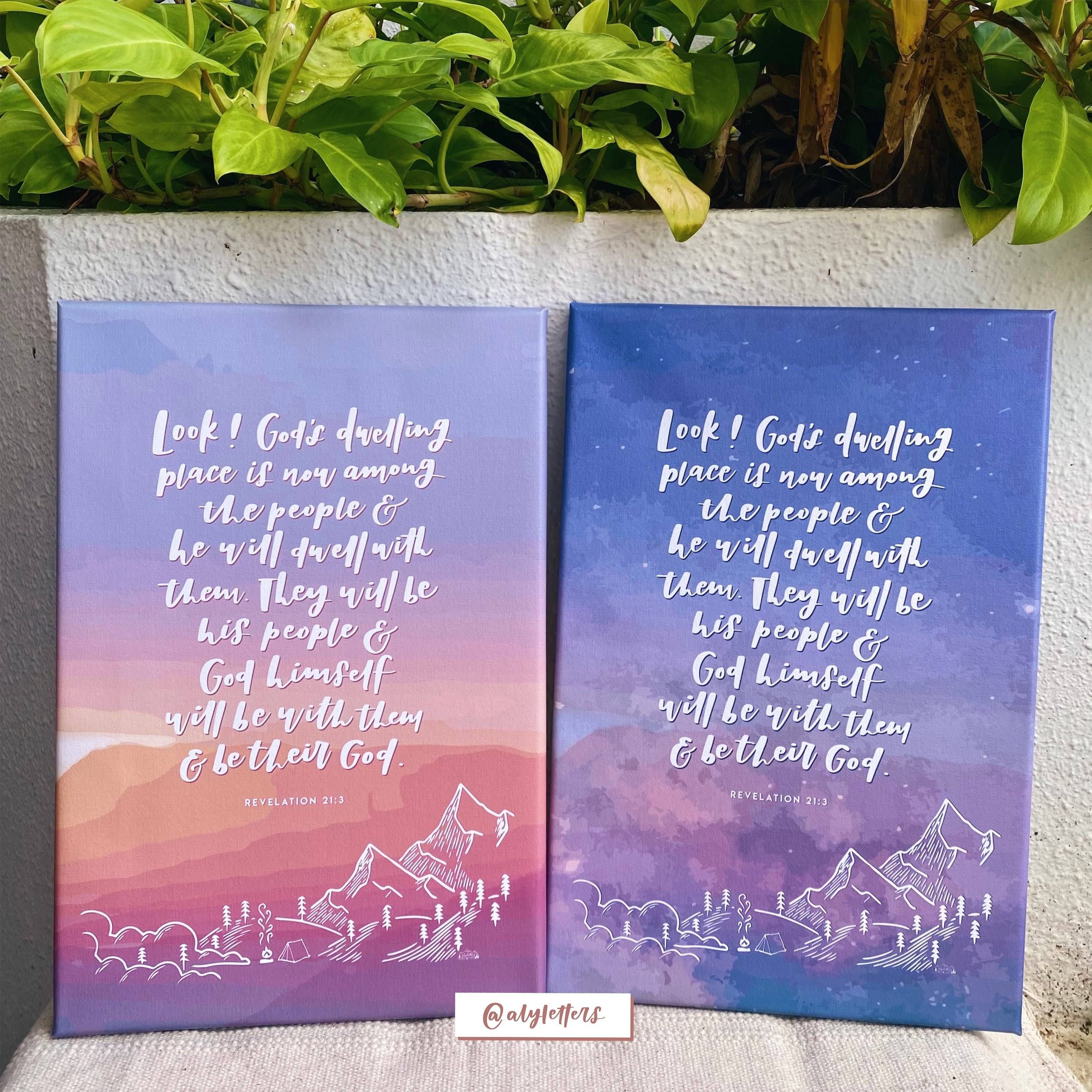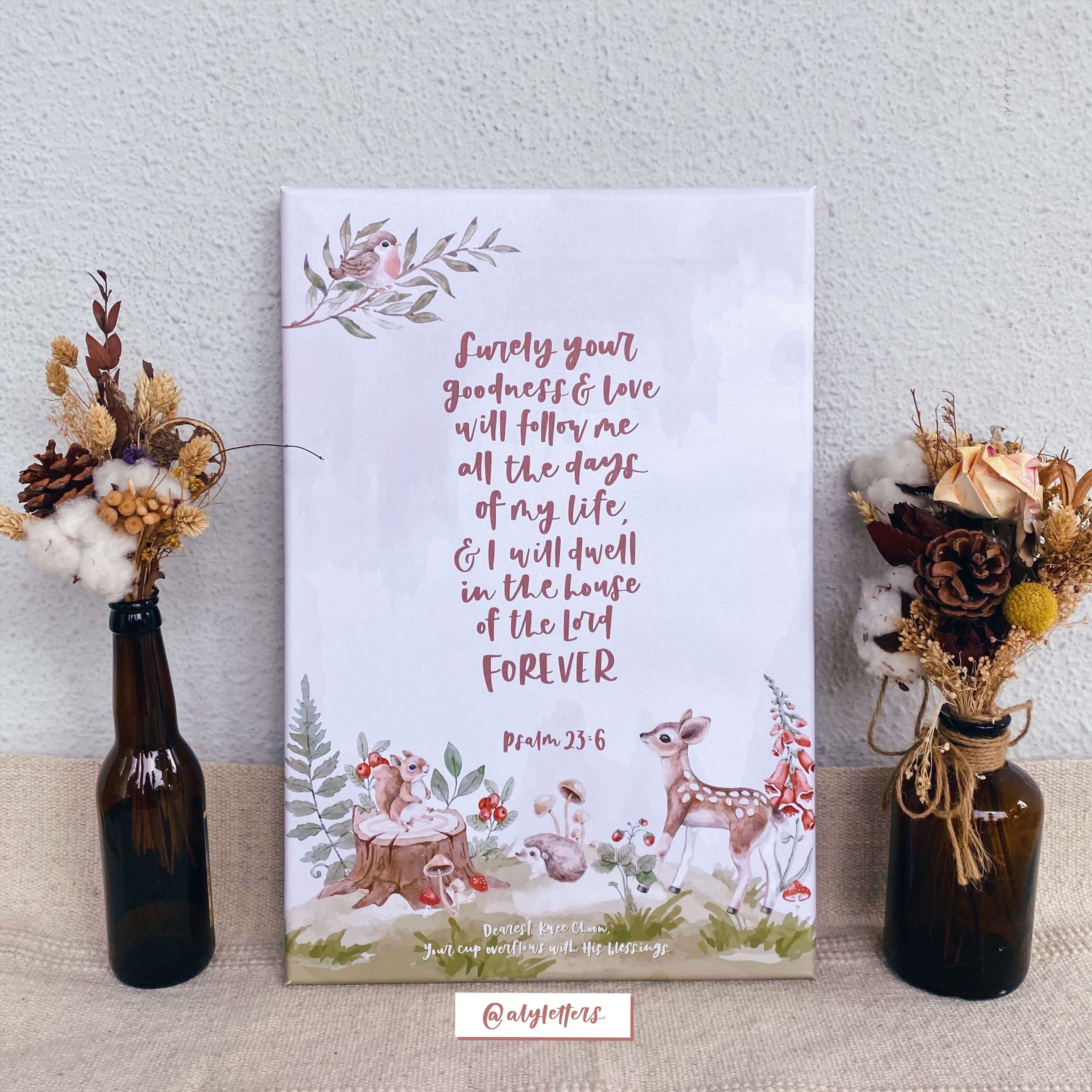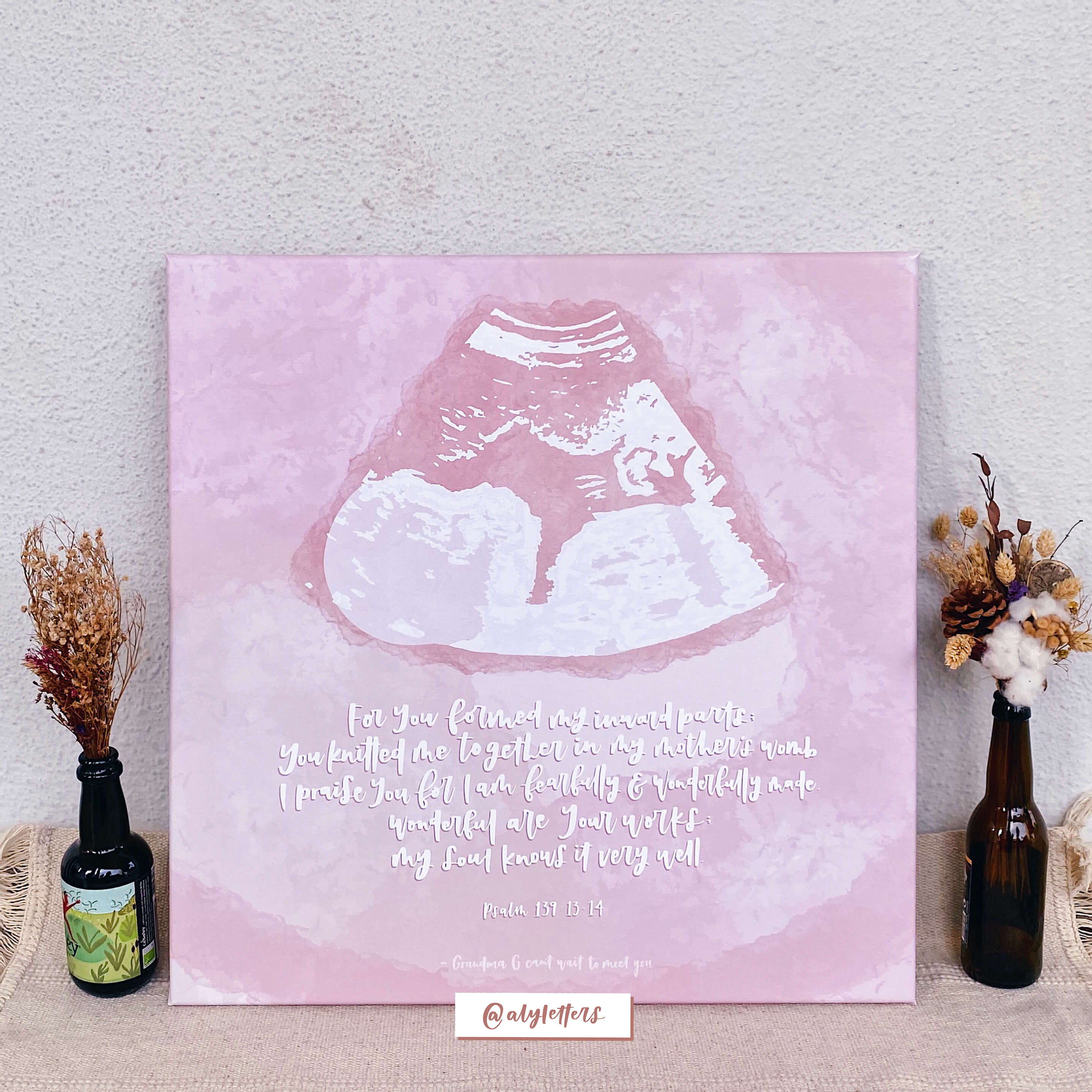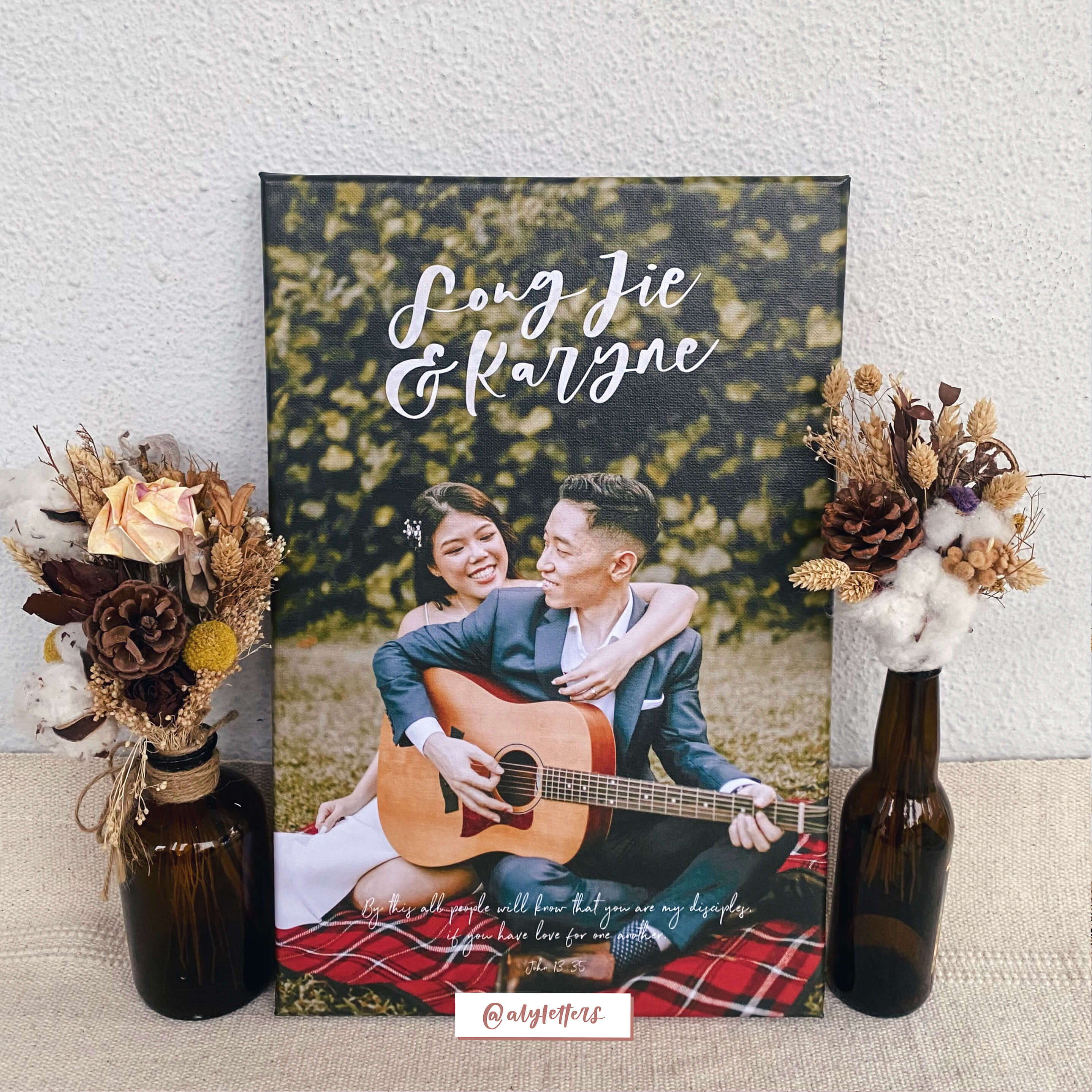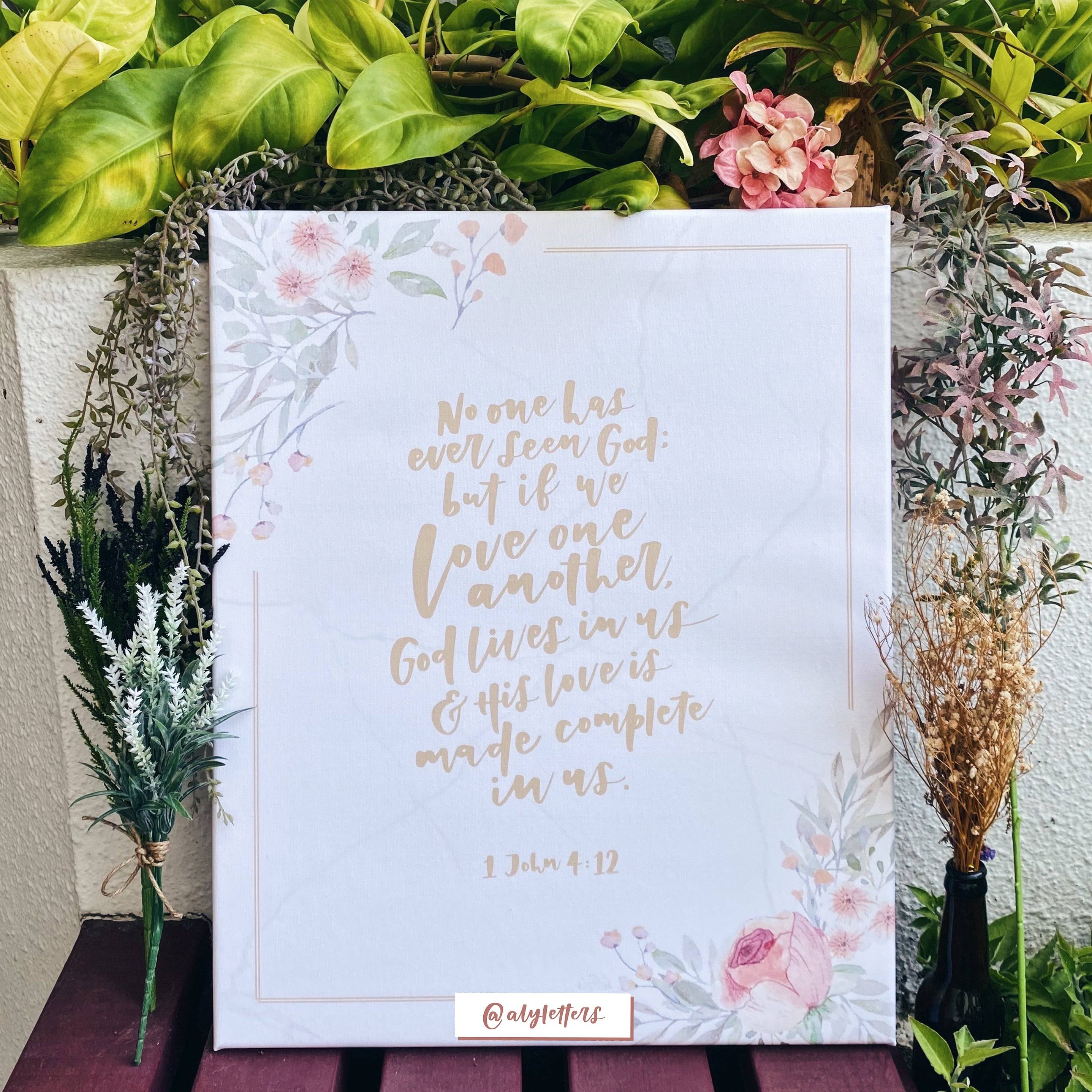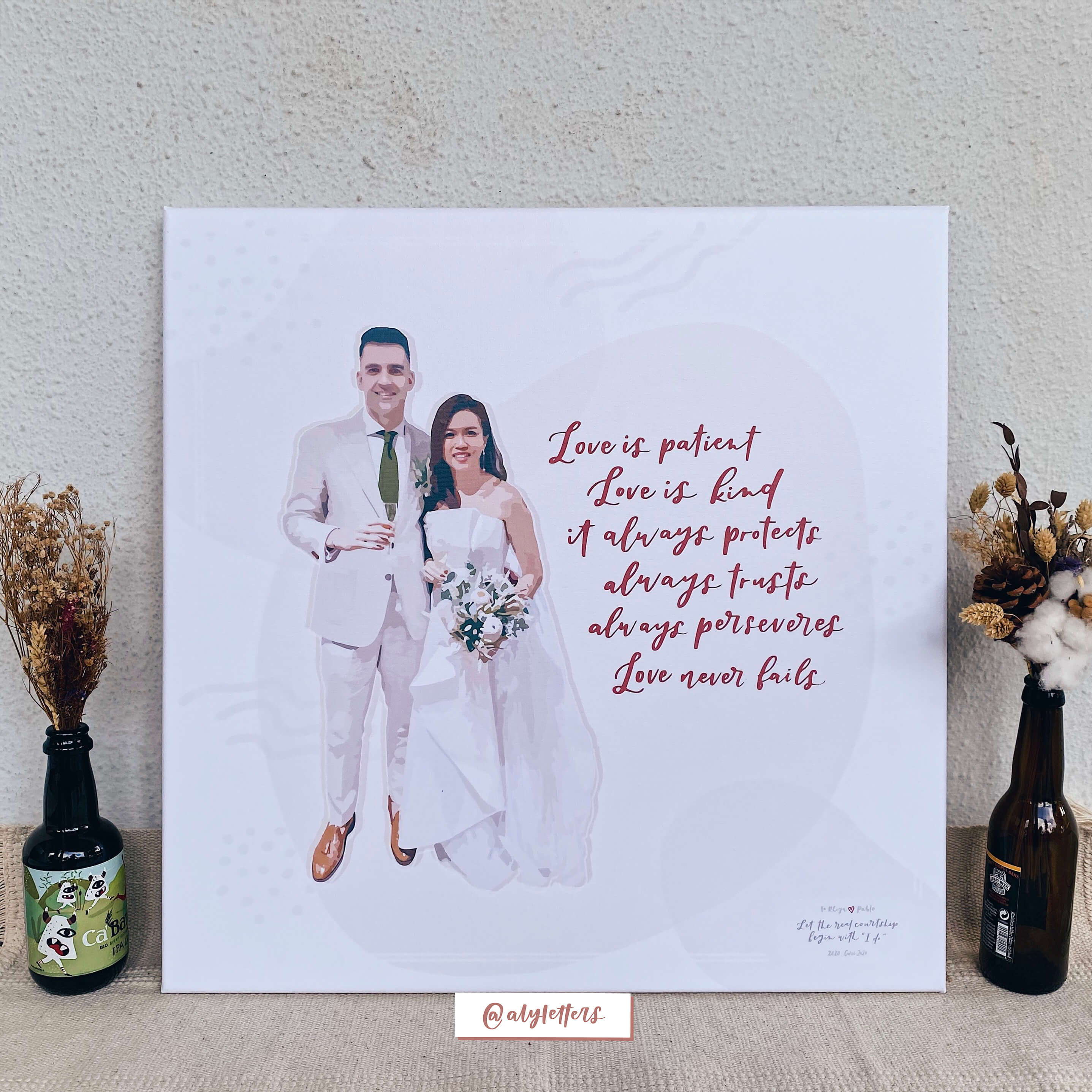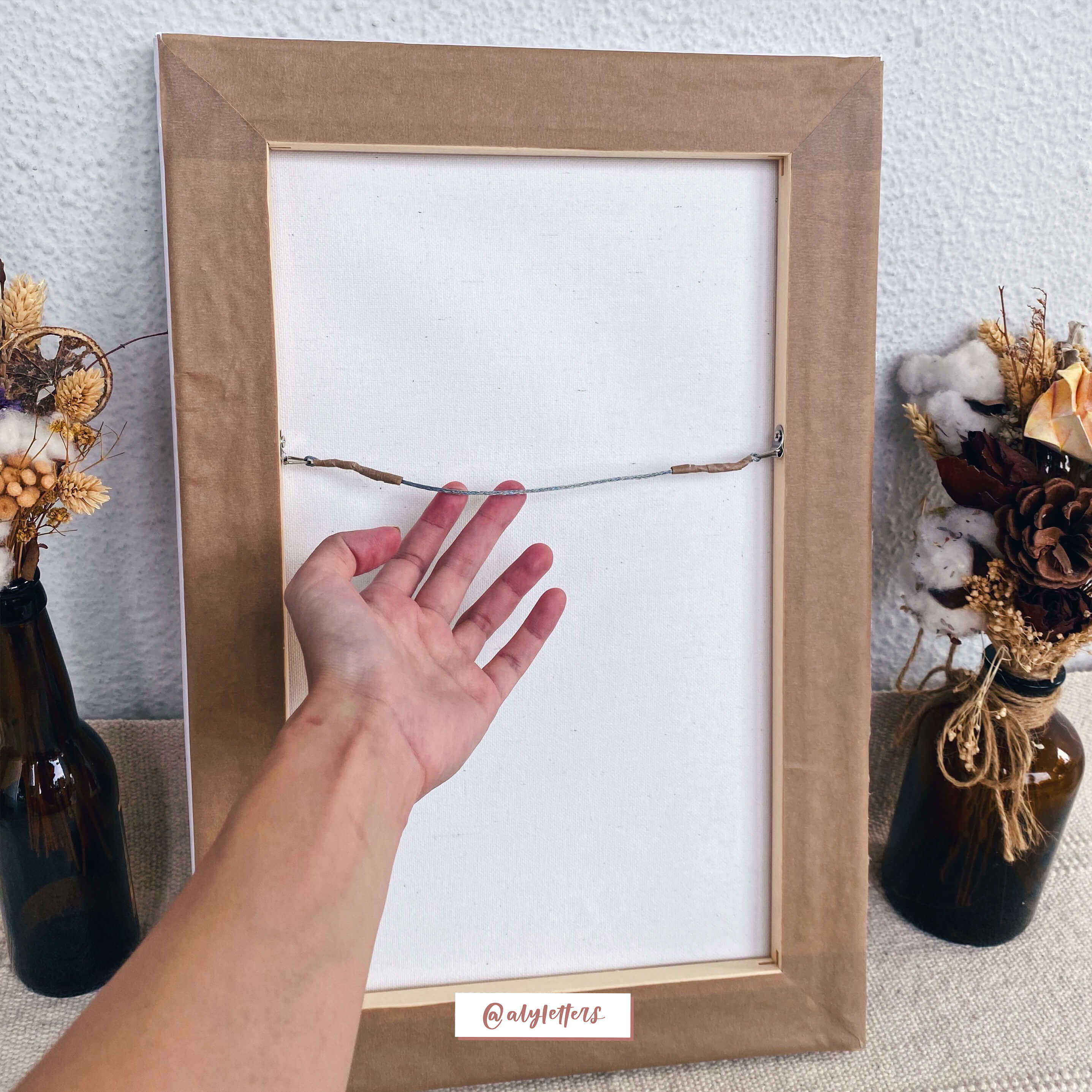 These Canvas Artworks are a great alternative if you're looking for something with a little more depth and dimension. These canvas artwork can be hung on wall hook, illuminating the place with your favourite moments.
For all kinds of joy, fun and celebrations, Aly can make any artwork you have in mind hangable wall pieces, great as a heartfelt and personal gift for your loved ones.
These signages can also be welcome signages for events and special occasions, to be kept for a life time.
Artworks will all be printed on canvas and mounted on the wooden frame; fadeproof and waterproof.
Price Range: $165-$455 [Depending on size of artwork & complexity]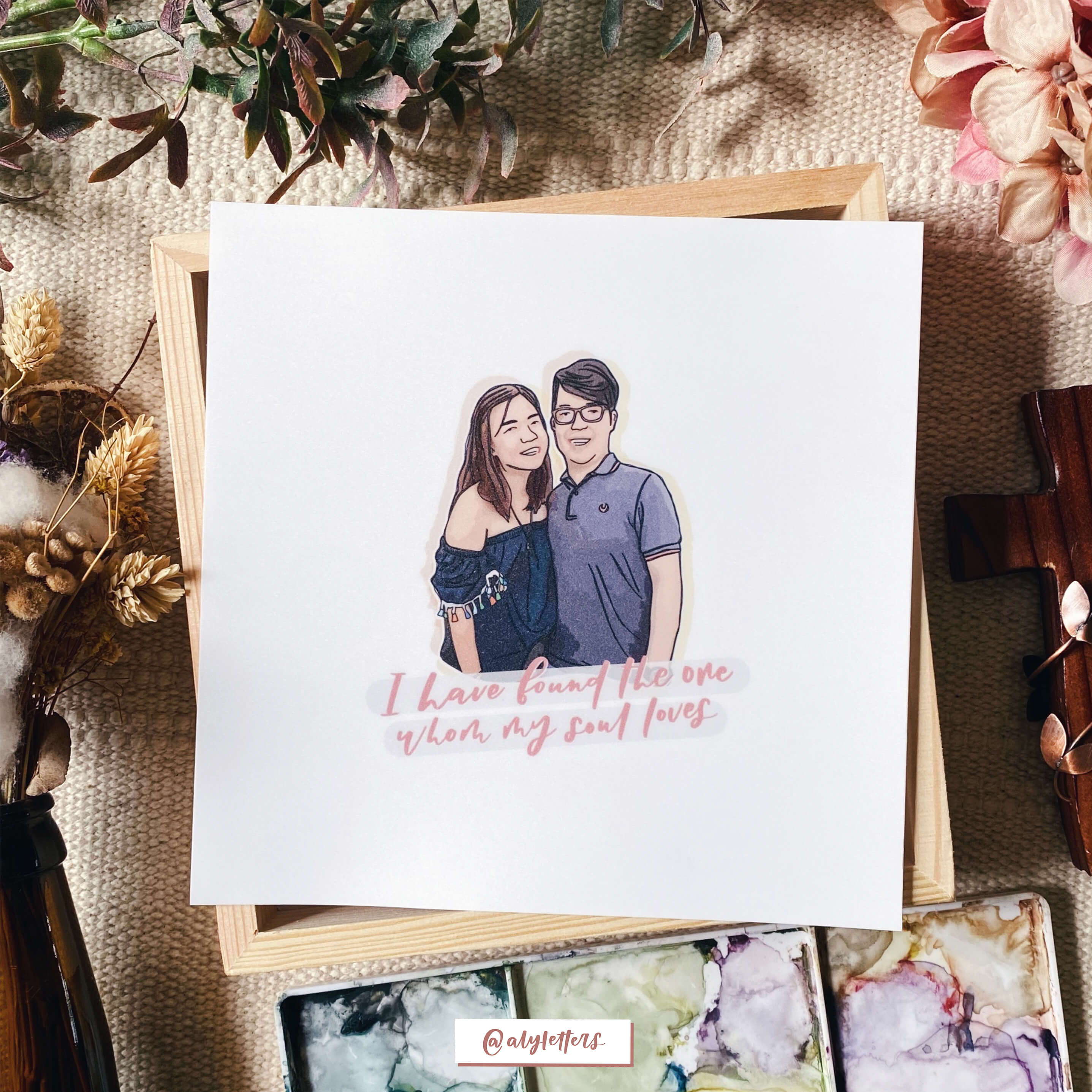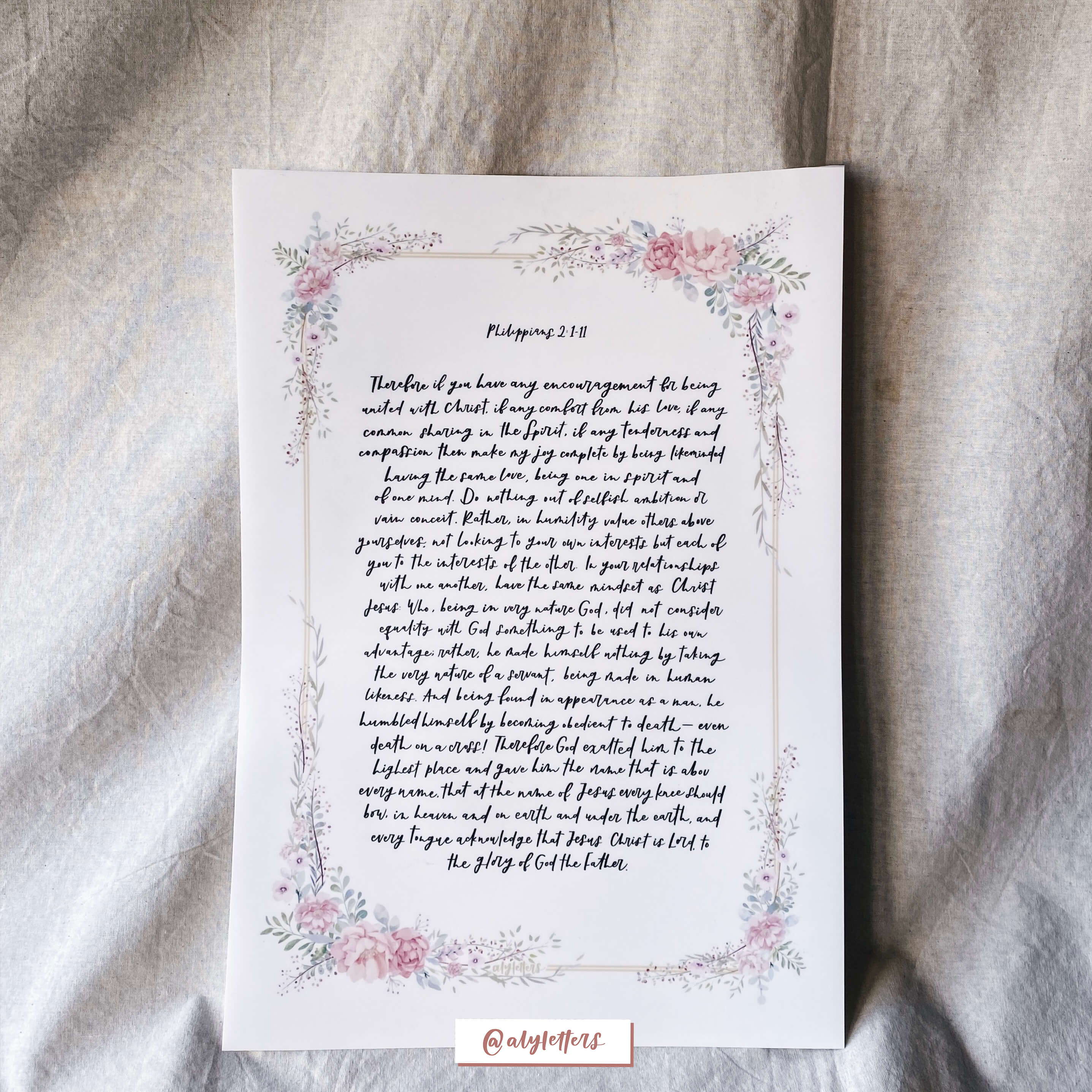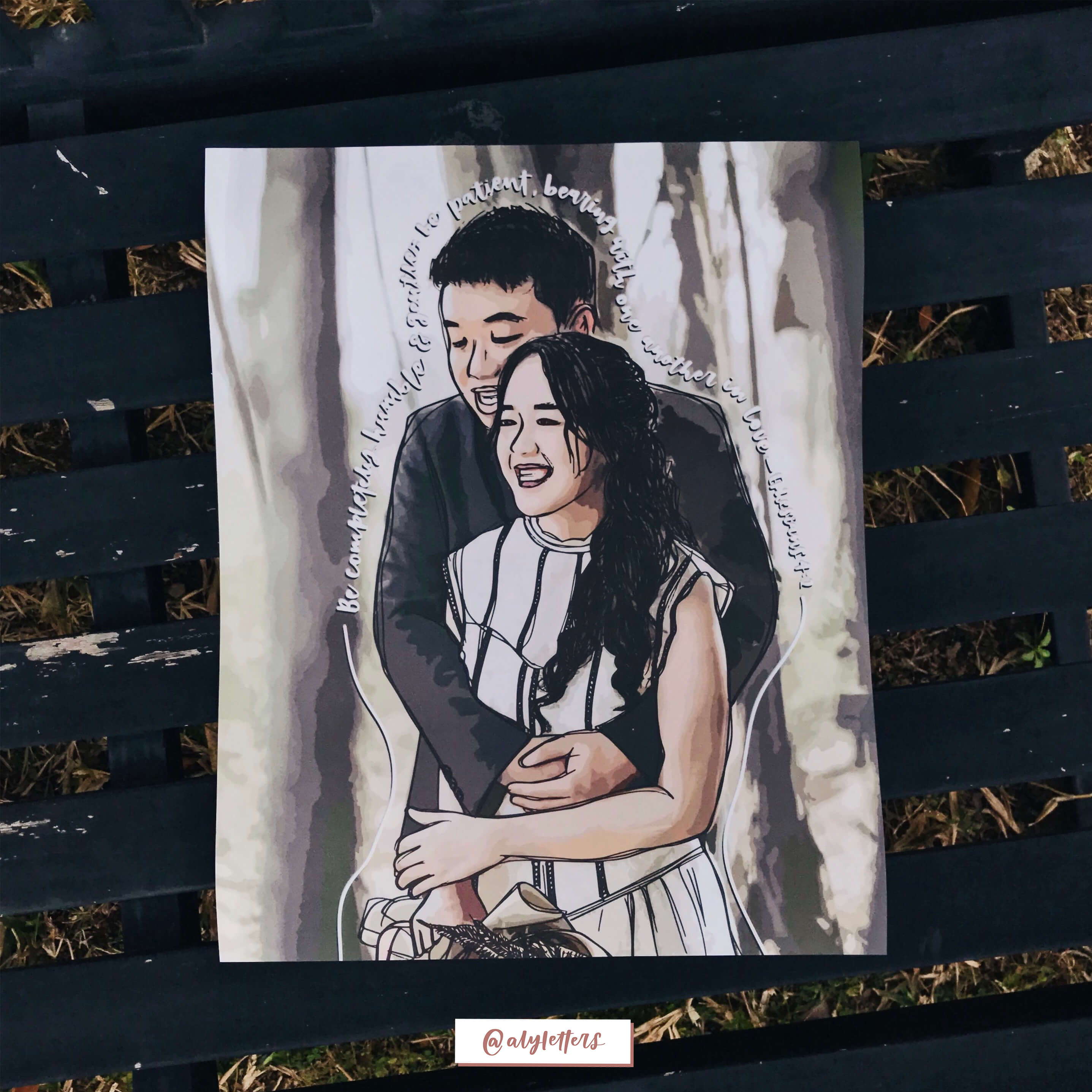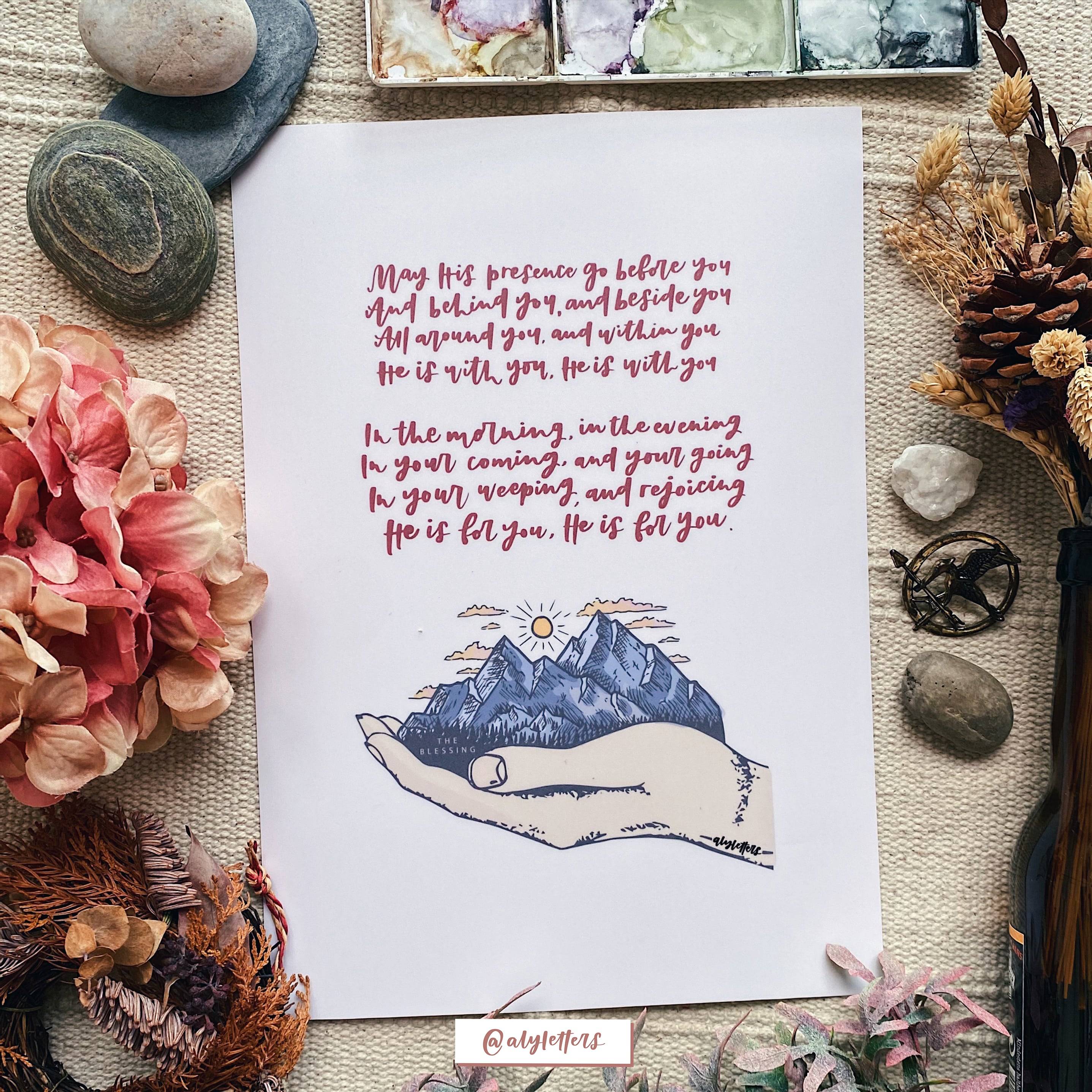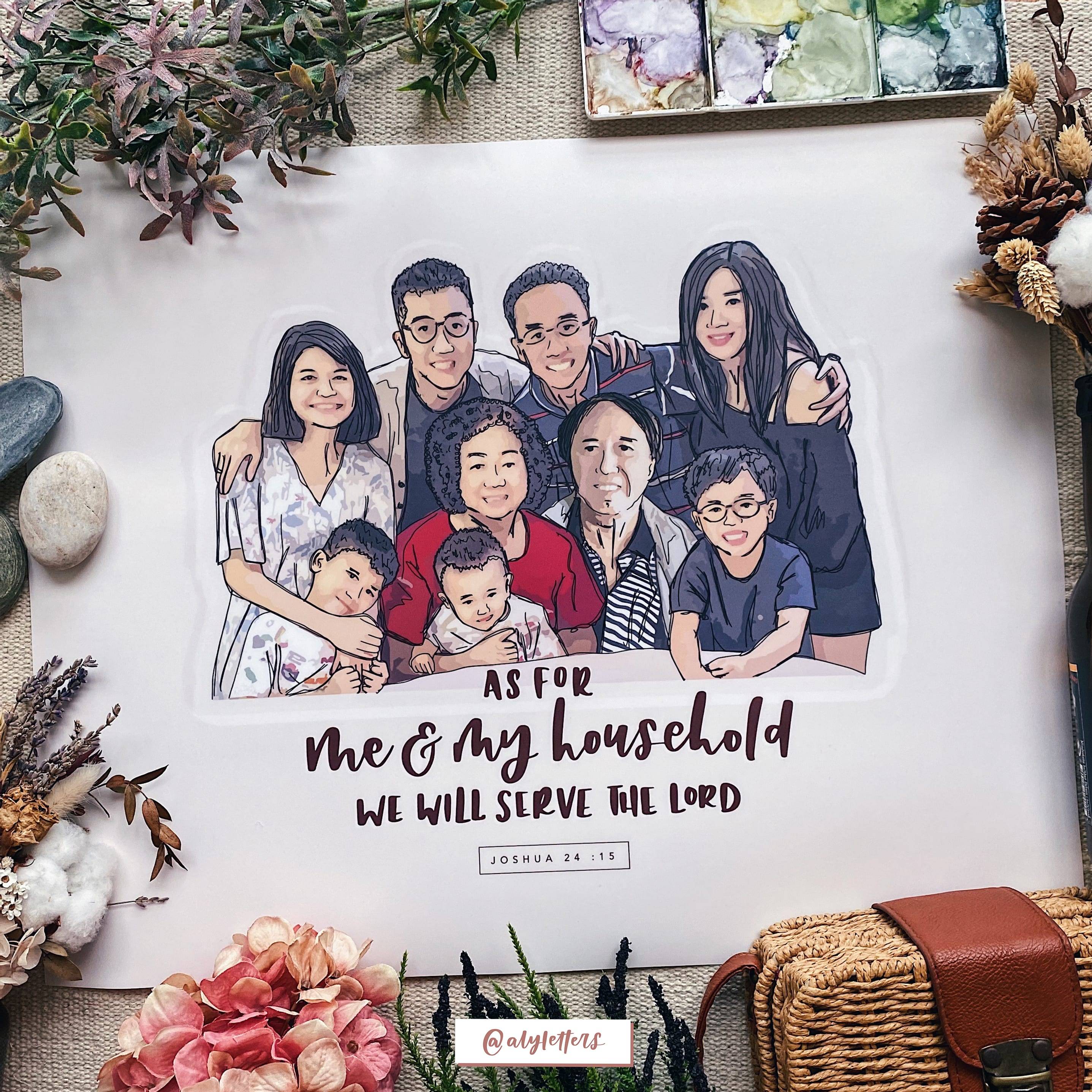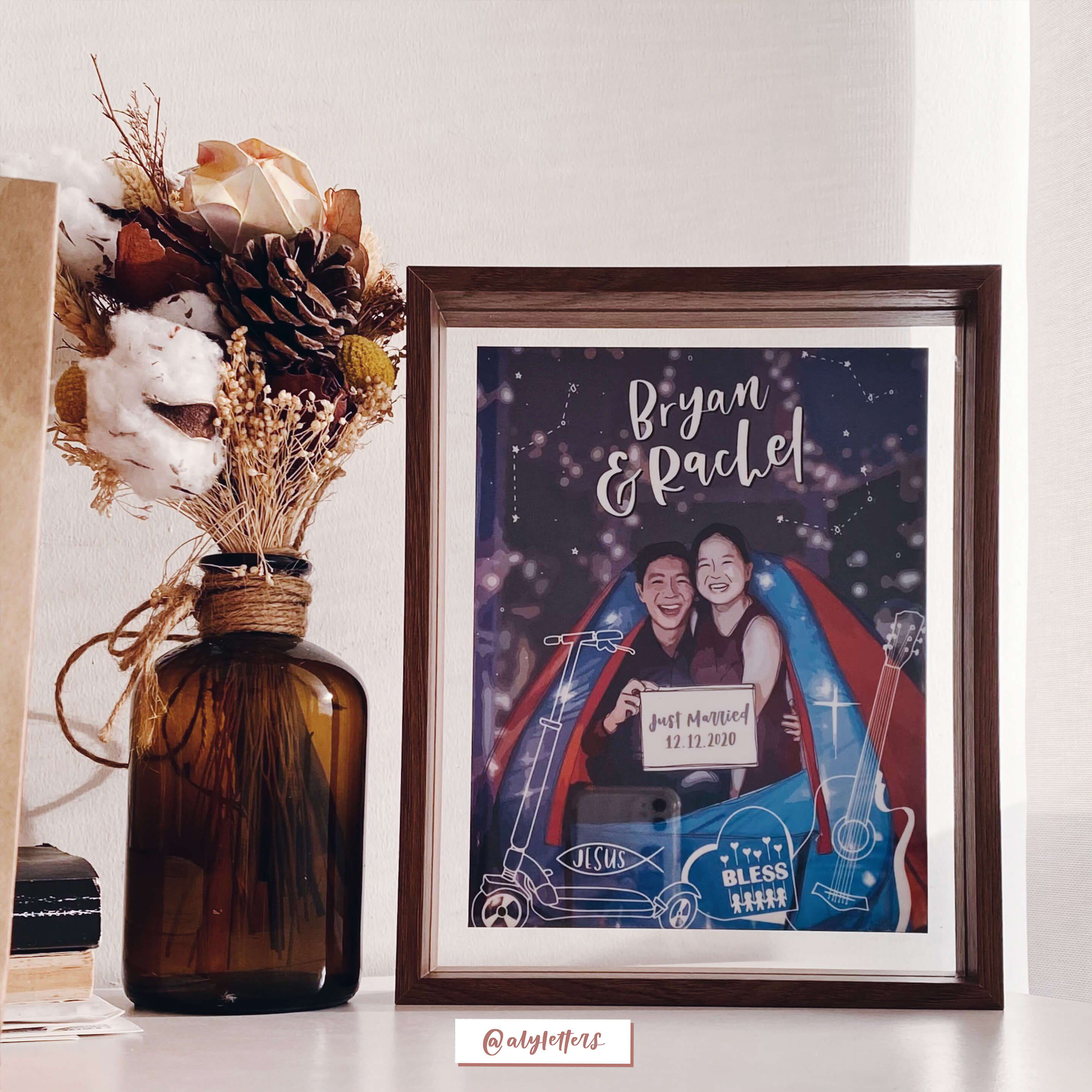 Keep memories and physical reminders artistically in Aly's hand drawn posters while adding your own personal touch to these by customising text or even adding your favourite verse to them!
These posters are great as a personalised gift to your loved ones. Let Aly know what you have in mind & watch as she translates these ideas to life.
No design in mind? Send some design inspiration or references and let Aly do the work for you! From choosing colour palettes to the end product, she is fully committed to involve you in this creative journey to create a piece to remember.
All prints are high quality, fadeproof & waterproof to guarantee its longevity.
Price Range: $81-$258 [Depending on size of artwork & complexity]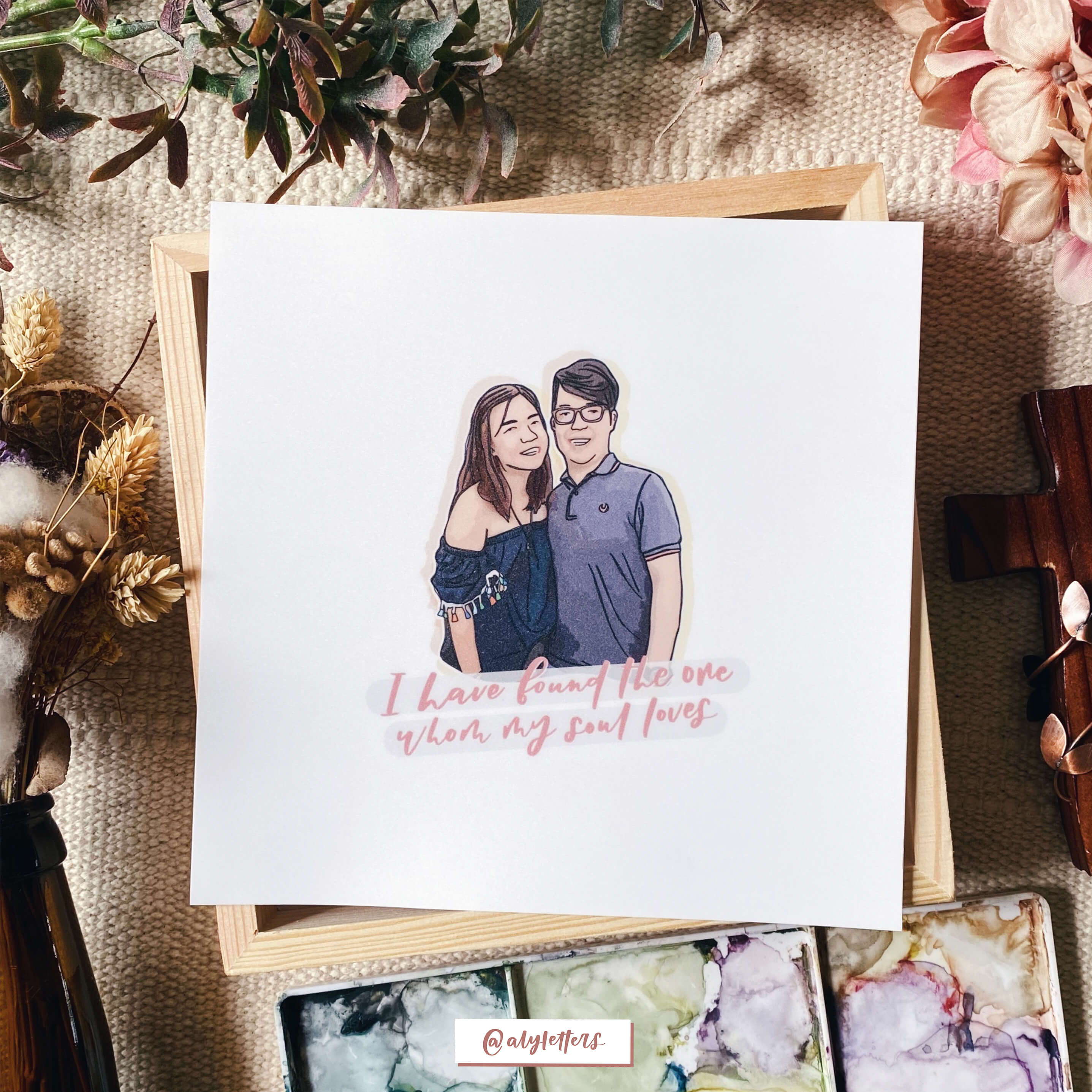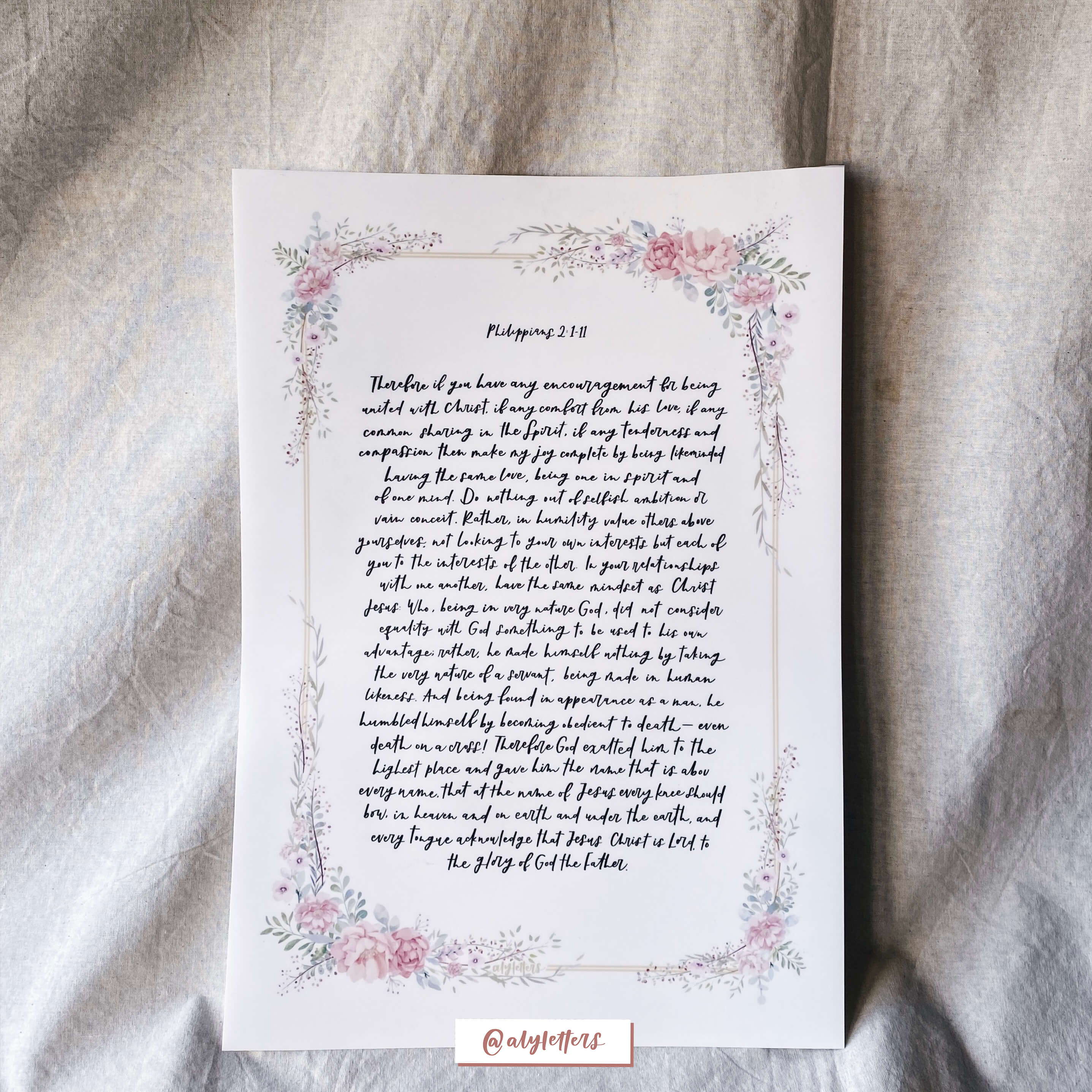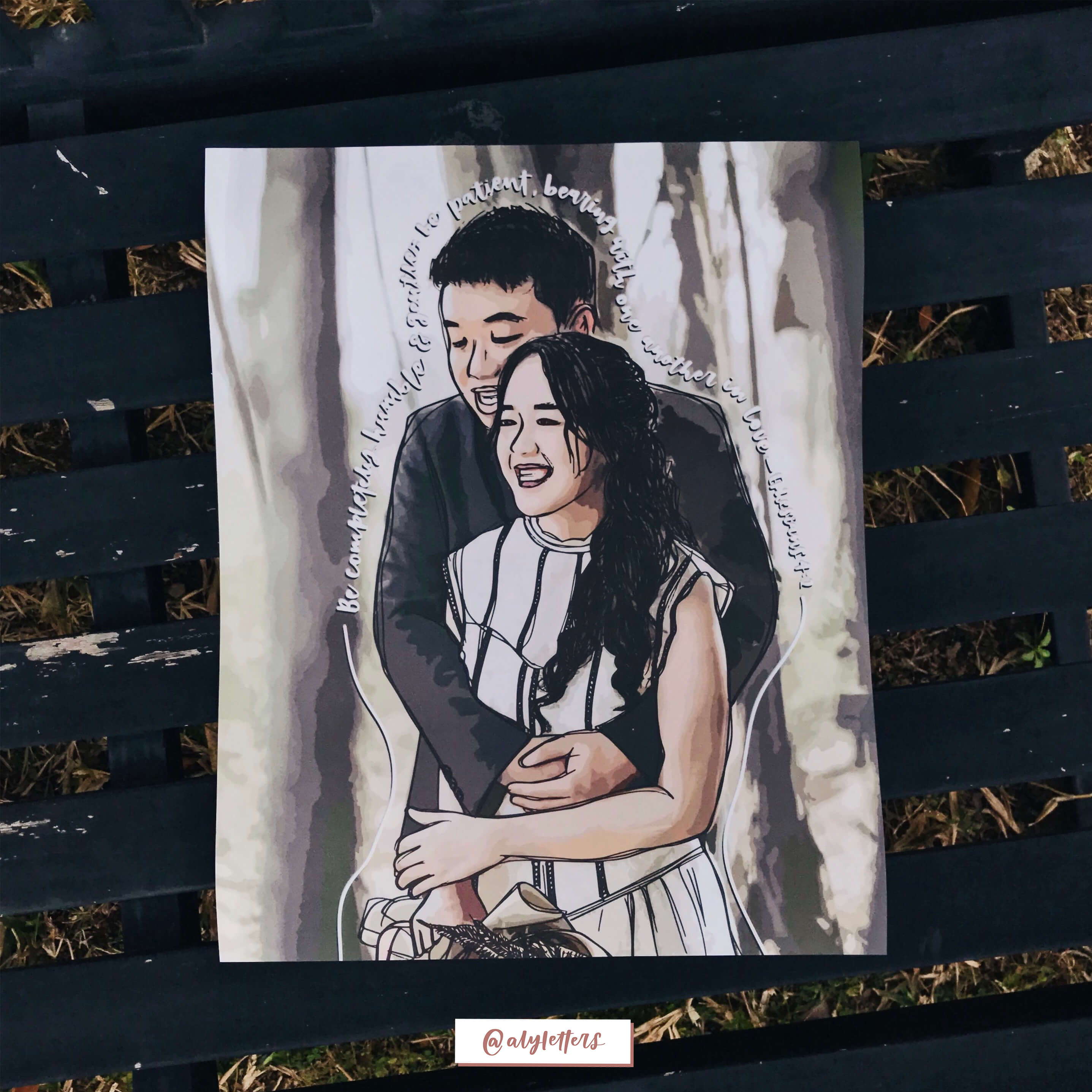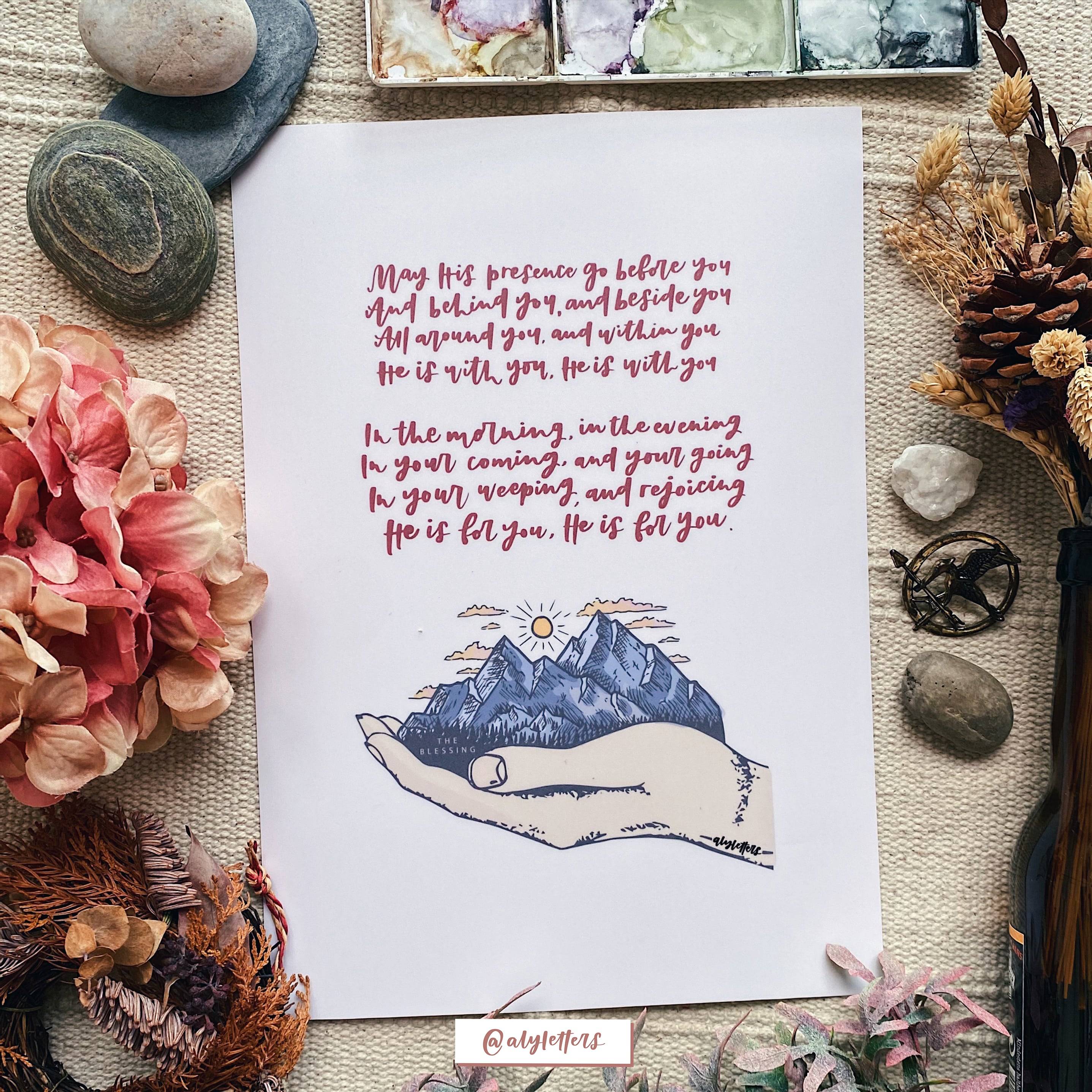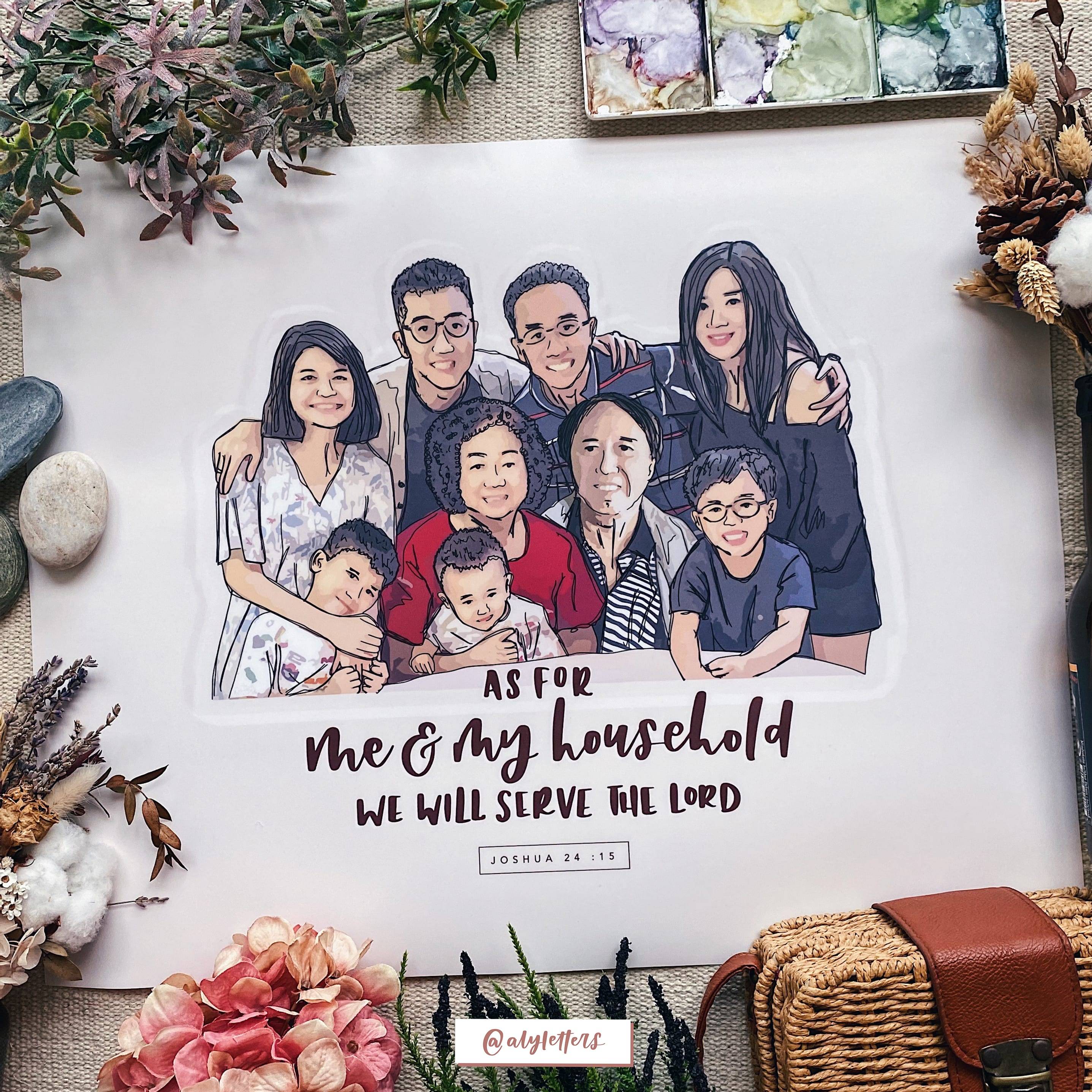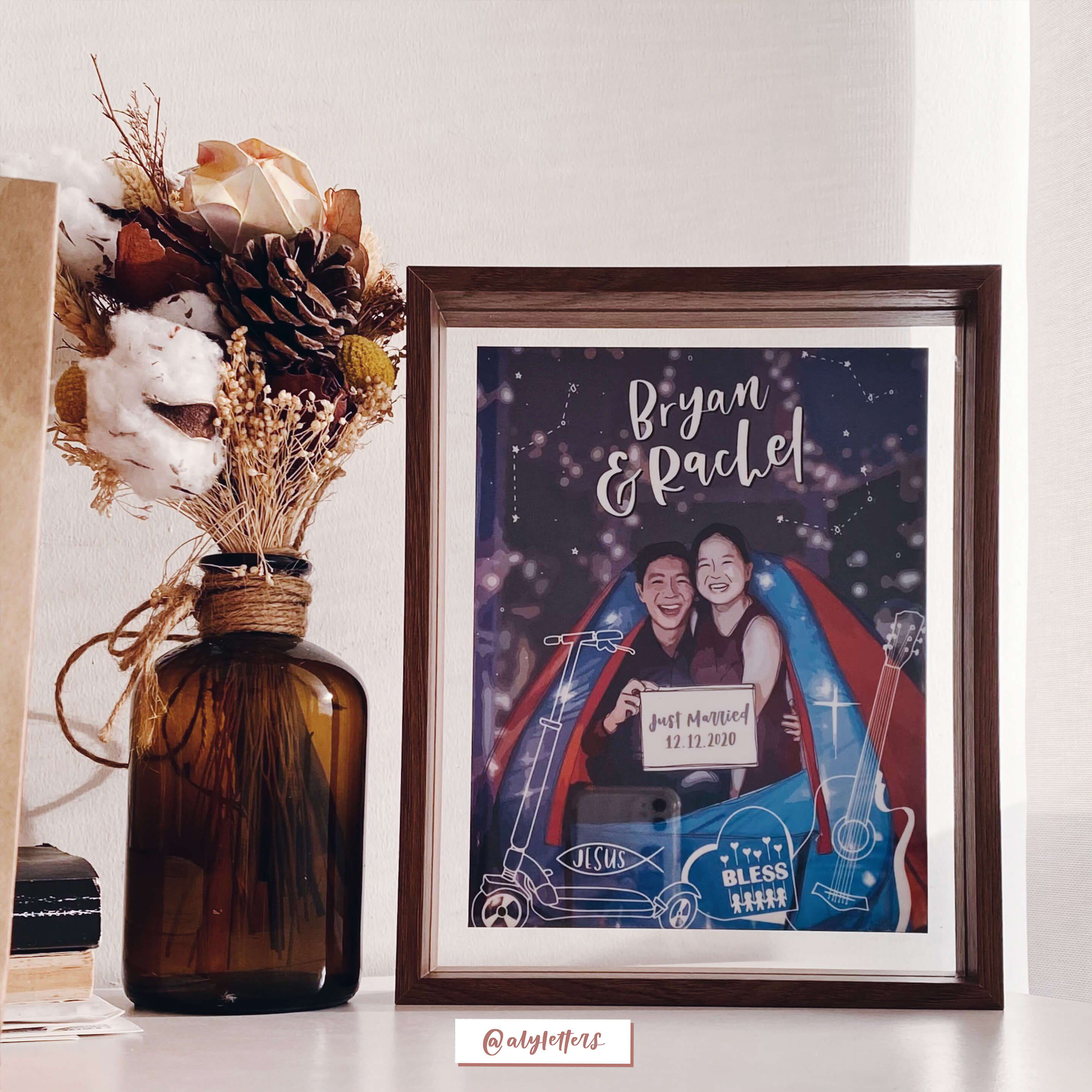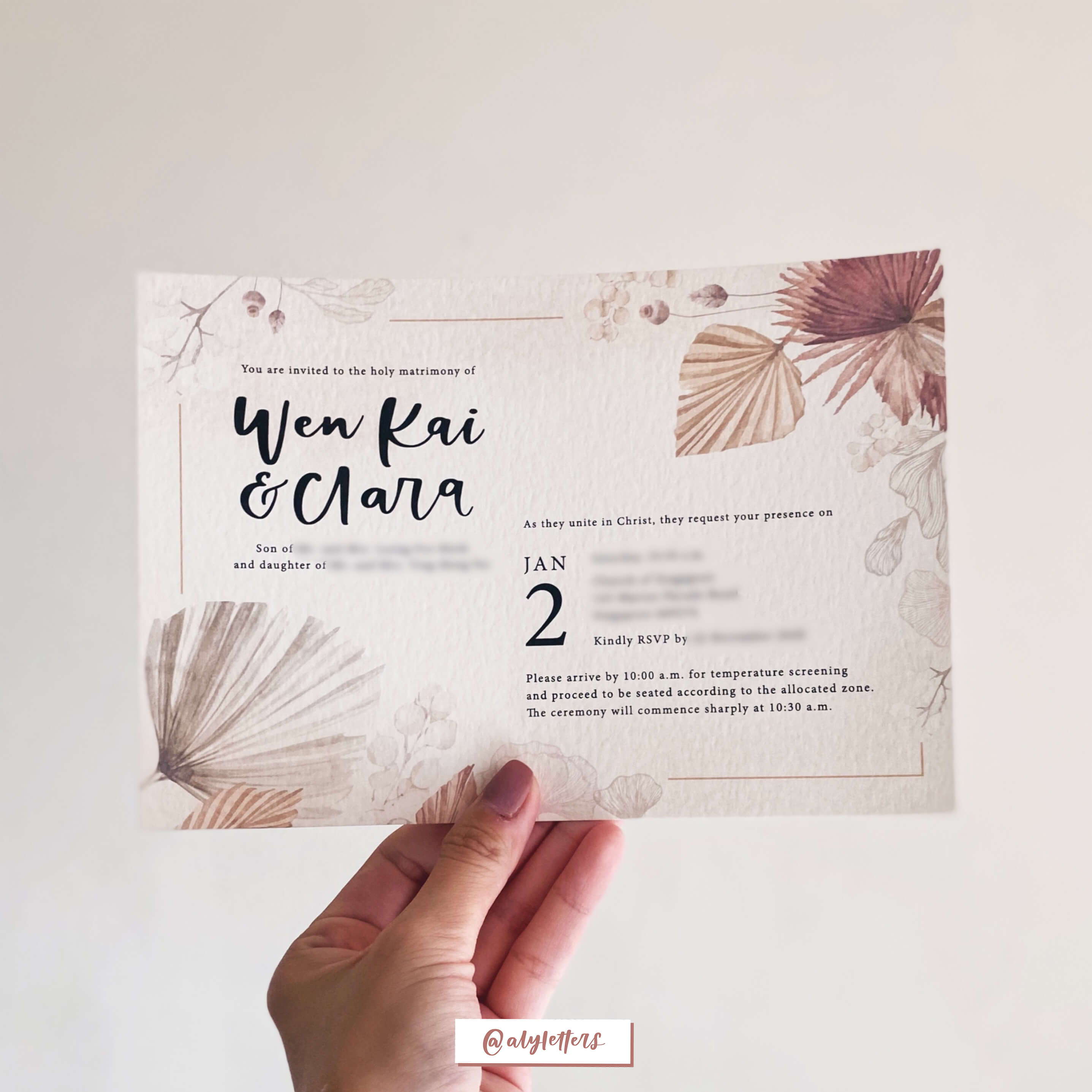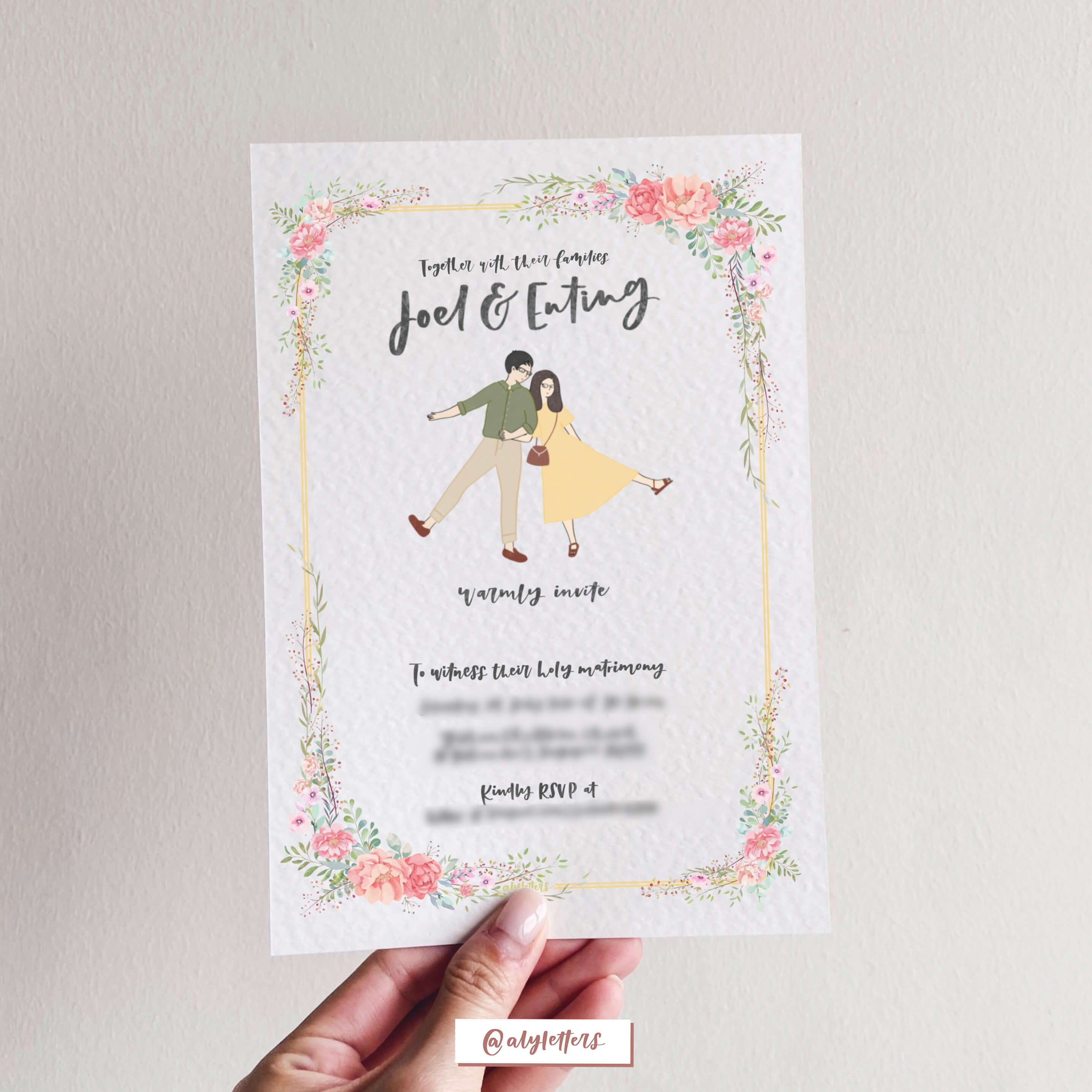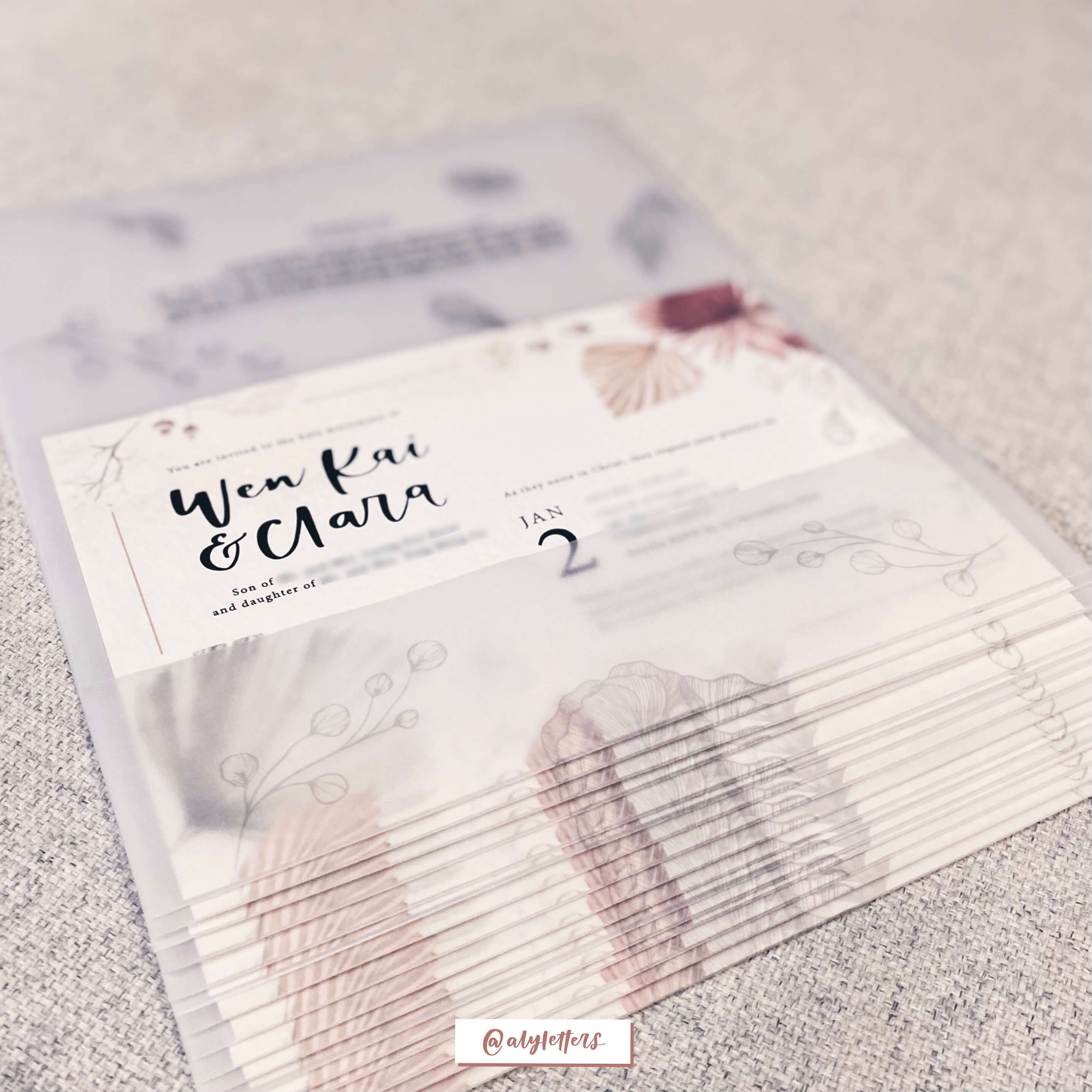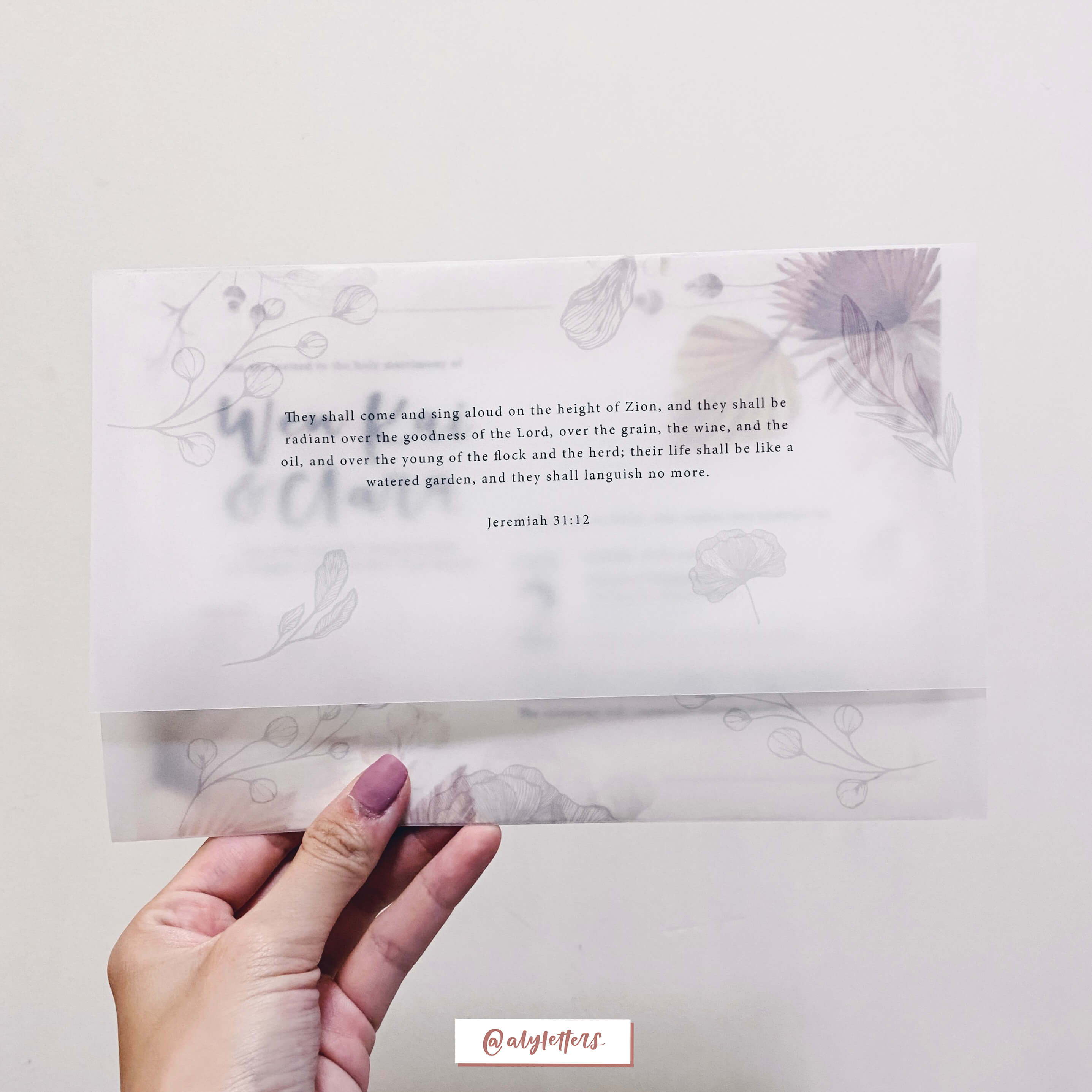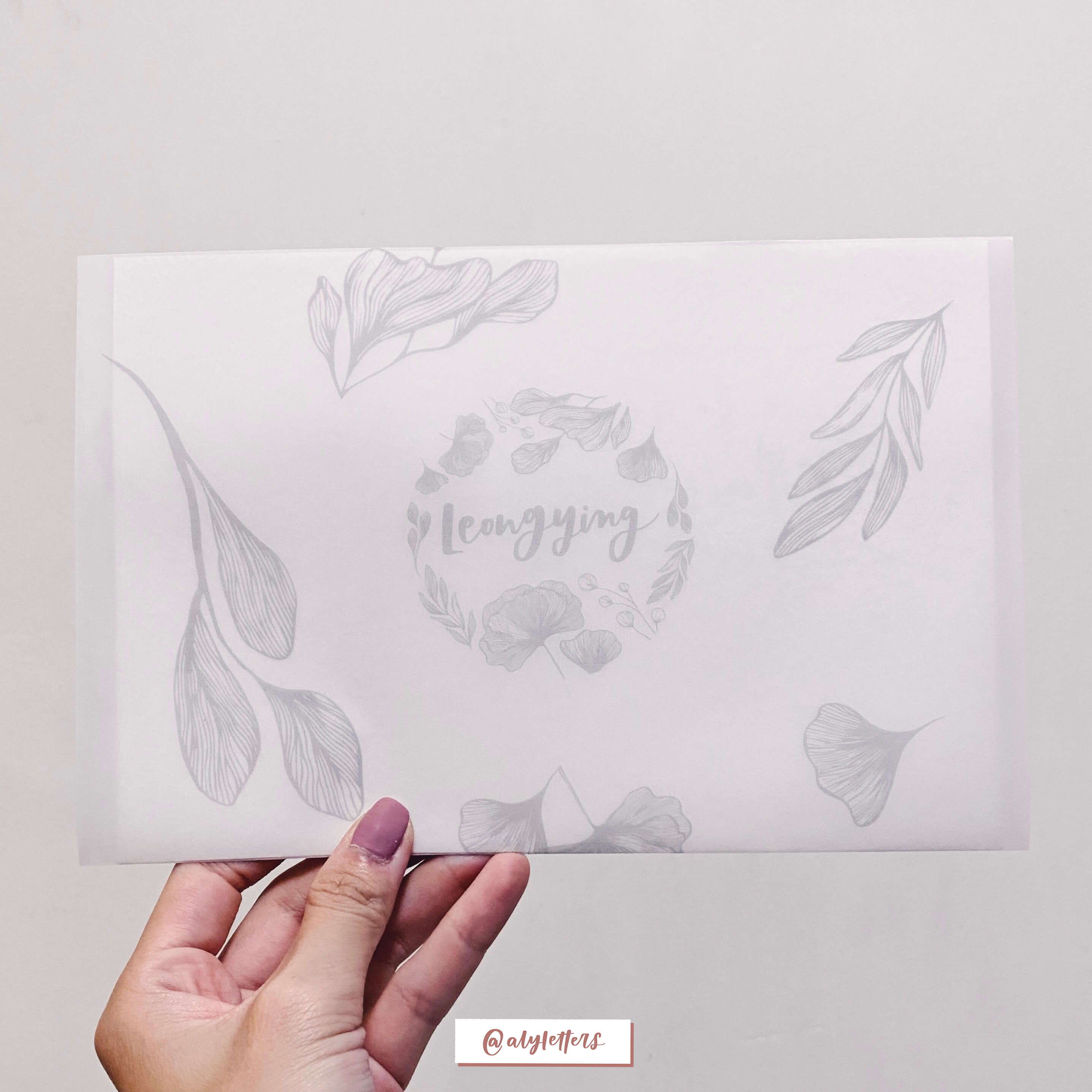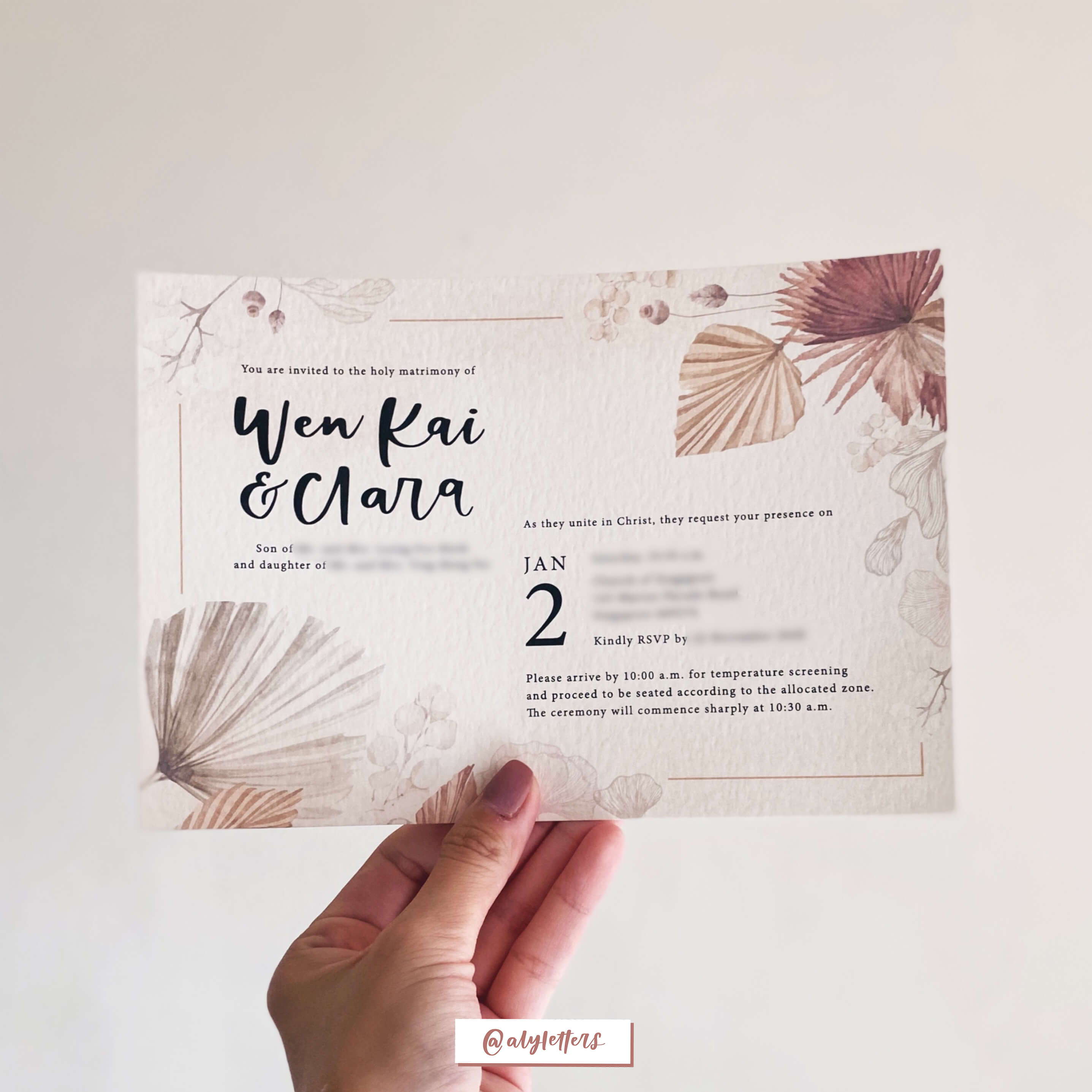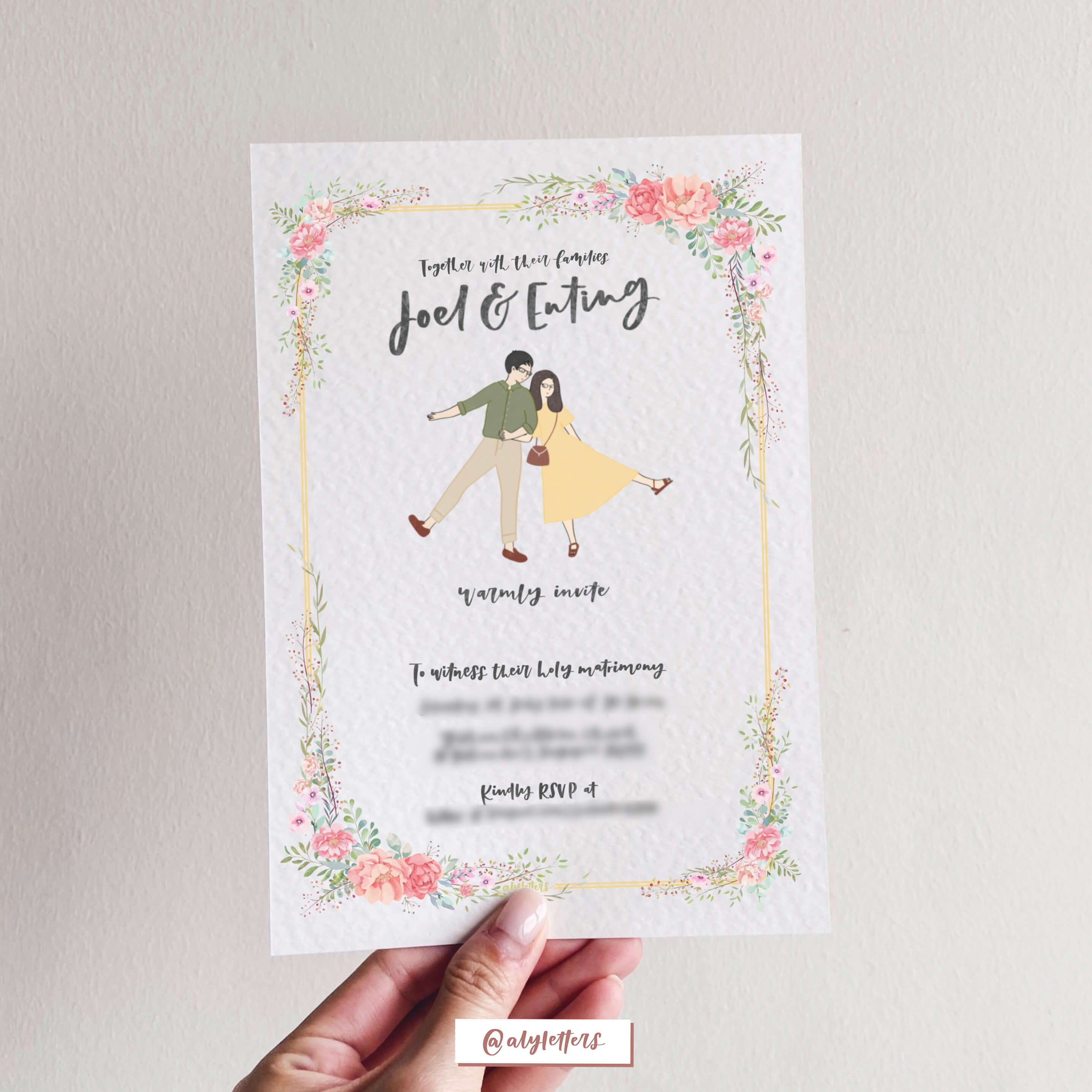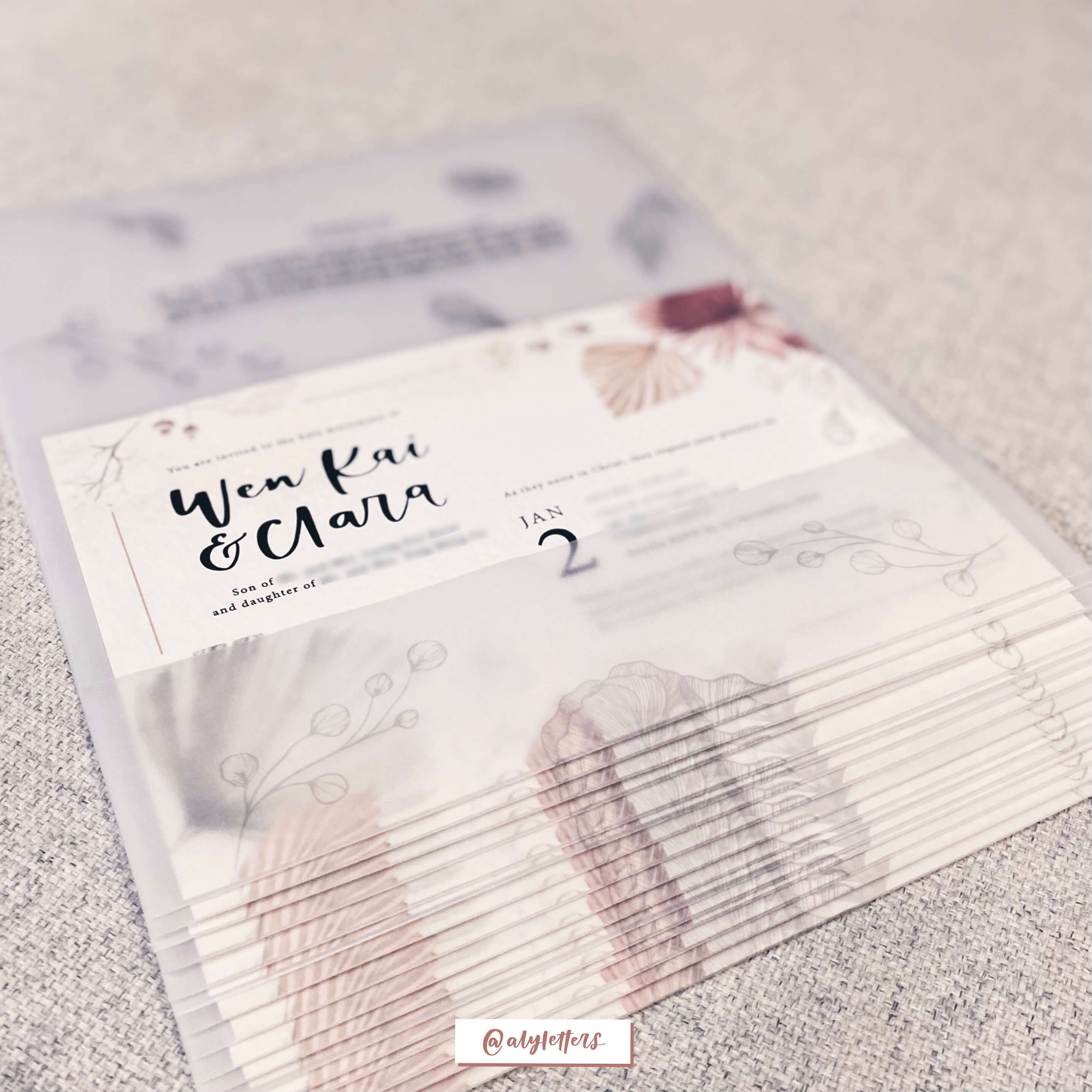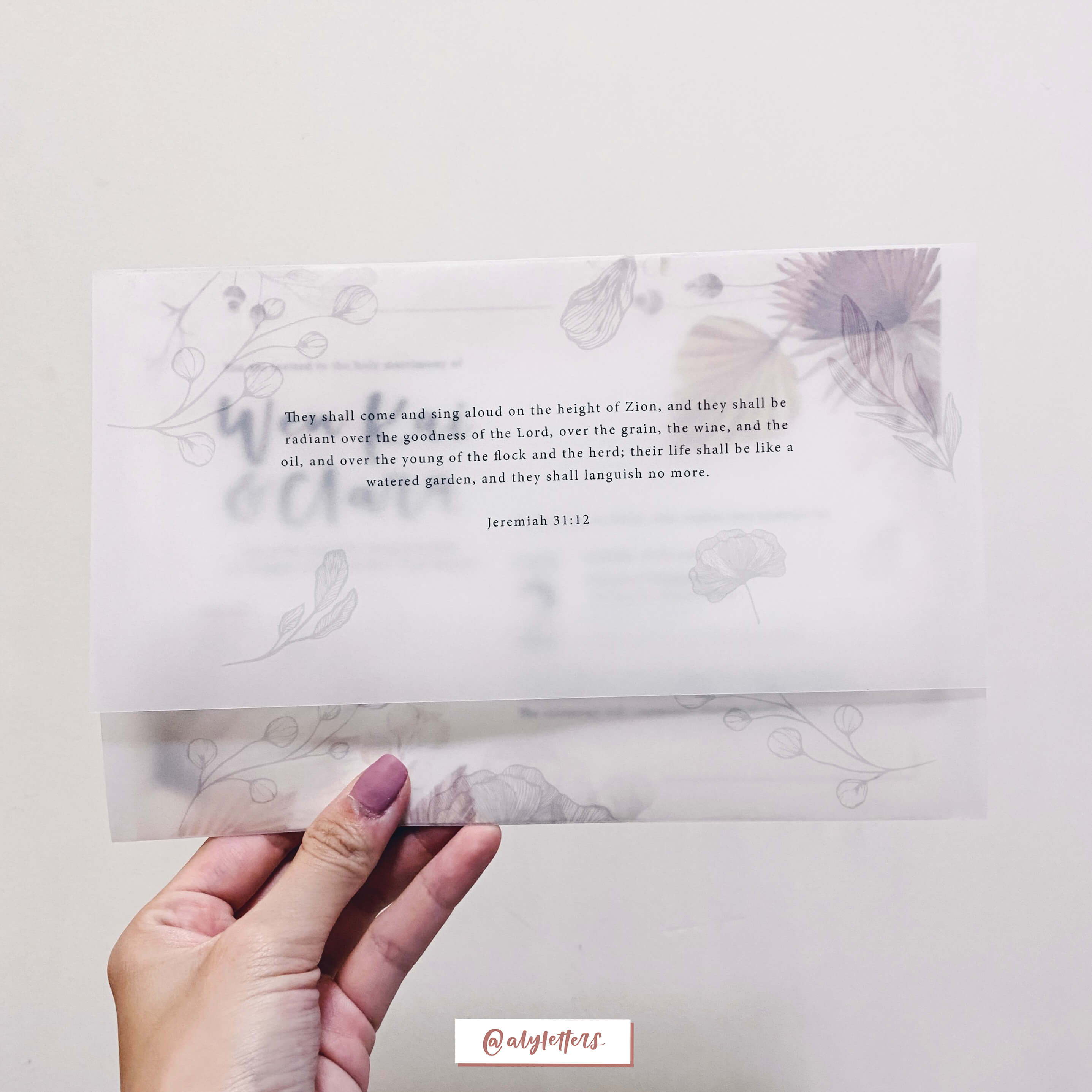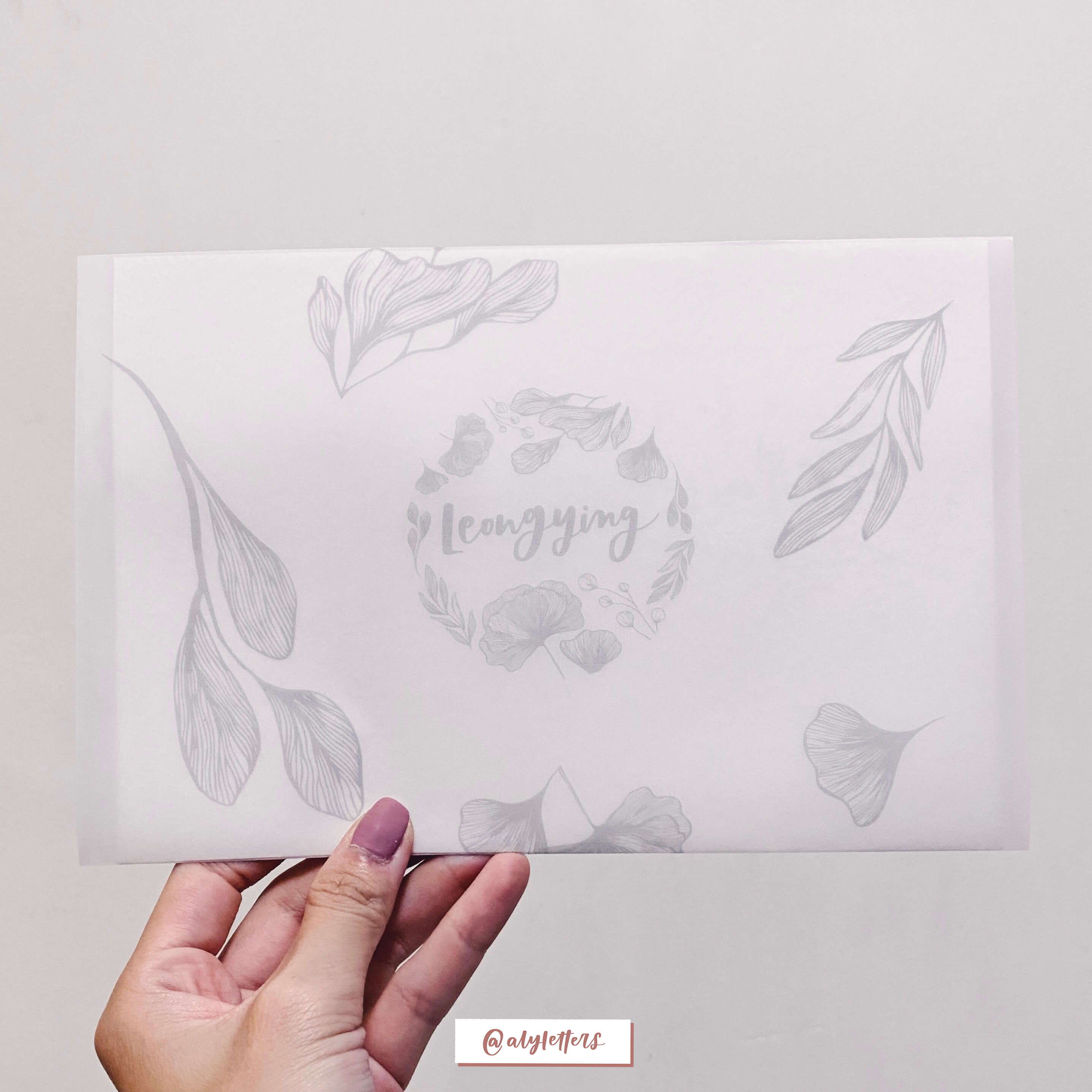 You can trust Aly with your wedding invites amidst the thousand things to plan for!
Wedding invites are the first things your loved ones receive before your special day! Add a personal touch and make them really special for your special guests and your very special day.
These invites can also be enveloped with these frosted sleeves everyone absolutely adores.
Going custom is always a good move for thematic events like weddings because we want to make sure even the slightest details tie in with the overall vibe. Feel free to talk to Aly should you feel lost and not know where to begin. Let her bring your vision to life.
Price Range: $350-$450 + Printing costs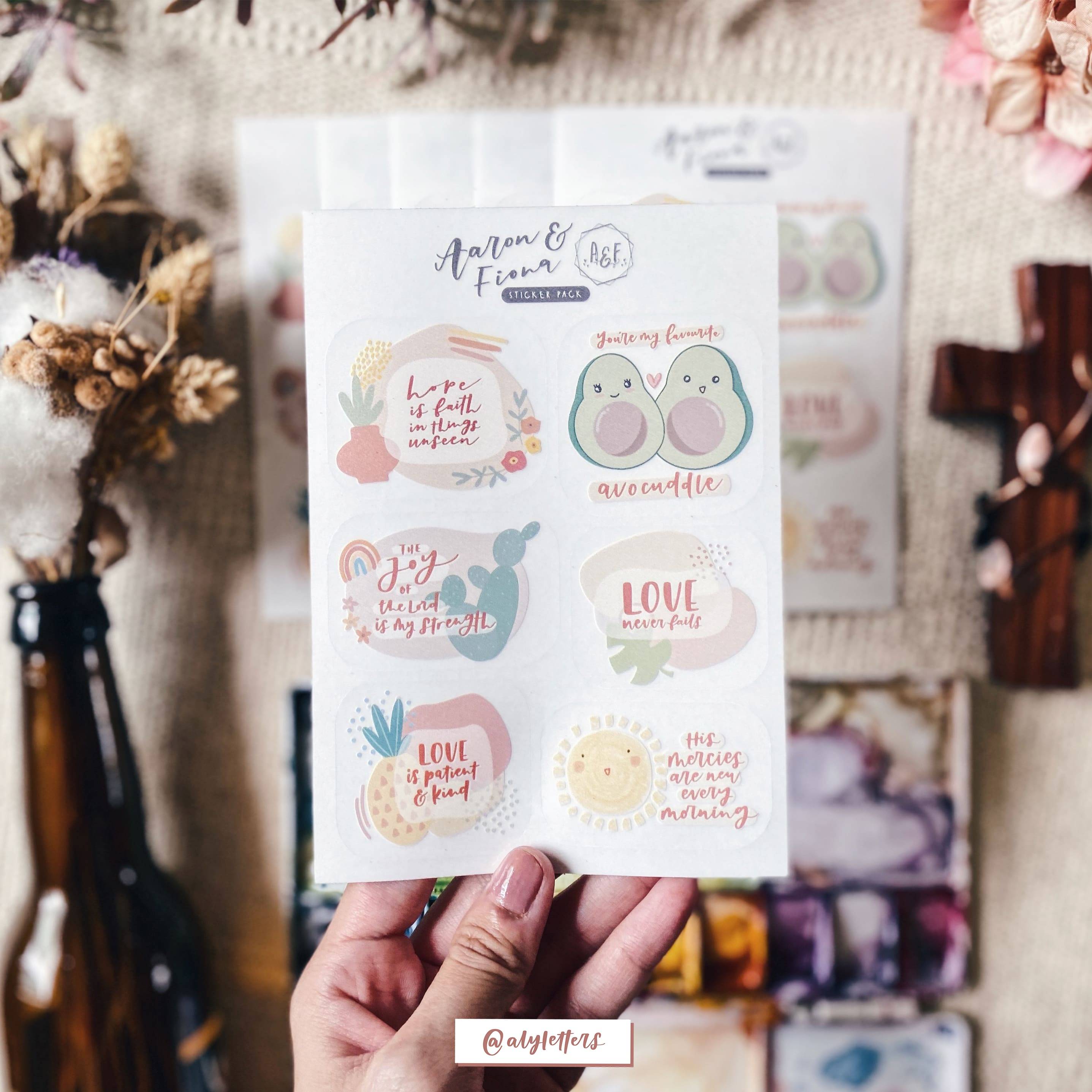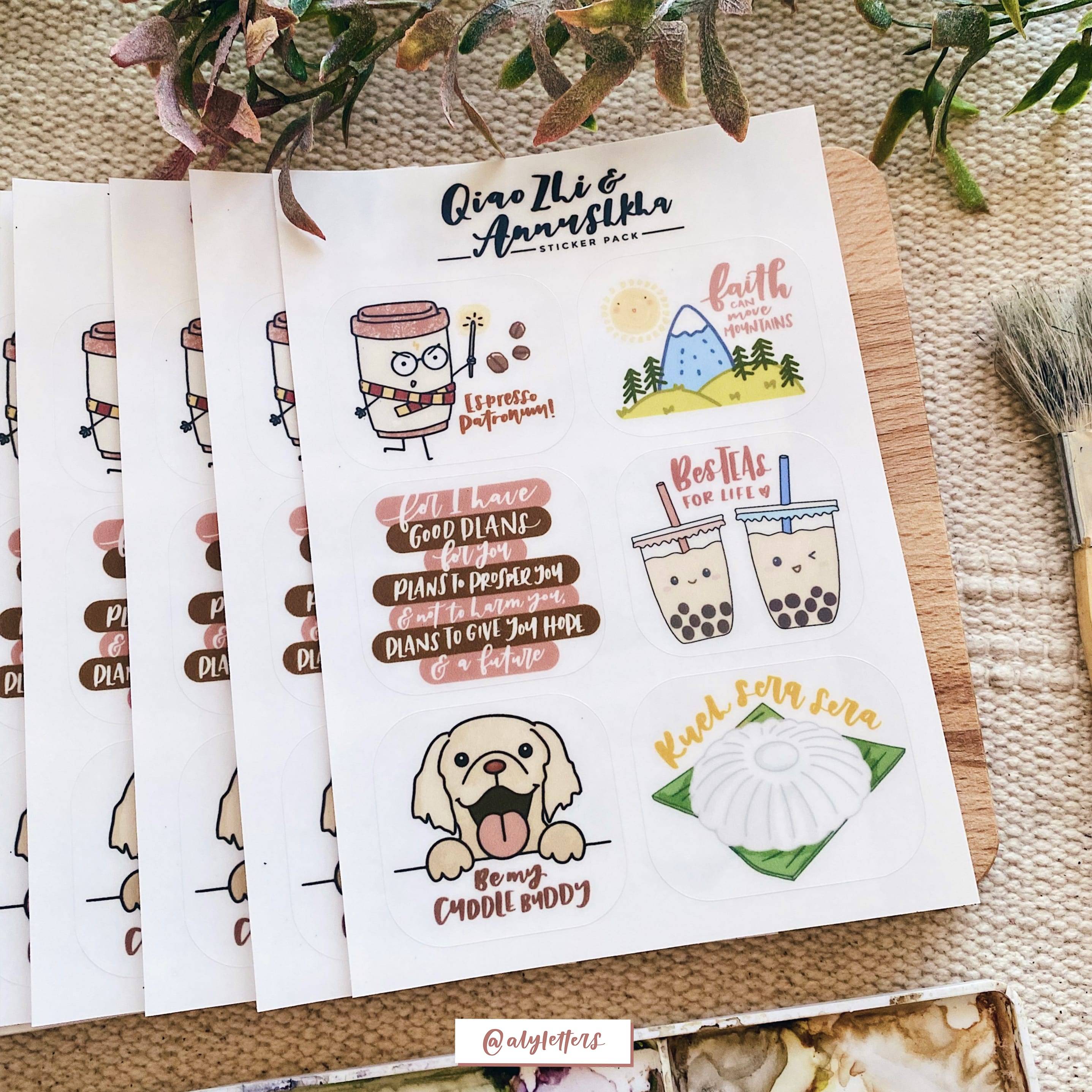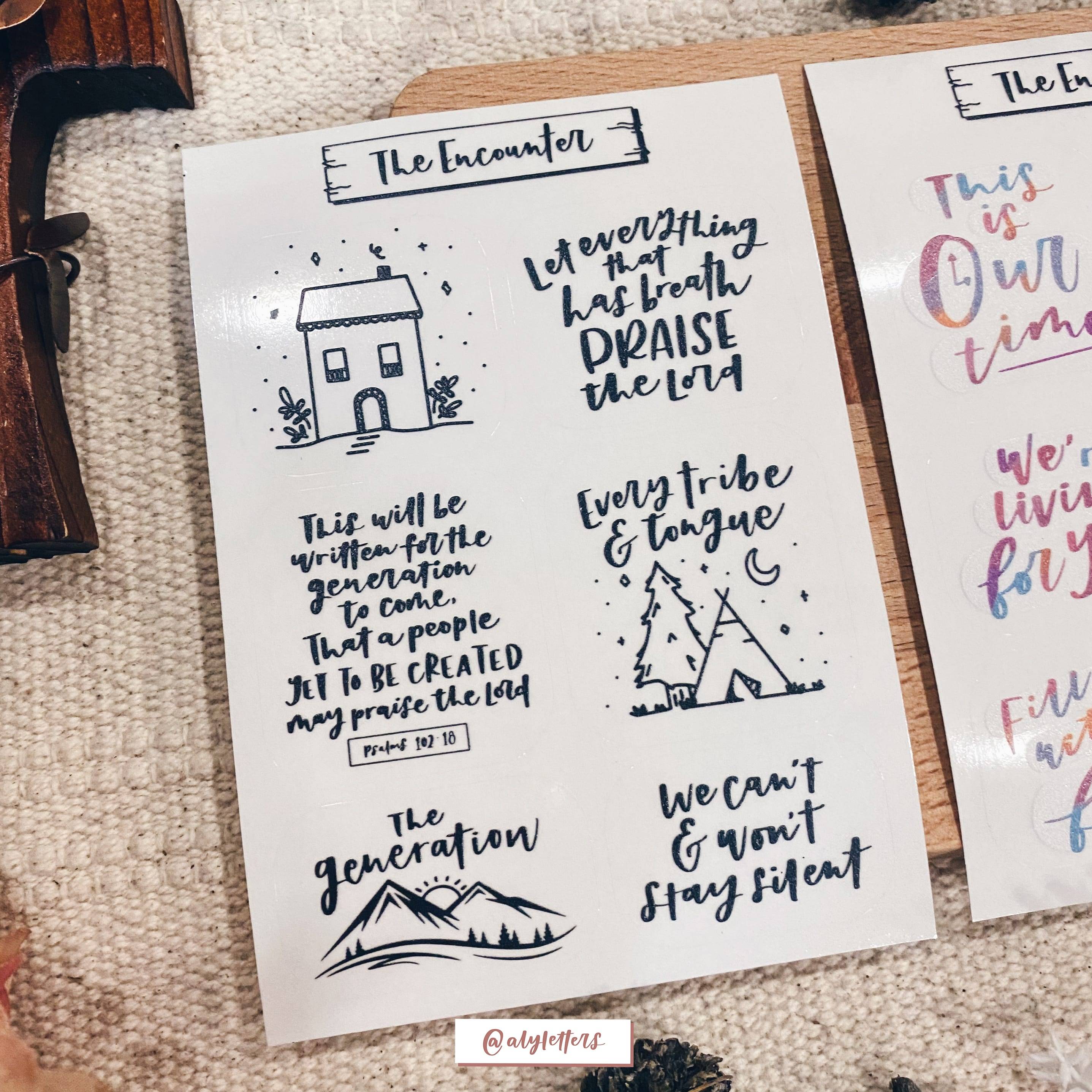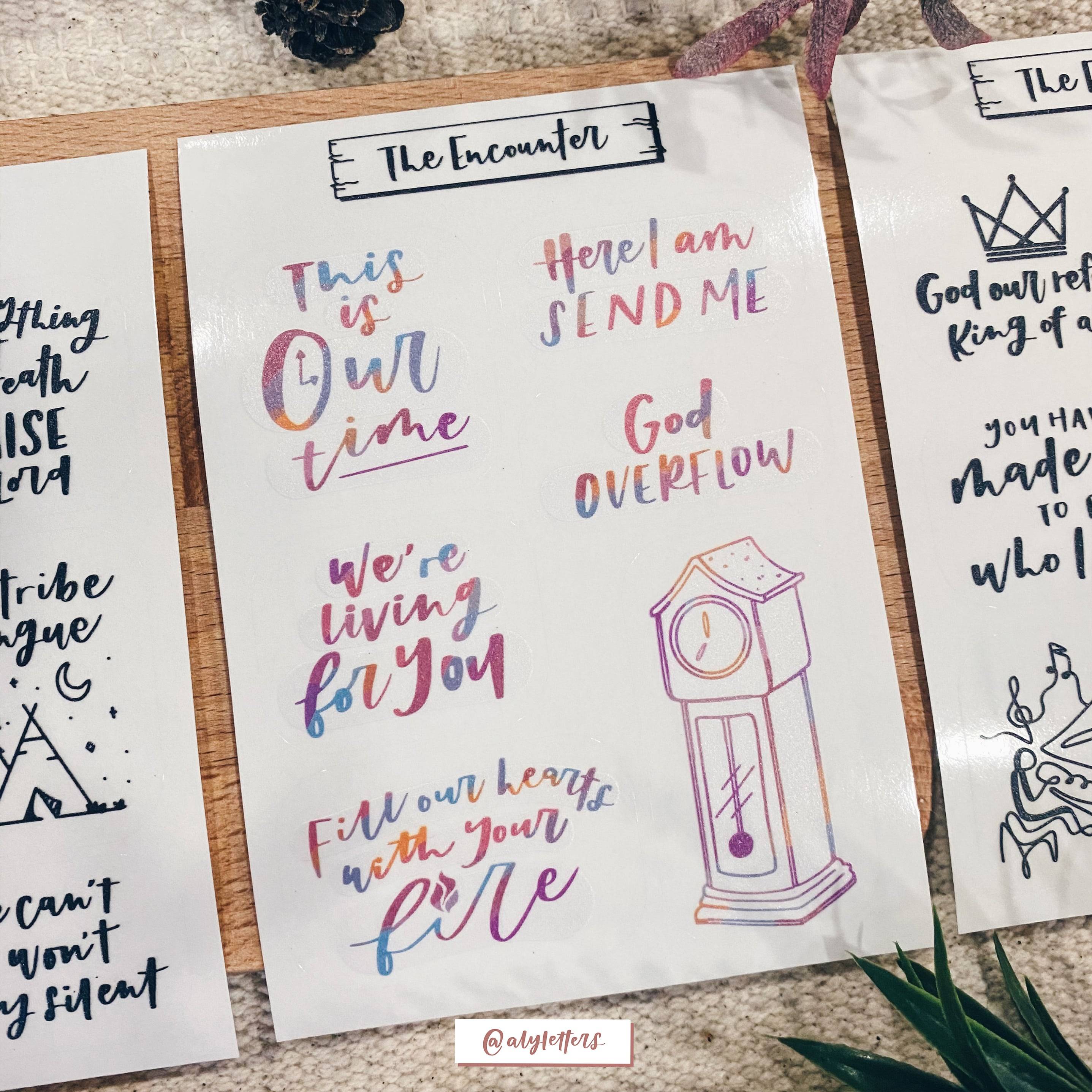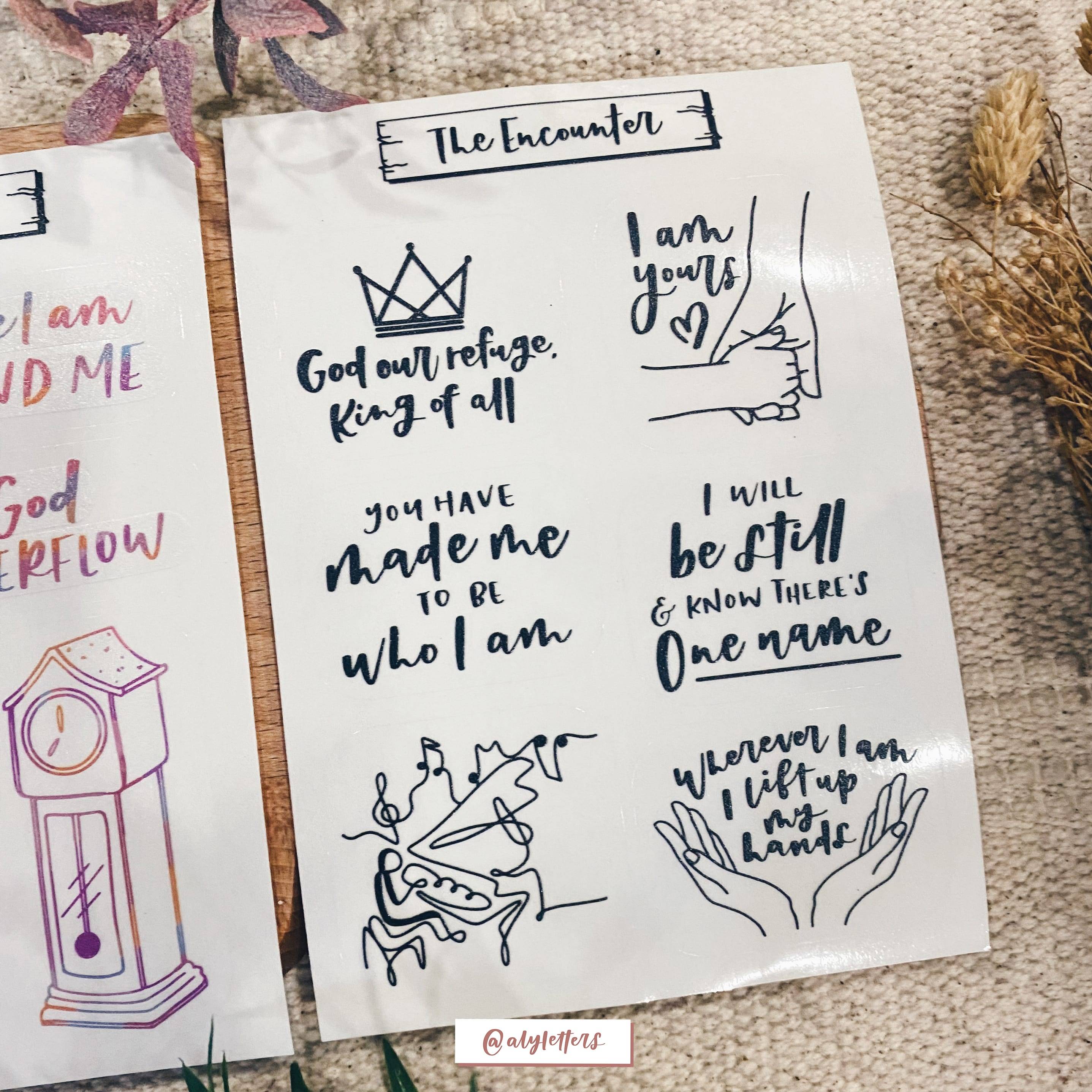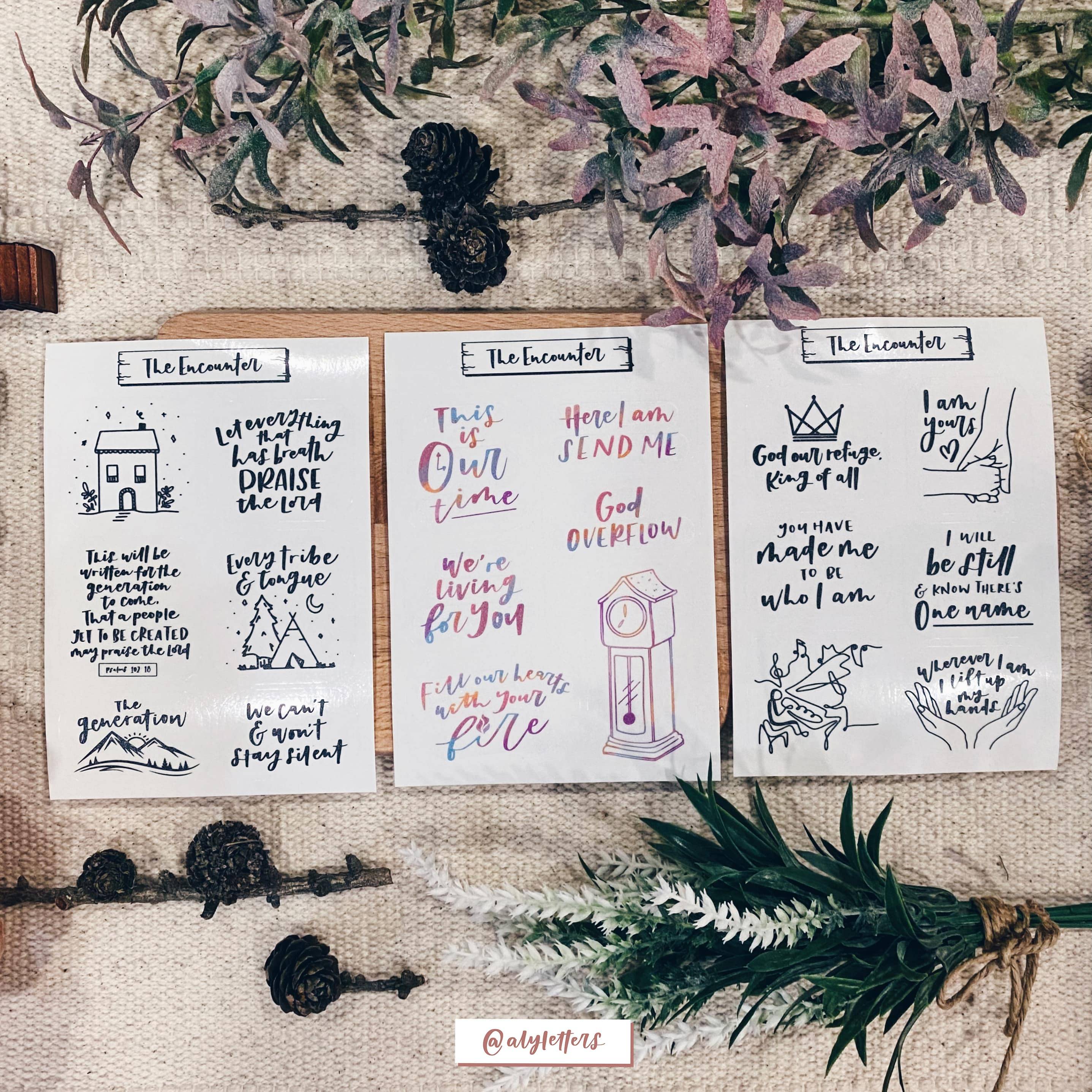 These stickers are perfect for intimate events like wedding favours, party gifts, baby showers and even product launches for brands! Wow your guests & stand out from the crowd with this perfect perfect door gift & party favour.
Designed specially to suit the theme of your occasion, you will be able to work closely with Aly as she illustrates & colours in your stickers.
Quality is Aly's top priority & all stickers are fadeproof, waterproof, can be used on laptops, mobile phones and even water bottles. It will not leave sticky residues and are gorgeous to boot! Your guests will love them.
Price Range: $215-$425 [MOQ 50 sheets]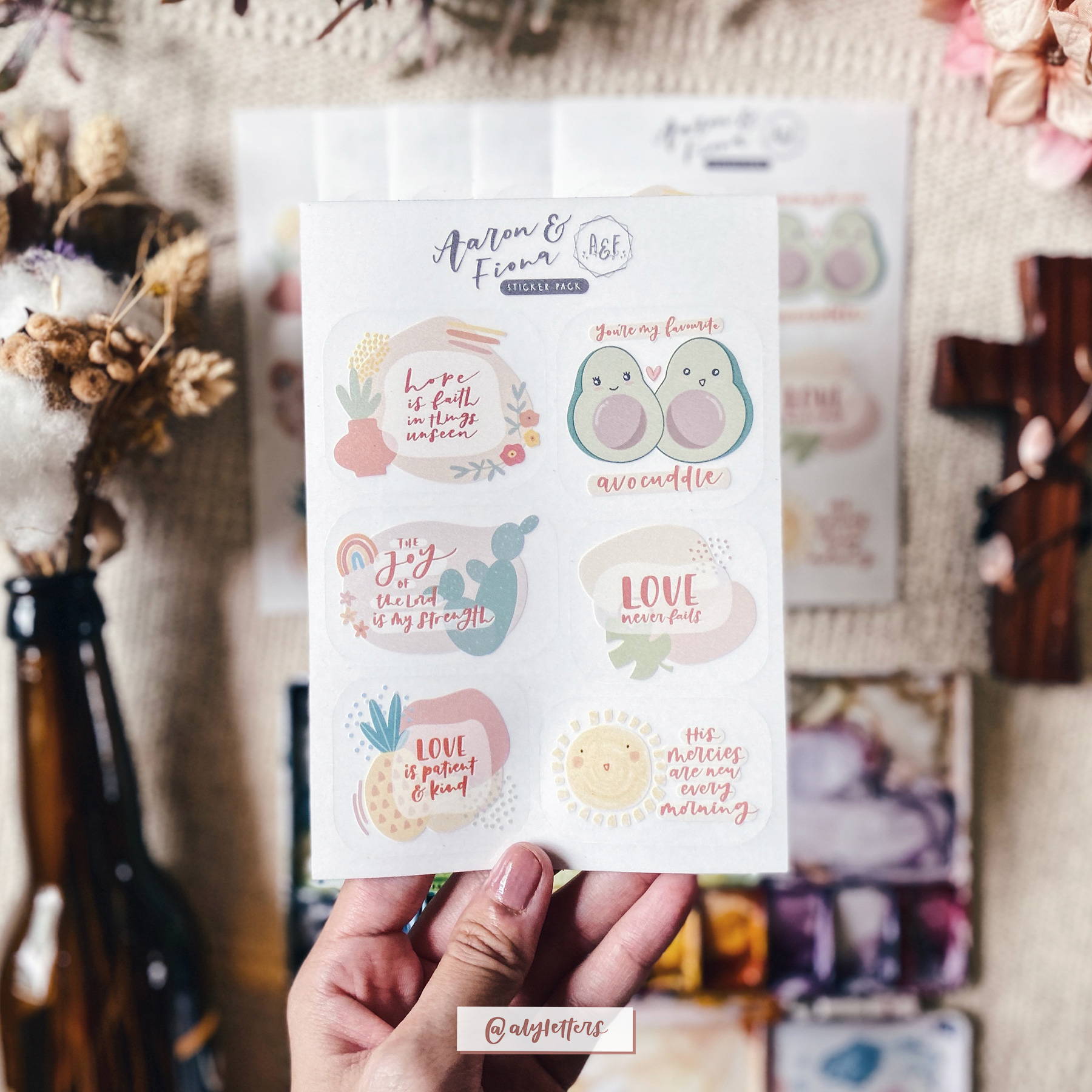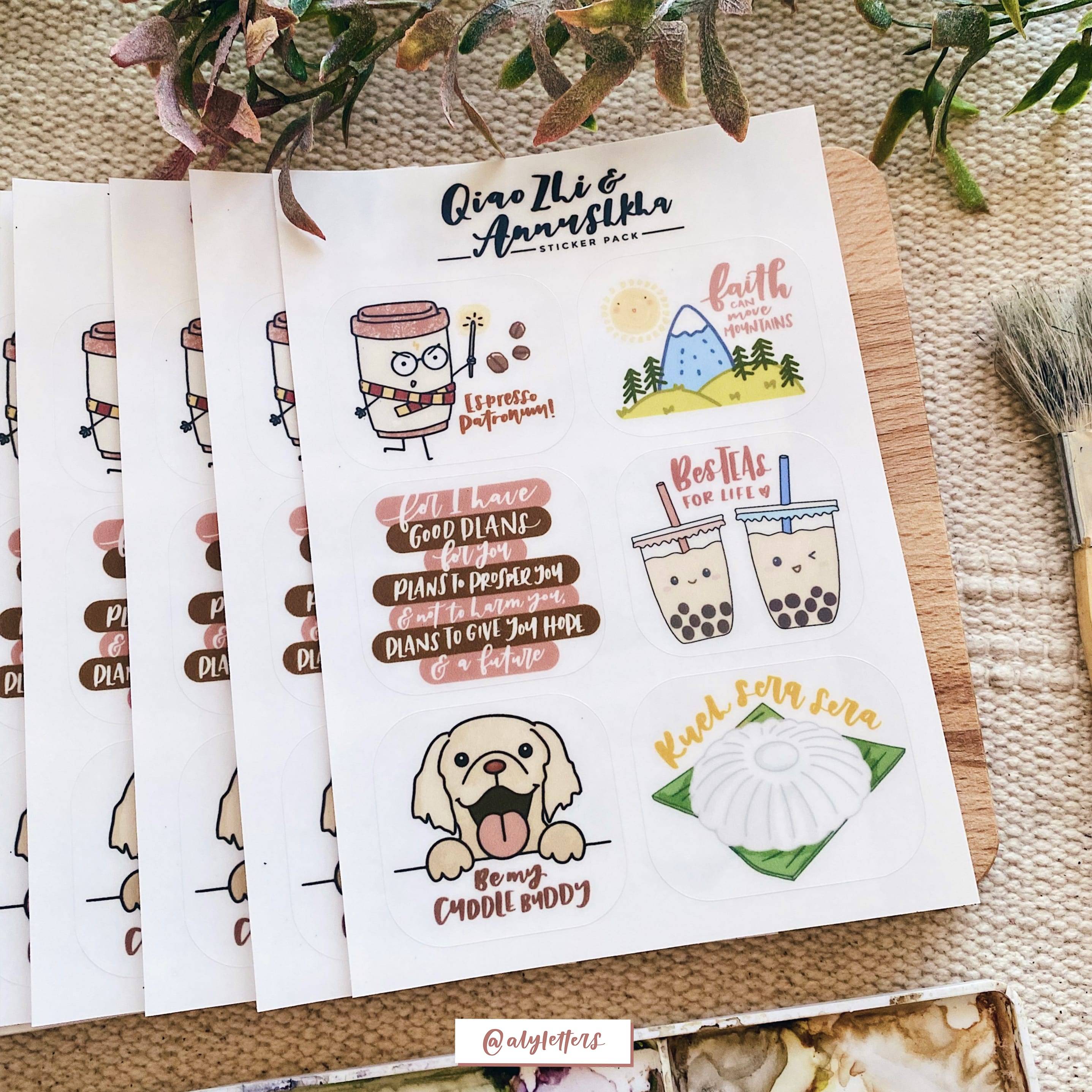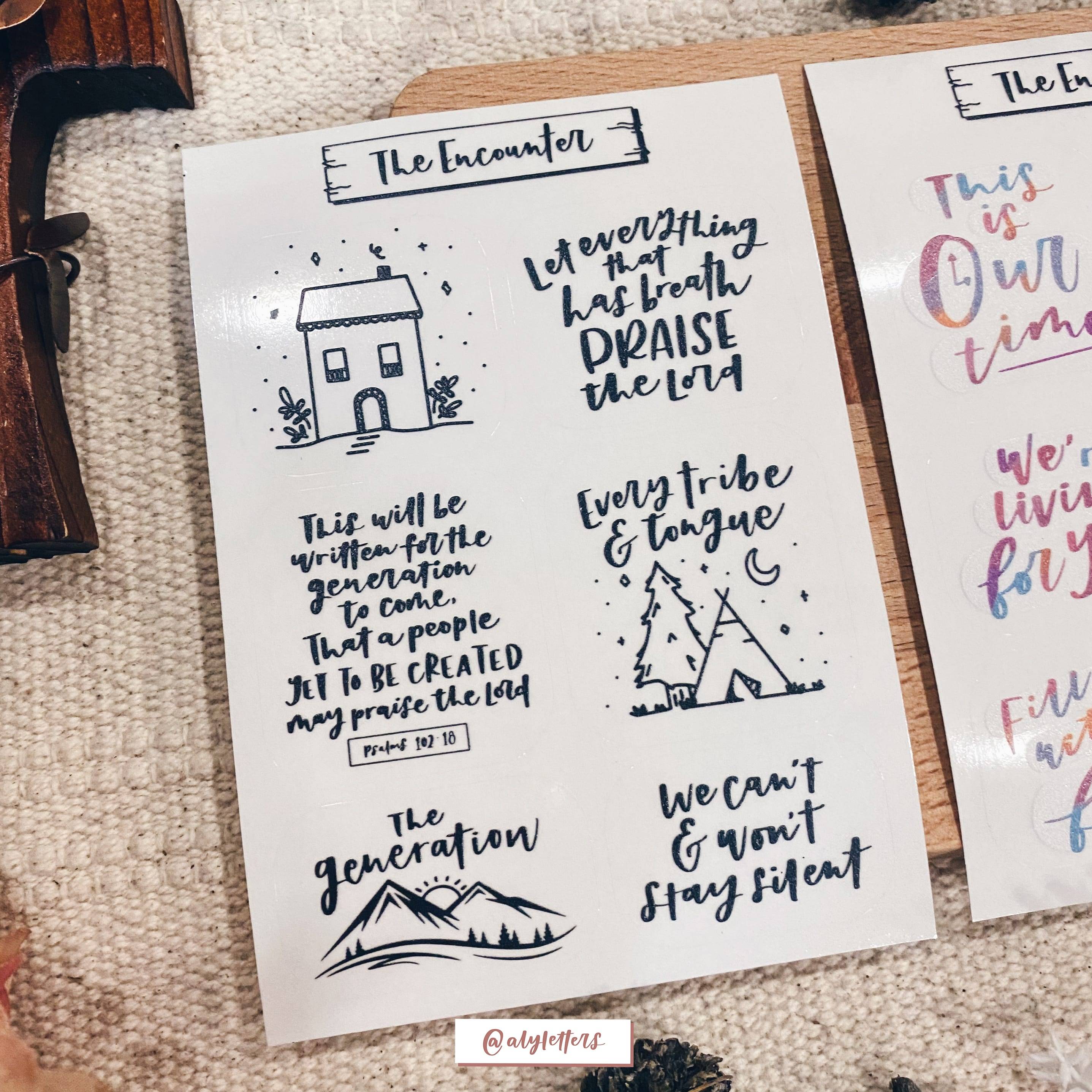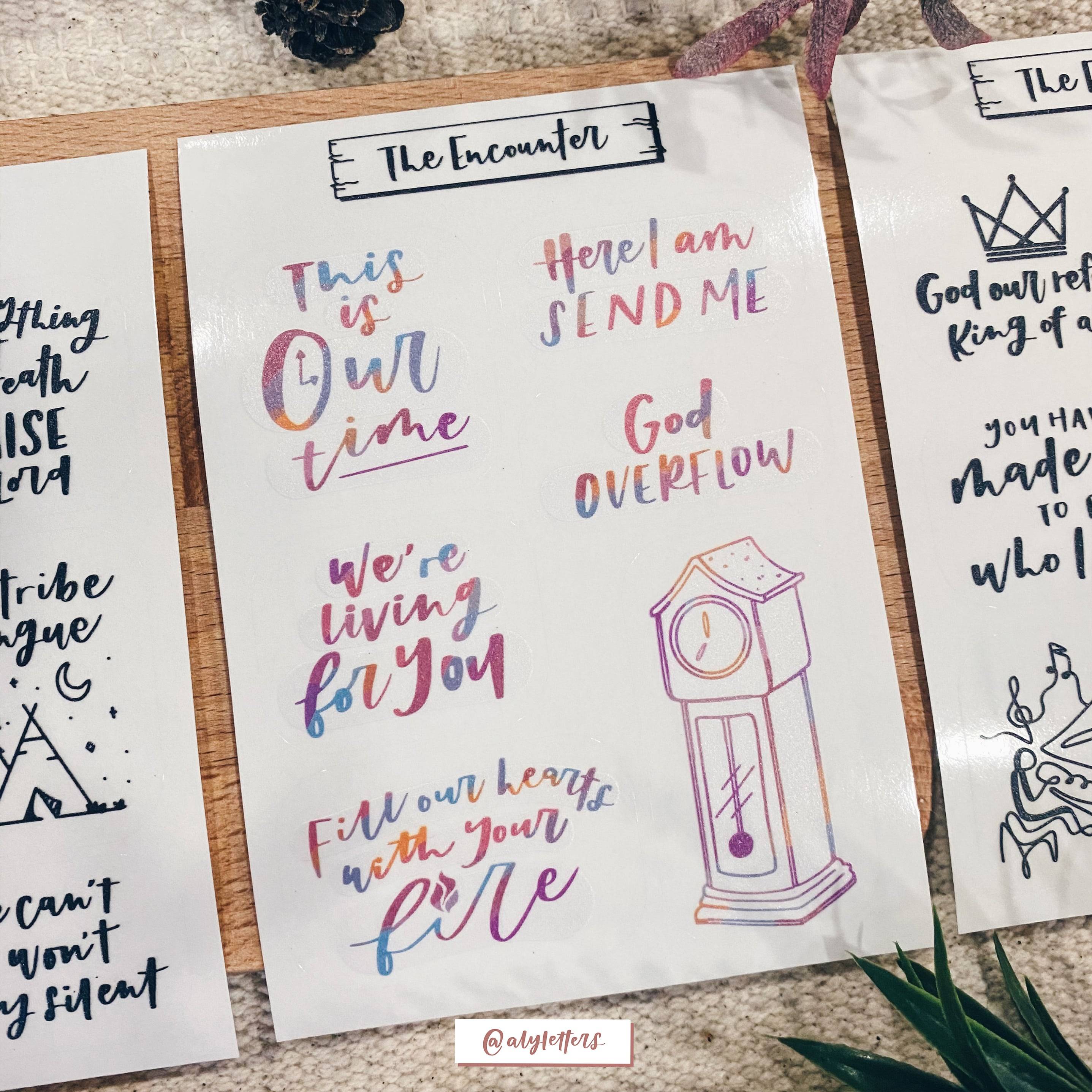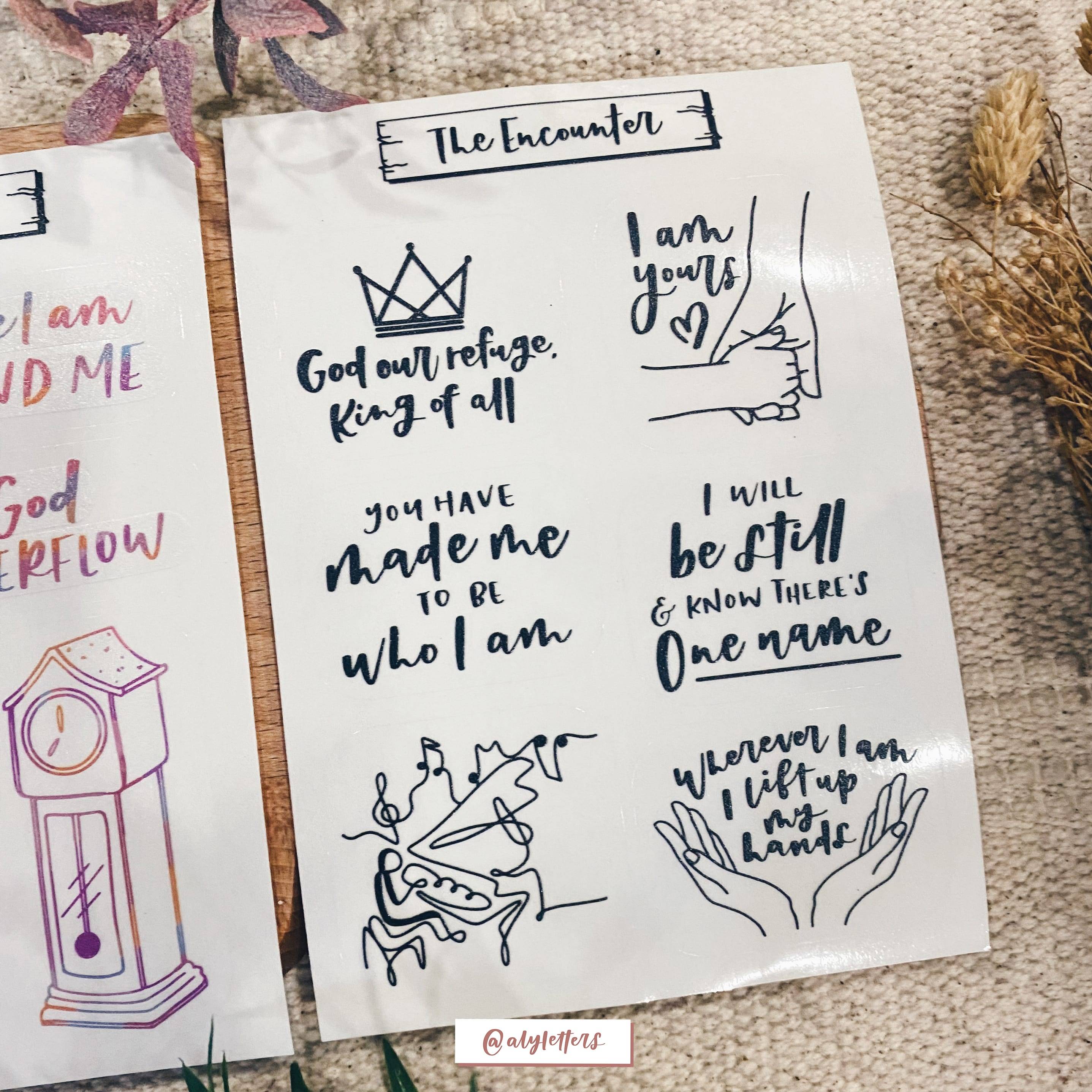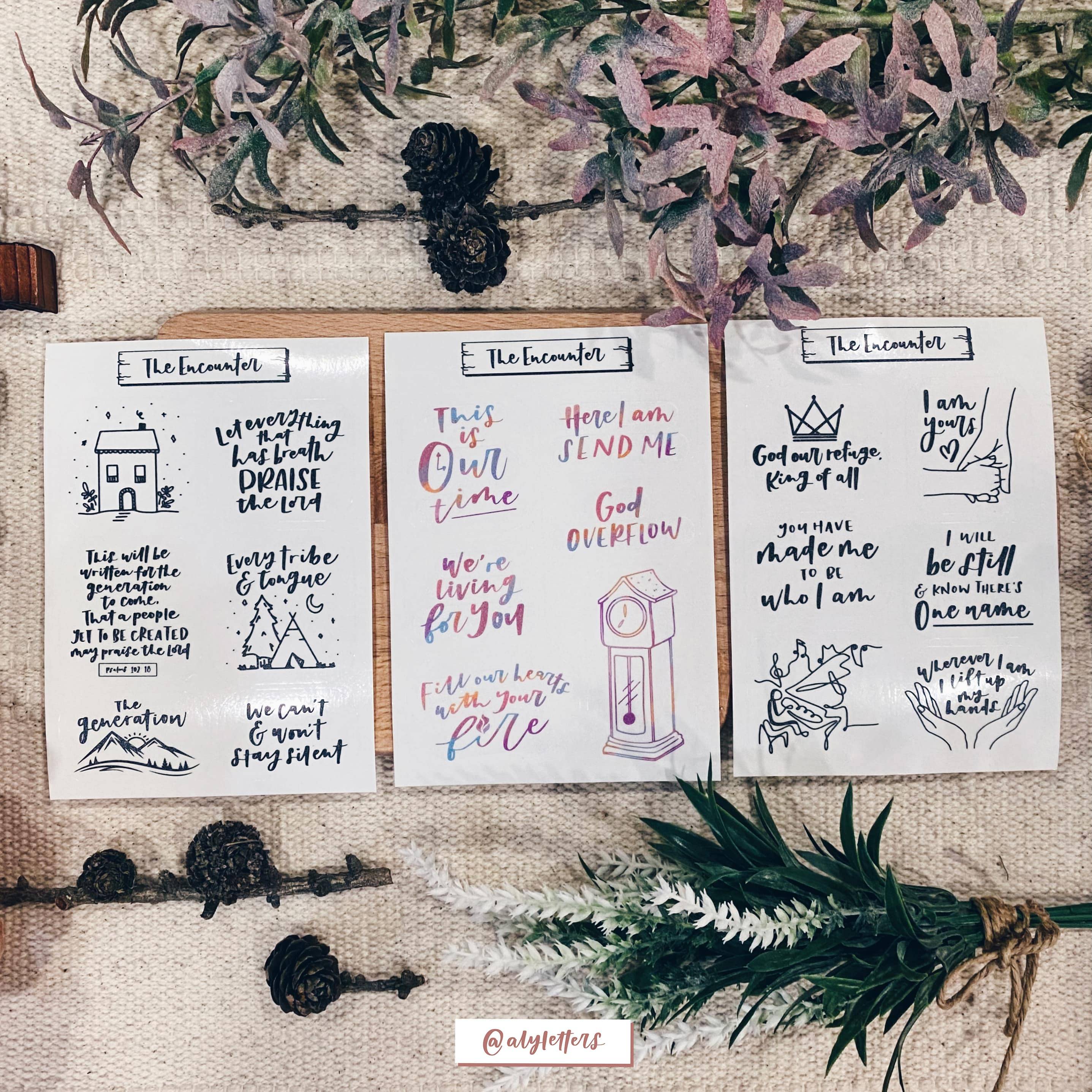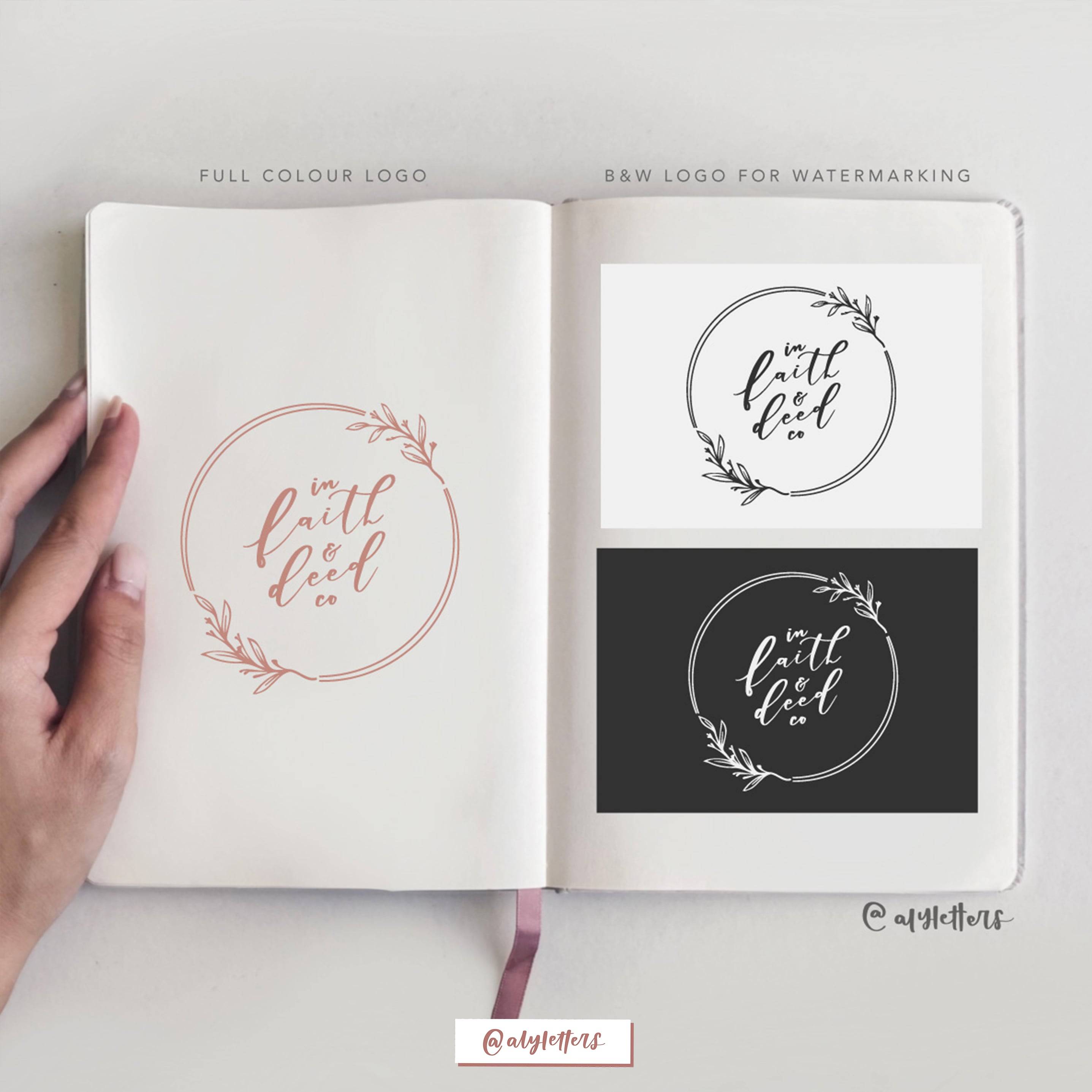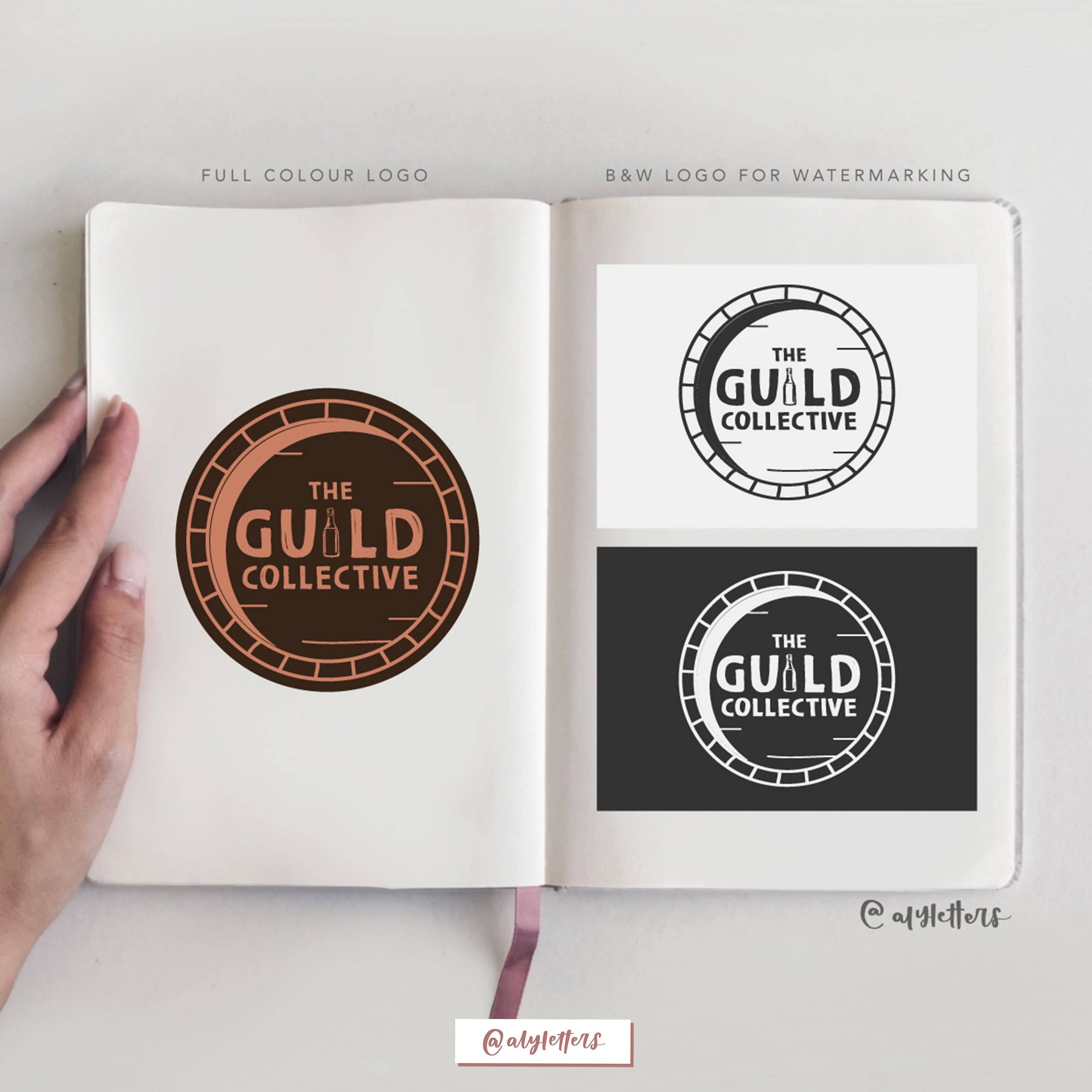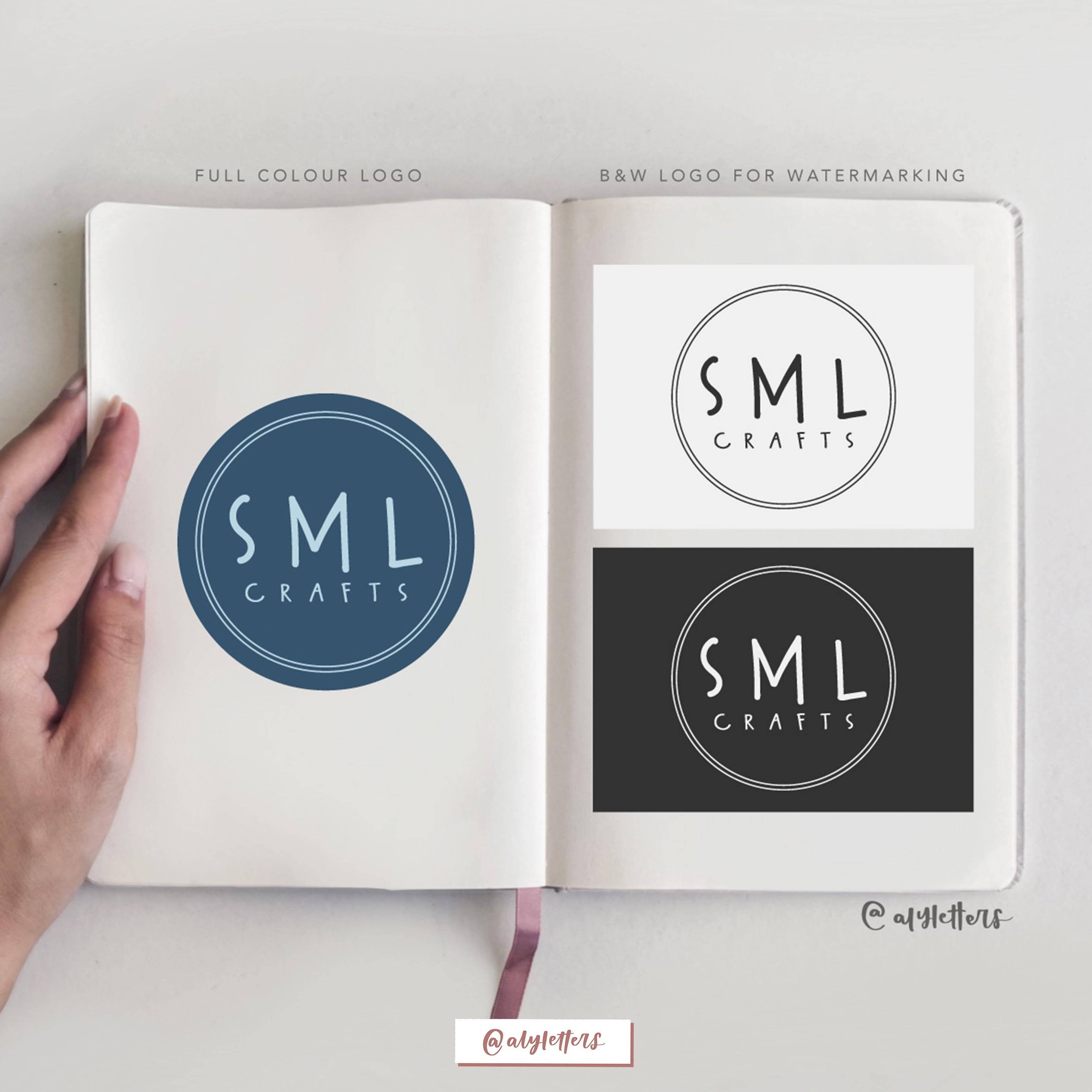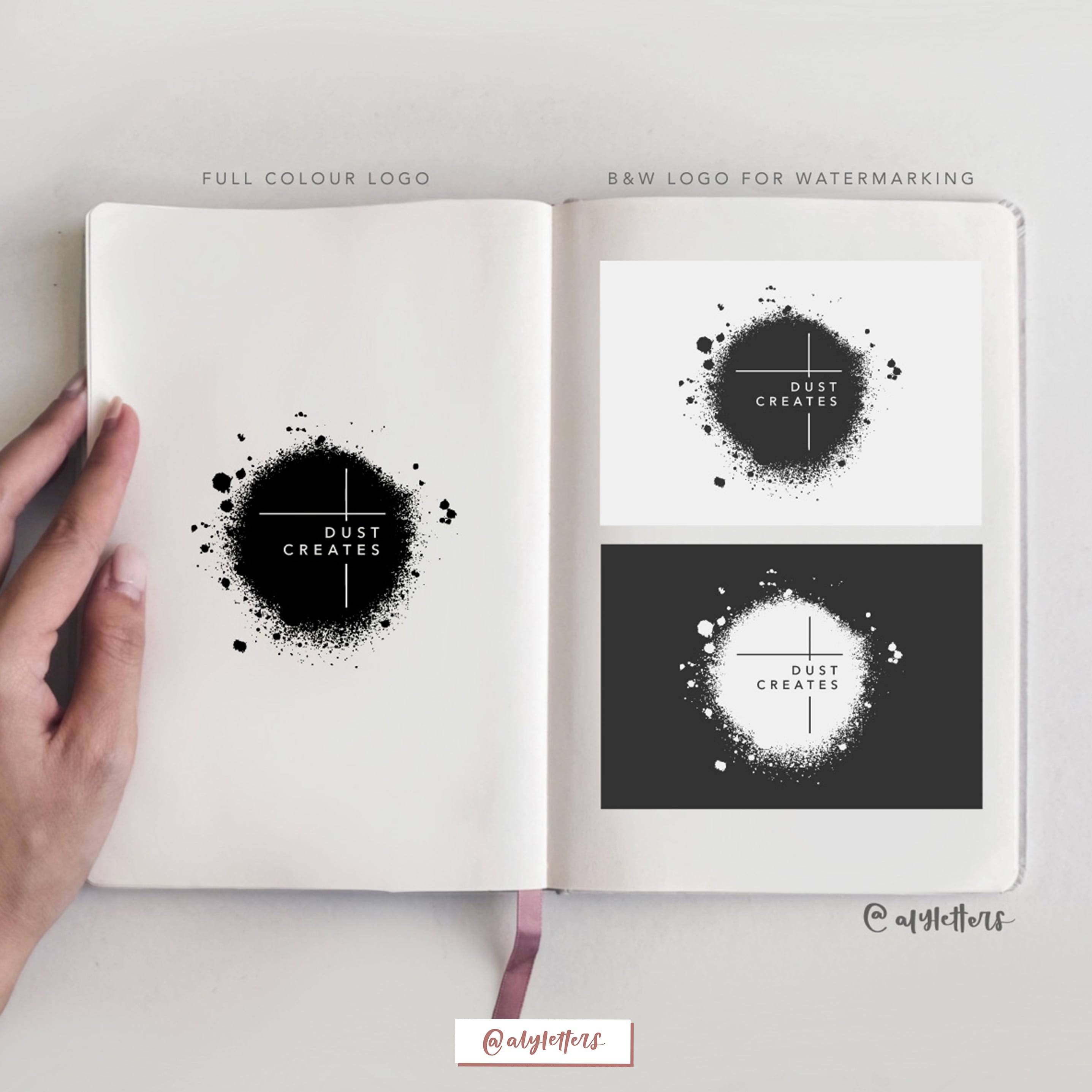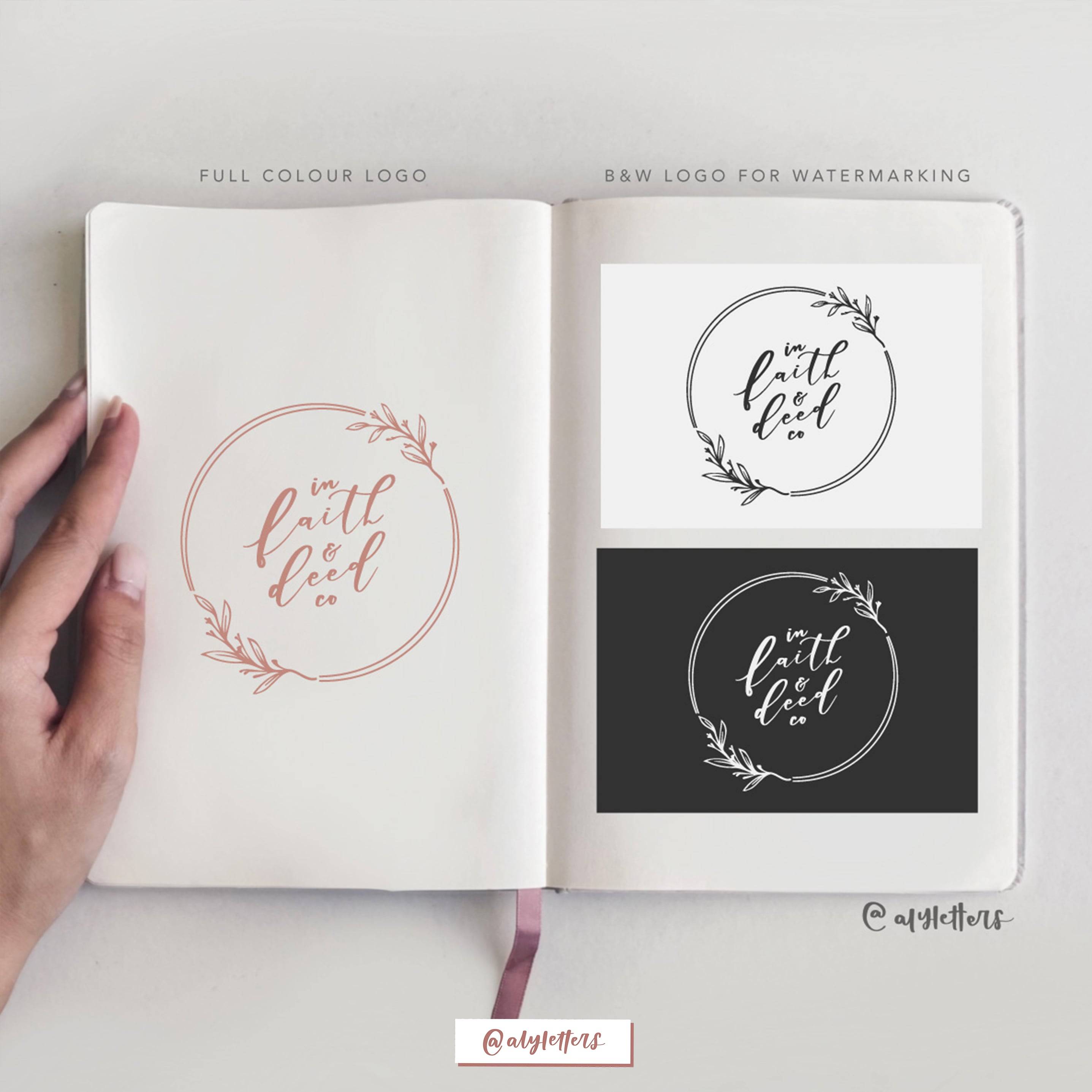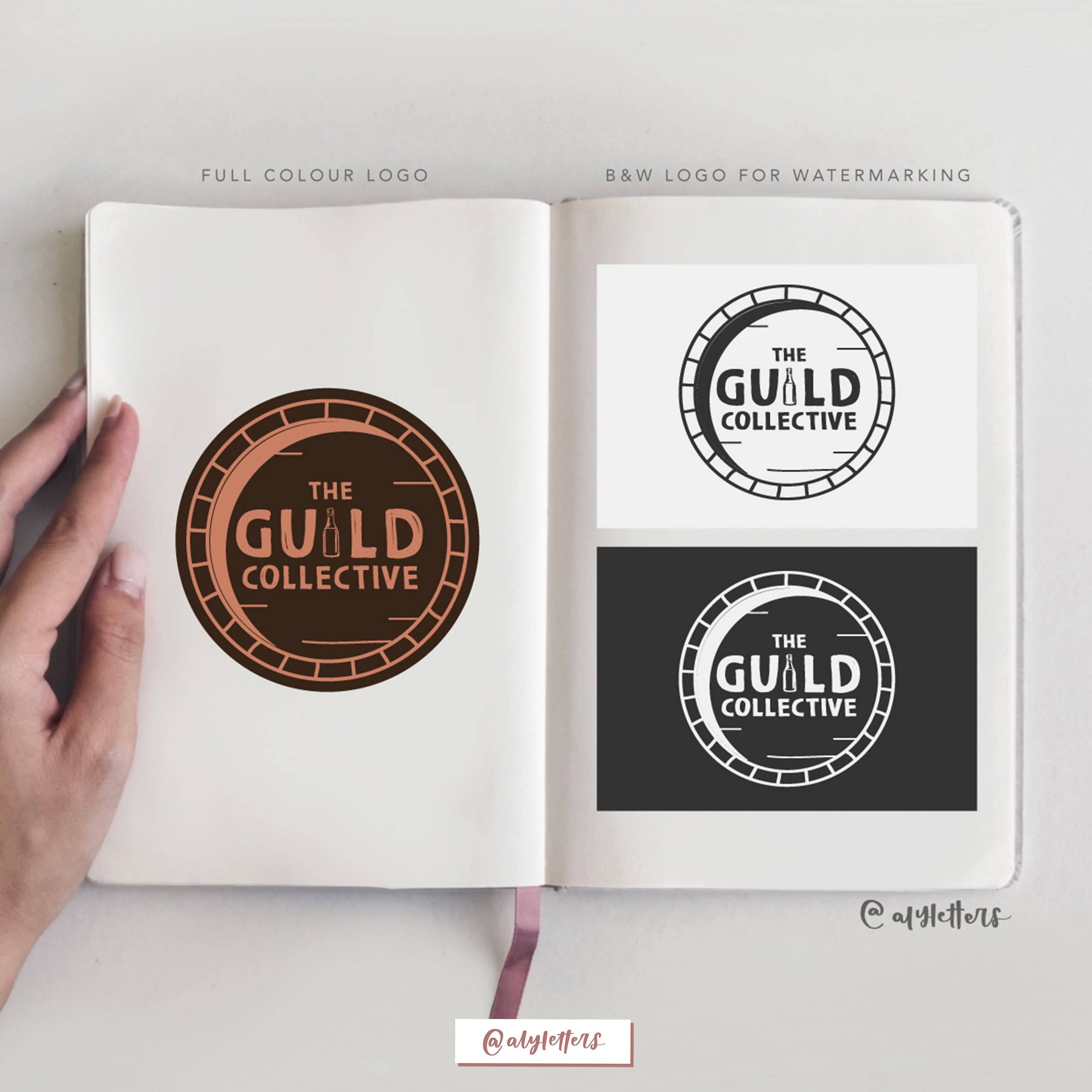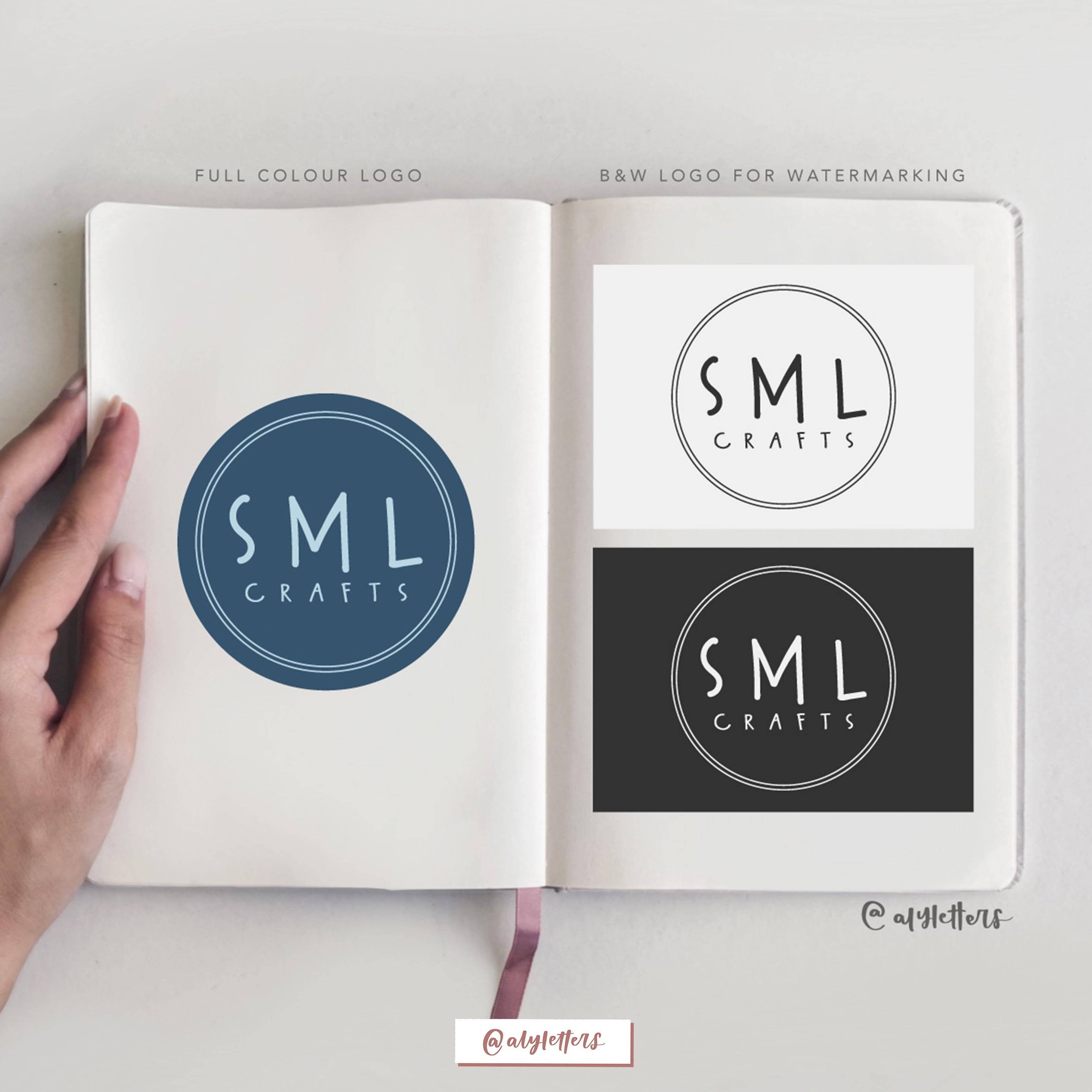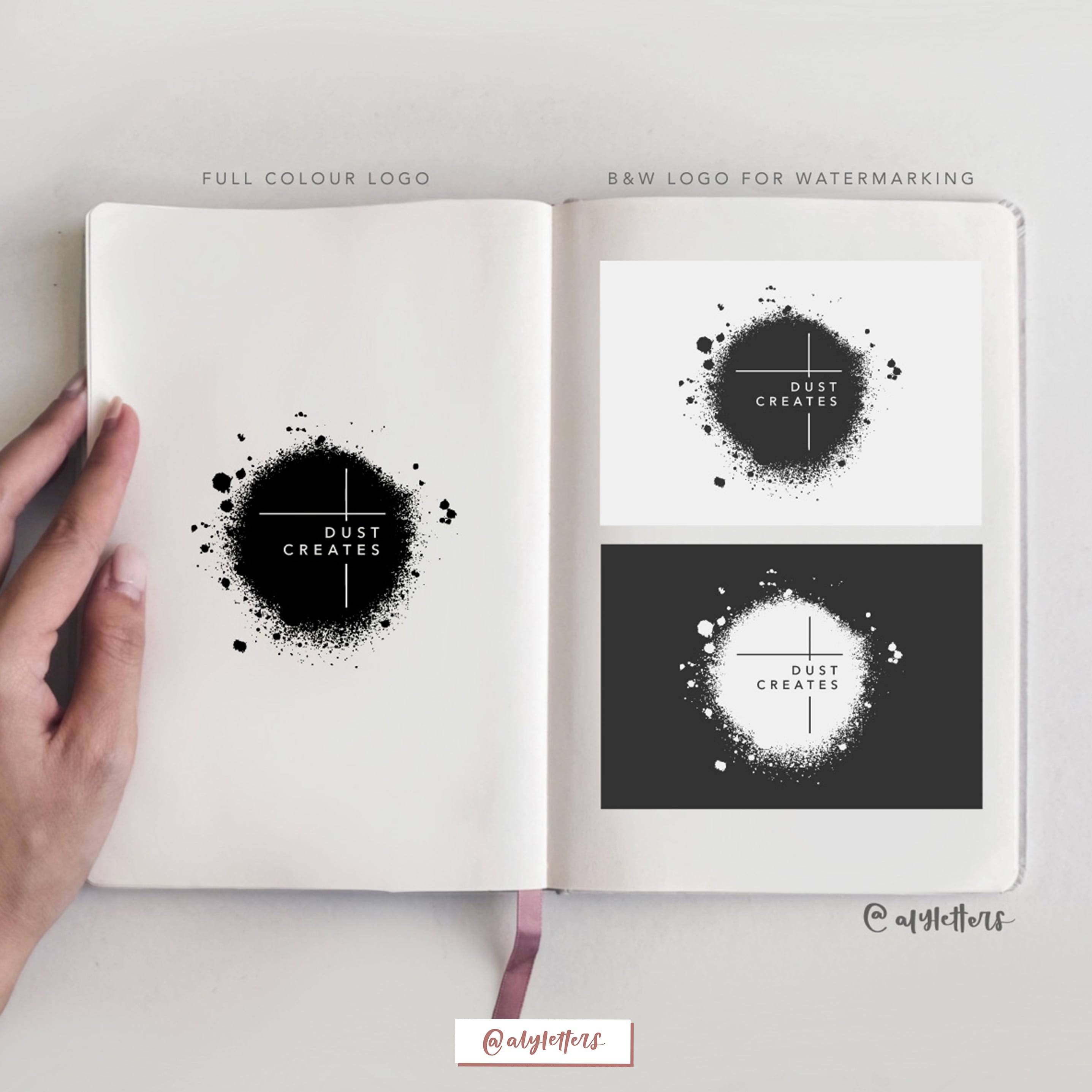 Logo designs are the first touch points with customers for brands and businesses. If you want to make a lasting first impression with it, you definitely want a designer who is able to translate your heart for the business, into a tangible aesthetic logo.
From colours to fonts to shapes, Aly has had experience designing logos for other small business & corporate brands. Work with her to design a logo that represents your brand & what it stands for. She is generous with her constructive inputs and as a business owner herself, she is able to empathise & understands how important a stellar logo is for your brand.
Work with Aly today to create your strong, one-of-a-kind, meaningful and visually-pleasing logo.

Price Range: $350 [5 draft designs & 2 rounds of revisions]

WEDDING/EVENTS BLESSING BOOTH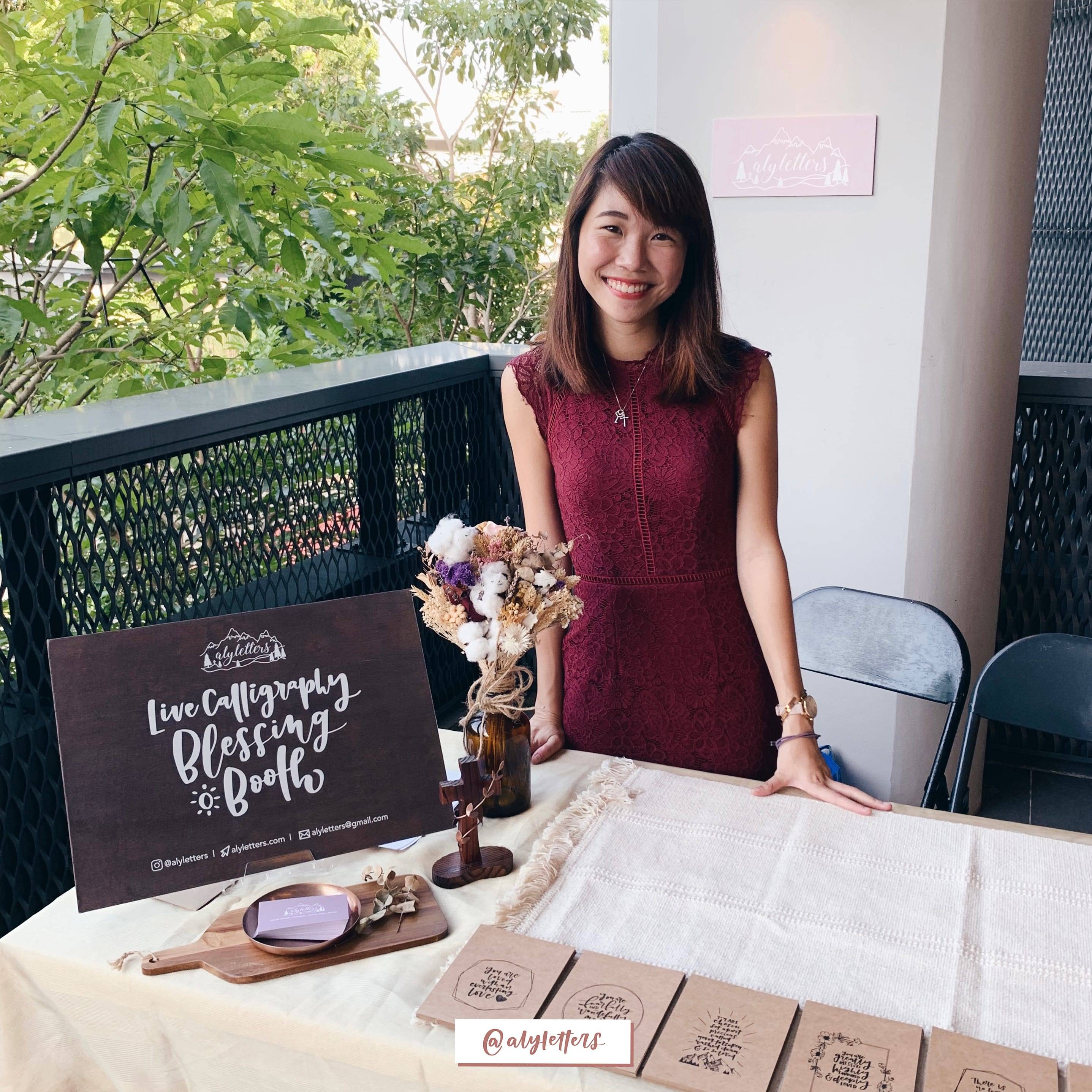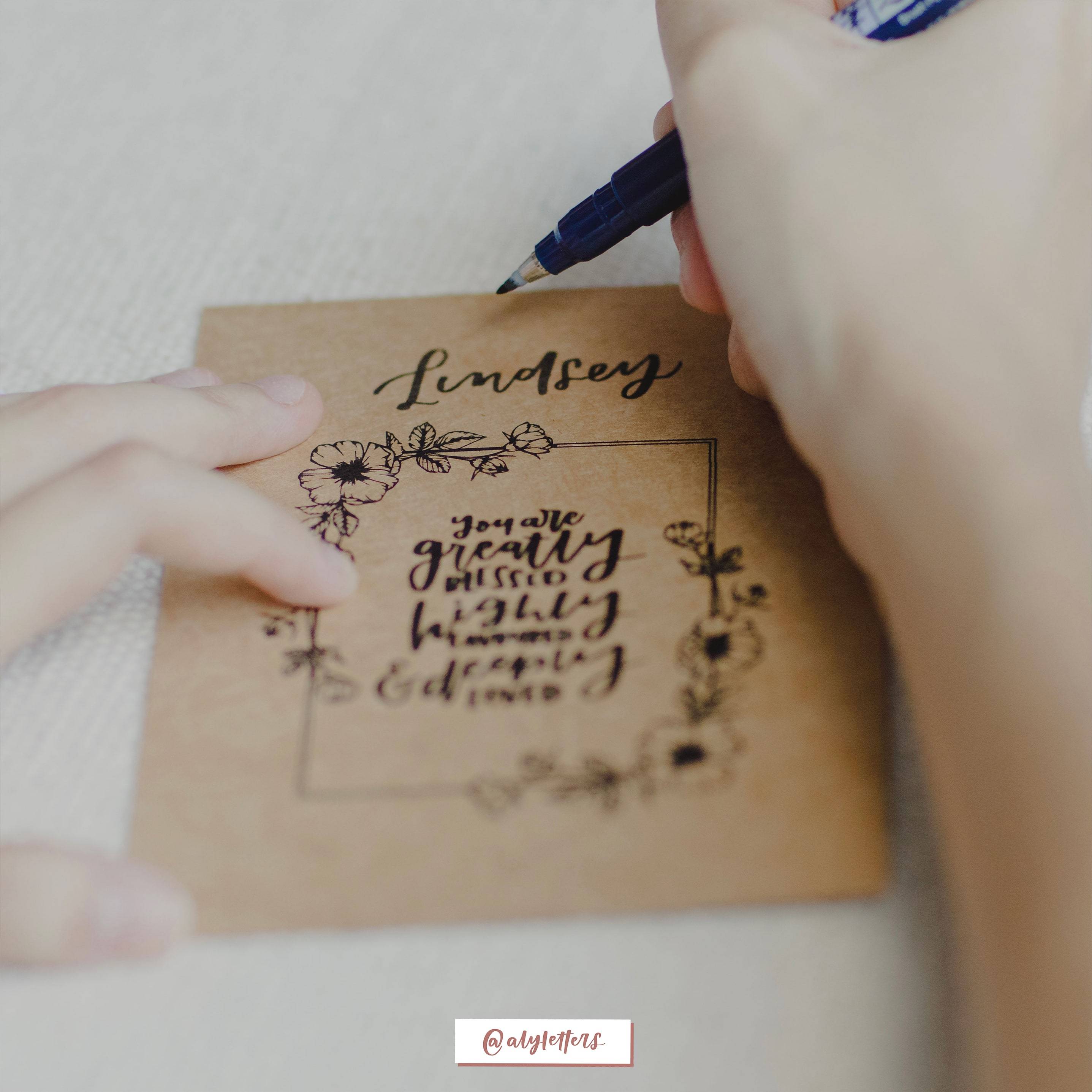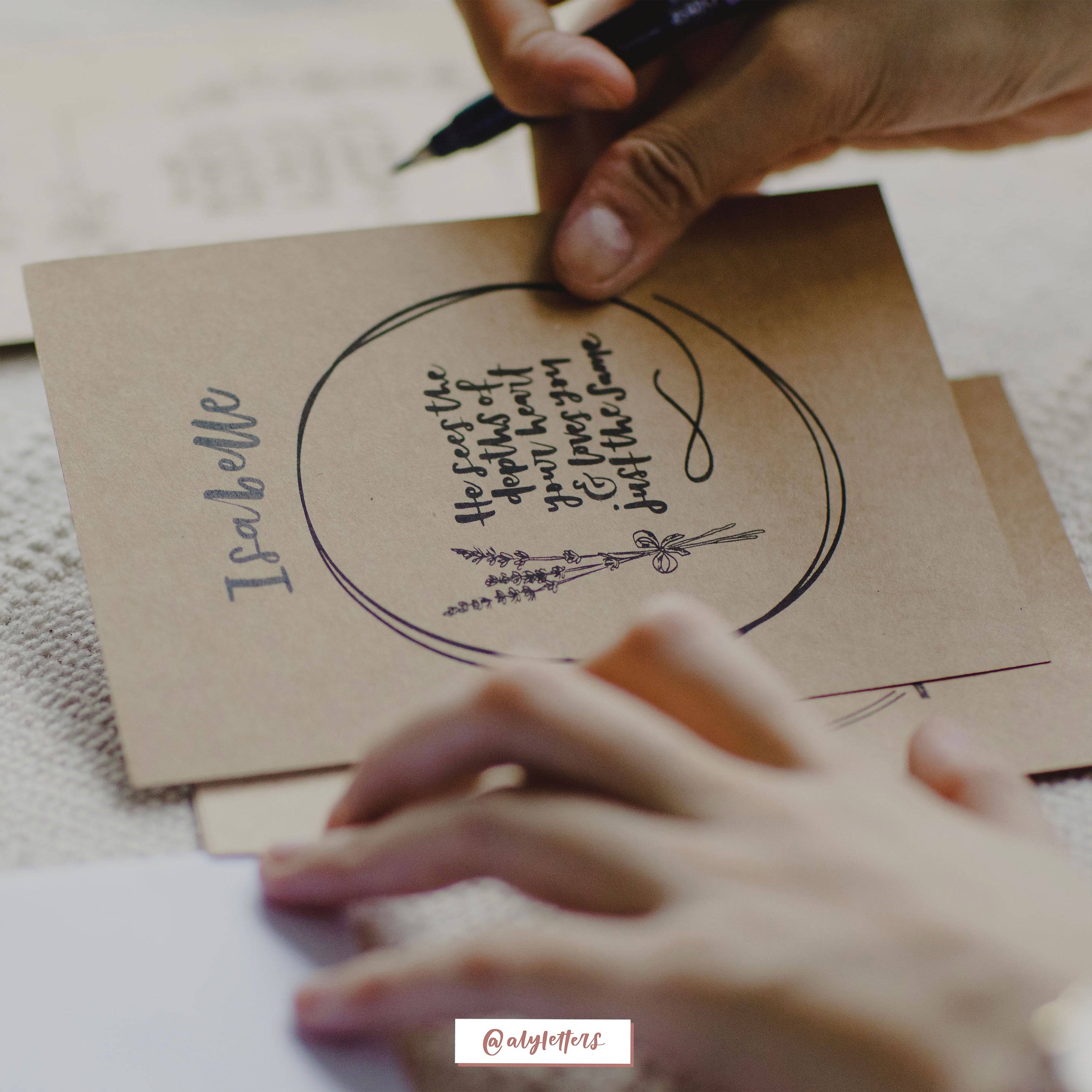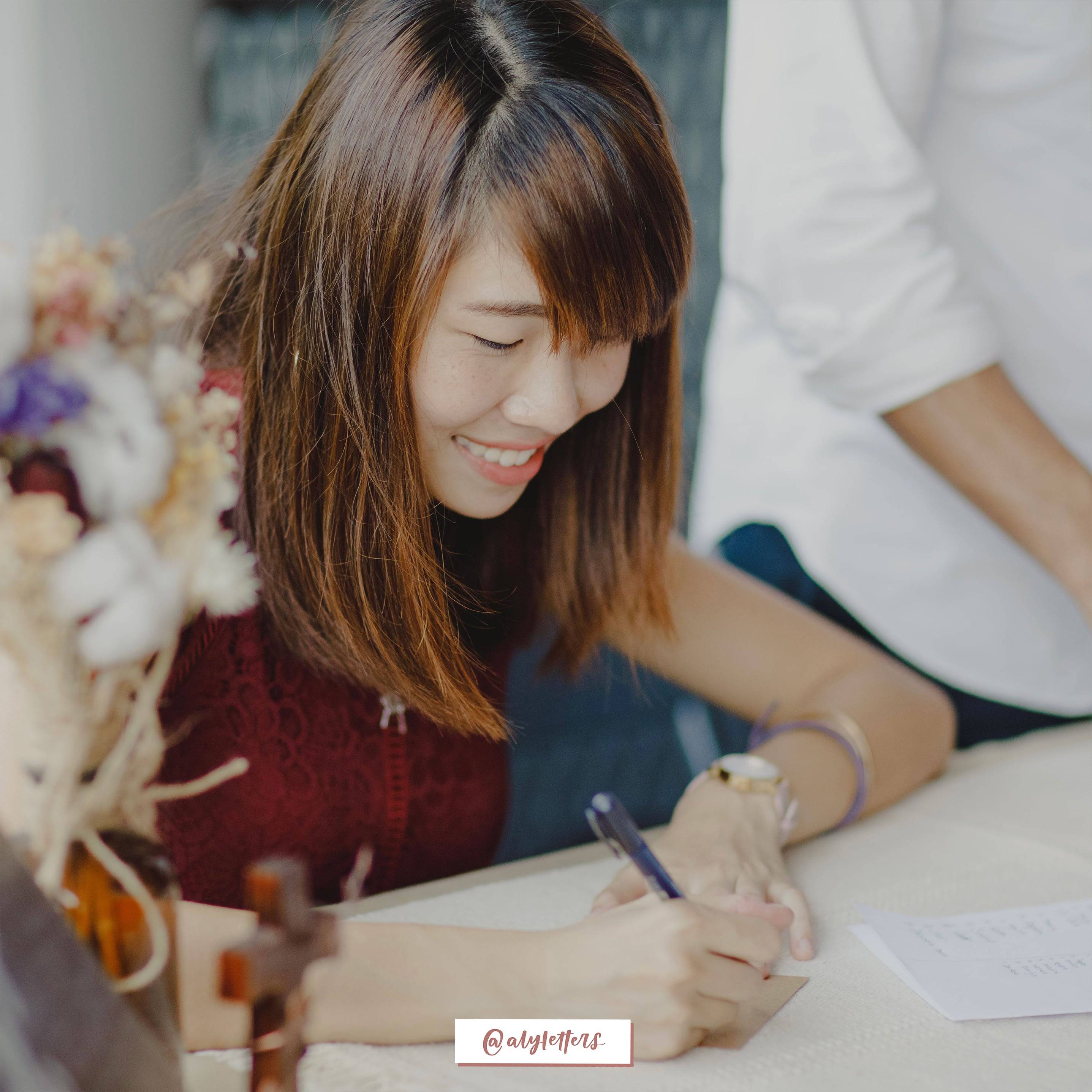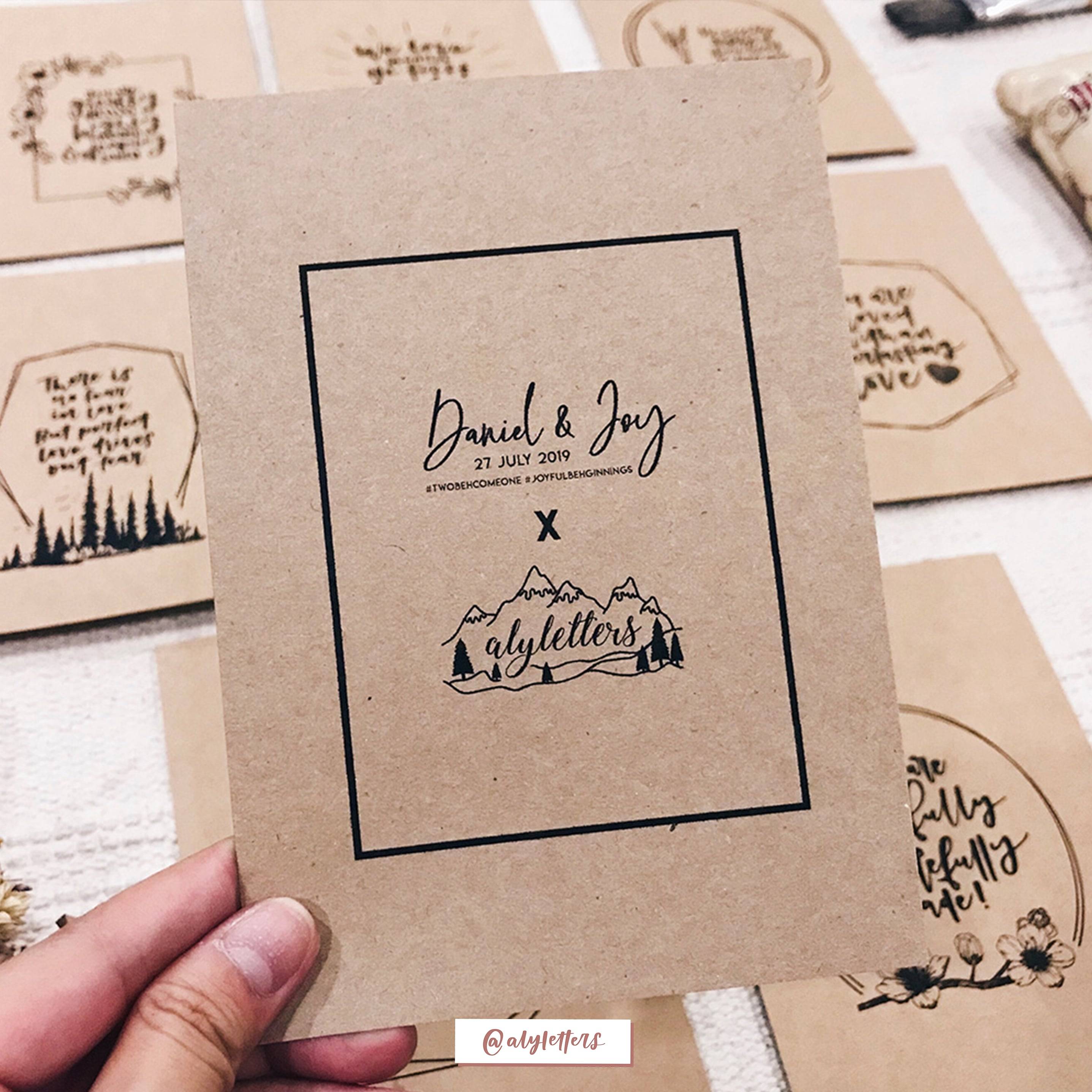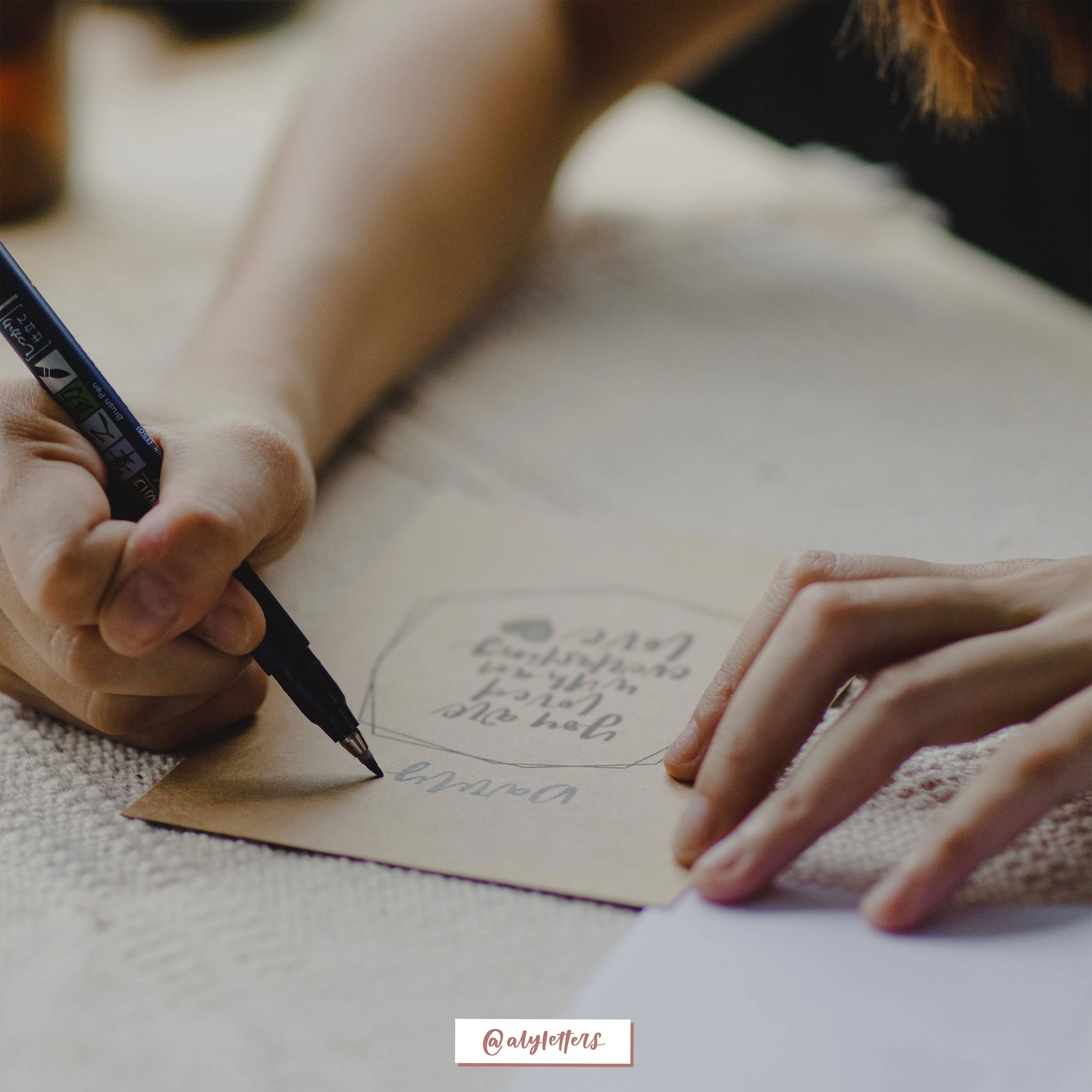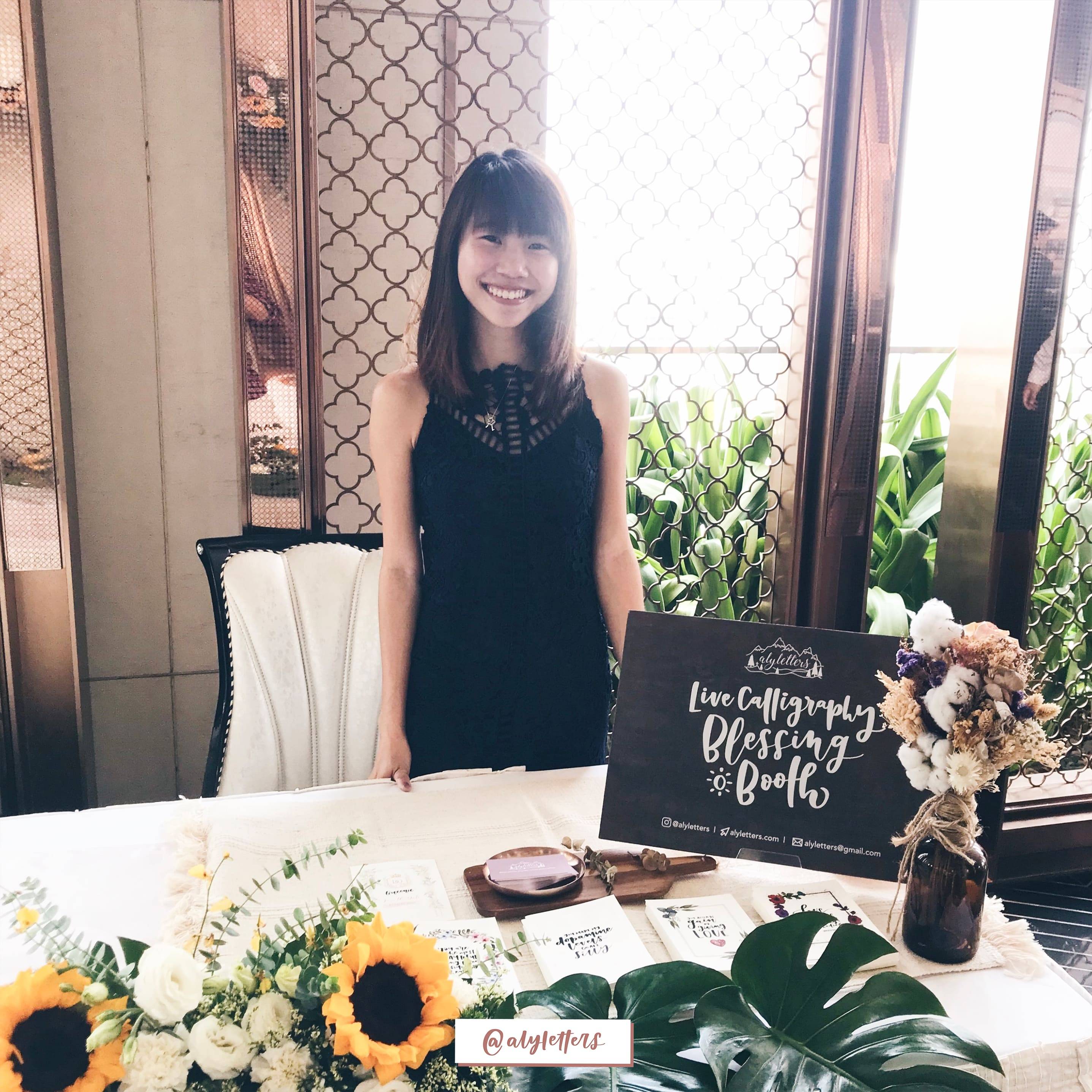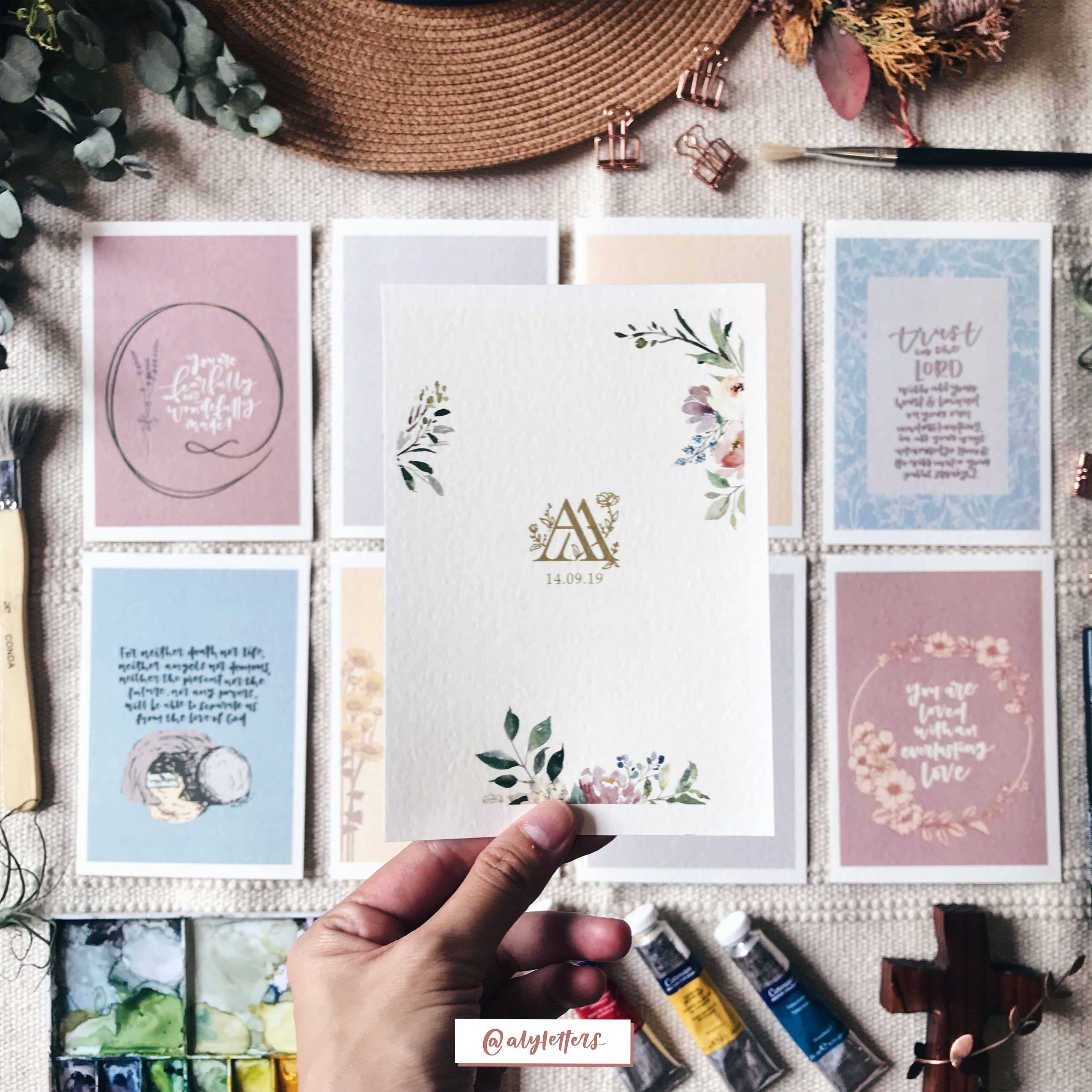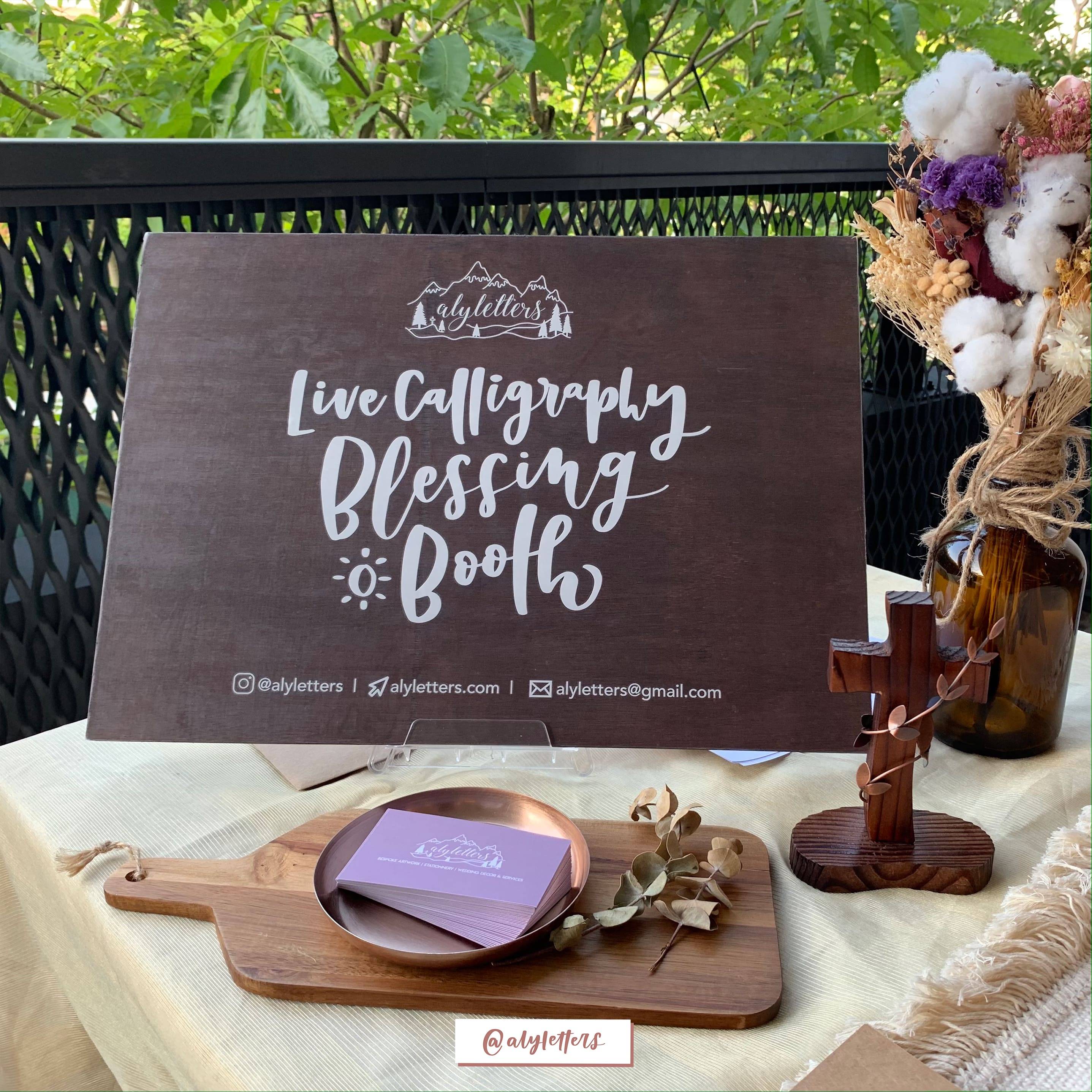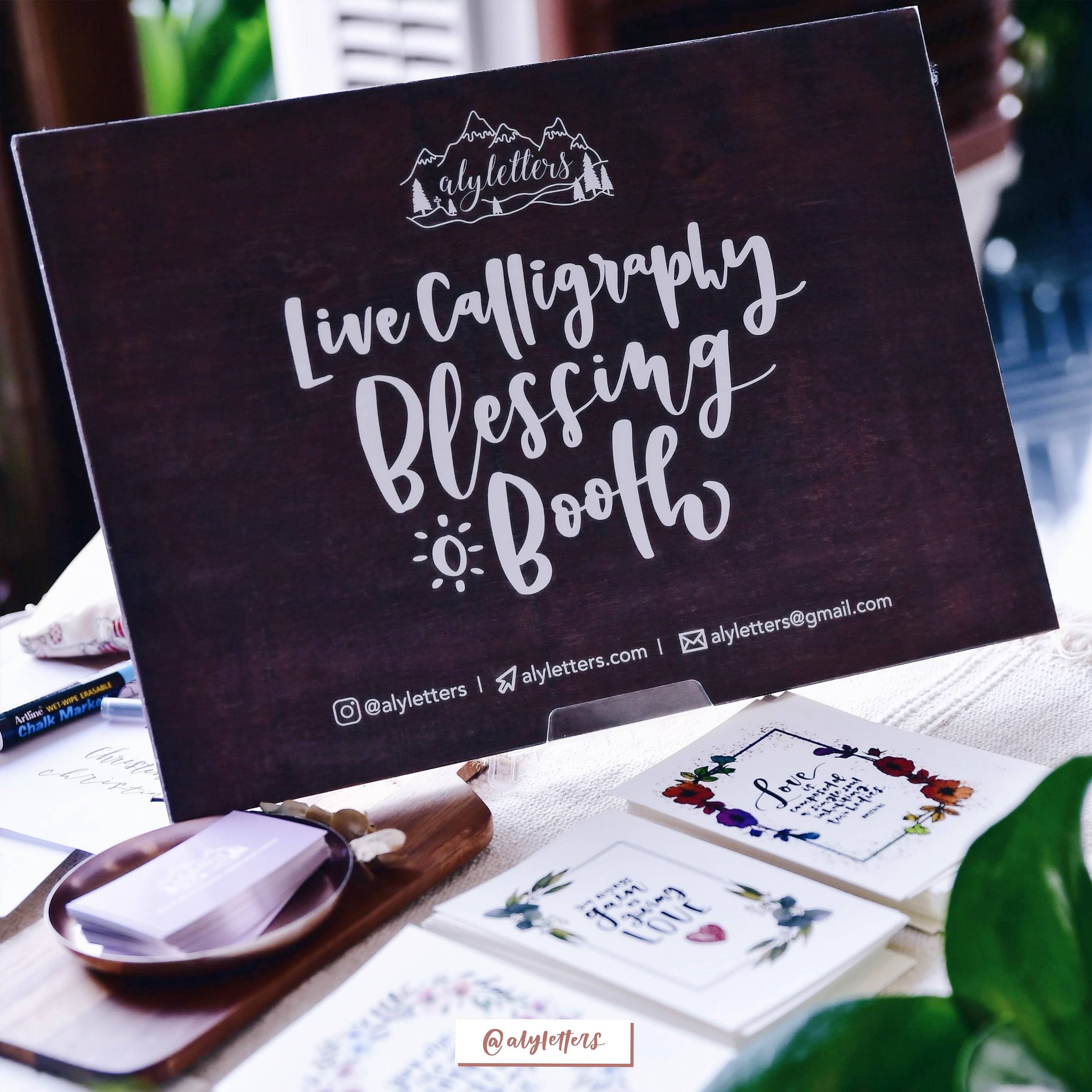 Have Aly calligraph guest names live your events!
The live calligraphy blessing booth aims to share God's word in an engaging and personal way with your guests & loved ones.
Work with Aly to design blessing cards unique your wedding or event, and have her in person addressing these blessings to guests! The personal touch of this service makes it a perfect way to make sure your loved ones know how much they matter to you, even amidst the hustle & bustle of your big day.
Decide on the quotes you want & let Aly know if you've any design preferences. All artworks can be used later on as home decor & serve as a momento of your special day.
Price Range: $850-$1250 + Printing costs [price includes 2-3h of live calligraphy]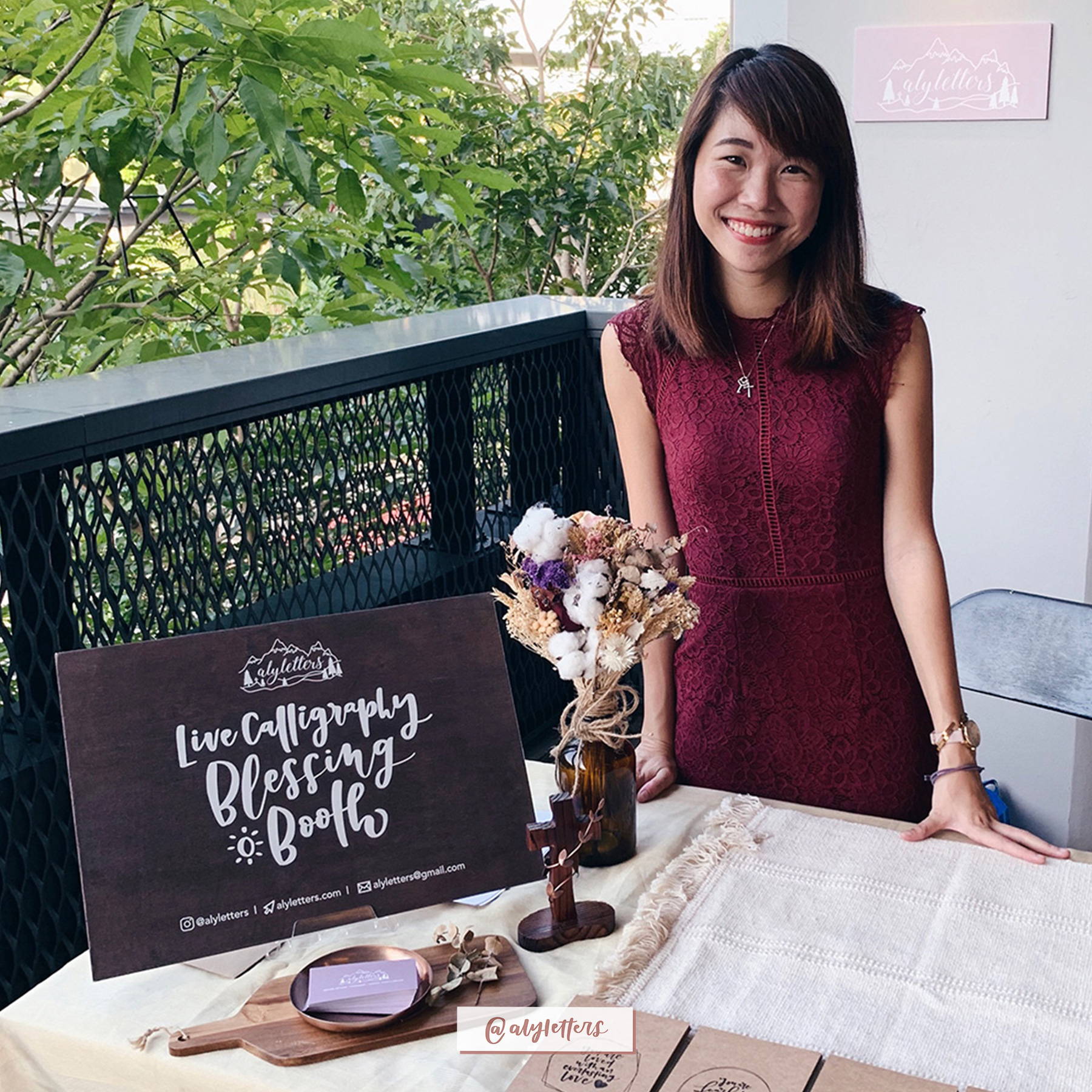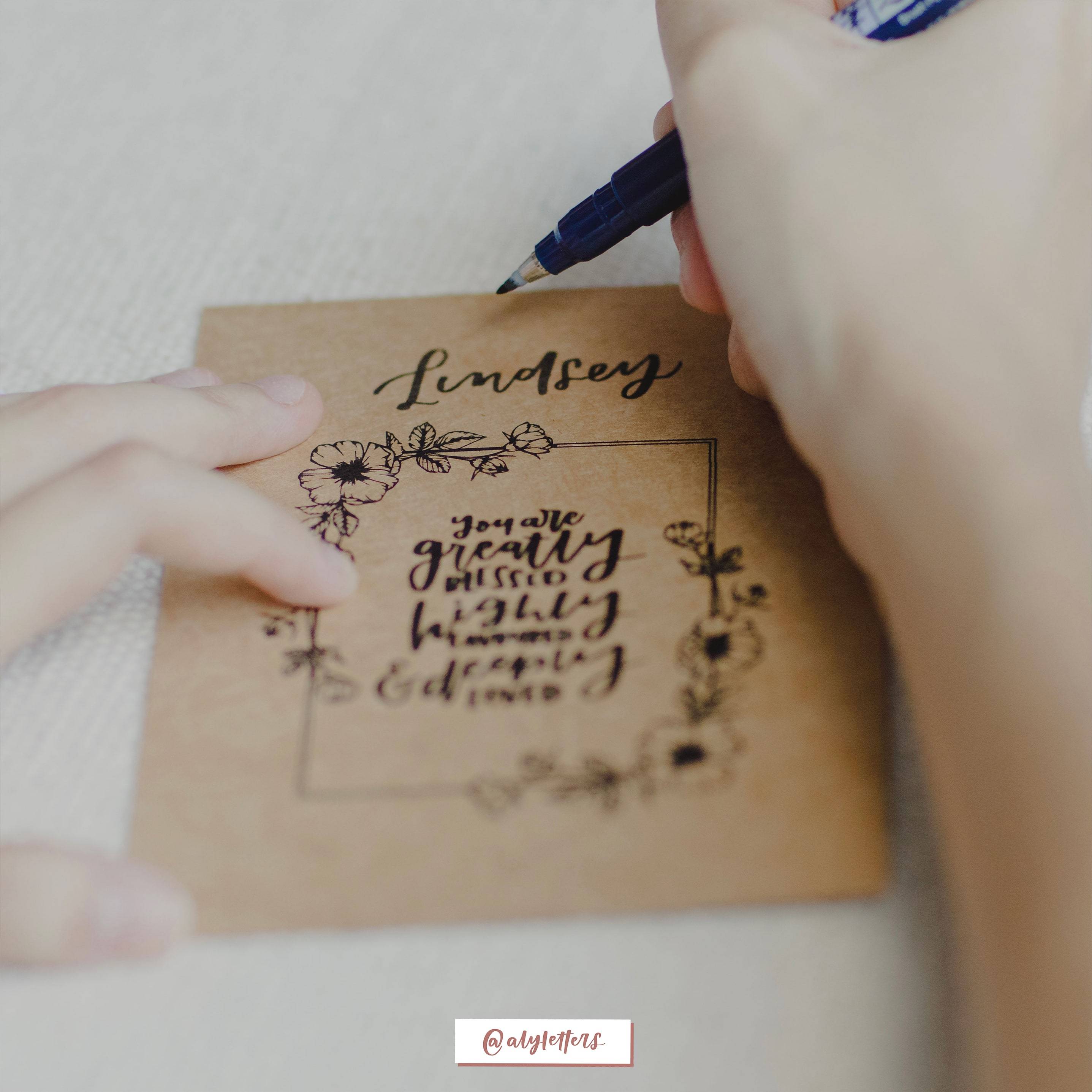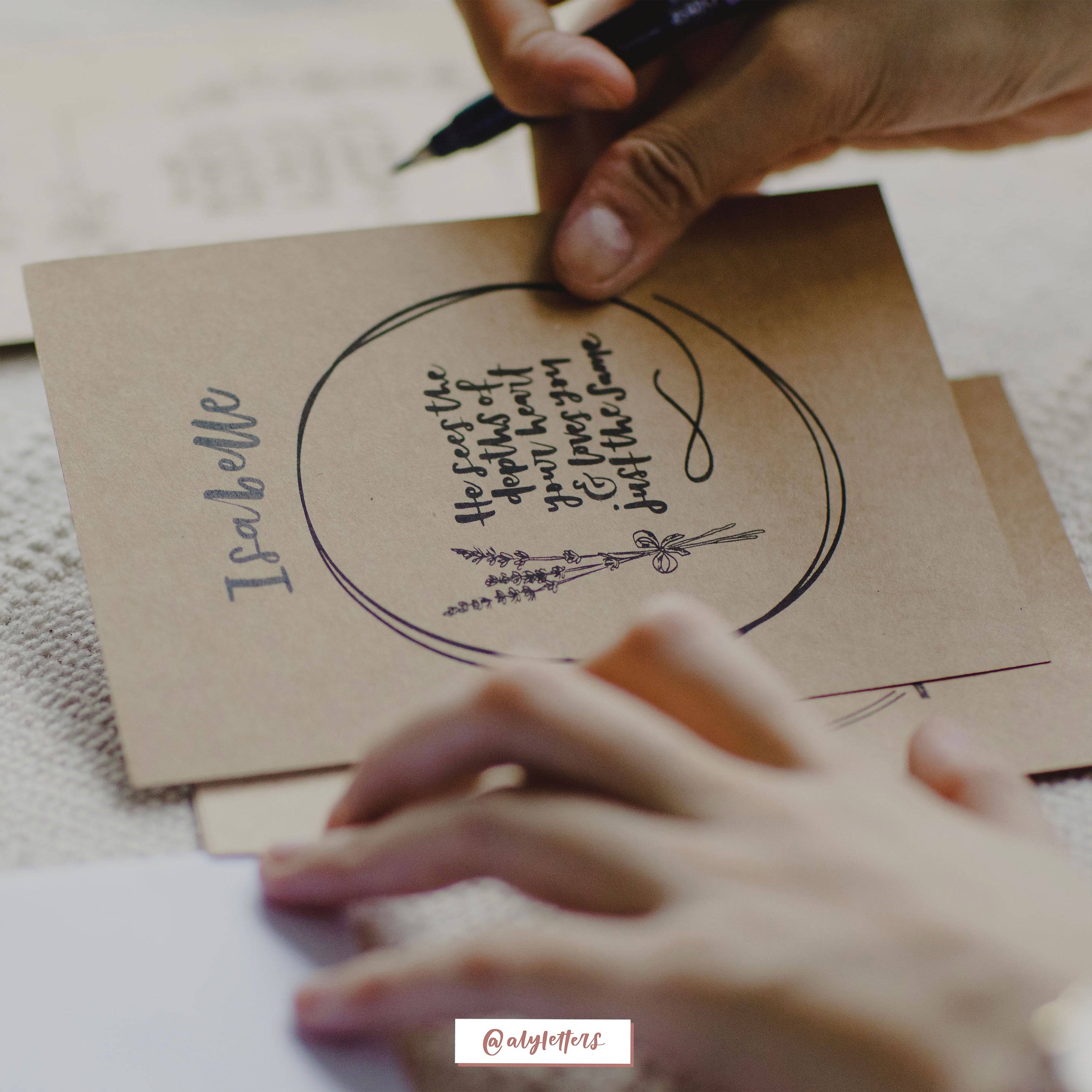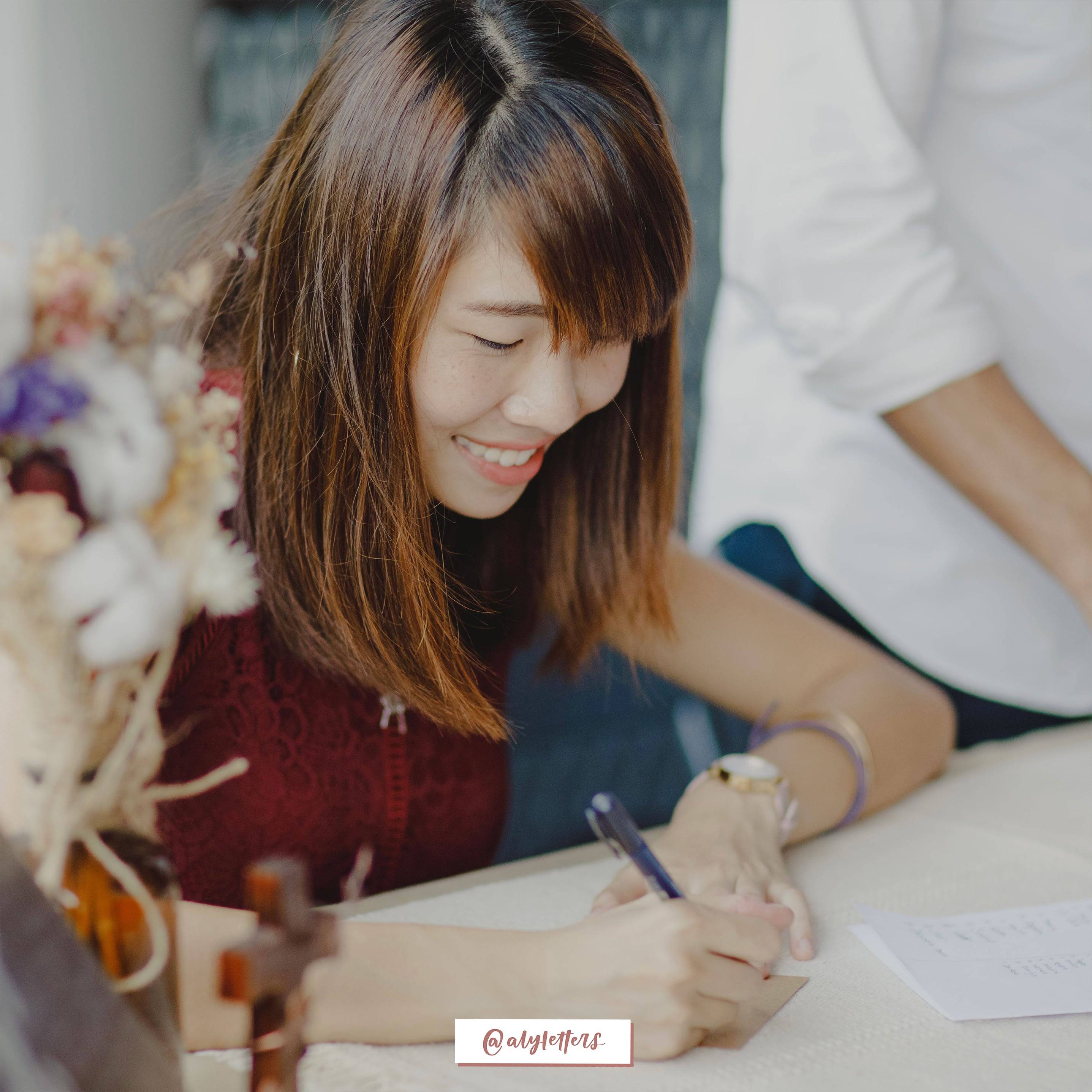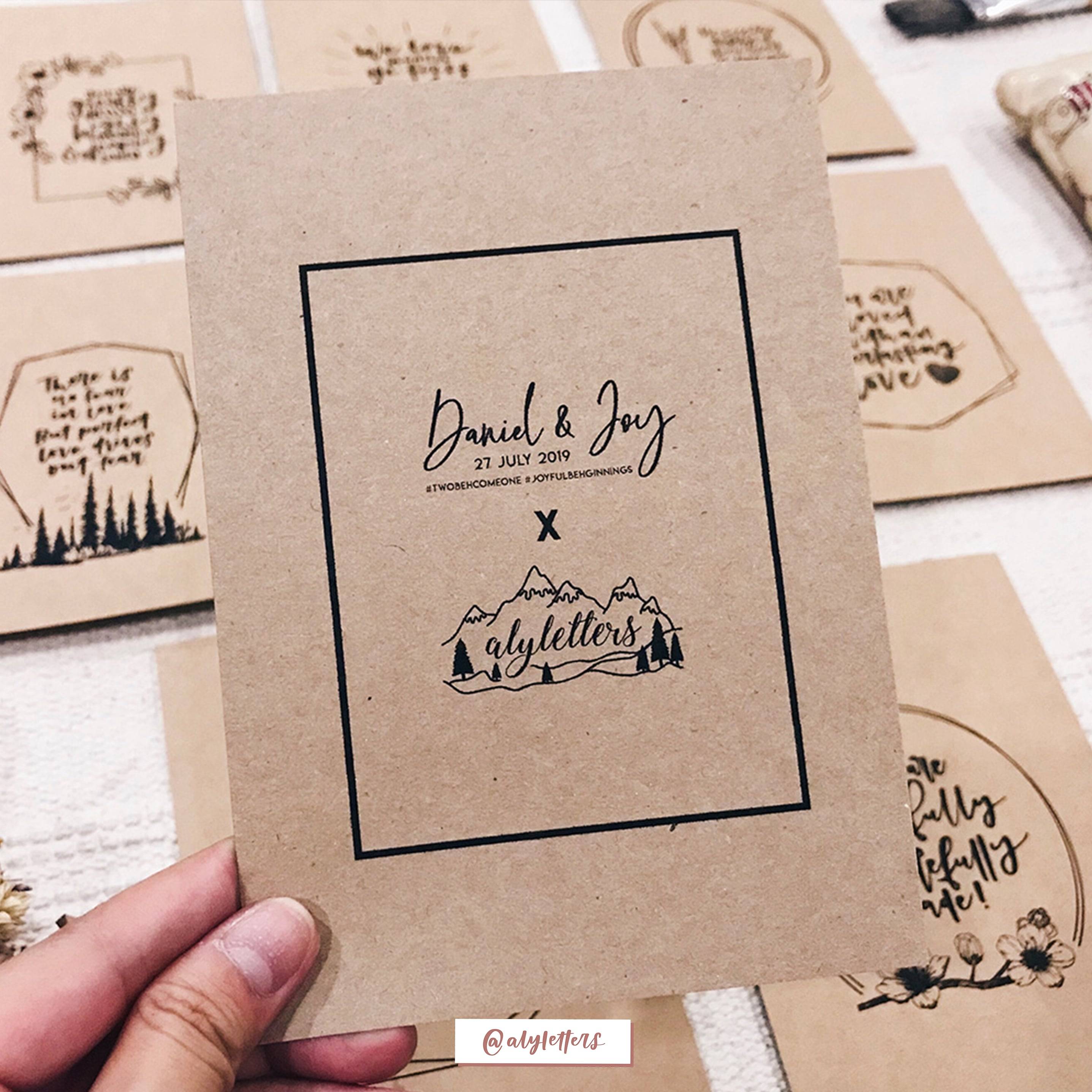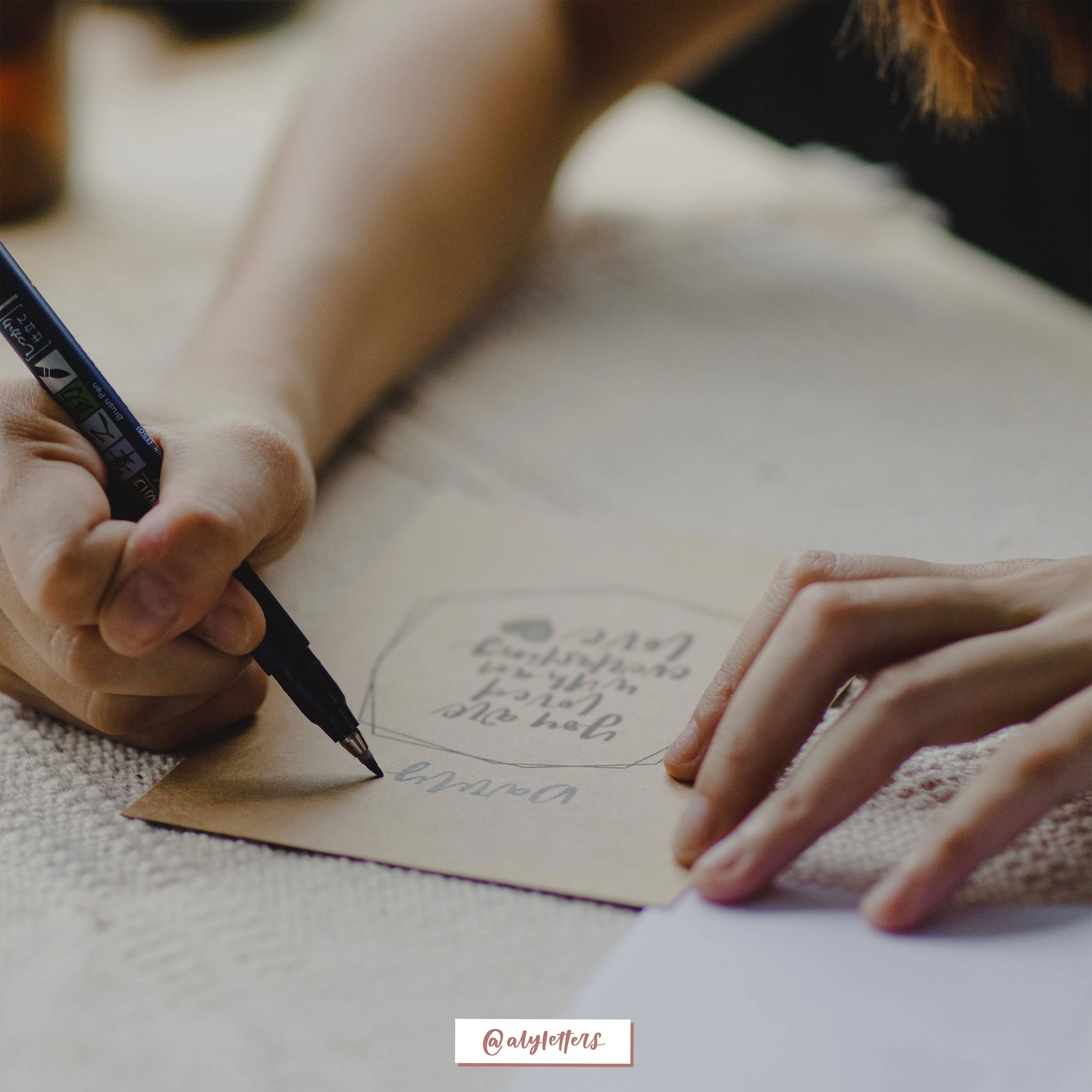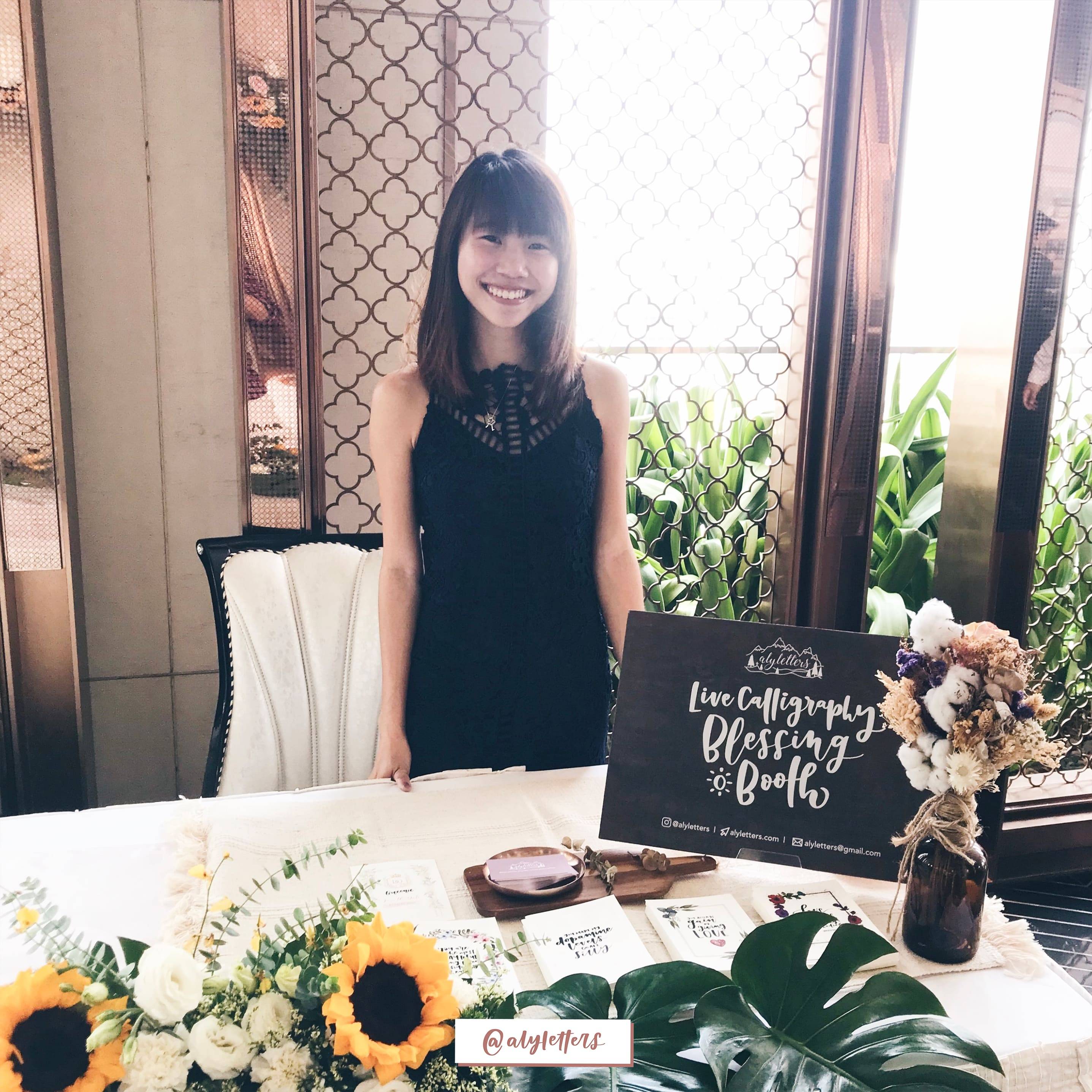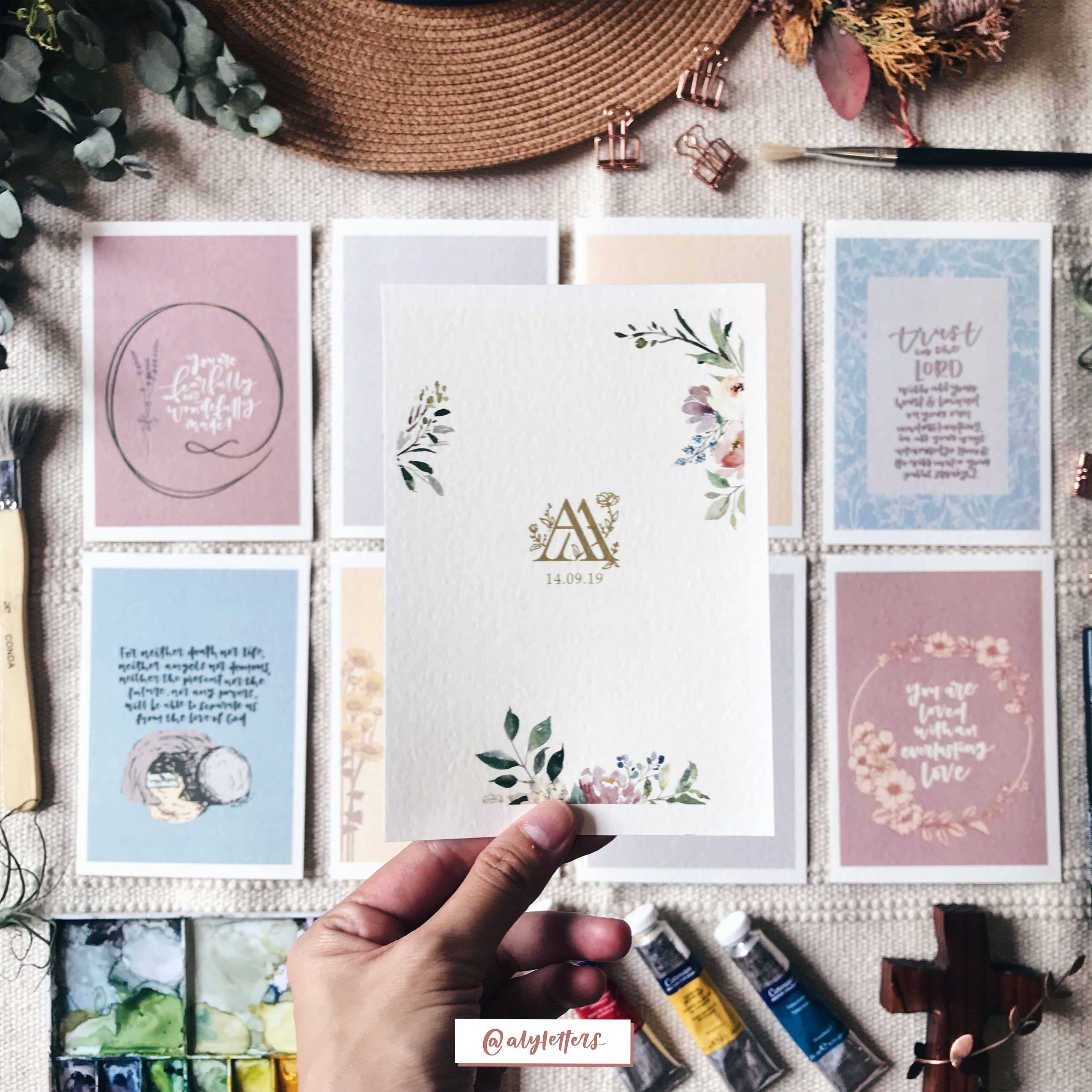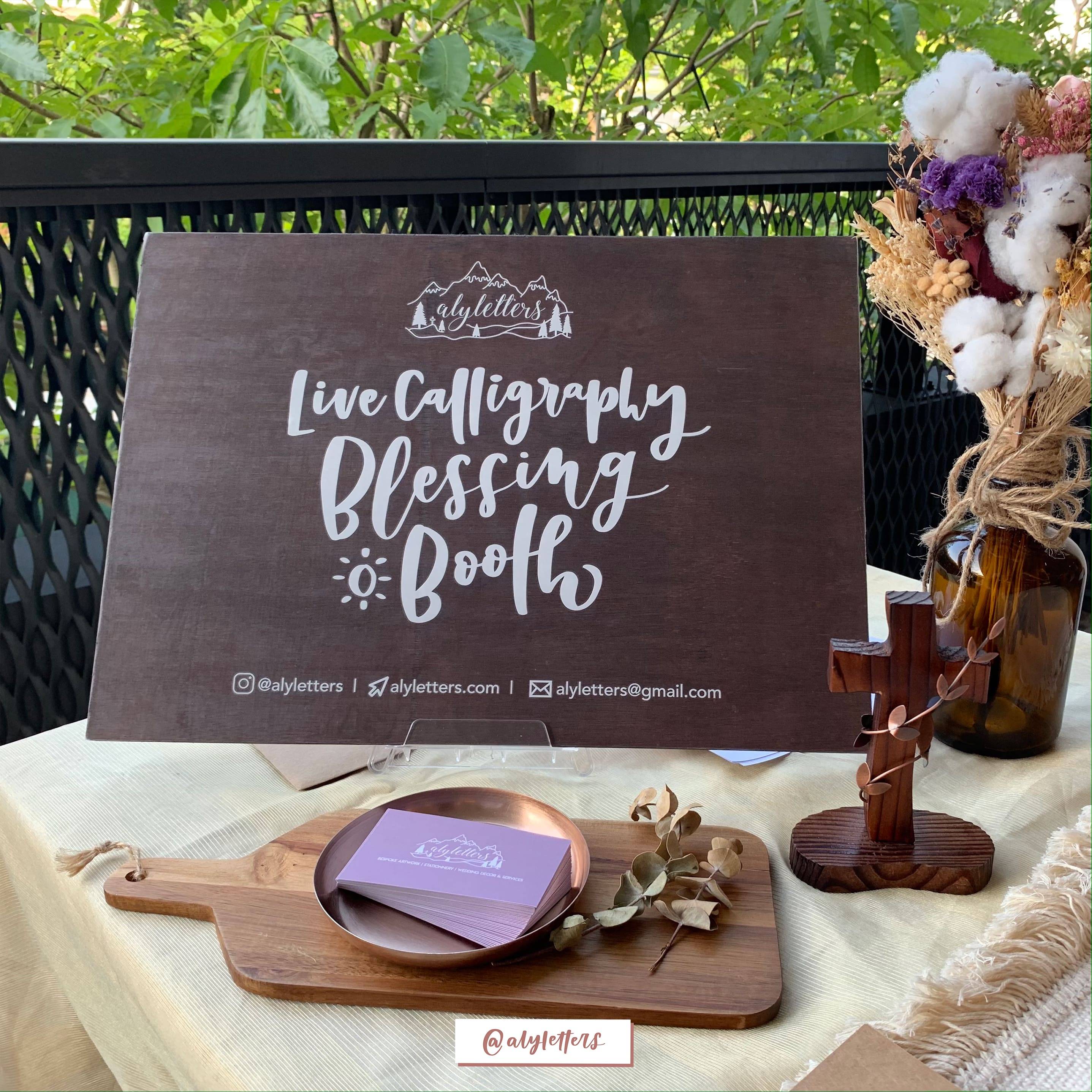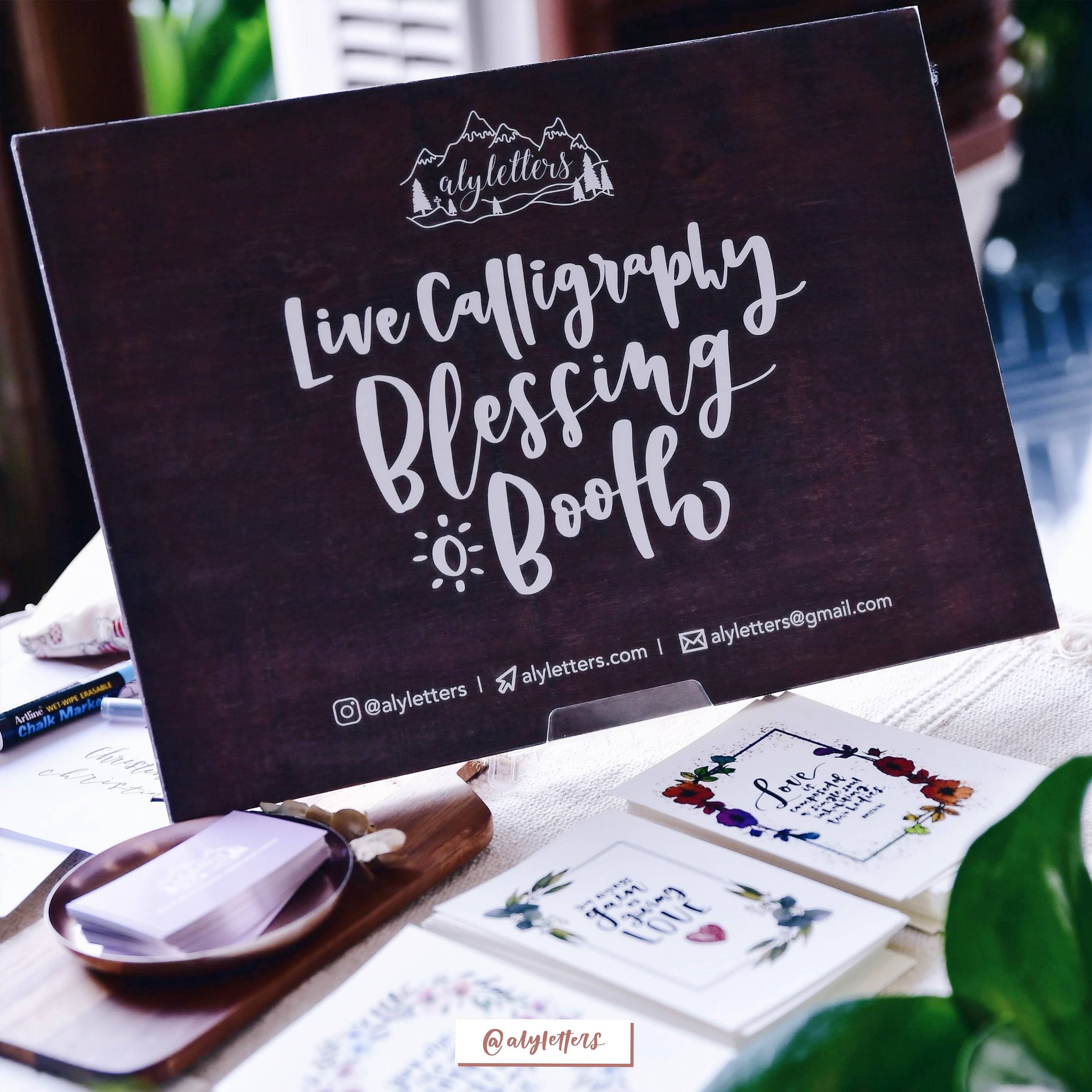 THE LIVE CALLIGRAPHY BLESSING BOOTH EXPERIENCE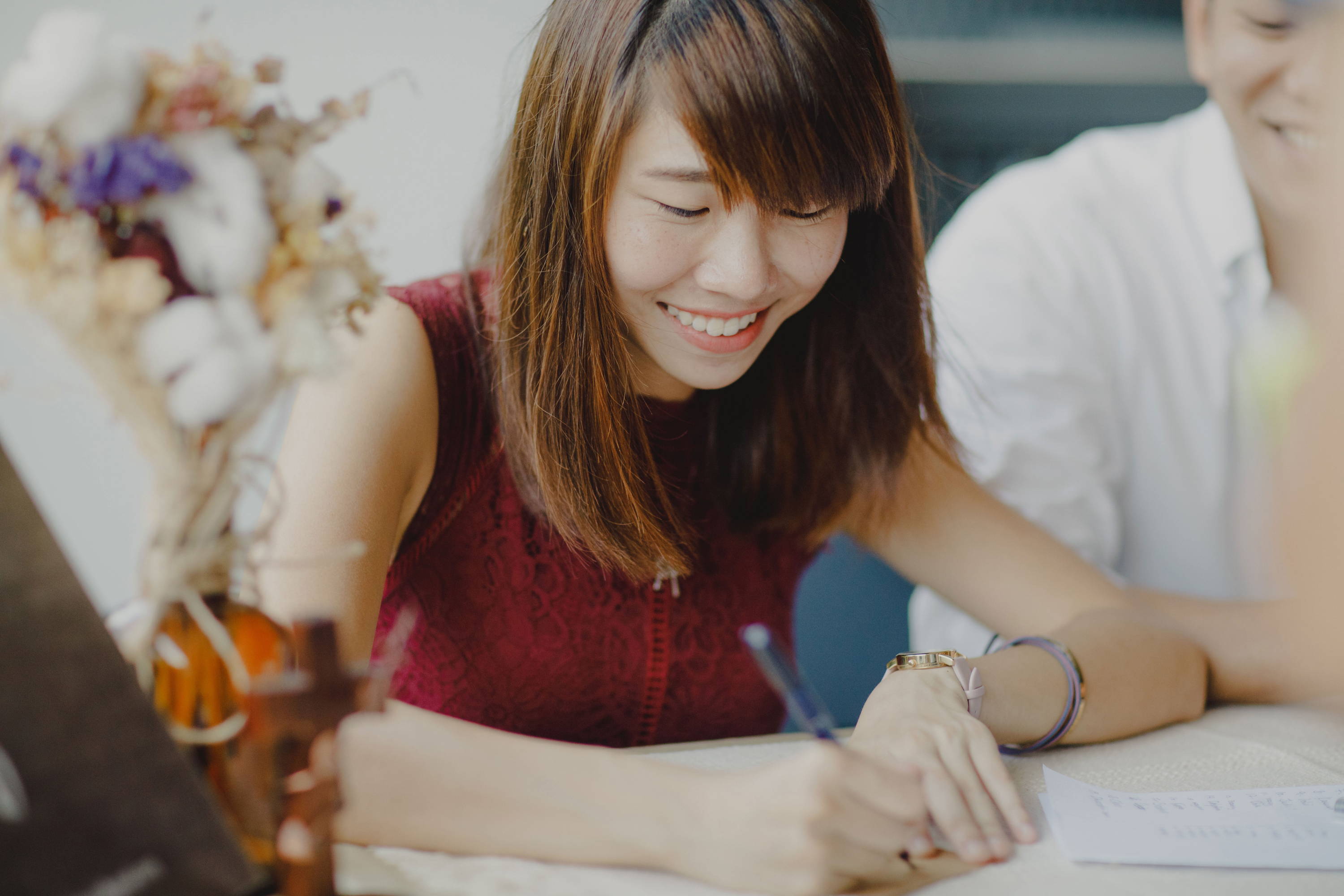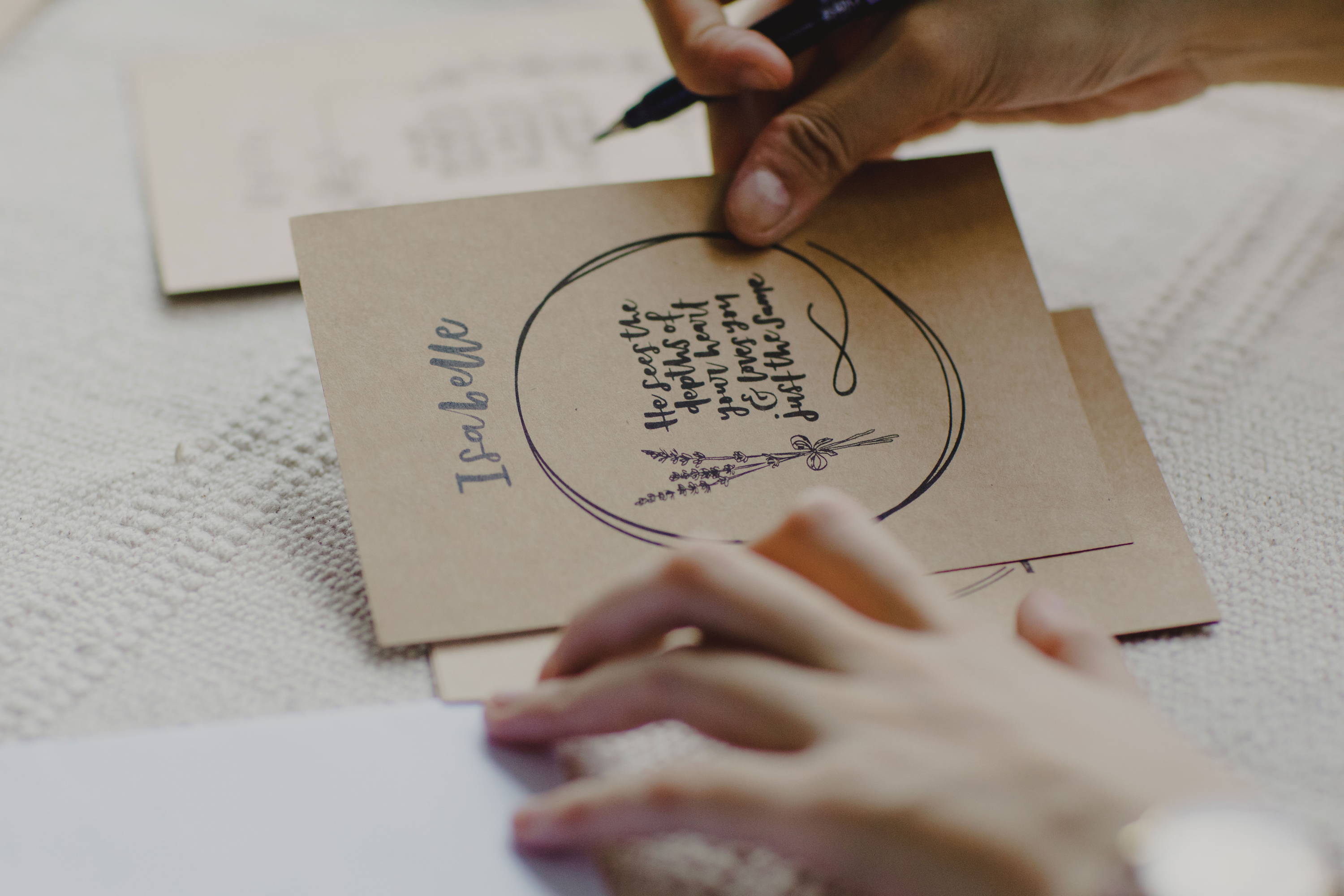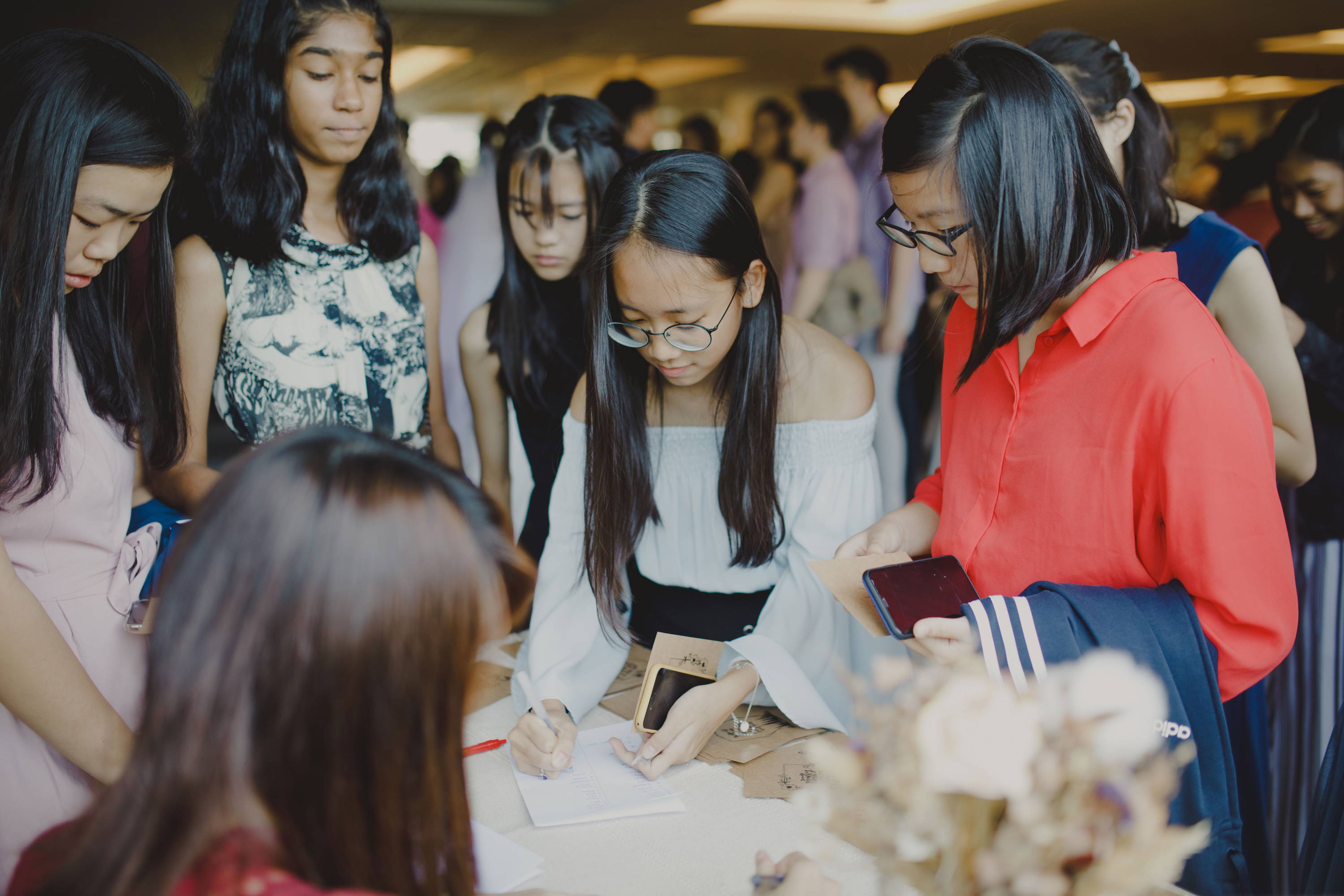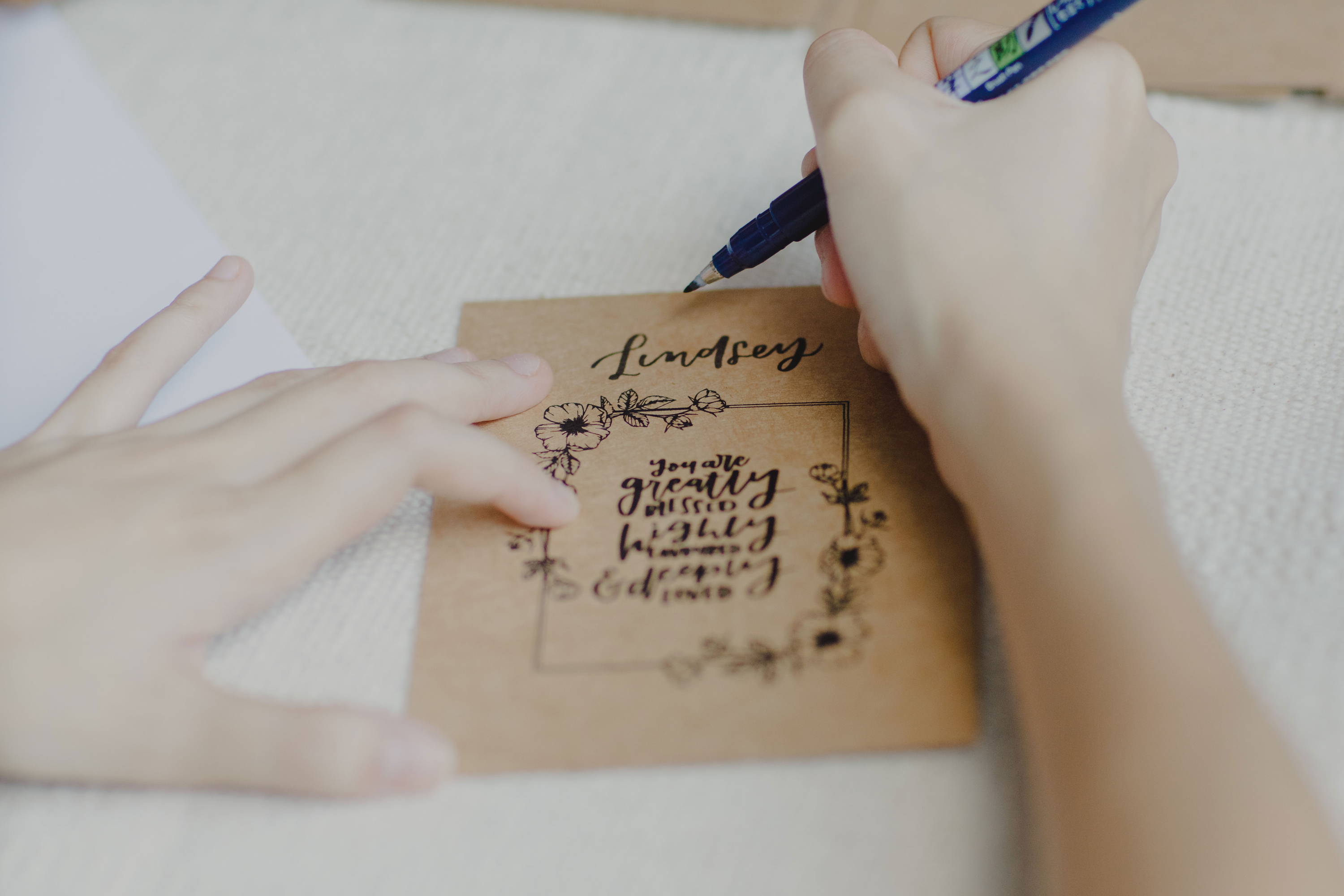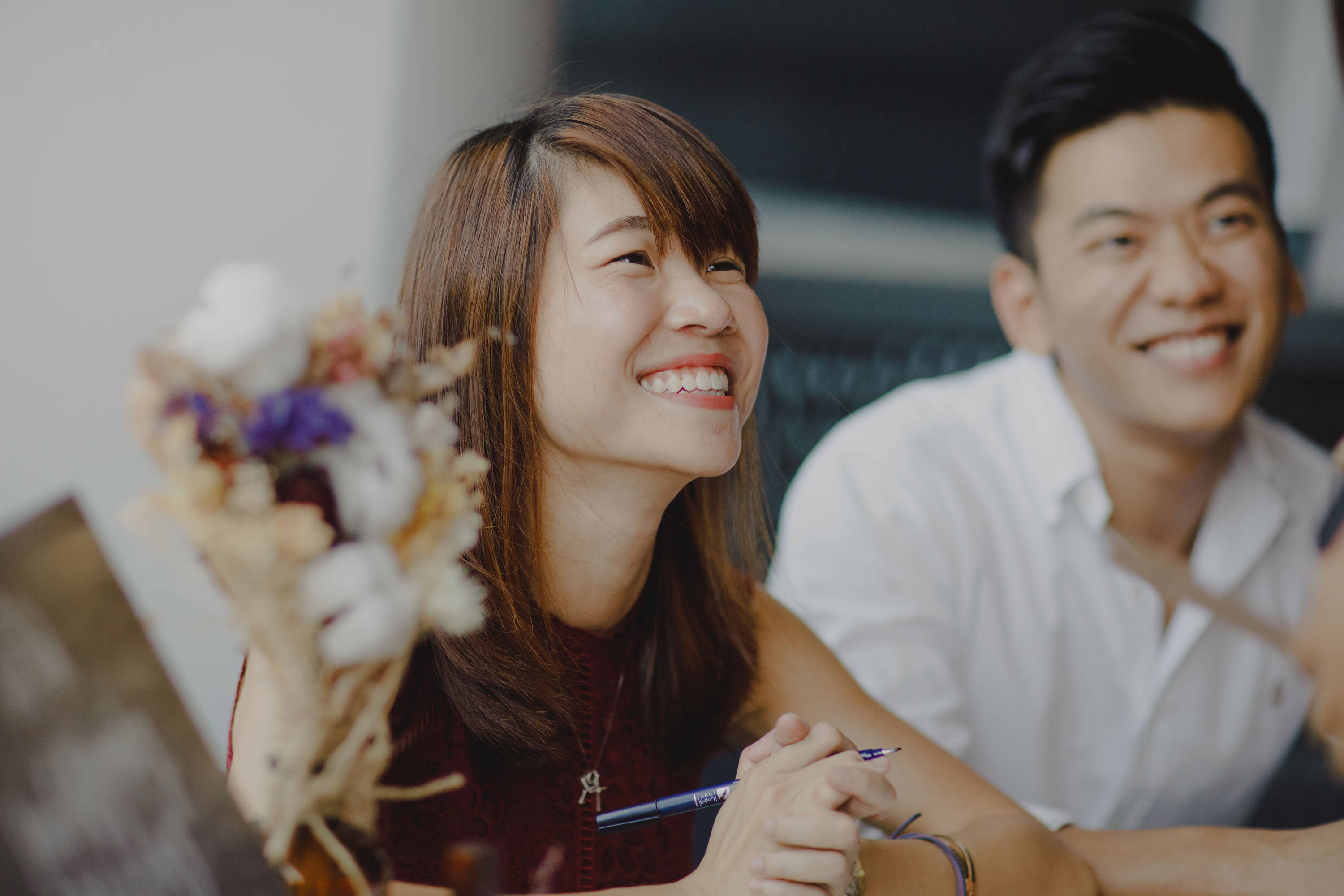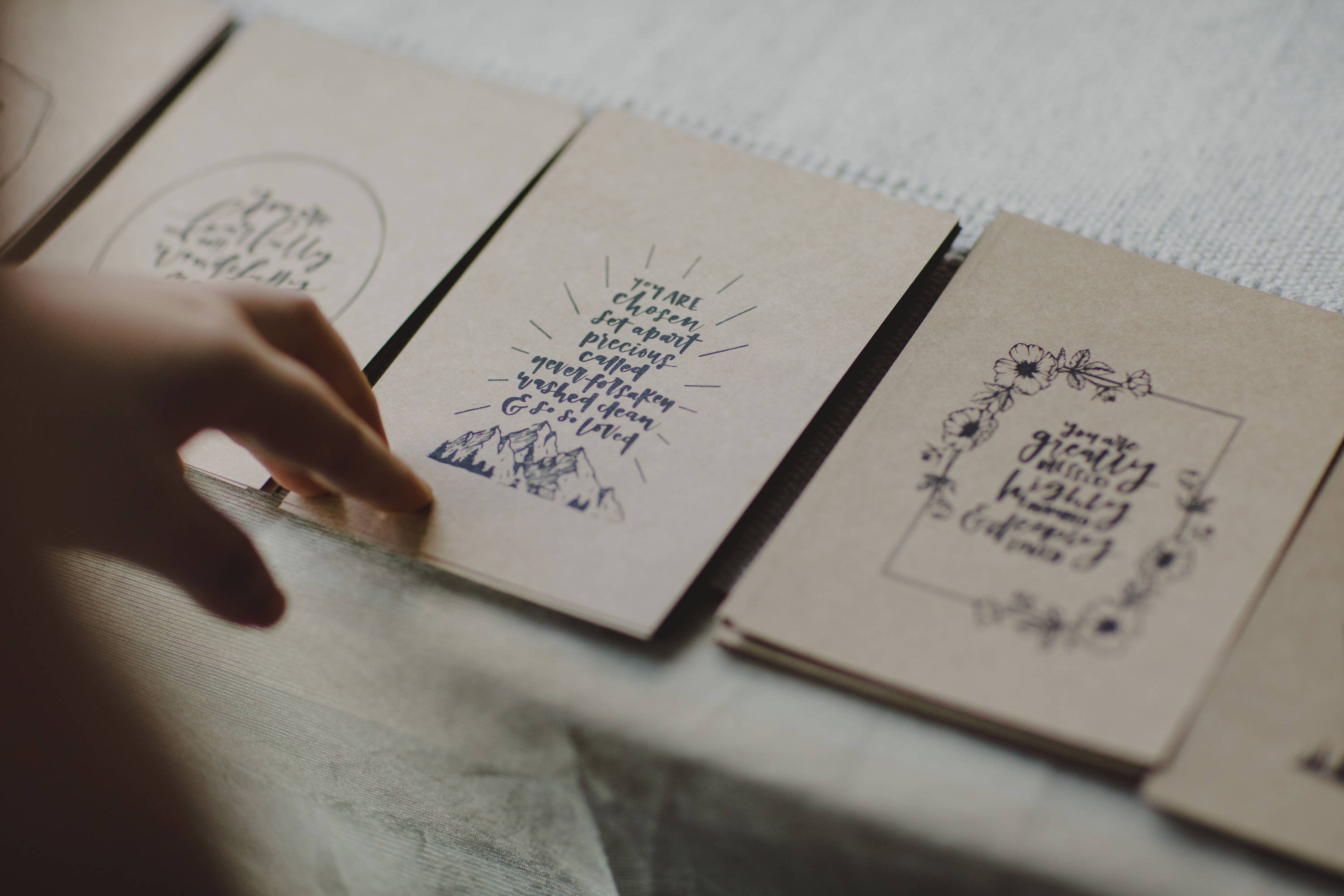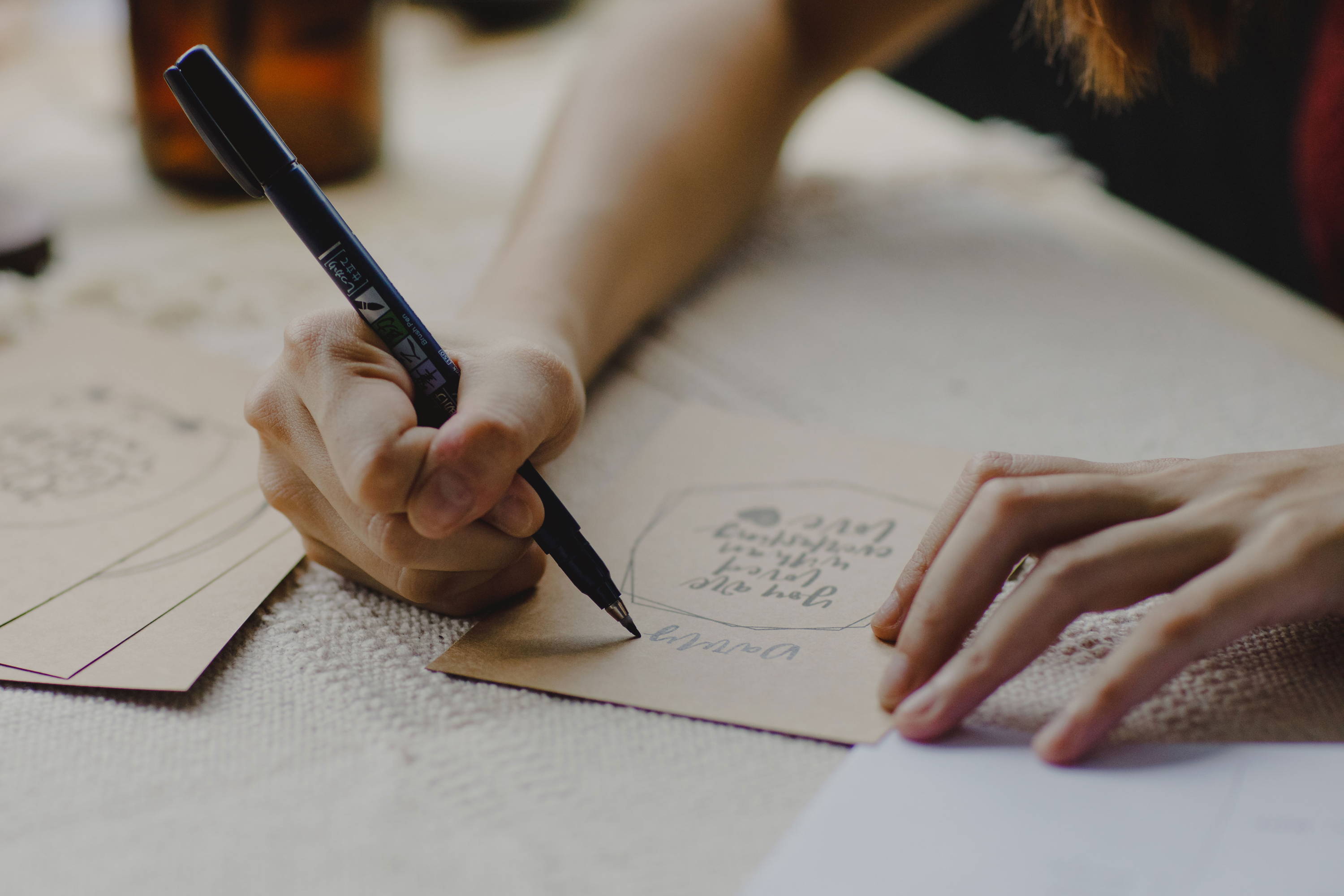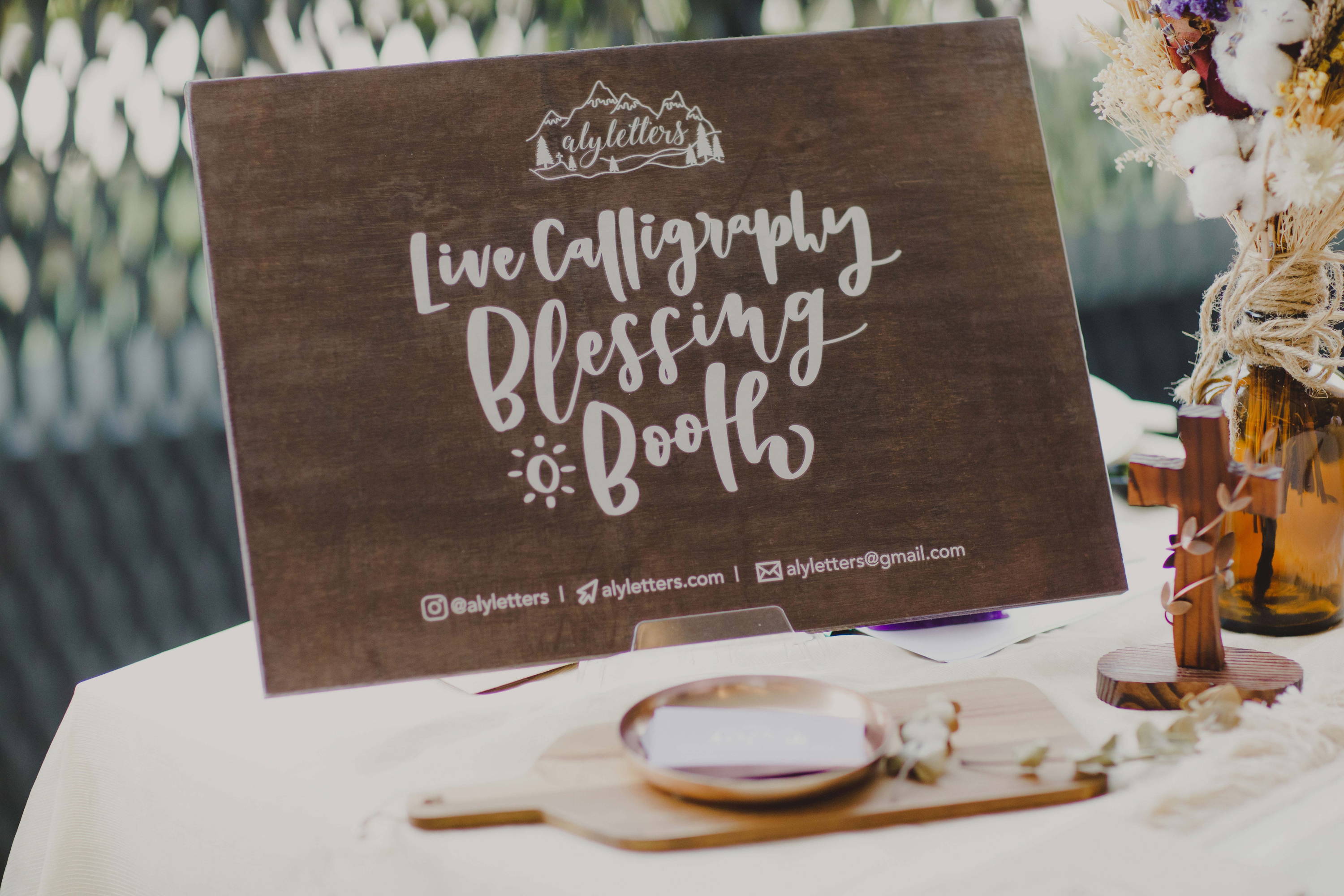 Free Wallpapers in Alyletters Telegram Insiders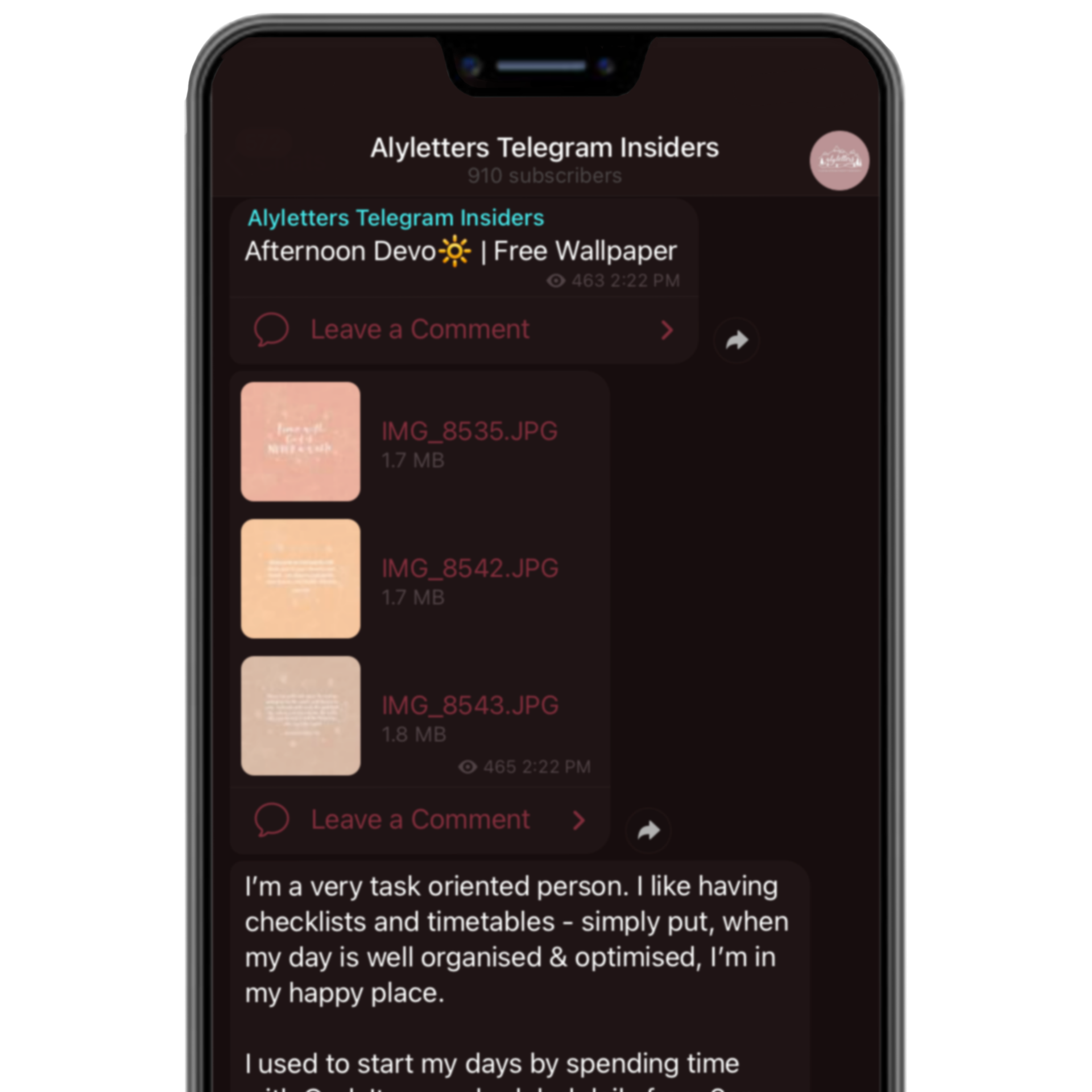 Download the artworks in this blog post as free wallpapers, when you join Aly's Telegram Insiders!
On top of getting direct access to all these wallpapers, you'll also receive brand updates & uplifting devotionals , hot off the press✨
Alyletters The Podcast aims to empower christian youths, young adults and creatives to gain clarity & purpose in faith, work & life.
Fueled by His word, directed by the Holy Spirit & refined by personal experiences, this Podcast equips you with battle plans to navigate through daily struggles, confusing circumstances & heartbreaks.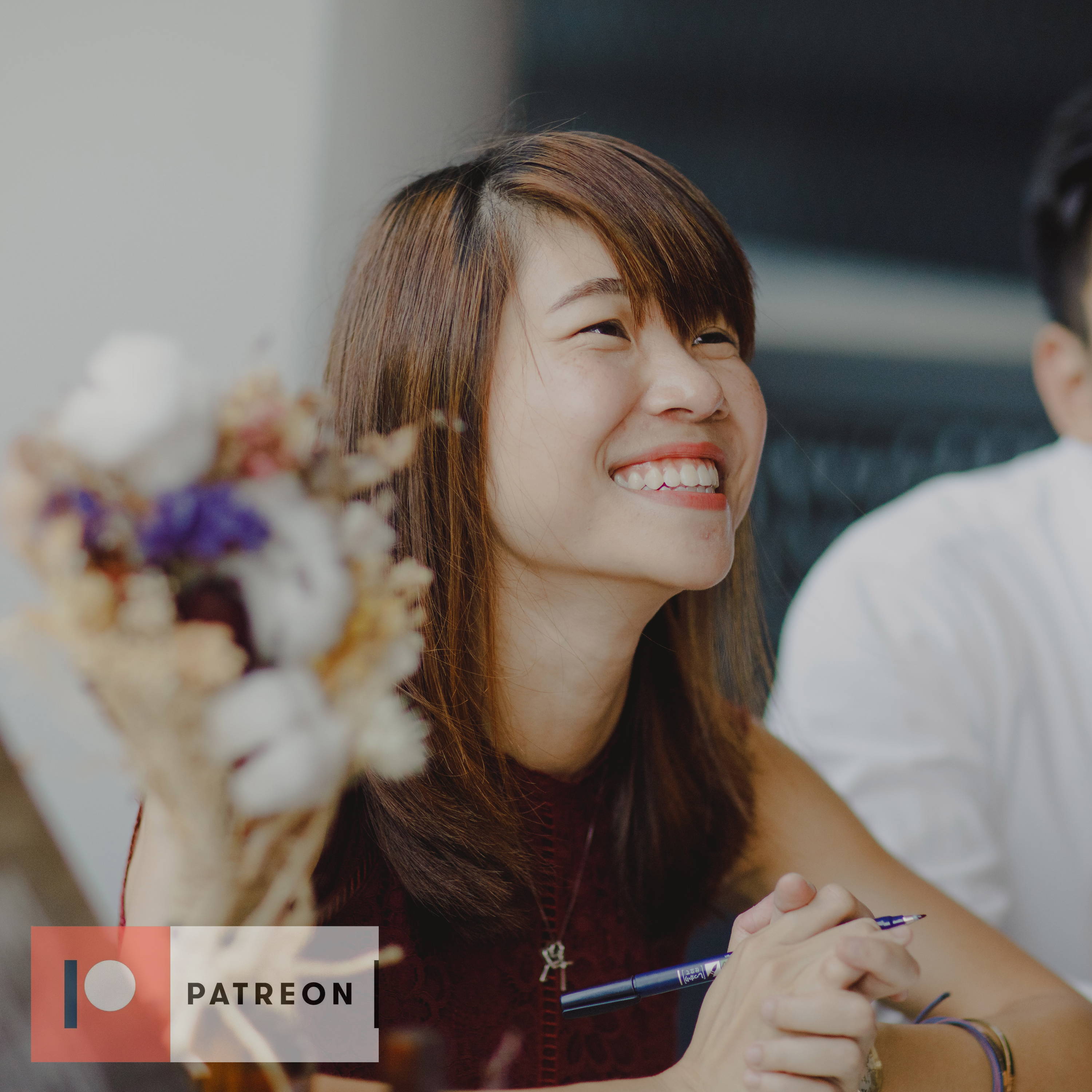 Alyletters is my labour of love to empower and encourage you & your loved ones to live each day with purpose. My hope is to partner with you to bless your loved ones & spread the good news of Jesus to the world.
Your contribution here on Patreon directly helps me to continue creating & impacting lives for His Kingdom's Cause🔆 Thank you for sowing into this ministry & the many others He intends to impact with it!